Forests are the lungs of the Earth. They also provide habitat to most of the world's species, clean our water, moderate our climate, provide sustenance, support millions of jobs, and offer refuge and recreation to billions of people around the planet. This is how we work with forests.
Help Us Plant A Billion Trees
You can make sure these forests survive for future generations.
Plant Your Trees
Protecting, Restoring, and Reforesting the Lungs of the Planet
Forests are home to 80% of the species that live on land.  From protecting Mianus Gorge in 1955 to the Cumberland Forest Project in 2019, The Nature Conservancy has been working with governments, corporations, indigenous peoples, and thousands of partners around the world to protect, restore, and sustainably manage our life-giving forests. 
Improving Forest Policies and Funding
All of these efforts to help the forests that improve our lives can get energized by government engaging with supportive policies and funding. We work around the globe to provide science, know-how, and investments to create better outcomes for citizens and businesses through policy engagement.
The Nature Conservancy was instrumental in helping pass the "fire funding fix" in 2018, which gave the U.S. Congress the ability to appropriate federal disaster funding to the Forest Service and Department of Interior for a portion of their wildfire suppression activities. This change stabilized overall agency budgets, and eliminated the need to chip away at non-fire programs to increase suppression budgets.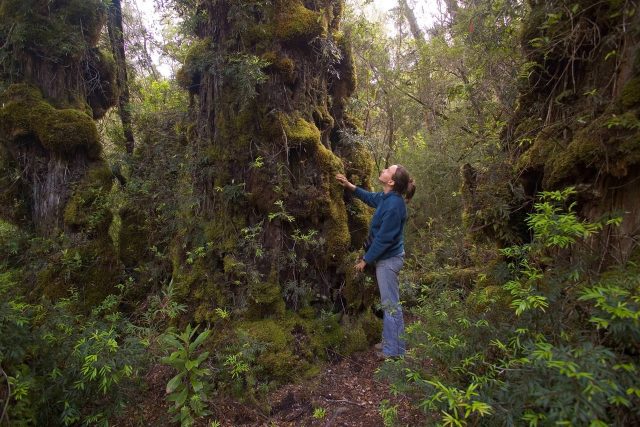 Forests Offer Our Biggest Natural Climate Solution
Climate change is happening all over the world, threatening the well-being of people and wildlife. But nature itself offers a solution. By storing carbon in growing trees, and other natural systems such as farms and coastal wetlands, we can accomplish one-third of the emission reductions needed by 2030 to keep global temperature increases below 1.5°. Forests provide most of that carbon-storage opportunity, and The Nature Conservancy has projects around the world that are putting this solution to work.
The Nature Conservancy is developing new financial and investment mechanisms to fight climate change and invest in saving the planet's forests. The Rio Bravo Reserve in Belize is an example of how it can be done.
In the United States, the Conservancy's Working Woodlands, Family Forest Carbon Program, and state programs are helping small private forest landowners participate in carbon markets, generating income so landowners can grow healthier, bigger trees that provide better carbon storage and wildlife habitat.
We are also working to prevent the loss of live trees to pests and pathogens, through programs like "Don't Move Firewood".
Safely Restoring Fire's Role in Forests
TNC has been working with fire since 1962, when we conducted our first controlled burn, and our approach has evolved from one that was primarily focused on managing our preserves to one that includes policy and finance, elevating the contributions of tribes and other indigenous peoples, growing skilled and diverse fire management workforces, and helping communities develop ways to live more safely with wildfire in forested areas.
Urban Forestry
Trees in urban neighborhoods improve air quality and mental health, lower air temperatures, decrease flooding, and provide habitat for wildlife. The Nature Conservancy is working around the country to increase and improve tree cover for people and wildlife.
The Nature Conservancy is working with residents of St Louis, Denver, Chicago, and other cities to improve outcomes for residents and students through tree planting and care.

Mature shade trees provide the most benefits for our communities. To help protect these urban forest workhorses, The Nature Conservancy has a long-standing partnership with the USDA Forest Service Northern Research Station and the University of Georgia to engage civic ecologists and conservation professionals in the monitoring and maintenance of mature trees through the Healthy Trees, Healthy Cities Initiative.
How YOU Can Help Forests

You play an important role in improving the health of forests, in your own neighborhood, and across the globe! Here's how you can help:
Donate to Plant a Billion, which pays for the planting and care of trees in critical forests around the globe— Brazil, China, Colombia, Kenya, Tanzania, Mexico, and the United States.