The Nature Conservancy in Delaware is committed to creating a world where people and nature thrive. We apply the best available science to protect and restore our lands and waters. Working together, we can advocate for policies that address the causes and impacts of climate change, help our cities become more sustainable, protect natural and human communities and create opportunities for people to connect with nature. This work has never been more urgent.  
We develop legislative priorities at a city, county, state and federal level as we advocate for policy solutions that create equitable outcomes for people and the planet.  
2023 Legislative Priorities
This year, we are placing a special emphasis on climate change and sea-level rise. As the lowest mean-lying state in the country, Delaware is facing enormous challenges that threaten both human and natural communities, including an estimated 9-23 inches of sea-level rise by 2050 and up to five feet by 2100.
Last summer, we announced our first-ever hire of an Oceans and Coasts Director, Will Helt. Helt and our advocacy staff will work closely together to ensure Delaware's coastal residents and habitats remain resilient through new partnerships, community engagement, state and local policy changes, and the adoption of nature-based solutions.
For the first time in many years, in 2022 TNC engaged on the county level by advocating for increased waterway and habitat protections through buffers, planning that addressed flooding and water quality and permitting processes that supported the expansion of solar power.
Building upon this work, our 2023 advocacy agenda includes:
Working with partners to advance coastal resilience and climate adaptation strategies including conserving additional lands, facilitating marsh migration as sea levels rise, exploring new agricultural easement strategies, advocating for public policy changes that increase the sustainability of human communities and restoring critical habitats for our iconic fish, birds and wildlife.
To learn more about how you can help support TNC's 2023 policy priorities, contact Emily Knearl, Delaware government relations director, at emily.knearl@tnc.org.
In the News
Recent news from The Nature Conservancy in Delaware
Delaware Land Protection Coalition Announces Second Annual Conservation Day

Time is running out to protect Delaware's natural beauty. Open spaces offer a variety of benefits, from protecting wildlife habitats to sequestering carbon to offering recreational opportunities and so much more. Read More
2023 Annual Delaware Spring Watershed Cleanup

This annual cleanup is part of TNC's Stream Stewards program and a key part of our goal to connect more people with nature and inspire action to protect clean water. Read More
The Nature Conservancy in PA & DE Welcomes Four New Trustees

The Nature Conservancy in Pennsylvania and Delaware announced today that Diana Oviedo-Vargas, Ned Rauch-Mannino, Elyse E. Rogers and Neil Shah have been elected to its board of trustees. Each new trustee will serve a three-year term. Read More
Delaware faces significant challenges from climate change and rising waters. The state's three counties directly influence how climate change will impact human and natural communities with their land use and planning decisions.
Climate change is already impacting the First State, and years of aggressive development means we are losing our vital natural resources. We are feeling the impacts of increased flooding, rising temperatures and more frequent and severe rain events. These growing challenges are stressing government and private infrastructure, threatening human and natural communities and overburdening our local governments. We must work together to build more capacity, strengthen coordination, support overburdened communities and increase available resources to fund programs and projects that build resilience. 
Our staff works locally with communities, partners and elected officials throughout Delaware to identify opportunities to deploy resources and funding, such as those made available through recent federal legislation such as the Infrastructure Investment & Jobs Act and the Inflation Reduction Act. 
Additionally, our Oceans and Coasts program focuses on protecting and maintaining the health of the Delaware Bayshore, which provides critical habitat for numerous economically and recreationally important marine species as well as migratory birds and native plants.
Expand to see more
Collapse to see less
Climate change caused by the burning of fossil fuels is the gravest threat to healthy lands, waters, wildlife and people. Reducing greenhouse gas emissions to limit global warming to below 1.5° Celsius is an organizational priority for TNC across the globe and right here at home in Delaware.
This goal cannot be achieved without a rapid transition to a clean energy economy. The Nature Conservancy advances clean energy projects and policies that reduce emissions and benefit the environment where they can, including the deployment of wind and solar energy and broader accessibility of electric vehicles and charging infrastructure.
Expand to see more
Collapse to see less
Regrowth at Ponders Tract
A healthy forest grows at the site of a previous burn at Ponders Tract.
©

John Hinkson/TNC
Protecting Lands & Waters
The Nature Conservancy maintains a number of public and private preserves in Delaware, showcasing a range of ecosystems. With your help, we have protected more than 30,000 acres across Delaware since 1990.
TNC is also a founding member of the Delaware Land Protection Coalition (DLPC), a consortium of organizations working to expand land conservation by identifying new sources of funding for land conservation, increasing partnerships with the state, working collaboratively with each other on projects. DLPC members include: Delaware Center for the Inland Bays, Delaware Wild Lands, the Kent County Conservancy, Ducks Unlimited, the Delaware Nature Society, the Sussex County Land Trust, Preservation Delaware, the Native Species Council, and representatives from New Castle and Kent Counties.

Expand to see more
Collapse to see less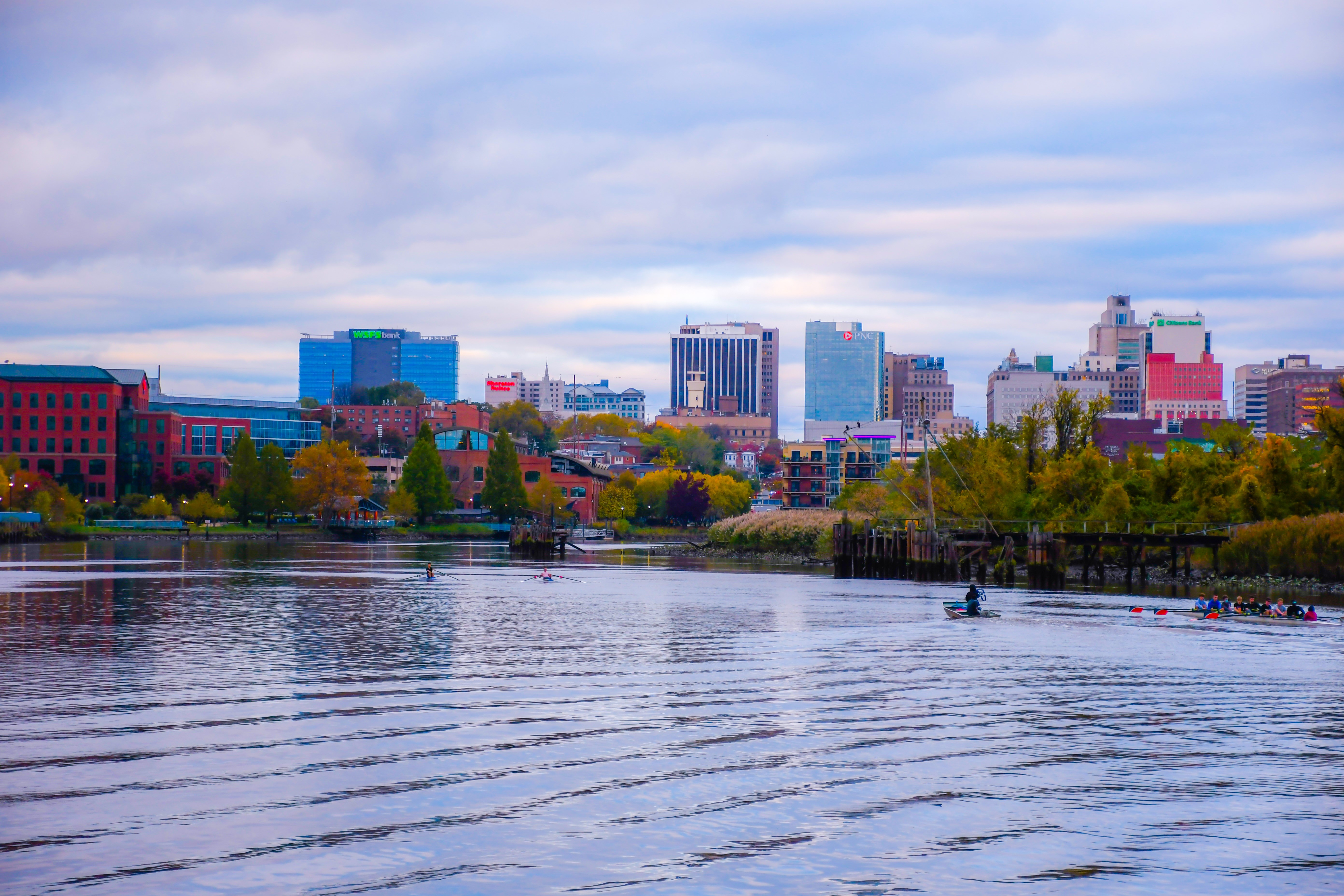 Wilmington, Delaware
A view of Wilmington Delaware from the Christina Riverfront.
©

Melisa Soysal/TNC
The Nature Conservancy has established a global cities program and a network of 24 urban conservation programs in the U.S. with the goal of changing the relationship between cities and nature. We know using natural solutions to address many of the challenges facing urban areas can create more livable communities and a world where people and nature thrive together.
We are also working to inspire the next generation of environmental stewards and engage residents in citizen science research to improve water quality and the health of urban forests via the Stream Stewards program. Finally, we are working with the city and community partners to develop policies that tackle the challenge of making Wilmington a more sustainable place to live.
Learn more about our urban conservation work in Delaware.
Expand to see more
Collapse to see less
Advocacy Spotlight
A monthly feature highlighting thought leaders and newsworthy developments in the Delaware policy space.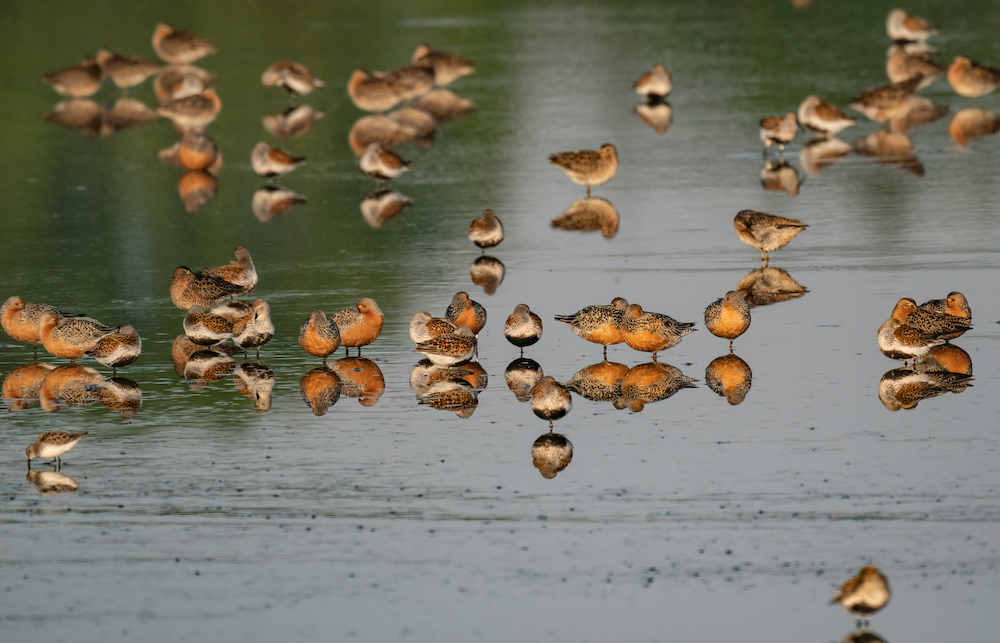 Resting Red Knots
A group of native red knots sits at Bombay Hook National Wildlife Refuge.
©

Deb Felmey
June 2023
Recovering America's Wildlife Act: Carper to Co-sponsor
This year marks the 50th anniversary of the Endangered Species Act (ESA). Yet, despite the incredible progress made over the last half-century, more than a third of the country's fish and wildlife species are at risk of extinction. In Delaware, an increasing number of species—184 bird species, 23 small mammal species, 18 amphibian species, 24 reptile species, 105 fish species, 11 freshwater mussel species, 26 snail species, and hundreds of other invertebrate species—are in trouble and facing heightened risk of extinction. Across the county, state fish and wildlife agencies, including the Delaware Department of Natural Resources and Environmental Control (DNREC), have identified more than 12,000 species with the greatest conservation need that requires immediate action, including more than 1,600 species that are already listed as threatened or endangered under the ESA.
Last year, the U.S. Congress came close to passing the most significant legislation for wildlife conservation in fifty years, the Recovering America's Wildlife Act (RAWA). Delaware's own Senator Tom Carper has stepped up as a co-sponsor to the newly re-introduced RAWA. The bipartisan legislation is a game-changer. It provides a solution that matches the magnitude of the biodiversity crisis and does so by bringing people together through strategic, future-focused investments to recover the thousands of species at heightened risk of extinction.
RAWA would provide $11.5 million annually to DNREC to develop and execute on-the-ground, fiscally responsible conservation strategies that make sense for both the species at risk and the communities in which they reside. The act will fund proactive, on-the-ground conservation projects such as habitat restoration and resilience projects, and reduce threats such as disease, pollution, invasive species, and more.
The clock is ticking in Delaware, and we must do more to protect our natural environment. We are truly fortunate to have such a rich diversity of fish, wildlife, and native plant species—from the red knots and horseshoe crabs of the Bayshore to the piping plovers at Cape Henlopen to the Delmarva Fox Squirrels in Redden State Forest to the shad returning to the Brandywine. Thank you to Senator Carper for co-sponsoring RAWA today and for seeking to protect wildlife for future generations.
Expand to see more
Collapse to see less
Advocacy Spotlight Archive
Delawareans support climate action. In a recent bipartisan poll, three in five First State voters believe the state should be doing more to respond to climate change. The same poll found people are concerned about preserving Delaware's natural beauty for future generations and the climate impacts we are seeing today with more intense storms, flooding, and sea level rise.

There is a bill in the General Assembly that could help Delaware make progress, House Bill 99, the Climate Change Solutions Act. Sponsored by Reps. Deb Heffernan and Sophie Phillips and Sen. Stephanie Hansen, the bill will:

Set greenhouse gas emissions reduction targets to at least 50% by 2030 and 90% (net zero) by 2050
Require the state to take climate change into account when making major investments and purchasing decisions
Instruct state government to update climate change planning regularly and develop resiliency strategies to help the First State address climate challenges
Recognize the disproportionate impact of climate change on certain communities and ensure that climate change reduction strategies do not disproportionately impact overburdened communities

The ideas behind this bill are broadly popular. In the same bipartisan poll, 60% of Delawareans support setting greenhouse gas reduction targets, and seven in ten support taking climate change into account when state government makes planning and procurement decisions.

But a proposal being popular with the majority of Delawareans is not enough. A similar bill failed in the state legislature last year. Our elected leaders in the General Assembly need to hear from you. Take a moment to visit our action page today to email your state legislator and help us send a message that Delawareans care about climate change.

MAY 10: SECOND ANNUAL CONSERVATION DAY IN LEGISLATIVE HALL

Conserving lands plays a key role in helping to preserve habitats, protect water quality, and fight climate change by sequestering carbon. Conserving lands is also broadly popular as a climate strategy—89% of Delawareans support protecting forests and wetlands to remove greenhouse gas pollution from the air.

And yet, Delaware's natural spaces are more challenged than ever due to development pressures and a changing climate.

Would you join us in Legislative Hall in Dover to help share the message about the importance of protecting open spaces? Every year the General Assembly makes vital decisions about funding the protection of open spaces and this year is no exception.

TNC is organizing the Second Annual Conservation Day in partnership with the Delaware Land Protection Coalition. We need supporters of open spaces and conserving lands to join TNC staff and coalition partners in Legislative Hall in Dover on May 10 from 11 am - 4 pm (though you can leave early or come late if needed) to meet with legislators. Your voice matters!

To learn more about TNC climate action or the May 10 Second Annual Conservation Day, email Emily Knearl at: Emily.Knearl@tnc.org.

TNC held its spring "Fly By" in Washington, D.C. in March. More than just a fun play on words for bird fans, the Fly By is a chance for local TNC staff to visit Capitol Hill and meet face-to-face with their congressional delegation. While local TNC staff are in regular contact with the delegation on multiple environmental issues, there is something to be said for connecting in person in D.C. It also provides the chance for local policy staff to connect with national TNC staff anchored in the nation's capital and their TNC colleagues throughout the country who are in town to meet with their own delegation members. It's a combination of policy conversation, strategy discussion and family reunion.

Delaware is fortunate with its delegation and partnerships. The delegation consists of strong TNC partners and holds very powerful posts in D.C. Senator Tom Carper chairs the U.S. Senate Environment and Public Works Committees, Senator Chris Coons is on the Appropriations and Foreign Relations Committees and Rep. Blunt Rochester is on the House Energy and Commerce Committee. Much of the discussion with the delegation is expressing thanks for their sponsorship and/or support of legislation that are key TNC priorities.

This year, local TNC staff were able to join forces on Capitol Hill with the Coalition of the Delaware River Watershed, a partner in protecting the watershed that stretches from New York to Delaware, which provides drinking water and recreation opportunities for hundreds of thousands of the First State's residents.

While the Delaware delegation meetings included several topics, key priorities included:


Recovering America's Wildlife Act (RAWA): It could be the most significant investment in wildlife conservation in decades. There are 86 Delaware birds, mammals, amphibians, reptiles, fish, mollusks and insects on the state endangered species list and a hundred more considered to be "species of concern." RAWA would fund $1.397 billion in state and local efforts to help wildlife at risk and to prevent wildlife from becoming endangered. The funding will also help recover species that are already endangered. 

Farm Bill 2023: Only re-authorized every five years and the subject of extensive national and local conversations, the Farm Bill is a vital piece of legislation. For the 2023 bill, TNC's priorities are new investments in climate-friendly farming practices, encouraging the conservation of significant and sensitive habitats, promoting equity and inclusion in USDA programs, and maintaining healthy and resilient forests, among others.

We also discussed climate change and sea-level rise during our delegation visit, including multiple pieces of legislation designed to help increase the resiliency and sustainability of our communities, as well as programs to increase investments and restoration opportunities for the Delaware River Watershed and the Chesapeake Bay.

It was a good day on Capitol Hill, with many more conversations to come. A very special thank you to the TNC Board Chair, Carol Collier, and Vice Chair, Rich Innes, who traveled to DC to support the Fly By.

For further information on the day or TNC national priorities in Delaware, email Emily Knearl at Emily.Knearl@tnc.org.

Graphic Information Systems (GIS) mapping is an important part of TNC work. GIS maps inform our land conservation strategies, scientific analysis and policy work and provide a vivid storytelling tool for our organizational priorities. Recently Jacob Leizear joined our chapter to provide GIS mapping analysis in Delaware and Pennsylvania. He has played an important role in mapping sea-level rise and other datasets as part of our new Oceans and Coasts program, as well as informing our environmental justice partnership working on clean air and water advocacy.

What got you interested in doing GIS work?

So I was two things as a kid: an outdoors kid and a nerd. If I wasn't in the local creek just finding frogs or making stick forts, I was inside on the computer playing video games. Going into undergrad focused on environmental sciences, I randomly stumbled into a GIS class in my sophomore year and realized I could help protect the outdoors WHILE getting to mess around on the computer. So it was just a natural evolution that's taken me to this point in my career.

How do GIS work and mapping benefit TNC programs and projects?

TNC has a lot of programs, projects and goals to achieve! There's never a lack of work to be done, and figuring out where to start is sometimes half the battle. GIS allows for a geographic prioritization of efforts, finding the best places to conserve, advocate for and preserve for future generations, with scientific backing. This data-driven approach to where our work should be and how we can talk about it, using maps as a visual language, allows TNC to greatly benefit from GIS and mapping efforts.

How do GIS work and mapping help shape TNC advocacy?

GIS and data visualization allow us to enforce existing realities that advocacy organizations may know inherently but need the data backup to pursue further. For example, while there may be a cultural or local understanding of how a community is impacted by environmental injustices, having the scientific data to back it up, in a visual format, enhances the narrative being told and allows TNC's advocacy work to pursue more support and intention. It's easier to meet advocacy goals when you can tell a clear story with scientific backing on why those goals matter and where to achieve them.

What is an example of how GIS work is shaping TNC advocacy in Delaware?

For an international organization like TNC, working with specific states and their partners means understanding the state's specific needs and realities. Customizing advocacy to benefit those specific needs requires a lot of decisions and directions to be taken, and GIS provides data-driven justification for those efforts. Knowing which specific coastal communities in Delaware will be impacted by sea-level rise the most, and how soon, allows TNC to advocate for those who need it most.

What is one thing you would like people to know about GIS?

GIS, like statistics, mathematical analysis and habitat modeling, is a tool. It is a tool that can be used to justify and prioritize work while also telling stories about that work in a digestible form. However, a tool is only as good as the intentions behind its usage. A hammer can help hang a beautiful painting or put a hole straight through the drywall. As TNC continues to pursue its efforts, making sure we use our shared professional expertise to use a tool like GIS to the best of its ability to support our work is going to be critical to achieving our goals.

Water is central to our lives in Delaware, whether it's the drinking water from the tap or the rivers and oceans we enjoy or the rain that waters our crops. As the lowest mean-lying state and in an era of increased climate instability, water is also causing us more problems than ever before. We need broad-based, multi-jurisdictional approaches to addressing these problems.

The Shoreline Health Oversight, Restoration, Resilience, and Enhancement (or SHORRE) Act authored by U.S. Senator Tom Carper is an important step in that direction. The SHORRE Act is largely contained in the bipartisan Water Resources Development Act (WRDA), which passed congress in late 2022.

WRDA is the biennial water infrastructure act that invests in restoring ecosystems and resilience of coastal and inland communities for the U.S. Army Corps of Engineers, among other authorities. The Corps, as it's commonly referred to, is the primary federal agency charged with flood and coastal storm risk management, aquatic ecosystem restoration and navigation-related projects. With the addition of the SHORRE Act provisions, the 2022 WRDA is the most significant expansion of the Corps' coastal storm risk management and ecosystem work in more than two decades.

The WRDA bill places additional emphasis on accounting for climate change when planning and executing projects for flood risk reduction and drought resilience; strengthens technical assistance to local communities for project planning; and advances ecosystem restoration projects across the country. It also eases disadvantaged communities' access to Corps programs to address challenges ranging from storm surge to flood control to ecosystem degradation.

Nature can be a powerful tool for solving the challenges facing our coasts, waterways, ecosystems and communities. Leveraging nature-based and natural solutions is an effective approach for managing flooding, storm surge, drought and other impacts. The bill will help ensure the Army Corps is targeting federal resources to nature-based solutions where they are effective and needed most. The legislation also:

Updates the Corps' emergency authorities to provide greater support to Delaware's beaches following hurricanes, nor'easters and other damaging storms.
Designates Delaware as a priority area for the Corps' implementation of shoreline and riverbank protection and restoration projects.
Lowers the state cost-share of the Bay Beach Restoration project to 10% of the total project cost over 50 years.
Expands the Corps' authority to enhance resilience and increase the benefits of shore protection projects in Delaware and across the country during emergency repair and restoration efforts.
Authorizes a new Corps environmental infrastructure project in Delaware to help improve sewers, stormwater treatment systems, drinking water and other related water infrastructure throughout the state.
Lowers the cost-share on non-structural, natural and nature-based solutions.
Establishes a new Tribal and Disadvantaged Communities Advisory Committee to advise the Corps on ways to more effectively deliver projects, programs and other assistance to economically disadvantaged communities.

Thank you to Senator Carper for his leadership in developing the SHORRE Act and leading the way with the WRDA legislation. With his two Delaware colleagues, Senator Coons and Representative Blunt Rochester, who served as a sponsor of the House of Representatives version of the legislation, the Army Corps is now better poised to respond to our changing climate and help us protect this special place we call home.

** Lori Brennan is the executive director of The Nature Conservancy (TNC) in Delaware and Pennsylvania.

The Delaware General Assembly returns to session on January 10, 2023. This return means it is time, once again, to advocate for statewide environmental progress. Like almost every state legislature, our legislature is part-time, with session days and committee meetings on Tuesdays, Wednesdays and Thursdays from January to June 30 every year. However, between night meetings, task forces and state budget negotiations, the work is usually full time or more for the 62 state legislators, staff and all involved.

Every year TNC Delaware announces its annual public policy agenda, and this year we are placing a special emphasis on climate change and sea-level rise. As the lowest mean-lying state in the country, Delaware is facing enormous challenges that threaten both human and natural communities, including an estimated 9-23 inches of sea-level rise by 2050 and up to 5 feet by 2100.

In the summer of 2022, we announced our first-ever hire of an Oceans and Coasts Director, Will Helt. Our advocacy staff and Helt will work closely together to help ensure Delaware's coastal residents and habitats remain resilient and productive as conditions change due to climate change through new partnerships, community engagement, state and local policy changes, and catalyzing the adoption of nature-based solutions.

Building upon this work, our 2023 advocacy agenda includes the following:

Working with the Delaware Land Protection Coalition to increase funding for state open space and agriculture preservation programs, an updated open space strategy that includes climate change considerations and the input of nonprofits and state agencies.    
Working with partners to advance coastal resilience and climate adaptation strategies including conserving additional lands, facilitating marsh migration as sea levels rise, exploring new agricultural easement strategies, advocating for public policy changes and restoring critical habitats for our iconic fish, birds and wildlife.
Supporting the creation of aggressive climate change policies on the state and local level in Delaware that address rising waters, flooding, carbon capture, green infrastructure and the needs of overburdened populations.
Advocating for Delaware to increase its commitment to greenhouse gas emission reduction targets and clean energy deployment, including requiring state agencies to take these targets into account when making key decisions and conducting infrastructure planning.
Maintaining and protecting Delaware's ground and surface waters, emphasizing wetland protections, resiliency, green infrastructure, flood mitigation, habitat protection and overburdened communities.     
Working with the Delaware Environmental Accountability Coalition to seek additional protections from pollutants for overburdened communities and increasing partnerships, education and awareness on environmental justice issues and how they connect with TNC priorities.   

If any of these agenda items resonate with you and you would like to know how you can help, or if you have any questions, please email Emily Knearl, Delaware director of government relations & external affairs. 

IG Burton is a native and lifelong Sussex County resident, and he and his family are familiar with Sussex County and the greater Delmarva Peninsula. For more than a century, four generations of his family have operated an auto dealership in the Milford area. Now retired, Mr. Burton is no less active in the community, serving as a trustee for The Nature Conservancy PA/DE, a member and chairman of the board of directors for Bayhealth Medical Center, a trustee for the University of Delaware, and a member of the Delaware Council on Transportation. Mr. Burton advocates for managed, responsible growth and counts land use and economic development among his top priorities. 

Reflections from a New TNC DE/PA Board Member

I have been lucky to live in Sussex County my entire life, and my family has been here for generations. Many of us who have lived here for so long have seen the county transformed from a quiet rural setting to a place bustling with new development and ever-busier beaches and towns. The challenge has been—and will likely always be—how we can preserve and protect Sussex County's natural resources while continuing to grow the county's economic opportunities for its residents. 

In 2021, I was approached by The Nature Conservancy (TNC) to join as a Pennsylvania/Delaware board member. I thought about it—a lot. There are only so many hours in the day, and I like to be careful with my commitments. But what ultimately led to my decision to accept was the importance of conserving more Sussex County land and advocating for a better future. TNC is committed to working with partners to advance coastal resilience and climate adaptation, including strategies to conserve additional lands, protect human and natural communities, and restore critical habitats for our iconic migratory fish, birds and wildlife. 

The work that TNC does to conserve land and protect Delaware's natural beauty is not the only reason I joined the board. I also believe in their staff. Natasha Whetzel manages all six Delaware TNC preserves, totaling 5,000 acres and 12 miles of walking trails. Will Helt recently joined us as the Delaware oceans and coasts director and has an extensive background in managing coastal restoration and monitoring projects. Kim Hachadoorian leads the Stream Stewards, a community science program designed to engage people of all ages and backgrounds in watershed stewardship, at the First State Historical Park. Emily Knearl, external affairs director, joined in 2021 with a 25-year career in Delaware public policy and partnership building, most recently in the environmental and public health sectors. And many more TNC staff are engaged in Delaware and Pennsylvania, from conservation to volunteer management to communications.

I look forward to working with them and helping to make connections with the many organizations and individuals committed to protecting the natural beauty of the First State. There is no more important time than today as we build toward a better future. I remember being a kid riding around with my dad and seeing the natural beauty all around us. I want my grandchildren and their children to enjoy Sussex County as the generations before them have. This is the challenge we must face together today, tomorrow and forever.

TNC joined the City of Wilmington, Delaware Congressional Delegation, and local, state and federal partners to celebrate the opening of the Southbridge Wetlands Park on October 18. The park was a longtime passion project for the Southbridge residents, including longtime civic activist Marie Reed. Southbridge residents lived every day for decades in this low-lying area with the threat of flooding from storms.

Always modest, Ms. Reed was thanked over and over by the congressional delegation, mayor and community leaders for her hard work making the park a reality, but she only said it was a team effort and credited the residents of her neighborhood for their advocacy.

The project is a perfect example of what can happen when community residents, government and nonprofits come together. TNC is also proud to celebrate our board trustee Jeff Flynn who formerly led the Wilmington Economic Development Office. Flynn was thanked by the mayor and many others during their remarks for his commitment to making the park a reality.

The project was 16 years in the making and cost $26 million. More than just a flood reduction and storm management project, U.S. Senator Chris Coons perfectly summarized it as an environmental justice project and a model for how other urban areas can reclaim contaminated spaces for their residents.

According to the city, 8,200 truckloads of contaminated soil was removed from the 14 acres of wetlands. In creating this newest public park, the city also added a boardwalk to connect Southbridge residents more directly to shopping and recreational opportunities and increase walkability along the Wilmington riverfront for visitors.

TNC was pleased to contribute ecological consulting and $770,000 to the two phases of the park project, including a $366,000 grant from Mt. Cuba.

"The South Wilmington Wetlands park is a great example of what can be accomplished when partners come together to create equitable conservation outcomes. Kudos to the City of Wilmington, longtime TNC trustee Jeff Flynn and everyone who made it happen, especially community activist Marie Reed, who worked tirelessly to advocate for this important project," said Lori Brennan, executive director of TNC PA/DE. "TNC was pleased to contribute to the project, and we're delighted to see the co-benefits of reducing flooding in the Southbridge neighborhood while also helping a community greenspace come to fruition."

With a master's degree in Marine Science, Will has extensive experience in managing coastal restoration and monitoring projects, from oyster reef creation to green stormwater infrastructure. Will leads a multi-disciplinary team of scientists and practitioners focused on implementing science-based strategies to improve the climate resilience of coastal habitats and natural communities along the Delaware Bayshore while incorporating natural infrastructure solutions that help human communities adapt to the impacts of sea-level rise and facilitate marsh migration.  

What got you interested in oceans and coasts work?

Growing up in southern Louisiana, I began to see firsthand the productivity of coastal habitats along with their vulnerability. Between witnessing the damage from hurricanes to my own neighborhood and the Deepwater Horizon Oil Spill's destruction of Louisiana's coast, I grew interested in better understanding the value of this space where rivers meet the sea. As "nurseries of the sea" the conservation of these estuaries is essential for healthy systems, from oceans to coastal communities. Delaware is a wonderful example of these nurseries with its miles of coasts and some of the most important coastal habitats in the region.

How does sea level rise impact Delaware?

At the risk of sounding sensationalist, I view sea level rise as an existential threat to Delaware's coast and tidal rivers. According to DE's Dept. of Natural Resources and Environmental Control, sea levels will rise between nine and twenty-three inches by 2050 and up to five feet by 2100. Not only will the changing sea level alter coastal habitats that are critical for important species including red knots and horseshoe crabs, it will also put already vulnerable communities at greater risk. For example, it is estimated that nearly 7,000 DE residents could lose their homes to flooding resulting from climate change.

What are The Nature Conservancy's priorities to address climate change?

TNC is working to tackle climate change at two levels, addressing the cause and the impact through mitigation and adaptation. Climate change mitigation is accomplished by reducing greenhouse gas emissions and pursuing policies that prioritize clean energy. Our climate adaptation work uses nature as a tool to increase the resilience of critical habitats and communities. There is no one-size-fits-all approach; adaptations must be tailored to the needs of a community and nature. As sea levels rise and storms become more frequent and intense, we aim to ensure important coastal habitats persist and residents are protected from disasters.

How are coastal marshes impacted by sea level rise and why is TNC prioritizing them? 

We know that as sea levels rise, freshwater marshes are threatened and saltwater marshes will move inland. TNC's goal is to help facilitate the inland migration of coastal habitats as sea levels rise, because these habitats, such as salt marshes, provide numerous ecosystem services and benefits to human communities, like as water filtration, habitat for important migratory birds and fishes, and protection from storm surge. To accomplish this goal we will use a combination of nature-based solutions to address saltwater inundation and conserve adjacent lands.

TNC is working to increase its diversity, equity, inclusion, and justice (DEIJ) work. How do you see the connection between DEIJ work and the oceans and coasts program?

Generally, negative environmental impacts disproportionately affect already vulnerable and marginalized populations,  and climate change will only exacerbate this disparity. TNC's work along Delaware's Bayshore is committed to ensuring socially vulnerable coastal communities' concerns are equitably heard and prioritizing nature-based solutions that most benefit these groups.

Kelly Knutson, Director of the Coalition for the Delaware River Watershed (CDRW), lead on federal policy, strategic vision, and diverse partnerships throughout the four basin states. Kelly joined the Coalition in April of 2019 as State Policy Manager and transitioned to the role of Director in September 2021.  

Trained as a biologist, Kelly has spent his professional career advancing science-based policies to stakeholders, communities, and lawmakers to ensure that evidence-driven solutions are at the foundation of constituent advocacy and legislative strategy. 

What is the Coalition for the Delaware River Watershed?

The Coalition for the Delaware River Watershed is a network of more than 175 organizations– including The Nature Conservancy in Delaware–all dedicated to protecting the natural resources within the Delaware River Basin. Our Coalition members range from small groups on the front lines of water protection to national advocacy organizations. CDRW adds value to our members through advocacy support, communications assistance, information sharing, and networking opportunities. We leverage the strength and power of our members as one voice to inform and educate decision-makers throughout the watershed.

What's unique about CDRW is that we're member-driven, so every year we determine the Coalition's priorities on both the state and federal level alongside other organizations in the Basin. Together, our members focus on policies that span to other areas of restoration funding, like the Land Water Conservation Fund and Partnership Wild and Scenic Rivers; to areas that focus on drinking water, like PFAS, the Clean Water Act, and Infrastructure funding; to also combating the climate crisis and helping to develop a workforce of conservation leaders through the next generation.

Why is the Delaware River Watershed important? How does it touch peoples' lives every day?

The Delaware begins in the Catskill Mountains, flows south through Trenton and Philadelphia, and eventually reaches the Atlantic Ocean. The watershed is incredibly diverse from the cold streams of the Upper Delaware known for its excellent trout fishing to bustling cityscapes and all the way to the Bay area, all supporting a unique blend of communities and landscapes.

The Delaware River is one of the Mid-Atlantic's most important and unique natural resources. Flowing through four states (NY, NJ, PA, DE), the river supplies drinking water to more than 13.3 million people. The Delaware supports the second-largest population of migrating shorebirds in North America and provides habitat for over 200 fish species, including the endangered Atlantic sturgeon. It's also home to the largest population of American horseshoe crabs in the country.

The watershed is also the lifeblood of this region, providing over 21 billion in ecosystem services annually. The river and its tributaries flow through nearly a dozen National Parks and historic sites, providing world-class recreational opportunities.

Any observations on celebrating the anniversary?

The Coalition is thrilled to be celebrating a decade of impact in the Delaware River Watershed! Much has changed in 10 years, but one thing remains the same - uniting organizations to advocate for a healthier watershed. In 2012, the Coalition was formed with the mission to obtain national and federal recognition for the Delaware River Watershed. In 2016, Congress affirmed the importance of protecting the natural resources of the watershed when it passed the Delaware River Basin Conservation Act. Since the Delaware River Basin Restoration Program (DRBRP) received its first congressional appropriation in FY 2018, the program has supported 123 projects across the watershed by providing $26.6 million in federal grants and leveraging an additional $46 million in non-federal funds.

The Coalition continues to work for successful implementation of this program, as well as lead in other policy issues affecting the watershed, promote watershed-wide planning and collaboration, and advance diversity, equity, inclusion, and justice to ensure that all communities share equitably in the benefits of clean water. As a result of the Coalition's work with partners and stakeholders, we are undoubtedly paving a path toward cleaner waterways, restored habitat, healthier and protected wildlife, added outdoor recreation and access opportunities, and a more inclusive and equitable place to live, work, and play. We look forward to the next ten years and beyond for the impact the Coalition will have on the Delaware River Watershed for both its human and wildlife residents. Without our 175+ partners, like TNC, the successes of the Coalition would not have been achieved. It is the dedication of our members that will drive this work forward for the many years to come.

Rich Hall is the New Castle County Land Use Director, a position he has held since 2017.  Hall has held several senior positions over his 30-year career as a professional planner, including the State of Maryland Planning Secretary. His experience includes state and local comprehensive planning, analysis, legislation, management, policy development, program implementation, and citizen engagement.  Special topics of interest include smart growth, watershed planning, land preservation planning, housing, economic and community development, and other land use management issues.  

What is the New Castle County Comp Plan? How does it influence NCCo Land Use decisions in the future? 

The Comprehensive Plan (NCC2050) is a blueprint for the county's future—30 years. It is the greenest plan the county has had. The plan drives land use policy related to zoning, infrastructure, preservation, and other growth issues. We examine current and projected landscape and zoning conditions to develop recommendations and strategies for issues ranging from housing to land preservation; addressing climate change to economic development; environmental and social justice; transportation to environmental protection. All of this was done with significant community engagement over the past two years. While the plan is locally focused, we are required by state law to update it at least once every 10 years.  

How does the Comp Plan protect the environment and preserve open spaces and bio-habitats? 

The plan makes many specific recommendations and provides strategies for increasing open space and strengthening environmental protections. Building on our GreeNCC initiatives, the plan establishes a land preservation goal to add more than 7,000 acres of preserved land. The plan also recommends adding Critical Natural Areas to our Resource Preservation Future Land Use Map category. In addition, it seeks to explore these areas for additional protection. Stream protection and restoration are also mentioned in the plan for further work. By managing growth, the environment will be better protected from sprawl where development and infrastructure are spread out across the landscape. We also emphasize initiatives to better green our existing built environments. 

How does the comp plan address climate change? Environmental justice issues?

Climate change and environmental justice are two priorities of the plan. The plan contains maps of areas subject to sea level rise and areas vulnerable to storms. It also calls for more land preservation and greening. Environmental justice recommendations include better buffering and consideration of the proximity of residential communities to heavy industrial areas. The plan also calls for housing affordability and equitable economic opportunities for all communities, along with improved coordination and planning of services such as parks, infrastructure, and transportation.  

What can the public do to become engaged and help their voices be heard?

At the time of writing, we are about to present the draft comprehensive plan to New Castle County Council for adoption. If approved, we look forward to beginning implementation in the fall. We encourage the public to engage in plan implementation. We will need their help! There are recommendations for creating teams of stakeholders to help implement key topics of the plan, including sustainability and the environment. The implementation chapter includes measures of progress to help track our efforts. We want people to use this plan and not put it on a shelf. To learn more about NCC2050, please visit our website. Upon plan adoption, this site will be updated to be a resource for those wanting information or to engage, and it will provide a status of plan implementation. We also encourage residents to communicate with County Council about these issues.  

Protecting and enjoying the county's environment is important in urban, suburban, and rural areas. Everyone deserves a clean, safe and assessable environment. NCC2050 includes recommendations and strategies to help obtain this vision.   

Representative Kendra L. Johnson has dedicated her entire career to serving individuals living with disadvantages and life challenges. Kendra earned a master's degree in human services from Lincoln University. She is chair of the Delaware Black Caucus and co-prime sponsor of House Bill 466, the Healthy Communities and Environmental Justice Act. In addition to her work as a State Representative, Kendra is currently serving as Director of Community Relations for Conexio Care and CORAS Wellness & Behavioral Health, one of Delaware's largest providers of human services supports. Kendra was elected in 2018 to represent the 5th district in Delaware.

What do you see as the most important environmental challenge facing Delaware? 

I've never ranked environmental challenges because when I think about air and water, the only thing that comes to mind is basic human rights. I don't think one is bigger than the other. Honestly, we need quality air and water to survive. I believe everything is interconnected and so there is an urgency to address all aspects of our environment from the air, to water, to the soil, to climate change, and everything related. You have to look at the environment and challenges holistically if you really want to make a difference with the world that our parents grew up in. We want to do better because now we know better. 

What is the cumulative impacts bill? 

House Bill 466 is about healthy communities and would put a permitting process in place for new and existing industries that want to expand in already overburdened communities. In addition to the permit process, the state would require a more extensive review of plans and seeking the input of the potentially impacted community. Essentially, the goal is to have checks and balances as it relates to overburdened communities. Some of these industries and facilities are listed in the bill and a newly created Environmental Justice board would make recommendations on what additional industries should be added.

How does it help Delaware's overburdened communities? 

While we can't do anything about the environmental harm that has already happened, what we can do is create systems to ensure that these hazards don't continue to harm people today and also protect future generations, particularly disadvantaged people who are the most likely to live in neighborhoods closer to environmental pollutants. We may not be able to stop already existing cancers but we can take steps toward a healthier environment and preventative measures for others. 

How do you recommend people get involved and make their voices heard in the legislative process? 

First thing I would suggest is to connect with your state representative and your senator. Secondly, stay on top of the cumulative impacts bill by following it through as it moves along. You can even participate in public hearings and let other people know how important it is to you and your family. Finally, stay engaged every step of the way by sending emails and making phone calls.

Open space and conserved land are a precious thing in Delaware, and the clock is ticking on our ability to protect our natural world. Conserved open spaces also contribute to fighting climate change, preserving our rich natural heritage, helping our economy and offering mental and physical health benefits. To celebrate land conservation and seek an increase in state open space funding investments, the Delaware Land Protection Coalition (DLPC) hosted the first ever Conservation Day in Legislative Hall on May 11, 2022. 

Organized by TNC, Center for the Inland Bays and other members of the DLPC, Conservation Day included meetings with the Governor's office, Lt. Governor Bethany Hall-Long and General Assembly members. The purpose of Conservation Day is an increase of $15 million in the Annual State Bond Bill for a total of $25 million to the Department of Natural Resources and Environmental Control (DNREC) for open space investments.  


The benefits of preserving open space are many: 

Helps to address climate change by capturing carbon through forest conservation, and alleviating flooding caused by increased rainfall and storms. In the U.S., forests capture and store almost 15% of the carbon dioxide emissions every year—equivalent to annual emissions of 165 million cars. And for every $1 invested in land protection there is a $5 return in reduced flooding impacts. Preserving open space was also suggested as one of many remedies to address climate change in the recent DNREC Climate Change Action Plan.  
Provides enormous economic benefits for a state known as an outdoor recreation and retirement destination. Delaware's tourism industry contributes $3.5 billion to the economy and much of that industry is linked to outdoor experiences. Delaware has also become a retirement destination of choice for out-of-state retirees, and while our low taxes are an important factor, the quality of life and easy access to natural resources is another important driver to attract and retain this important tax base for the state.   
Protects water quality by offering natural filtration systems and reducing contamination caused by stormwater runoff.   
Supports mental and physical health. Research has connected green spaces and outdoor recreation to a variety of health benefits, including greater relaxation and physical activities opportunities. The value of open space is also critical component of the State's public health infrastructure which was crystalized by the 72% increase in State Park visitation realized during the first year of the pandemic. The brain and body need the outdoors to thrive. 

The Conservation Day message was well received in Dover but there is more work to do—and we need your help. The General Assembly will vote in the end of June about the final amount to be spent on open space. 

You can help by contacting your legislator to ask for an increase in state open space funding.  

Use the Delaware General Assembly search page to find your legislator.  Type your address in the box and click enter. The contact information for your state senator and house representative will appear on the right, including their email address. Make your voice heard to help protect our natural world!  

Delaware Land Protection Coalition members include Delaware Center for Inland Bays, Delaware Wild Lands, The Nature Conservancy, Kent County Conservancy, League of Women Voters of Delaware, Ducks Unlimited, Delaware Nature Society, Sussex County Land Trust, Preservation Delaware, Native Species Council, Sussex 2030, Land Trust Alliance, and representatives from New Castle County and Kent County. Contact Emily Knearl to learn how you can take part during the Second Annual Conservation Day in Spring 2023.