Choosing Clean Energy focuses on the power of innovation and the innovations that will power our future.
About Us
CHOOSING CLEAN ENERGY highlights how the clean, renewable energy revolution is unfolding across the United States. It promotes the positive economic and health benefits of cleaner, low-carbon energy technology in the United States. The electric power industry is in a state of rapid transformation, and in the next decade we will see a reinvention of how we generate, store, transmit and use electric power. 
Choosing Clean Energy focuses on the power of innovation and the innovations that will power our future. Many of the solutions we need to address the conservation challenges of our time also offer the opportunity for more jobs, more consumer choice, lower costs, cleaner air and water, better soil quality and better health. We no longer need to choose between abundant energy and a cleaner environment. With careful planning, we can have both.
See Our Work by State
Choosing Clean Energy in Iowa showcases the benefits that solar energy provides in all of Iowa's 99 counties for homes, businesses and farms. See how The Nature Conservancy in Iowa and partners are using group-purchasing programs to empower and educate homeowners and businesses on how solar energy can work for their community, while also helping to reach sustainability goals.
Choosing Clean Energy in Ohio promotes the positive economic and health benefits of cleaner, low-carbon energy technology. Ohio has the opportunity to reinvent how we generate, transport and use our electric power.
Advancing Clean Energy in Pennsylvania is an online community working to change the conversation surrounding clean energy, energy efficiency, and clean transportation. We work to highlight the role these opportunities can play in transforming local Pennsylvania economies and communities.
Renewables and Storage
For years, because the sun didn't always shine, wind didn't always blow, and coal and natural gas were so much cheaper and produced reliable power, renewables had little market traction. But the times have changed and the technology has advanced. Solar panels now produce more energy more efficiently. Wind turbines have grown in size and produce more energy. Battery technology has advanced to the point where renewable installations that utilize solar-plus storage or wind-plus storage can bring electric power to the marketplace at costs that rival or even beat the cost of fossil fuels, even natural gas. A renewable energy future is possible right now.
Creating Clean Energy Jobs
All this new technology is not only bringing cleaner energy and cheaper energy, it's creating jobs. The fastest growing professions in the US are solar installer and wind turbine technician. And these are jobs that cannot be outsourced. Careful consideration of appropriate siting of these new renewable energy installations is also part of the revolution that's happening. Smart siting techniques are bringing energy facilities online with better understanding of how to minimize impacts to wildlife and ecosystems.
Encouraging Energy Efficiency
Energy efficiency is by far the easiest way to make a positive impact on our communities, our wallets and our planet. If we use less energy, we burn less fuel, and we need less energy production. By using less energy, imports of oil and natural gas also decline so that our economy can be more secure. Energy efficiency also lowers greenhouse gas emissions that contribute to climate change. Learn more about all the ways people are reducing the amount of carbon pollution they create by being more efficient in how they use energy.
Home Energy Conserving Tips:
Do a Home Energy Audit – Whether you do it yourself or hire a professional, a home energy audit can help you see the big picture of your home's energy use. It can show whether your home is using little or a lot of energy and where you can save, sometimes with very simple steps.
Use Advanced Power Strips – Home entertainment systems, computers and printers and other electronic devices continue to draw electricity even when they're turned off. These so-called "vampire loads" add up to $200 a year in annual electricity costs for the average home. Advanced power strips have built-in features that reduce the energy used by consumer electronics.
Choose Efficient Appliances and Electronics – When you need to purchase a new appliance, like a dishwasher or washing machine, research the energy use. An easy first step is to check the bright yellow EnergyGuide label on most appliances, which shows a product's estimated energy use and annual cost. Energy.gov also has a handy online appliance energy calculator.
Workplace Energy Saving Tips
Do an Energy Audit – Like a home energy audit, an audit of all the systems that use energy in your business is a great way to seek ways to be more energy-efficient, whether it's for heating and cooling, production or everyday operations. Professional auditors or your local utility can get you started.
Perform High-Energy Uses During Low-Peak Times – If your business has a high-energy operation, can the work be done during times when there is low energy use on the grid? If so, you might be able to realize big savings.
Consider Clean Energy – Investments in solar panels for electricity or heating/cooling can provide huge long-term savings and send a message about the effectiveness of clean, renewable energy choices. Solar companies will often provide free or inexpensive consultations for retrofitting your business with the right design.
Policies and Programs

The six energy efficiency policies and programs listed below saved an estimated 25 quadrillion BTUs of energy in 2017. Without these programs, annual U.S. energy use would have been about 23 percent higher.
fuel economy standards
appliance and equipment energy efficiency standards
ENERGY STAR®
utility sector efficiency programs
federal research and development
building energy codes
We Can Be More Energy Efficient - There's far more potential to save energy using existing technologies. New technologies are developing that allow energy users to have greater control and connectivity, and save more money. Getting to this next level of energy efficiency will require sustained commitments of policy and programs.
To reach a clean energy future, we need to upgrade our electric grid. As the nation's power grid seeks to add new services and more clean energy, we'll need new technologies to efficiently direct power from where it's generated to where it's being used. Consumers are also being offered new technologies—smart thermostats, solar panels, electric vehicles and energy storage —that also make a modern grid necessary.
Clean Transportation
Americans love their cars, and in the United States, the transportation sector is the largest source of carbon pollution. Transitioning America's fleet of over 276 million registered vehicles from gas to electric, and eliminating the millions of tons of carbon emissions from that fleet is a monumental task. And while the technology to make an electric-powered automobile has existed in theory for decades, it has only been in the past few years that we're seeing electric vehicles being offered on the market that may serve as a true alternative to a car with a gas-powered engine. 
Electric cars and trucks are popular, and fascinate the public. That said, we're a long way away from making electric vehicles America's first choice in transportation, and from having the infrastructure necessary to support a fully electrified fleet of cars, trucks and other vehicles. 
Carbon Pricing
Few would argue that pollution ought to be cost-free. And we have seen that when goods and services reflect the cost of pollution, consumers demand cleaner products. Where demand exists, innovation follows.
Carbon pricing puts the technology challenge on getting to a clean energy future where it should be—in the hands of innovators. Carbon pricing gives companies the opportunity to efficiently build these costs into a business plan and maximize economic growth. And it harnesses the power of the marketplace—both consumers and producers—to ensure that the cost of unlimited pollution is not shouldered by the most vulnerable.
The Market Choice Act, introduced in September 2019, is one recent example of federal legislation that sets a national price on carbon. The bipartisan act replaces the federal gas tax with a price on carbon of $35 per ton. Independent projections suggest the bill will reduce greenhouse gas pollution by 36% by 2025. The revenue collected would support development of carbon capture technology, spur deployment of natural climate solutions, kickstart renewable energy deployment, and provide significant investment in resilience against climate impacts.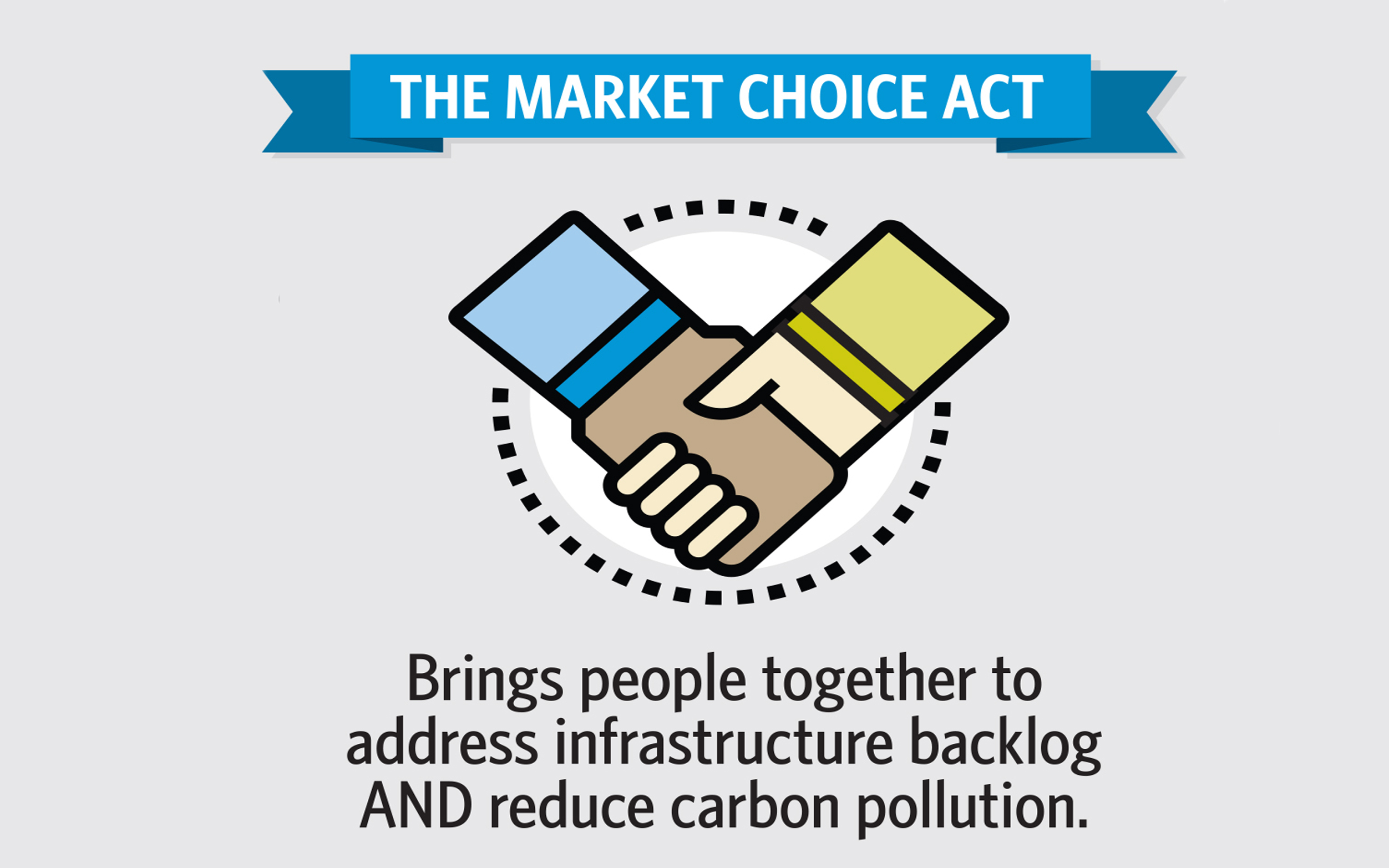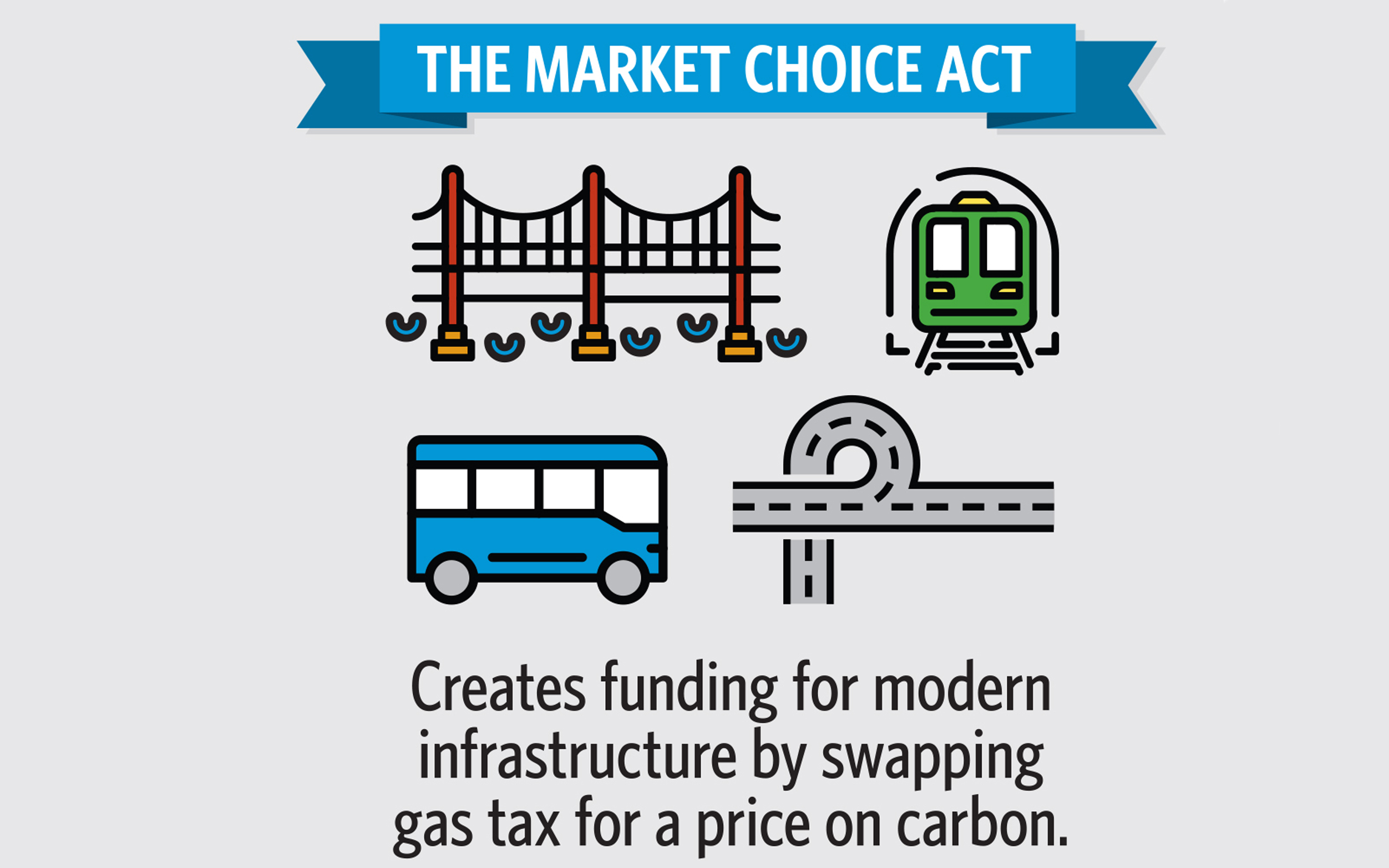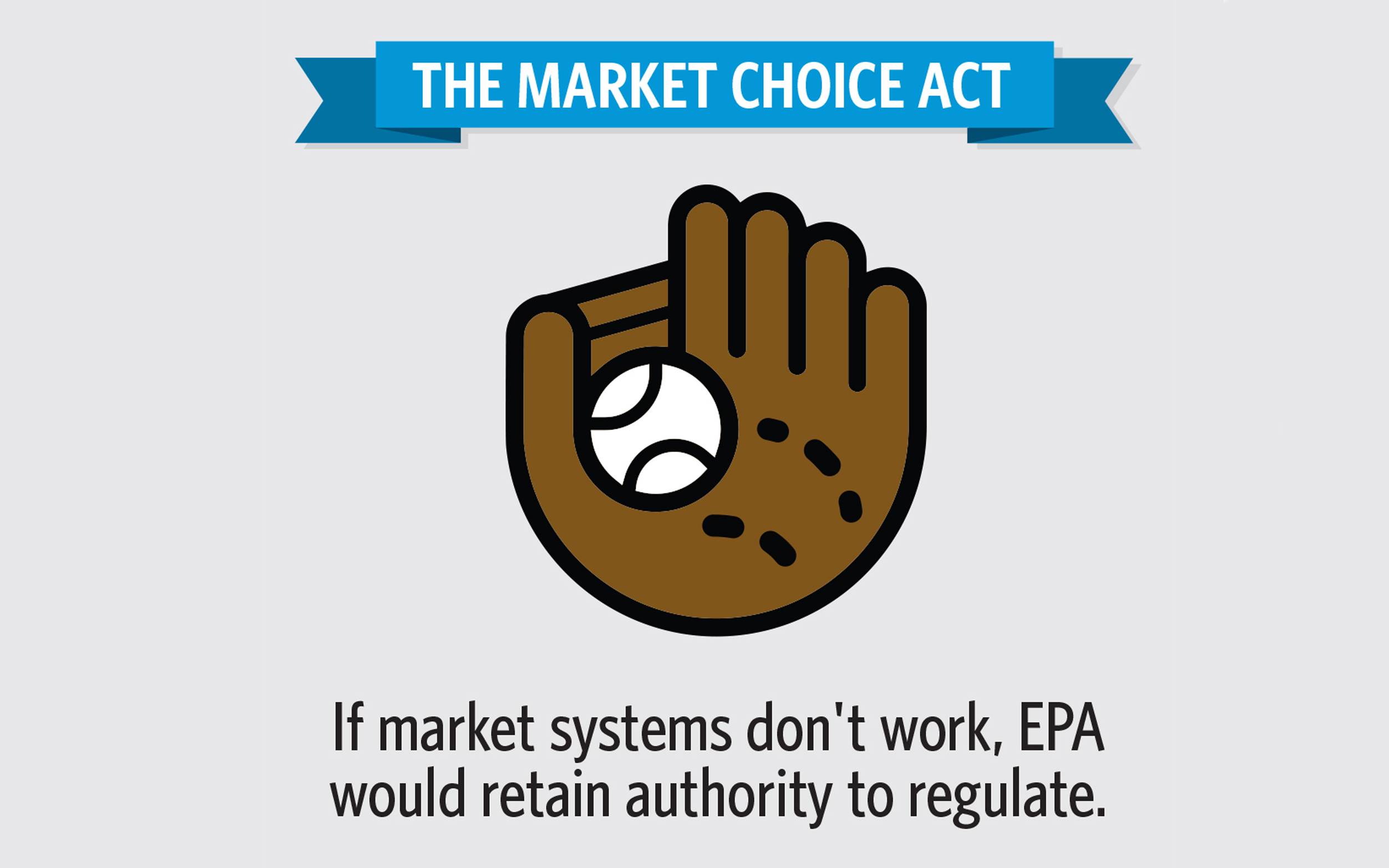 Read a statement about the Market Choice Act from TNC's Vice President of Policy and Government Relations, Lynn Scarlett.
Two other pieces of pending legislation, introduced by Reps. Francis Rooney and Dan Lipinski in July 2019, would also set a national price on carbon. Both the Stemming Warming and Augmenting Pay Act (SWAP Act), sponsored by Congressman Rooney and cosponsored by Congressman Lipinski, and the Raise Wages, Cut Carbon Act (RWCC Act), sponsored by Congressman Lipinski and cosponsored by Congressman Rooney, would establish a price on carbon and harness private market forces in identifying the least-cost, greatest-impact ways to reduce carbon pollution. Read our statement about these bills.