Europe has set out to become the first climate-neutral continent by 2050.
With energy needs showing no sign of diminishing, accelerating the development of renewable energy is critical to meeting that goal. Indeed, the world will need at least a nine-fold increase in renewable energy to meet the emission reduction goals laid out in the Paris Agreement.
However, clean energy installations like wind and solar farms require significantly more land than their non-renewable predecessors.
Finding Suitable Land
A key barrier to rapidly deploying renewables is identifying enough suitable land that doesn't unduly harm the nature and communities in their path. Fortunately, if we plan the expansion of renewable energy carefully, we can benefit both nature and people in the long-term.
Global insights, directly to your inbox.
Get our latest research, insights and solutions to today's sustainability challenges.
Receive our newsletter
Our preliminary scientific findings tell us there is more than enough suitable land to meet the EU's goal to increase the share of renewable energy to at least 42.5% by 2030, if not the more ambitious 45% target we support.

Factoring in environmental and socio-cultural sensitivities at the outset will accelerate Europe's transition to climate neutrality, ensuring that both biodiversity and renewable goals are met. 
The Opportunity: Go Smart To Go Fast
By bringing clarity, confidence, and certainty to the renewable development process, we are confident that we can accelerate renewable deployment and achieve key policy goals.
From our experience in the U.S. and India, we know that smart siting reduces costs, shortens permitting, positively impacts natural and cultural resources, and supports equity – enabling the achievement of multiple goals at once.
To make smart siting a reality, we regularly collaborate with policymakers, local communities, scientific institutions, and key industry actors to ensure the right decisions are taken in Europe to provide best practices for the global roll-out of renewables.
This way, we aim to find the best places for renewable energy and advance policy and markets to support implementation while driving benefits for communities in Europe and beyond.
In Europe, we are making the case for smart renewables deployment in a few different ways:
 
1. Mapping a renewable energy future in Southeast Europe

We believe that a brighter future is possible in Serbia, where we've pinpointed 100 locations where solar energy could be developed to meet 10% of household energy consumption while minimizing impact to nature and communities. Meanwhile in Croatia, we worked with Hrvoje Požar Energy Institute to identify enough low-impact land to meet half of the country's total national 2030 target for solar and wind power from one county alone. We are working with the governments of North Macedonia and Montenegro to do similar analysis as well. 
2. The potential for brownfields and built-up areas 
In North Macedonia, our partner Macedonian Academy of Sciences and Arts developed a first-ever assessment of the renewable energy potential of abandoned mines. With partner Ekosvest, we have developed a set of principles to extend our analysis to other types of degraded land including industrial brownfields and barren land. In Croatia and Slovenia, we worked with partners on the Solar Adria project to pilot the mapping of rooftop solar photovoltaic systems to demonstrate the potential of utilizing pre-existing structures, such as industrial and residential rooftops, for renewable energy production. 
3. Engaging with industry
Through our partnership with Eurelectric, the pan-European association for the electricity industry, we are advocating for an integrated approach to the deployment of renewables and the protection of biodiversity, in support of policy objectives set out in REPowerEU and  the EU Biodiversity Strategy for 2030. We work closely with them to help advance shared policy goals, illustrating how the electricity industry can support the natural world and regenerate biodiversity through integrated renewable energy projects, as demonstrated in their Power Plant initiative. 
4. Recommendations for policymakers
Policy is an important tool to create the regulatory environment and incentives needed to accelerate the deployment of renewable energy— contributing to decarbonising the energy system and reducing emissions—while delivering benefits for nature and communities. Based on our leading principles and scientific knowledge, The Nature Conservancy has developed recommendations for EU and UK policy-makers that are adapted to the existing policy context, with the aim of reducing barriers to renewable energy deployment and achieving a nature-positive energy transition.
Download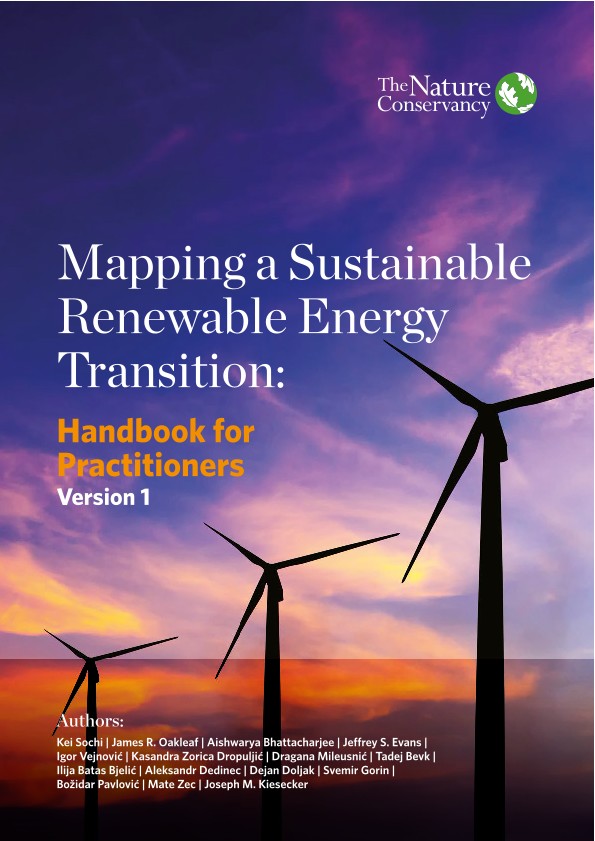 Our Four-Step Approach to Siting Renewables
1. Identifying Lands Suitable for Solar and Wind

Producing a suitability map for solar or wind development through data selection, processing, analysis and model integration. Then combining the criteria that influence development and ranking the potential of suitable lands.
2. Mapping Environmental or Biological Conservation Value in the Region

Using a combination of coarse-filter and fine-filter approaches to identify environmental and biodiversity targets and mapping potential conflicts with renewable energy development.
3. Identifying and Mapping Cultural and Social Values in the Region.

Using economic, demographic, and ecosystem service data, as well as cultural information to identify connections to and demand of land. Supporting guidelines and steps that ensure community consultation, consent, and minimisation of social impact.
4. Bringing All the Information Together

Mapping these scenarios together and examining the development of wind and solar through scenarios that look at consequences of both unplanned developments, as well as those that assess if renewable energy targets can be met on low-conflicts areas.