Considering the current state and importance of Latin America, our strategy focuses on the transformation of agricultural landscapes.
Regenerative agricultural systems seek to improve the natural conditions while ensuring water and food supply for the population, generating benefits such as greater climate resilience of ecosystems, an increase and greater conservation of biodiversity and natural resources and higher productivity.
Discover how our strategy works

 
Why do we work here?
In Latin America, we want to create a sustainable future for our planet through regenerative production systems, where nature and science come together. This important region features:
16%

of the Earth's Surface

25%

of the world's forests

25%

of global exports (agricultural and fish products)

30%

of the planet's freshwater

40%

of the world's biodiversity
Together with partners and donors, we seek to face current agricultural challenges, protecting ecosystems, regenerating their resources and building resilience.
Latin America is one of the most important regions globally in terms of food security. Learn how we transform production systems in this region:
El Chaco
Se promueve un cambio sistémico a la agricultura de conservación, con implementación de prácticas agrícolas y ganaderas regenerativas y políticas y modelos de negocio sostenibles
Patagonia
Busca revertir la desertificación y restaurar los pastizales, fomentando prácticas regenerativas y servidumbres de conservación con la finca demostrativa de Fortin/Chacabuco
Araguaia River Basin
Promueve buenas prácticas agrícolas en cultivos anuales e intensivos, manejo eficiente del agua, diversificación del uso de la tierra y restauración de áreas degradadas
Orinoquia
Apoyo en la implementación de un Pacto de Desarrollo Sostenible y promoción de paisajes productivos con prácticas sostenibles en tierras degradadas y la conservación de áreas clave
Colombia
Financiación y asistencia técnica para aumentar la productividad del ganado e ingresos. Disminuir el impacto ambiental con sistemas silvopastoriles y conservación de ecositemas
Chiapas
Busca detener la deforestación, causada por la ganadería y agricultura convencional, utilizando sistemas sostenibles y restaurando la cubierta forestal con árboles nativos
Guatemala
Soluciones innovadoras para la producción sostenible de frutas/verduras con tecnologías para que pequeños productores protejan el suelo y el agua y mejoren la seguridad alimentaria
ResCA
Este proyecto desarrolla la agricultura y ganadera regenerativa y crea resiliencia al cambio climático, conservando ambientes naturales y fortaleciendo las economías locales
Why R2A?
Today's agricultural and ranching production systems, seeking to expand and have outstanding yields, consume 70% of freshwater and cause 70% of habitat conversion in Latin America.
Current farming and ranching practices consume 70% of freshwater resources and cause 70% of habitat conversion in the region. Nearly half of Latin America's total land surface has some level of degradation, and deforestation is now three times the global rate, making agriculture the leading contributor to gas emissions in Latin America. Conventional agricultural practices, seeking to expand and increase their yield, have damaged the natural capital on which the agricultural success of the region depends, jeopardizing its exceptional potential to continue to contribute to global food production.
Sustainable and scalable solutions
Scaled design - shift from local successes to broader regional systems.
Avoid unintended consequences - stay focused on long-term profits, not just quick solutions.
Appropriate feedback loops - Avoid turning yesterday's solutions into tomorrow's problems.
Avoid turning yesterday's solutions into tomorrow's problems - focus on drivers to accelerate solutions.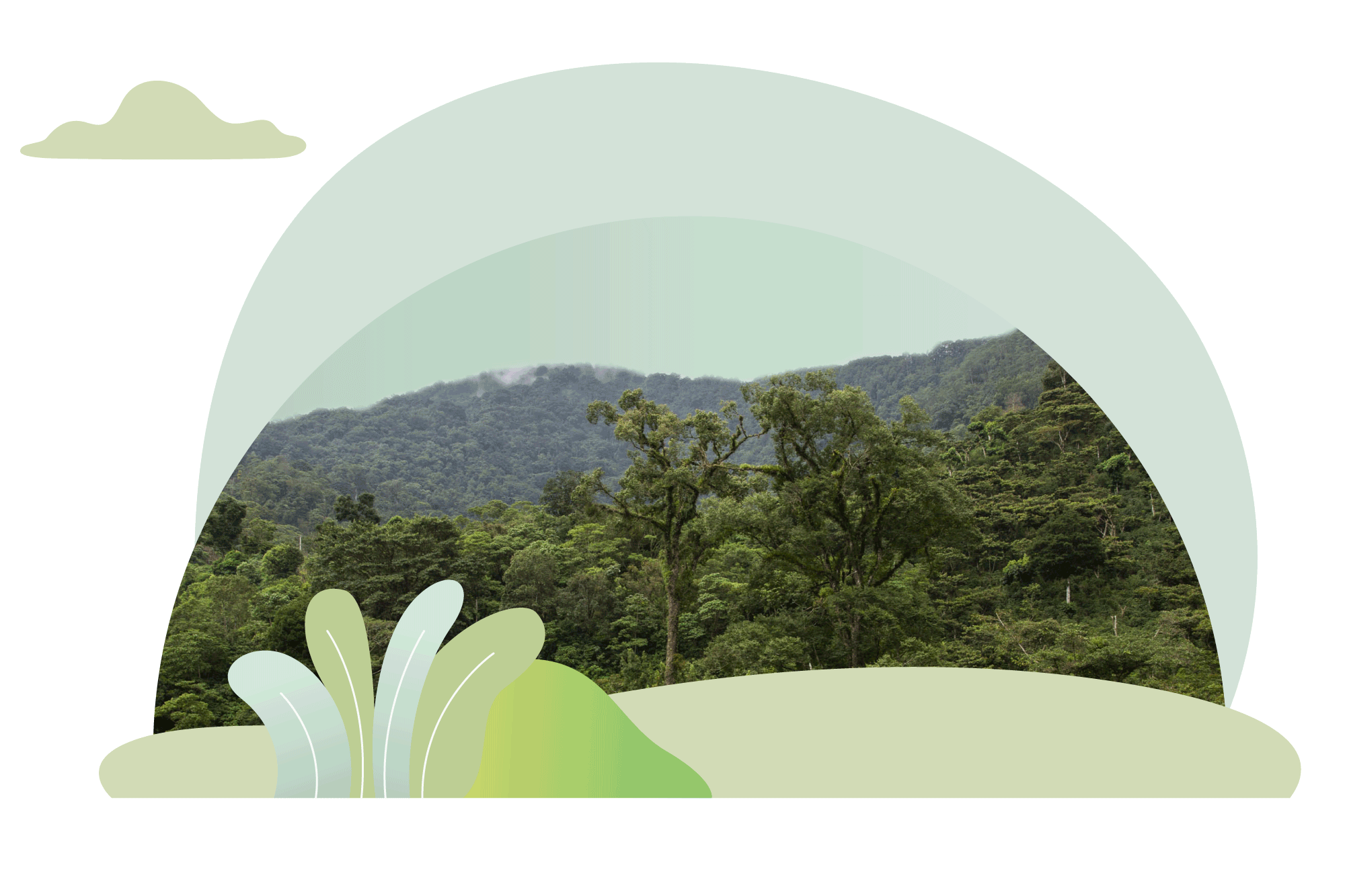 THROUGH NATURE:
Ecological systems and processes are maintained and restored throughout the region.
Biodiversity is restored and protected in agricultural landscapes. Avoid unintended consequences – keep the focus on long-term profits, not just quick solutions. Correct feedback cycles – avoid turning yesterday's solutions into tomorrow's problems.
For agriculture:
Yields increase with fewer inputs, generating healthier soils, using less water and benefiting ecosystem services. Producers endure climate change shocks and market fluctuations.

Agricultural businesses transition from being product suppliers to being service providers with shared benefits in environmental and social terms.
People:
Rural communities improve livelihoods through cleaner water, stable income, resilient production systems and better access to markets.
Strategy
Our strategy is committed to improving production systems and ecosystem services in the Latin American region.
Through this, we aim to generate resilience and socio-economic development, better ecosystem conditions, greater carbon sequestration in the soil and greater stability and resilience for agricultural productivity and value chains, through a systemic and comprehensive effort based on natural climate solutions. 
With our strategy, we week to implement regenerative ranching and agriculture practices to restore production areas in Latin America.
Our projects demonstrate the importance of scaling impacts that drive transformation in markets, productivity, environmental, social and economic conditions.
Considering the principles of our strategy and synergistic interventions, we seek to implement regenerative practices to create positive impacts on nature, the agricultural sector and people.
We aim to scale these impacts and ensure they last in the long-term. That's why we focus interventions on action landscapes: implementing, evaluating and generating successful cases alongside key partners, to replicate these projects and contribute to the transformation of the agricultural sector and ecosystems in Latin America. 
In addition, our strategy is supported by the Ecosystem-based Adaptation criterion, helping communities and individuals adapt and cope with climate change, motivating the sustainable use of ecosystem resources that are restored and preserved, and supporting equitable governance through multi-level policy support.
Goals of our strategy
Today, our strategy has achieved 45% of its 5-year impact targets across 7 action landscapes:
5,100 hectares

of agricultural areas with improved productivity

2.1 million hectares

of agricultural areas with improved management

0.55 GT eCO2 / 10 years

GHG mitigation (reduced emissions or increased sequestration)
Projection of our strategy
The R2A strategy was consolidated in 2016 to work collaboratively with partners and key stakeholders in the development of synergistic interventions that achieve market transformations, considering the agriculture sector´s rules, business models and environmental regulations, through the continuous improvement of regenerative ranching and agriculture, reducing the impact on nature and strengthening the well-being of humans and communities.
Our Partners

WHAT IS THE OPPORTUNITY FOR TRANSFORMATION WITH R2A?
Latin America is a key region for food conservation and security worldwide, but conventional production systems affect the natural resources it depends on. We hope Latin America improves the health of its resources and ensures current food demands, generating benefits for people, nature, and the agricultural sector.
Scalability is key to achieving our goal of transforming productive farming systems in Latin America, with nature-based solutions and regenerative practices that are resilient to climate change.
In Colombia, the GCS project, of which TNC is a partner, broadly applies principles of regenerative ranching and agroecology, transforming more than 42 thousand hectares of land into diverse forest-pasture systems.

In Argentina's Gran Chaco region, TNC, along with partners and local allies protects nearly 500 thousand hectares of land through a collaboration platform, minimizing the loss of habitats and deforested areas to agriculture and ranching in the region. 
Here are some examples of how R2A seeks to transform today's production systems in Latin America
With long-term and large-scale impacts
Growing global agricultural demand in the context of climate change will increase the challenges this sector presents in Latin America.
For this reason, The Nature Conservancy (TNC), under the R2A strategy, promotes science-based practices, methods, and policies that increase agricultural productivity and protect environmental resources and services, generating more productive agricultural systems with increased resilience to climate change.
Why action landscapes?
Action landscapes in Latin America were determined from a spatial analysis conducted between 2017 and 2018 by a consortium of scientific institutions, which indicated the areas with the greatest potential for the strategy´s implementation and a greater impact on nature, the agricultural sector and individuals.
The action landscapes were selected under the following criteria: areas where the greatest yield and production efficiency can be achieved at present and in a climate change landscape in 2030; identifying land degraded by crop management and grazing; establishing landscapes where restoration can improve agricultural production.
Program Overview
Story Map
TNC believes in agriculture as part of the solution. R2A proposes to improve production systems by protecting and regenerating ecosystem resources.
Colombia´s Sustainable Ranching 
Sustainable ranching motivates conservation
R2A projects its efforts with a basis on science, identifying in a timely manner the needs for improvement in each Latin American region.
This allows us to make better decisions and ensure our purpose to generate scalable and lasting impacts over time. You can read more about the projects we carry out in Latin America and our achievements.
Videos