Keep Up with Wisconsin's Nature
Sign up for our monthly email to stay in the loop!
Some of Wisconsin's invasive species sound like science-fiction. There's the bamboo-like plant that's strong enough to crack building foundations and pavement. Then there's the parsnip that makes your skin photo-sensitive when you brush against it and burns when exposed to sunlight. And don't forget about the aquatic plant that will ruin your day at the lake by getting caught in your boat propeller and make swimming nearly impossible.
Nonindigenous, invasive species are plants, animals, and microbes found living beyond their historic native range where they evolved to their present form. Plants like knotweeds, wild parsnip, and spiked water-milfoil (aka Eurasian water milfoil) not only make people's lives miserable, they cause serious damage to Wisconsin's natural lands and waters. They frequently out-compete native plants, replacing the food and cover that wildlife species depend on. The threat they pose is second only to the direct destruction of habitats through development. 

All of Wisconsin's native habitats—freshwater and terrestrial—are threatened by invasive species.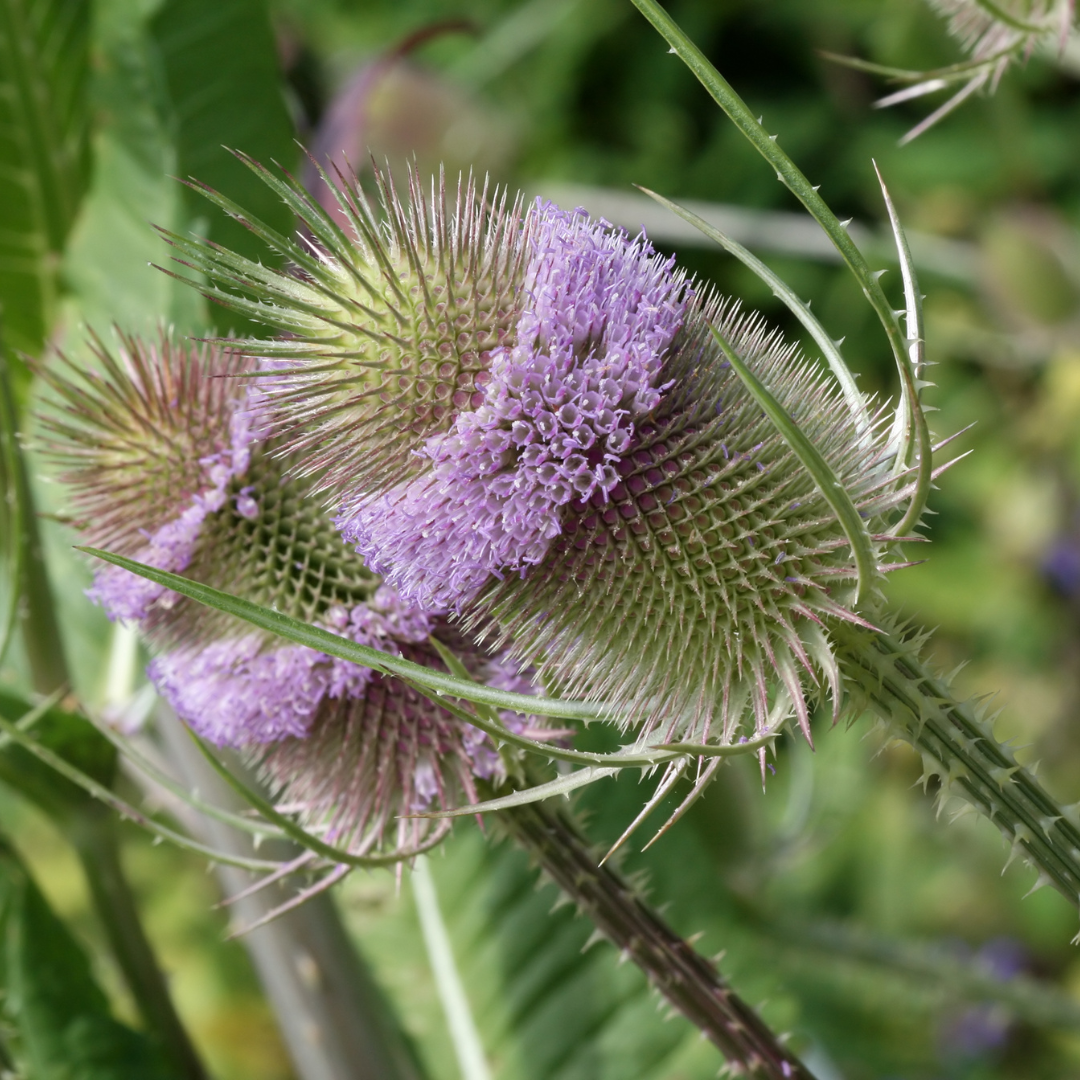 Common Teasel
Invasive species, like common teasel, are not inherently malicious. But, when they grow outside of their native habitats, they can cause serious problems for those ecosystems.
©
mgfoto/Getty Images Signature
Invasive Species: Malicious or Just Plants Out of Place?
TNC recognizes the problematic language surrounding invasive species and are actively working to be more mindful about the words we use. We recognize that these plants and animals are not inherently malicious as the invasive species label implies. In addition, not all nonindigenous or non-native species are considered invasive, nor do they act aggressively.
To the same point, "native" is a relative term – often referring to plants that were present pre-colonization by European settlers. Native status should not be a litmus test for whether a plant is bad or good, or if it gets to stay or go. There are species that survive here without causing harm, and some may even benefit the local plant and animal community. In addition, species do naturally migrate as they seek out conditions that they are adapted to. This will inevitably continue and expand as we experience enhanced effects of climate change.
It's only when that species disrupts the healthy balance and resiliency of an ecosystem that it becomes an issue and what we refer to here as an "invasive species.
Spending to control invasive species in North America has gone from $2 billion in the 1960s to over $26 billion a year since 2010, according to recent studies (Crystal-Ornela, R. et al. 2021). Globally, it's estimated that the economic cost of invasive species management has been $1.288 trillion over the past 50 years (Zenni, R.D. et al. 2021). In Wisconsin alone, state agency spending topped $5.1 million in fiscal year 2019, according to a report to the Wisconsin Legislature. State funding was supplemented by additional investments made by nonprofits, local units of government, and by volunteers who donated their time.
What The Nature Conservancy Is Doing about Invasive Species

The Nature Conservancy works to prevent and control the spread of invasive species in Wisconsin, throughout the United States, and in many countries around the world. Together with our partners, we focus on:
Preventing future introductions & invasions of non-native invasive species
Quickly detecting and responding to new populations of invasive species when they occur
Protecting native habitats by minimizing the damage caused by invasive species that are challenging or impossible to eradicate
Common Invasive Plant Species in Wisconsin
There are many plant species in Wisconsin that are considered invasive. Identifying and reporting these species can help TNC and our partners to find, control or remove the problem plants before they spread further.
TNC's Invasive Species Work in Wisconsin
Our invasive species work extends across a variety of disciplines throughout the state. 
Boot Brushes Help Stop the Spread of Invasive Species
We've installed boot brushes so visitors can leave invasive species behind when they enter the preserve. We added sign translations in Spanish and Hmong to reach more preserve visitors.
Wisconsin Land Management

The Nature Conservancy staff and volunteers actively control invasive species at our Wisconsin preserves through the careful application of  controlled fire  and herbicides, biocontrol, grazing, mowing and hand pulling. We hold volunteer workdays through the year and always need more help. Learn more about how to get involved and sign up here.

Employing Best Management Practices
Our land managers and volunteers are employing best management practices, or BMPs, to prevent the spread of invasive species. Examples include properly cleaning equipment after working in an area infested with a problematic species, limiting soil disturbance in our natural areas, and using practical, construction and maintenance materials (mulch, gravel, topsoil, etc.) that are free of invasive species.
Policy
TNC staff serve on the Wisconsin Invasive Species Council and provide scientific information about invasive species issues to State Agencies, legislators and other decision-makers.
Invasive Species Science
At our Lulu Lake Preserve in southeast Wisconsin, we have worked with scientists to test new techniques to help native aquatic plants compete with Eurasian water milfoil and control invasive cattails. At our Kangaroo Lake Preserve on the Door Peninsula we've worked with researchers to study how reed canary grass impacts the federally threatened Hine's emerald dragonfly and ensure that our management of the wetland invader does not have a negative impact on the dragonfly.
Partnerships in Wisconsin
TNC joins state and federal agencies and a variety of private and non-profit groups to combat invasive species in Wisconsin.
In 2001, TNC joined a group of citizens concerned about invasive plants to help create the Invasive Plants Association of Wisconsin (IPAW). IPAW's mission is to promote better stewardship of Wisconsin's natural resources by advancing the understanding of invasive plants and encouraging the control of their spread. We continue to be involved with IPAW, which provides resources for planning, preventing, controlling, monitoring and educating people about invasive plants.
TNC is also a member of the Midwest Invasive Plant Network, which was formed in 2002 to reduce the impact of invasive plant species across the Midwest. The network does this through information sharing and by creating tools for invasive plant prevention, early detection, education, control and management. One of those tools is an Invasive Plant Control Database, which contains information on how to control many invasive plants common to the Midwestern United States.
TNC Staff in Wisconsin serve on The Nature Conservancy's Invasive Species Advisory Committee, an internal committee that addresses invasive species threats to TNC's work across North America by providing guidance on prevention and management efforts and policies and fostering communication and information sharing between invasive species experts, scientists, policy staff, and land and water stewards and managers.
Our staff frequently serve on or partner with local invasive species groups, called Cooperative Weed Management Areas (CWMAs) or Cooperative Invasive Species Management Areas (CISMAs). 
TNC is working with multiple partners to tackle Asian carp, zebra mussels and other aquatic invasive species in the Great Lakes.
How You Can Help
Everyone can be part of the fight against invasive species. Consider removing invasive species in your yard or adding native plants or non-invasive horticultural plants. You can report invasive species on the EddMaps app. When a problem species is reported, particularly an early detection species for the area, UW Extension and the WDNR can flag it and , when appropriate, help find a way to control and/or treat it. 
You can also learn more about invasive species and contribute by volunteering with TNC, other non-profit environmental groups in your area, or your local Cooperative Invasive Species Management Area.
Resources on Invasive Plants