Place is transcendent—far more than a name on a map. In Michigan and around the world, the well-being of people is tied to the well-being of the land we live on. Since our founding in 1951, we have directly protected over 125 million acres around the world—but our commitment to science, innovation and learning means our impact extends even further.
Today, TNC works shoulder-to-shoulder with natural resource managers, farmers, foresters and landowners at all scales to safeguard entire natural systems. Together, we demonstrate how science-based tools and practices can chart a more sustainable course for the lands we all depend on.
Did You Know?
TNC has protected close to 400,000 acres in Michigan, and we currently own and manage over 55,000 acres across the state.
These efforts help ensure the future of some of Michigan's most vital lands and waters, and their many benefits to people and wildlife.
Land Strategy Goals
We're working with our partners to ensure the future of Michigan's lands.
Our Work
People have thrived on Michigan's two great peninsulas for thousands of years. From highlands to fens to farmlands, the abundance of these lands continues to shape our lives, and the future of Michigan. Explore our strategies for land protection below.

PROTECTION 

TNC's approach to land protection includes acquisition, conservation easements, innovative financing solutions, policy advocacy and more. These strategies allow us to achieve meaningful protection of Michigan lands, and support the wildlife and people that benefit from the clean air and water and other services that healthy lands provide.
On forest reserves like our Wilderness Lakes Reserve, TNC shows how the right practices can not only promote forest health and biodiversity, but also help reduce the greenhouse gases that lead to a warming climate. Established by TNC in 2017, this reserve was later expanded to over 10,000 protected acres of spectacular forestland, high-quality wetlands and glacial lakes.
TNC Preserves
Today, TNC has over 35 preserves and reserves in Michigan. These are TNC-owned lands that have been protected for people and nature in perpetuity.
Preserves are protected land that has been set aside in perpetuity for the primary purpose of conservation. A reserve is "working land" that acts as a learning laboratory.
Keweenaw Peninsula
Northern Lake Huron Coast
Lake Michigan Coast – South
Southern Fens and Savannas
Lake Michigan Coast – North
Michigan's iconic coastal dunes and marshes—a feature of several TNC preserves, including the Zetterberg Preserve at Pt. Betsie—are home to rare plant species as well as numerous reptiles and amphibians. Portage Point Woods Preserve showcases unique back-dune forests which provide habitat for spring wildflowers.
Northern Forests
Explore our preserves and reserves
RETURN
RESTORATION
TNC is a leader in natural areas restoration and management. On TNC and partner-owned lands, we restore forest diversity and health, conduct controlled burns in fire-dependent landscapes, remove invasive plants, restore the hydrology of wetlands and more. These science-based techniques maintain the ecological integrity and significance of Michigan's habitats.
In southern Michigan, TNC has protected over 1,500 acres of savannas and rare fens—a type of wetland—that filter the headwaters of major rivers like the Grand River. Restoration efforts include thousands of volunteer hours spent removing invasive species such as glossy buckthorn and the use of controlled fire, which allows this habitat to regenerate.
COLLABORATION
Our conservation impact is magnified when we work together. TNC works with state, tribal and federal agencies, local land trusts and others working in conservation in Michigan, to enhance our shared capacity for tangible, lasting results. For example, TNC frequently assists partners with the purchase of lands that will become local or state parks, and shares tools such as our resilient connected network map to help partners plan their efforts.
In 2018, TNC acquired 1,400 acres and four miles of shoreline on the North Point Peninsula, surrounded by Lake Huron's Thunder Bay Marine Sanctuary. By holding this special property until we could transfer it to a local nonprofit group, we secured protection for habitat that shelters thousands of migratory birds every year, as well as rare species like the dwarf lake iris
Connection
TNC's protected lands provide people with valuable opportunities to connect with nature. We maintain our preserves and reserves to achieve the right balance of use so that natural systems flourish, and people can have meaningful experiences in the outdoors. We strive to provide access to nature both in person and virtually, to enhance awareness of the importance of conservation and inspire people to take action to protect Michigan's lands themselves.
Places We Protect
From shifting sand dunes to granite bald mountains, explore our 35 preserves and reserves spread across the state of Michigan.
Explore Now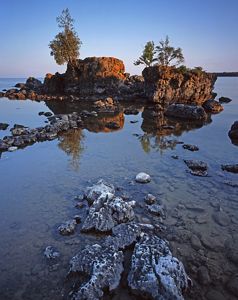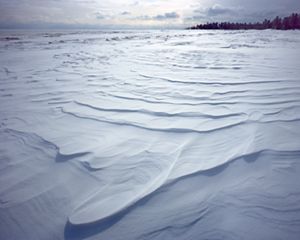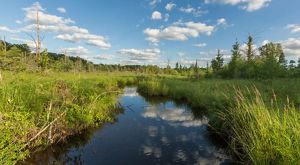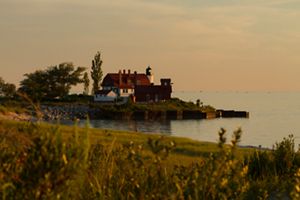 Land Strategy that Works
Download our fact sheet to explore TNC's work to protect Michigan's lands.
Download