One of the best things about Michigan is its nature. Whether you want to view wildlife, explore different types of habitats or just take in the state's natural beauty, The Nature Conservancy (TNC) protects a variety of preserves that are open and accessible to the public. The activities below will help you explore these areas and enhance your connection with nature from the comfort of your home or while on site. 
1. Become a Community Scientist Using iNaturalist
Help our scientists and restoration managers keep track of the species in our nature preserves by using iNaturalist. This social media platform helps people share biodiversity information with each other and learn more about the places they're visiting. You can record your observations, help others identify species, and view other users' identifications. When you record a species at a TNC nature preserve in Michigan, your finding will appear in our TNC Michigan Preserves & Reserves project within the iNaturalist system. 
2. Visit a TNC Nature Preserve in Michigan
TNC's preserves across the state don't just protect Michigan's natural heritage; they also protect the important benefits to physical, spiritual and mental wellness that nature provides people. With the help of our enthusiastic volunteers, we maintain these preserves for their ecological health and work to make them accessible to as many people as possible, through field trips, audio tours and more. After you visit a preserve, make sure to fill out our preserve survey to let us know about your experience. 
3.  Deepen Your Connection to Nature with Audio Tours

Take a tour through floodplain forests, wetlands, bluffs and marshes right from the palm of your hand. Our guided audio tours—provided via Travelstorys—include stories, fun facts, historical notes and natural sounds to deepen your connection to nature. You can access the tour from the comfort of your home or from your phone as you hike. If you're accessing it from a mobile device, make sure you follow the instructions below before you head to the trail.
Explore Our Available Tours
Click on each box to learn more about the tour.
How to use an audio tour
Download the free TravelStorys app to your smartphone or tablet from the App Store (iPhone) or Google Play (Android).
Search for the preserve you want to tour.

Click on the tour when it pops up, then click on the blue circle with the white arrow to download it to your device.
In your device settings, make sure GPS and location services are set to "allow all the time".
Charge your device and grab a pair of headphones (if you prefer). 

In the preserve's parking area, open the TravelStorys app and select the tour to begin (data service/internet is not required). 
As you hike, the audio will play at pre-programmed GPS points. It's like a personal tour guide that you can carry in your pocket! 

Visit travelstorys.com/tours and search for the preserve you'd like to tour. 
Click on the tour page and scroll to the green button "Explore this Preserve Remotely".
From here, toggle your way through the interface at your own pace. Enjoy all the sights and sounds from the comfort of your home (or classroom!). 
Cómo usar una audioguía
Descarga la aplicación gratuita TravelStorys en su teléfono inteligente o tableta desde el App Store (iPhone) o Google Play (Android).
Busca la reserva que desea recorrer.
Haz clic en el recorrido cuando aparezca, luego haz clic en el circulo azul con la flecha blanca para descargarlo en su móvil o tableta.
En la configuración de su móvil o tableta, asegúrese de que los servicios de locación y GPS están configurados para "permitir todo el tiempo."
Asegúrate que tu móvil o tableta tengan carga y trae audiófonos.

En el área de estacionamiento de la reserva, abra la aplicación TravelStorys y seleccione el recorrido para comenzar (no se requiere servicio de datos/internet).
Mientras camina, el audio se reproducirá en puntos GPS preprogramados. ¡Es como un guía turístico personal que puedes llevar en el bolsillo! 

Visita travelstorys.com/tours y busque la reserva que te gustaría visitar.
Haz clic en la página de recorrido y mueve el cursor hasta el botón verde "Explora esta reserva de forma remota."
Desde aquí, recorra el recorrido a su propio ritmo. Disfrute de todas las vistas y sonidos desde la comodidad de su hogar (o salón de clase). 
4. Attend an Event or Volunteer
We host events and volunteer opportunities throughout the year. You can attend our "Conservation Café" lecture series, virtual webinars, volunteer days, guided hikes and much more. These opportunities are a great way to connect with the natural world and learn more about Michigan's nature from a variety of experts. We're also always looking for volunteers to help advance our conservation mission. You can use your skills to assist in the field, showcase the beauty of Michigan or help monitor our preserves.
5. Share Your Photos of Nature
What does Michigan look like through your lens? We are always looking for photos that help represent Michigan's natural beauty. Participating in TNC's yearly photo contest is a great way to get involved with conservation and showcase your best images. We also love to see your photos on social media. As you visit a preserve, tag us in your adventures using #TNCMichigan.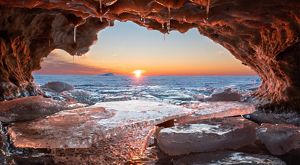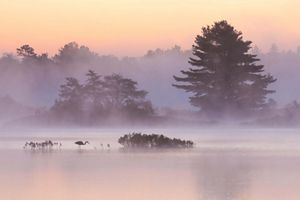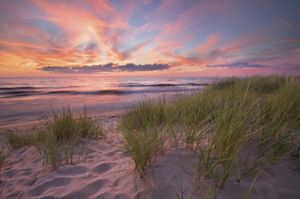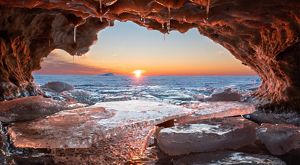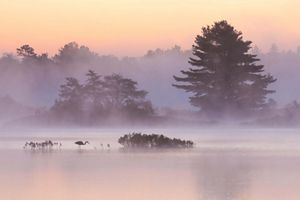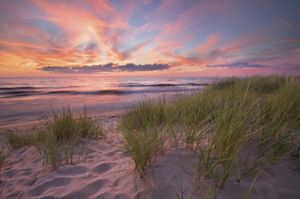 6. Treasure Hunt with Geocaching
Geocaching is an exciting way to explore the landscape, to discover something new and share special places with outdoor enthusiasts. Players seek to locate hidden containers, called geocaches or earthcaches, using a smartphone or GPS. It gets the whole family outside to explore the natural world and teaches kids about navigation with the fun reward of finding real hidden "treasure." Geocaching is a regulated activity at TNC. In order to protect sensitive habitats and maintain a fun and safe activity, anyone wishing to place a geocache within our preserves must complete a permit application first.
How to Start the Hunt
Log on to geocaching.com to set up a free account and start the hunt. 

Once back home, you can share your stories and photos of the adventure online. 

Official geocaches can be found at the following preserves:

Geocaching is a regulated activity at TNC. In order to protect sensitive habitats and maintain a fun and safe activity, anyone wishing to place a geocache within our preserves must complete a permit application first.  
7. Watch a TNC Webinar
We host a variety of webinars featuring TNC and local experts. Scroll through the carousel below to select from past recordings. You can learn everything from "How Trees Survive Winter" to the "History of the First Wildlife Photos." If you're interested in attending live, check our events page for upcoming webinars. 
Webinars and Staff Features
8. Use TNC Lands for Research
Many of TNC lands in Michigan are available for scientific research purposes.  A valid TNC Permit is required. For more information on how to apply for a research permit, contact Conservation Program Associate Tara Poloskey. Please note, we require a minimum of six weeks to process permit applications. Make sure to plan accordingly! 
9. Bring an Expert With You
Whether you want to id a species you saw or report possible invasive species in the area, there are a variety of both free and paid apps that can help enhance your experience in nature. 
10. Prepare to Go "Offline"
Some TNC-Michigan preserves are found in remote areas with minimal or no cellular data service, which can make navigating to them (and surrounding areas) difficult. Fortunately, you can take a section of Google Maps "offline" to allow full navigation even without any cellular connectivity.  
By following the steps below, you can open the Google Maps app and access the downloaded offline map when you're in an area with no internet service. You'll be able to view the map, search for locations and get directions within the downloaded area. 
Please note that offline maps do have some limitations:  They don't provide real-time traffic information or the ability to search for places outside the downloaded area. Additionally, the offline maps are only valid for a limited period, usually around 30 days, after which they need to be updated. To update your offline maps, simply connect to the internet and follow the same steps to download the updated version.
Get Started
Open the Google Maps app on your device.
Tap on the menu icon (three horizontal lines) located in the top-left corner of the screen to open the side menu. From there, select "Settings."
In the settings menu, choose "Offline maps."
On the Offline maps screen, select "Download a map."
Use pinch-to-zoom and pan gestures to navigate to the desired area on the map. You can also use the search bar to find a specific location. Once you've chosen an area, tap on it to select it.
After selecting the area, tap on the "Download" button. Google Maps will estimate the storage size of the map and prompt you to confirm the download. Keep in mind that larger areas will require more storage space.
If you want, you can give the offline map a custom name. This step is useful if you plan to download multiple maps.
Once the download is complete, the selected area will be available for offline use. You can access these maps by going to the side menu, selecting "Offline maps," and choosing the downloaded map.