Ensuring a Future for Mangroves in the U.S.
Mangroves are an important species for America's southern coastal communities, and protecting them will require balancing multiple interests in the face of an uncertain future.
As the only tree species that can tolerate salt water, mangroves are one of America's most unique plant species. They provide valuable nursery habitat for fish, serve as a mecca for birdwatching, and protect people and property along our coasts from the impacts of erosion and storms.
Although mangroves are a common feature along the coasts in much of the Florida peninsula and south Texas, warming temperatures have caused them to expand their range northward in recent decades.
At the same time, mangroves face multiple threats, ranging from sea-level rise to habitat destruction to damage from hurricanes. Conserving mangrove forests will take a forward-thinking approach that will envision the challenges ahead and create a framework for how to overcome them.
The Nature Conservancy (TNC) is working with multiple partners across the region to facilitate the science, tools and projects needed to ensure a future for mangroves and the coastal communities and wildlife that depend on them.
Protecting, restoring and managing mangroves can be an important tool in creating a healthy and resilient coast in the years to come but will require a balancing of multiple interests in the face of a dynamic and uncertain future. There are tradeoffs associated with facilitating, ignoring or mitigating mangrove expansion in the southeastern United States. Many of these tradeoffs are related to the profound ecological, visual and cultural change associated with the conversion of marshes to mangroves that often occurs when mangroves expand into marsh areas. The climate-driven expansion of mangroves and the actions taken in advance or in response to these changes are very important coastal management issues that require bringing together the best science, based on ongoing monitoring, with broad community engagement.
The information, tools and resources provided here will be useful in making such decisions, which have the potential to influence more than half a million acres of mangroves along the shorelines of the continental United States.
Download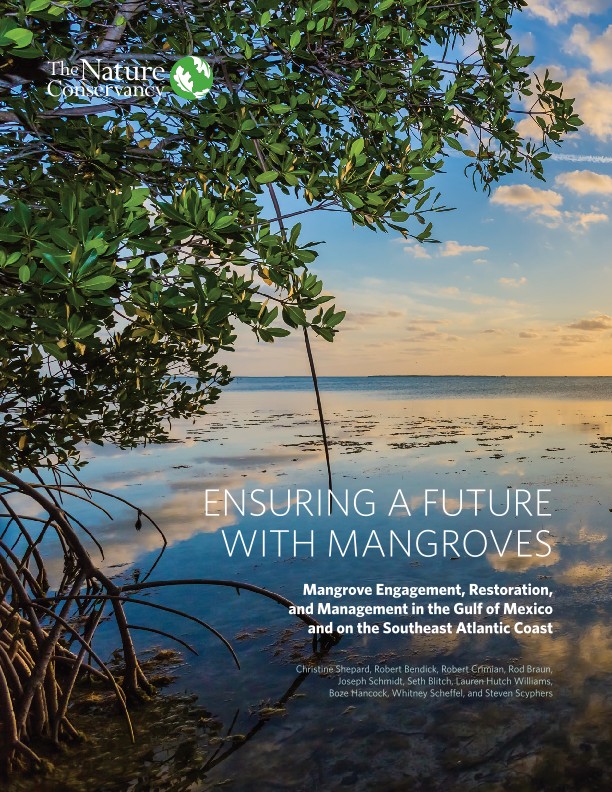 Types of Mangroves

In the United States, mangroves are most common along the coast of the Florida peninsula, south of Cedar Key on the Gulf Coast and south of Cape Canaveral on the Atlantic coast, and along the coast of southern Texas, south of Port Aransas. There are three types of mangrove species native to the U.S.: red, black and white. All species of mangrove can filter out the salt from seawater as it enters their roots.
3 Mangrove Species Native to the U.S.
×
×
×
But in the Gulf and Southeastern U.S., mangroves are on the move. In particular, black mangroves, which are the least sensitive to lower temperatures, are increasingly found north of their historic range. In recent years they have been found on the barrier islands of Apalachicola Bay and Mississippi Sound, in extreme southern Louisiana, and on the mid- and upper-Texas coast. This northward movement is most likely enabled by climate change causing a decrease in freeze events that damage or kill mangroves at their northernmost locations.
The Benefits of Mangroves
Mangroves provide numerous benefits to both people and wildlife. They help stabilize coastal ecosystems and prevent erosion. Mangroves also provide natural infrastructure and protection to populated coastal areas by reducing flood impacts during extreme weather events such as hurricanes. A recent study showed a 25% reduction in Hurricane Irma-driven flood damage in places with significant areas of mangroves between the coast and residential and commercial development.
Mangroves are important to natural ecosystems as well. Their dense roots help bind and build soils. Their unique above-ground roots slow down water flows and encourage sediment deposits that reduce coastal erosion and mitigate impacts from sea-level rise. The mangrove's complex root systems filter nitrates, phosphates and other pollutants from the water, improving the water quality flowing from rivers and streams into the estuarine and ocean environment.
In addition, mangroves provide an especially beneficial ecosystem service as we face climate change. Mangrove forests capture carbon dioxide emissions and other greenhouse gases from the atmosphere, trapping and storing them in their carbon-rich flooded soils for millennia. This buried carbon is known as "blue carbon" because it is stored underwater in coastal ecosystems like mangrove forests, seagrass beds and salt marshes. 
A wide array of wildlife including birds, fish, invertebrates, mammals and plants find valuable habitat and refuge in mangrove forests. Estuarine habitats with coastal mangrove shorelines and tree roots are important spawning and nursery territory for juvenile marine species including shrimp, crabs and many sport and commercial fish species such as redfish, snook and tarpons.
Mangroves also provide nesting areas for coastal wading birds such as egrets, herons, cormorants and roseate spoonbills. In some areas, red mangrove roots are ideal for oysters, which can attach to the portion of the roots that hang into the water. Endangered species such as the smalltooth sawfish, manatee and hawksbill sea turtle utilize coastal ecosystems that include mangroves as an integral part of their important habitat. 
People also benefit from the natural experiences that mangroves offer. Whether birding, fishing, snorkeling, kayaking or paddle boarding, people can enjoy the therapeutic calm and relaxation that comes from exploring these unique coastal ecosystems. 
Threats to Mangroves
Unfortunately, many challenges threaten the health of mangroves. Human impacts such as dredging, filling, water pollution, alteration of freshwater flows and development can lead to mangrove erosion and habitat destruction. When mangrove forests are cleared and destroyed, they release massive amounts of carbon dioxide into the atmosphere, contributing to climate change.
Climate change is yet another threat to mangroves. It brings sea-level rise, more frequent and more severe coastal storms and other extreme weather events, such as the freezing winter storm that hit Texas in February 2021. With such coastal challenges created by growing populations, burgeoning development and climate change, risks to people and property from flooding and storm surge are on the rise. Mangroves provide valuable flood protection and risk-reduction benefits to these coastal areas, and yet they face an uncertain future.
How TNC Is Protecting Mangroves
The successful conservation of mangroves, and the resulting benefits, will require coordinated research, policy, stakeholder engagement, funding mechanisms and implementation. The Nature Conservancy is leading and contributing to multiple efforts throughout the southeastern U.S. and the Gulf coast to explore innovative ways to better understand and protect this unique habitat.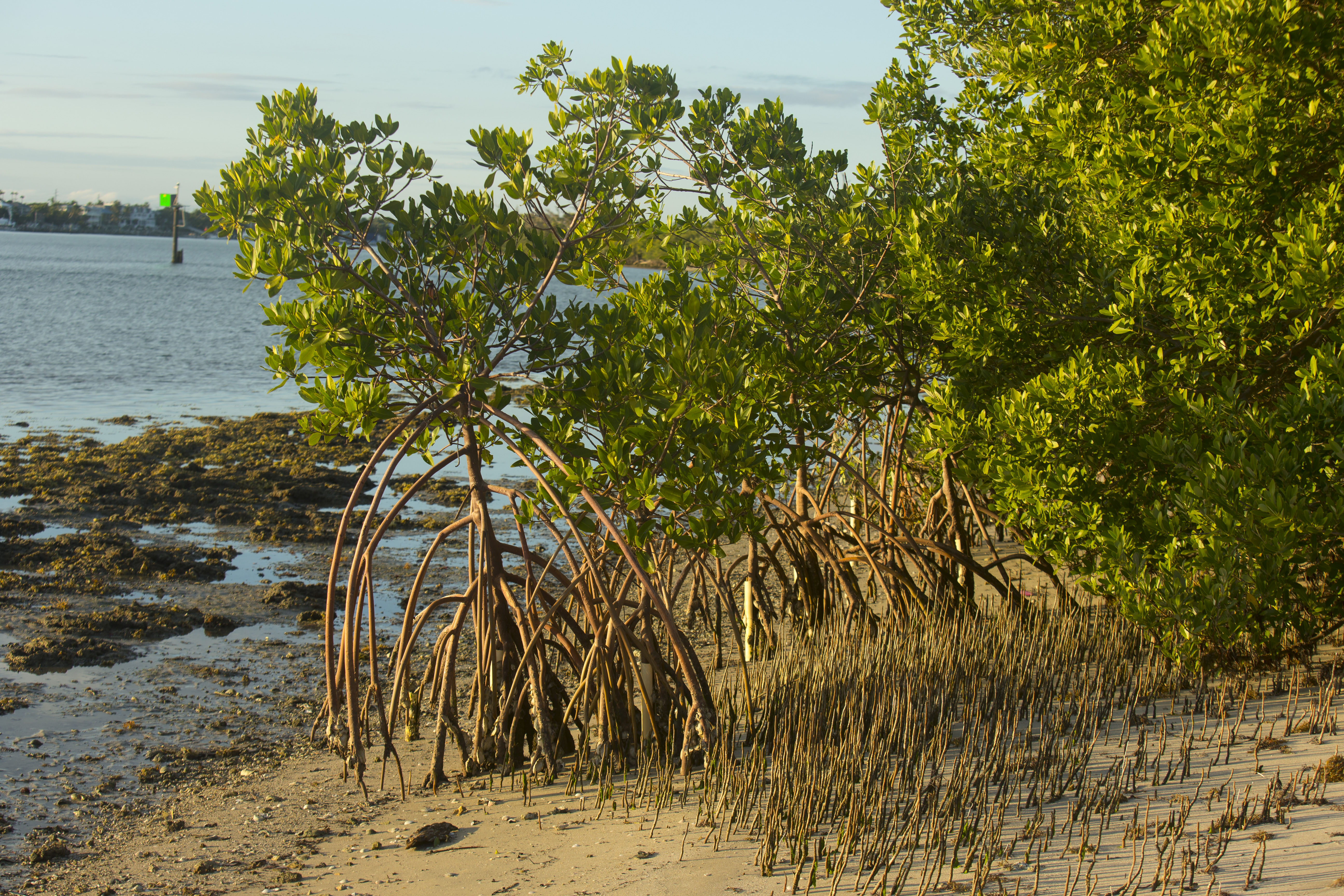 Nature's adaptations
The mangrove has a complex root system that includes pneumatophores, specialized root-like structures that stick up from the soil like straws for breathing.
©
Mike Olliver
Research: Predicting the Future Distribution of Mangroves
Global change is causing shifts in the distribution of many species, both on land and in the sea. On the Gulf and South Atlantic coasts, a prime example of such shifts are tropical mangroves that are expanding into temperate salt marshes as winter warming alleviates past geographic limits set by cold intolerance. In 2020, researchers from Northeastern University, U.S. Geological Survey and The Nature Conservancy initiated a research project to map the future distribution of mangroves along the Gulf and South Atlantic coastlines of the continental U.S. This project seeks to synthesize existing knowledge on current mangrove distribution, abundance and ecosystem function; more holistically understand and communicate the local, state and federal policies influencing mangrove distribution; and identify and understand the social drivers or constraints on mangrove expansion.
Expand to see more
Collapse to see less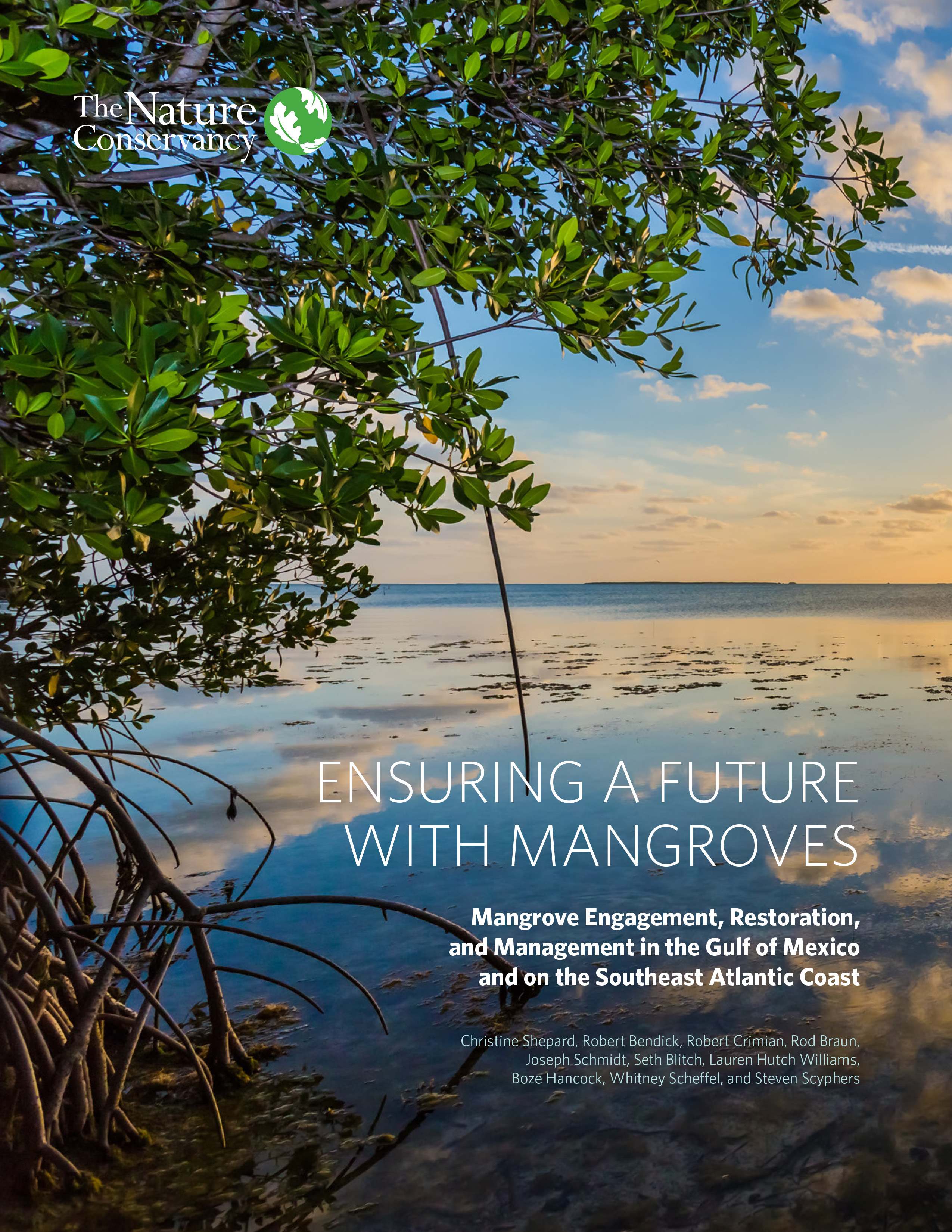 Mangrove Protection Handbook
Ensuring a Future with Mangroves is a handbook created by The Nature Conservancy that guides the restoration and management of mangrove habitat in the U.S.
©
TNC
Developing Practical Resources
The Nature Conservancy has published a handbook, Ensuring a Future with Mangroves, that provides practical information for coastal communities and public agencies to inform the protection, management and potential use of mangroves to sustain coastal ecosystems and enhance the resilience of coastal areas. Climate change and rising sea levels will influence the distribution of mangroves by increasing their range in some locations while threatening their survival in others. Decisions about how to manage mangroves should be informed by considerations and predictions of where these changes in mangrove range and extent are likely to occur.
Toward that end, this mangrove engagement, restoration and management handbook identifies 10 approaches that should be considered components of effective mangrove stewardship across the Gulf and Atlantic coasts of the United States. It also provides brief case studies summarizing a project or effort that is representative of each approach. Taken together, these considerations can be the basis for public and private actions that ensure that mangroves will contribute to the future health of coastal ecosystems and the resilience of coastal communities in the southeastern United States.
Expand to see more
Collapse to see less
Innovative Finance Mechanisms: Investigating an Insurance Product for Mangroves
Insuring natural assets, such as coastal ecosystems, is a novel and innovative approach to funding the repair of habitat damage following storms or other weather events. Like coral reef insurance in Mexico, mangrove insurance appears to be most cost-effective in locations where mangroves offer significant flood-protection benefits to nearby communities, as measured in terms of avoided losses to physical assets from storm events. However, there also may be opportunities for mangrove insurance in which mangroves provide other economic benefits to nearby communities such as mangrove-dependent fisheries, through eco-tourism or where mangroves are part of carbon-credit programs.
Expand to see more
Collapse to see less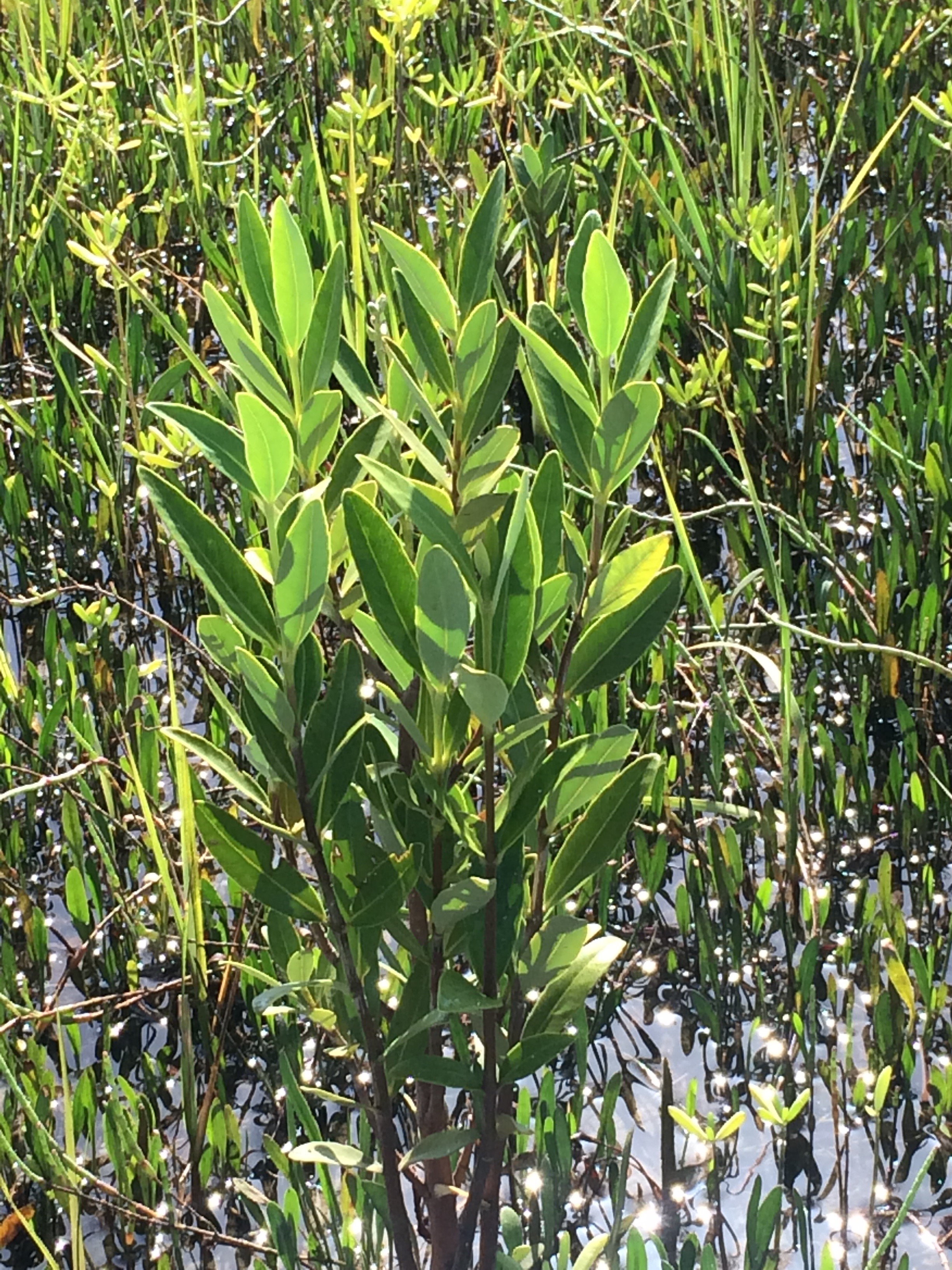 Black mangrove
Black mangroves are more tree-like than the spidery red mangrove, and they are typically found higher up the shore.
©
Randall Hughes
The Nature Conservancy is exploring how mangroves impact the implementation of nature-based solutions projects along the Gulf Coast in Florida, Louisiana and Texas.  Nature-based solutions are projects that are motivated and supported by nature and that may also offer environmental, economic and social benefits while increasing resilience. Nature-based solutions most likely to be impacted by or incorporate mangroves into their design are living shorelines, conservation of coastal lands and restoration of mangrove forests.
In areas where mangroves have historically been found, living shorelines can easily incorporate mangroves into their design through plantings or by allowing them to establish at the site naturally. However, in areas of the Gulf where mangrove areas expand and contract due to extreme cold weather events, incorporation of mangroves into nature-based solutions projects requires additional consideration of multiple factors including future freeze events, potential impacts to marsh-dependent species and coastal landowner perceptions of mangroves that may have recently established in the region.
As warming temperatures allow for the continued range expansion of mangroves across the Gulf coast, The Nature Conservancy and partners are carefully considering how these factors come together at specific locations that would potentially benefit from the implementation of nature-based solutions to help stabilize shorelines and provide benefits to fish and wildlife. 
To learn more, explore the links below:
Expand to see more
Collapse to see less
Resources
Explore the resources below to learn more about mangrove conservation and stewardship and to download useful tools to aid in your conservation efforts.
Publications
To learn more about mangrove conservation, download our reports below.
Ensuring a Future with Mangroves

A handbook for mangrove engagement, restoration and management in the Gulf of Mexico and the SE Atlantic. Download the Handbook
Hurricane Damages to Mangrove Forests and Post-Storm Restoration Techniques

The first of three reports to be released by TNC in collaboration with our partners, this report is part of a year-long project aimed at assessing the feasibility for a mangrove insurance project in the Gulf of Mexico and the Caribbean.  Download the Report
Links
---
Contact

For more information about TNC's work in this area or to suggest additional resource links for this region, please contact Christine Shepard, director of science, TNC Gulf of Mexico program.
We Can't Save Nature Without You
Sign up to receive regular updates from The Nature Conservancy.
We personalize nature.org for you
This website uses cookies to enhance your experience and analyze performance and traffic on our website.
To manage or opt-out of receiving cookies, please visit our
Privacy Notice
.