Carved out by glaciers long ago, Michigan has 3,200 miles of Great Lakes coastline that offer iconic vistas like Pictured Rocks and Sleeping Bear Dunes, and the beauty of countless sunrises and sunsets. Michigan's fisheries, farms and forests depend on its abundant water; Michigan's people do too.
As global challenges around water continue to grow, the work of The Nature Conservancy in Michigan contributes to Great Lakes learning and knowledge that informs freshwater solutions across the region, and around the world.
Did You Know?
You can stand anywhere in Michigan, and you're no more than six miles away from a body of water.
Not surprising considering the Great Lakes are the freshwater heart of North America, containing over 20% of the world's surface fresh water. 
Water Strategy Goals
People and nature alike depend on the services that healthy freshwater systems provide—and access to clean, abundant water is just the beginning. We're working with our partners to reach these goals.
TNC's Work for Water
TNC helps to protect Michigan's freshwater legacy and future by working with partners across the state to address system-wide issues including nutrient runoff, habitat loss, invasive species and aging infrastructure. Explore our project highlights below.

Mapping the Great Lakes
Locating and mapping spawning and nursery habitat is one step toward conserving fisheries.
Learn more
Fisheries
Thriving fisheries are an important part of a resilient freshwater system, but key Great Lakes species like cisco and lake whitefish face an uncertain future. TNC and partners are restoring fisheries habitat, conducting research to inform potential restocking efforts, addressing invasive species and more—all to support a sustainable foundation for Great Lakes fisheries.
Invasive Species
Scientists walk us through the management strategy for the invasive rusty crayfish.
Watch Now
Aquatic Invasive Species

Over 180 non-native species have made their way into the Great Lakes, and many of those are considered invasive (causing ecological or economic damage). TNC works with partners to prevent the introduction of additional invasive species and to control (and hopefully eradicate) those already established, by developing new tools and solutions that protect the health of the Great Lakes.
Soil Health
Overabundant nutrients in waterways negatively impact water quality and stream ecology, and in some cases increase the risk of harmful algal blooms. With a focus on the Saginaw Bay watershed, TNC works with landowners and farmers to advance practices that protect water quality along with soil health, while also addressing climate impacts—with the goal of seeing these practices used on at least half of the watershed's farmland acres.

Stormwater Infrastructure
TNC is working with the City of Detroit and community partners to advance projects that incorporate green stormwater infrastructure (GSI), which helps more rainwater soak into the ground and reduces the runoff burden on the city's aging infrastructure system. Not only does this help lower the risk of untreated sewage overflows into Detroit's rivers, it also creates new greenspace in a highly urbanized landscape.
Stormwater Infrastructure in Action
TNC's first on-the-ground GSI project in Detroit was completed in 2019 at the historic Sacred Heart Church. The church's redesigned parking lot provides a tangible example of how GSI can not only protect water quality and reduce flooding in Detroit, but offer social, economic and environmental benefits too.
Learn more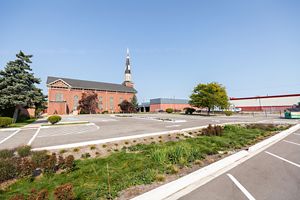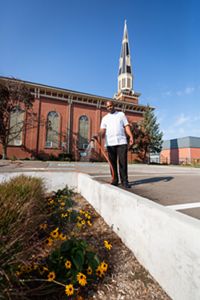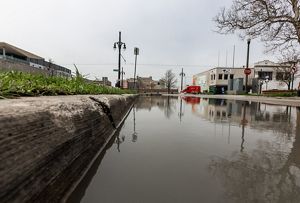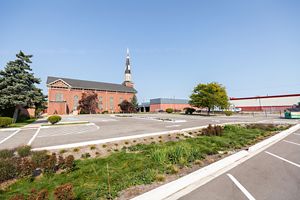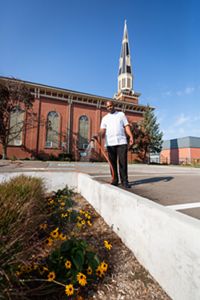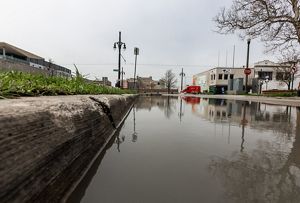 Restoring Erie Marsh
Erie Marsh contains some of western Lake Erie's last remaining coastal wetlands. A multi-year, 1,000-acre restoration effort has reconnected the marsh to Lake Erie for the first time in decades.
Coastal Wetland Restoration

Michigan's coastal areas are some of the most biologically diverse and productive systems in the Great Lakes region, and simultaneously some of the most heavily used by people. With Great Lakes coastal wetlands at less than half of their historical extent, TNC is working with coastal communities to restore this unique habitat and the natural protections it provides to coastlines.
Restoration in Action
By rebuilding natural diversity, we can help forests better resist climate change.
Learn more
Riverside Habitat Restoration
Clean, plentiful water depends on healthy surrounding natural areas. For example, every part of a forest plays a critical role in cleaning, storing and protecting our water supply, from the tree canopy all the way down to root systems. Many of TNC's forest restoration efforts also enhance and protect these benefits.
Water Policy

Water quality and affordability are important for all Michigan residents. TNC is advancing new policy and financing approaches to ensure Michigan's communities can maintain and deliver safe, affordable water services—which are vital to protecting clean water across the Great Lakes for people and nature.
Water Strategy that Works
Download our fact sheet to explore TNC's work to protect Michigan's freshwater legacy.
Download