Like many aging cities in North America, Detroit's infrastructure is in need of extensive upgrades to combat the surface flooding and combined sewer overflows that have become increasingly more common as heavy rain events become more frequent. However, traditional "gray" infrastructure is extremely costly; for a city whose limited dollars must cover a multitude of critical needs, an alternative solution must be found.
We believe green stormwater infrastructure—the installation of plants, trees and permeable surfaces to help capture and slow stormwater runoff—may be that alternative solution. Less costly than traditional stormwater infrastructure, engineered natural infrastructure reduces the burden on cities' sewer systems, reduces street and basement flooding and ultimately reduces the amount of pollutants entering our waterways. Further, it provides habitat for wildlife and green spaces for recreation and beautifies neighborhoods.
Ways Cities Are Capturing Stormwater
Cities and landowners are using a variety of techniques to trap stormwater and help it seep into the ground quickly. Some of the most cost-effective methods bring more greenery and nature into cities.
Green Roofs
By integrating gardens or grasses into the roofs of new buildings, most stormwater is stored, captured and evaporated or used before it ever reaches the ground.
Larger Underground Pipes to Capture Stormwater
This is expensive infrastructure that uses larger underground stormwater pipes to store more stormwater and allow time for water-processing facilities to treat it.
Pocket Parks
Cities are turning unused property of all sizes into small parks. They replace paved areas with green space that can trap rain and provide habitat for native pollinators.
Permeable Pavement
Parking lots, sidewalks and streets that are paved with interlocking bricks allow stormwater to drain down from the surface and into the ground, rather than routing it to storm drains.
Rain Gardens and Bioretention Planters
Rain gardens are designed to capture and disperse water into soil. Bioretention planters, placed along sidewalks, do the same thing but at a smaller scale.
Click to explore this city.
RETURN
Program Overview
Cities Strategy
By bringing the benefits of nature to urban landscapes, we can change the way we think about and shape our cities. A thriving future for people and nature depends on it.
Feature
The Heart of Green Stormwater Infrastructure
Tangible, on-the-ground projects like the Sacred Heart Church parking lot retrofit demonstrate the value of green infrastructure, which is crucial to building support for this work across Detroit.
Seeking Nature in Our Cities
Explore TNC's work with green stormwater infrastructure in Michigan. Click on each tile to learn more.
Our Cities Work
North America Cities Network
Cities are home to more than 62% of the U.S. population. To fulfill our mission, The Nature Conservancy must address the conservation needs of these areas.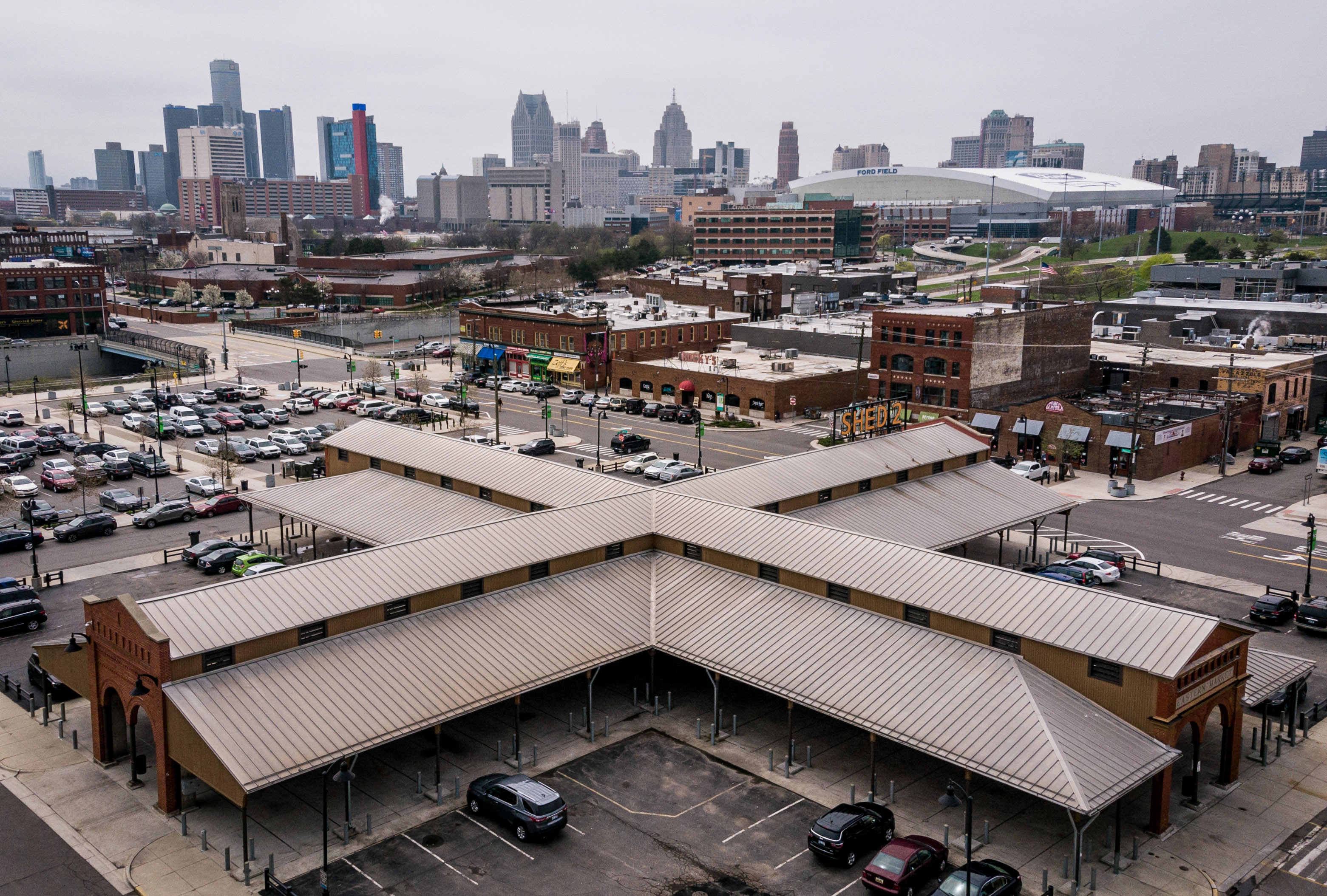 Eastern Market District
TNC has partnered with Detroit's iconic Eastern Market, a historic food district, to bring green stormwater infrastructure to the area.
©
Fauna Creative
Program
Eastern Market Partnership
For more than 100 years, it has been a familiar sight in Detroit's iconic Eastern Market district: the massive red brick market shed teeming on Saturday mornings with customers and local vendors, farm-fresh fruits and vegetables, meats and baked goods. Often spoken of as one of the oldest open-air public markets in the country, Detroit's Eastern Market is a diverse, storied and thriving social and cultural environment.
TNC has partnered with Eastern Market to bring green stormwater infrastructure (GSI) to the district. GSI is an engineered design that uses green space and natural plant material to absorb, retain and slow stormwater runoff.
This work is part of the Eastern Market Neighborhood Framework plan, a vision that thinks big and creatively about GSI, with an eye toward the preservation of the Eastern Market community. Envisioning an expansive, multi-acre network of greenways that manage stormwater, the framework calls for beautiful, publicly accessible natural spaces to be incorporated into the redevelopment footprint of new buildings constructed in the Greater Eastern Market.
Greening Cities
Across Detroit, community groups, local nonprofits and city planners are implementing or supporting the implementation of green stormwater infrastructure.
©
Michael D-L Jordan/dlp
Program
Detroit Stormwater Hub
The Detroit Stormwater Hub is a website and interactive map that shares information about green stormwater infrastructure projects across Detroit and houses a collection of community-informed resources covering green stormwater infrastructure topics from technical design to media coverage. Built by the Detroit community for the Detroit community, the hub features real projects, local best practices, stories and resources.
The Detroit Stormwater Hub is comprised of two main elements:
A map and database of green stormwater infrastructure projects in Detroit with locations, images and project information.
A knowledge base of relevant, local resources including green stormwater infrastructure best practices, stories, educational resources and tools designed to support this work in the city of Detroit.
The result of a unique collaboration between TNC, the City of Detroit and an advisory group of community-based organizations, nonprofits, local government and technical experts, this dynamic project and its partners are committed to making a significant impact on stormwater management by getting credible, local green stormwater infrastructure information into the hands of people who can use it.
Stay Connected to Our Work
Sign up to receive monthly news and updates from Michigan and beyond.
Program Overview
Conserving the Great Lakes State
From forests to wetlands, dunes to prairies, and cities to farms, TNC is working to protect the lands and waters on which Michigan depends.