Chad Dzurka and his brother Nate are second-generation farmers in the Saginaw Bay watershed, the largest in the state of Michigan. With agricultural use covering nearly half of the watershed's 5.5 million acres, the Dzurka brothers know that how they use their land matters.
"We live a half-mile from Saginaw Bay. What deposits out of our fields, within half a day, it goes out into the bay," says Chad.
Lake Huron's Saginaw Bay provides drinking water to 900,000 people, supports a thriving recreational fishery and boating industry and attracts thousands of visitors each year. In addition, it is a critical area for both migratory birds and fish.
The people and species who live here depend on healthy soil and clean water for their own health, habitats, jobs and recreational opportunities. And, with the world's growing population and demand for food increasing, using our lands and waters sustainably is critical. 
That's why the Dzurka family is one among a growing number of farmers in the region to use conservation practices on their fields. Using practices like no-till or reduced tillage, cover crops and buffer strips helps to keep soil and excess nutrients from entering nearby waterways.
 "What we do—our farming practices—affects everything," says Chad.
Partnering to Implement Precision Conservation
Since the launch of the Saginaw Bay Watershed Conservation Partnership in 2015, TNC has worked hand-in-hand with the agricultural community to implement programs designed to help farmers retain productive soil and nutrients on their lands and keep local waterways healthy.
This unique collaboration consists of more than 30 conservation organizations, agronomy retailers, higher education institutions, commodity groups, agribusinesses and state and federal agencies.
Using science-based modeling to link conservation practices to ecological indicators like fish health, scientists were able to determine what practices should be applied where, and in what amounts, to achieve soil health goals. With nine major rivers and hundreds of tributaries flowing past farm land toward Lake Huron, this field-specific approach to precision conservation is critical to understanding where conservation practices might do the most good.
The next step was to work with crop advisors and their farm clients to quantify soil retention and environmental benefits that would be achieved by implementing a variety of conservation practices.
Using a decision support tool like the Great Lakes Watershed Management System allows farmers to see exactly what actions they can take to improve their soil health, eliminating a costly process of trial-and-error. Where applicable, TNC will also help farmers apply for conservation programs to implement those practices.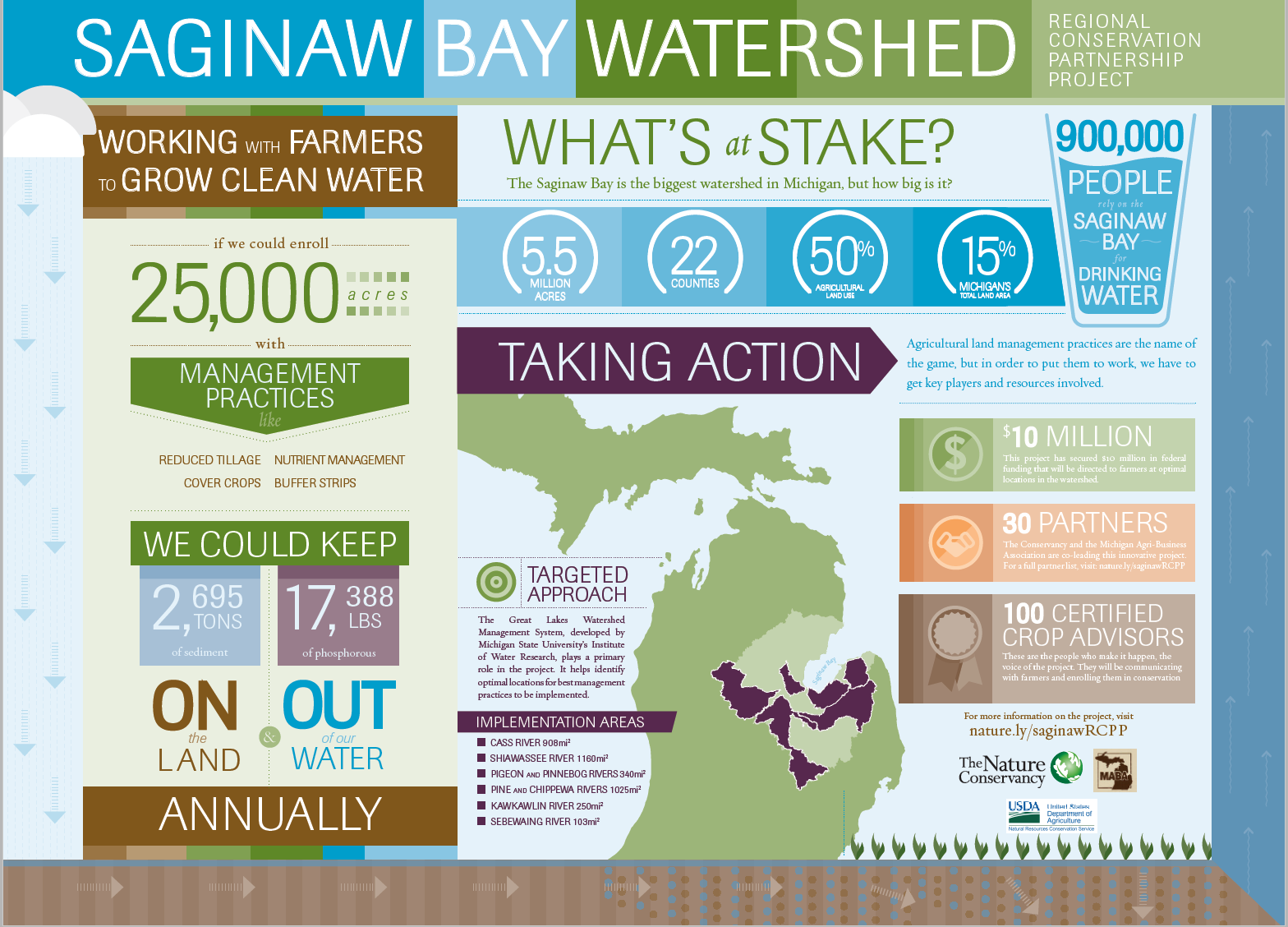 Celebrating Soil Health Heroes
Each year, Michigan farms produce $13 billion worth of products, from corn to meat to dairy, and provide 22 percent of the state's employment. Agriculture is big business and changing land management practices can be costly and filled with uncertainty.
In March 2018, TNC held a ceremony to say thank you to farmers and agribusiness professionals who have been willing to take a chance and to honor those who are making an impact on soil health.
Chad and Nate Dzurka of Dzurka Brothers Farms were among those honored, recognized with the "Conservation Newcomer" award for implementing a variety of conservation practices that have led to decreased fertilizer inputs on their fields while maintaining good yields and high-quality products.
AND THE AWARD GOES TO....
2019 Saginaw Bay Agricultural Conservation Awards
Do you know a farmer making a difference? Nominate a soil health hero today!
Learn More
For Steve Tait, recipient of the "Conservation Impact" award for his successful use of no-till and cover crop practices, using soil health practices is a return to the early days of agriculture that will have benefits into the future.

"The results of the cover crops, they look phenomenal when they're growing the late summer. It reminds you of prairie soil out west, the way that farms started," Steve says. "I want to build up organic matters, build healthier soil that will regenerate and not be entirely dependent on commercial fertilizers."
To date, through the Saginaw Bay partnership work, more than 60,000 acres have been enrolled in conservation programs and nearly 6,000 tons of sediment have stayed on the land and out of local waterways. There is still much work to be done, but farmers and agricultural professionals sense they are on the right path.
"Walking across the field, you feel a difference in the earth." says Tait. "It's a feeling of, 'Well, I did the right thing in the end.'"