Bats play a critical role in the environment. They are the number-one predator of night flying insects. Their value to U.S. agriculture has been estimated in a recent study at $23 billion annually. Unfortunately, more than half of the bat species in the United States are in severe decline or listed as endangered. One of the biggest threats is loss of habitat.

To help reverse this trend, The Nature Conservancy's (TNC) Indiana Chapter is utilizing a market-based approach that will conserve critical habitat for federally endangered or threatened bat species and generate funds for additional conservation action. The Bat Conservation Bank of Indiana protects two caves and 603 acres of surrounding habitat that are critical for the federally endangered Indiana bat and threatened northern long-eared bat.
How the Bat Conservation Bank Works
Conservation banks permanently protect habitat for federally endangered or threatened species and in doing so generate "credits" approved by the U.S. Fish & Wildlife Service (USFWS). As the USFWS issues permits for development activities (such as renewable energy projects),  these credits can then be used by developers to provide the required mitigation for the unavoidable adverse impacts those activities have on the species and their habitats.

Conservation banks benefit both species and developers. Species benefit because banks result in the protection of larger blocks of habitat that provide greater ecosystem functions for the species. Developers benefit because banks generally provide a more efficient and cost-effective mitigation solution. The USFWS determines whether a developer can use a bank as their mitigation option and the amount of bank credits they require.

TNC's Bat Conservation Bank of Indiana is creating synergy between society's transition to a low-carbon economy and the protection, at scale, of critical and resilient natural habitats and the ecological services these habitats provide. The Bank provides renewable energy developers in Indiana a high-quality and turnkey solution for their USFWS-identified mitigation obligations. Furthermore, with the Bank, developers will know they are helping to protect vital bat habitat in Indiana that both enhance ecological sustainability and provides recreational opportunities, while supporting TNC's larger conservation efforts across Indiana.

By using this Bank, USFWS permit holders are truly investing in Indiana's future.
What are the Available Credit Types?
The Bat Conservation Bank of Indiana offers a unique blend of credit types designed to cost-effectively meet the needs of project developers, with credits available for direct impacts to bats statewide and for impacts to summer habitat that occur in southern Indiana.  Based on the developer's needs and mitigation actions approved by the USFWS, the Bank may be able to blend credit types to manage mitigation costs better. 

The Bank offers maternal habitat credits (acres) for Indiana and northern long-eared bats. These credits can be used to offset approved incidental take of covered species statewide and to offset disturbance to summer habitat in the southern half of the state. View/download a map of the Bank service area.
In addition, the bank is approved to provide Indiana bat credits based on the inclusion of hibernacula and adjacent swarming and staging habitat. These credits can be used to offset incidental take of Indiana bats statewide.
Where Are the Bat Conservation Bank Sites?
The Bat Conservation Bank comprises three sites in southern Indiana, conserving 603 acres of critical bat habitat, including two caves where bats hibernate during the winter. Every Bat Conservation Bank site is part of a regionally significant conservation area and provides multiple conservation benefits beyond bats. As such, each site is managed by TNC staff who integrate ecological management actions with the surrounding conservation landscapes. In addition, each site is subject to a permanent conservation easement held by the Indiana Department of Natural Resources to ensure the long-term protection of the site's bat habitat.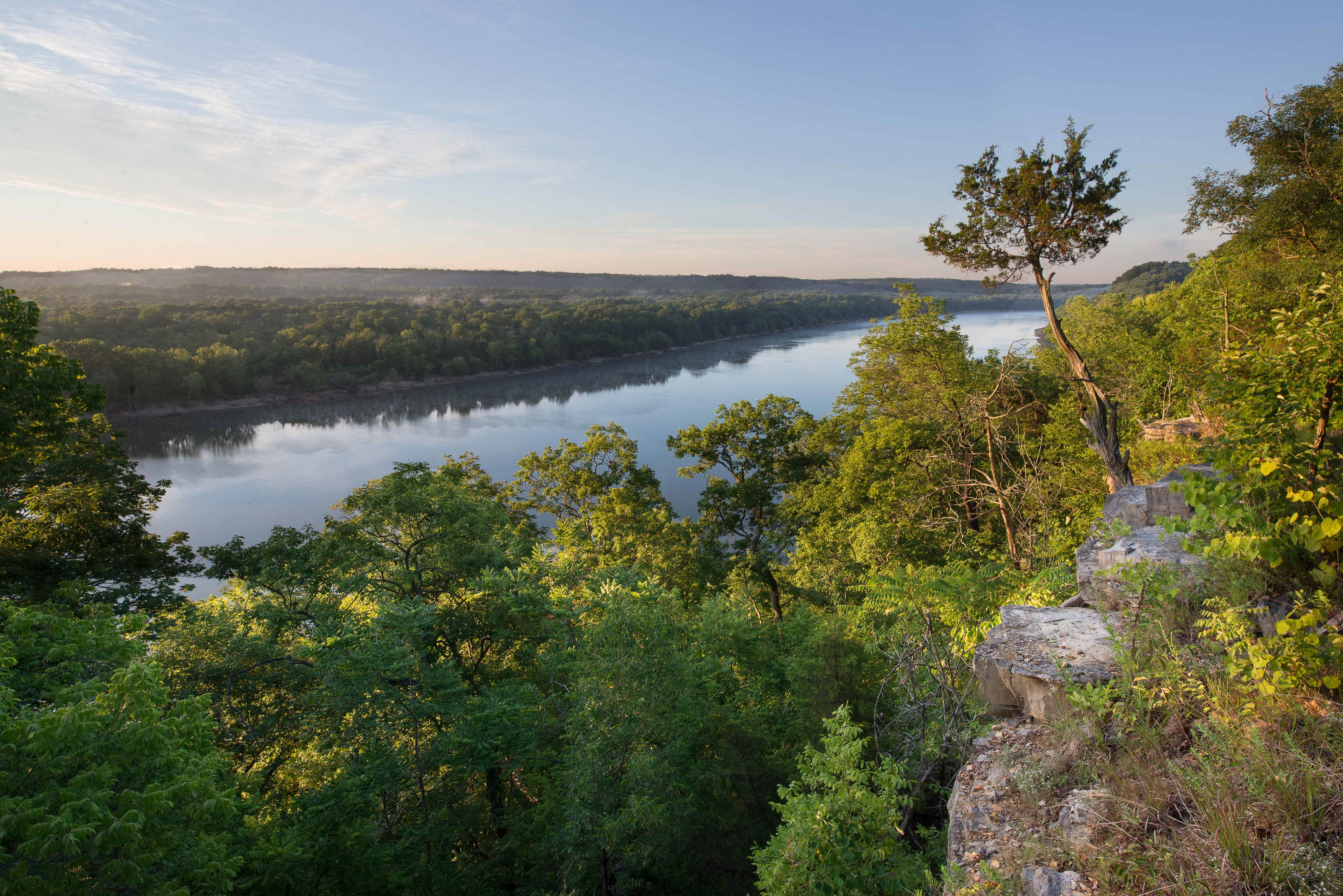 Wallier Woods
Atop one of the bluffs at Wallier Woods in Harrison County, Indiana.
©
Matt Williams/TNC
The Wallier Woods site protects a portion of the larger Harrison County Glades Conservation Area. More than 5,300 acres have been conserved to date in this Conservation Area, protecting forests, glades, caves and streams as well as an extensive cliff system along the Ohio River.

The area is awash with color in the spring, when splashes of color from yellow trout lilies, lavender wild geranium, blue and white dwarf larkspur and blue phlox abound under the oak forest.

This Bank site includes both the fifth-largest hibernaculum in Indiana for Indiana bats as well as summer habitat for both Indiana and northern long-eared bats. Interestingly, imperiled gray bats also use the site during the summer and winter months. Several trails are available to the public within the larger conservation area.
Expand to see more
Collapse to see less
The Jug Hole Cave site in Harrison County protects the entrance and adjacent swarming habitat of the largest Indiana bat hibernaculum in Indiana. More than 70,000 Indiana bats use this cave every winter.

The tract is largely forested with openings that are being restored to native barren grasslands. This site is largely surrounded by state-owned forest, but because of the sensitivity of this cave, this site is not open to the public.

Expand to see more
Collapse to see less
The Chelsea Flatwoods site in Jefferson County is part of the largest Illinoian-till flatwoods conservation area remaining in the United States. It lies adjacent to an additional 458 acres of protected habitat. As the largest, wettest and most diverse example, Chelsea Flatwoods conserves a forest offering rich wildflowers, ferns and an interesting mix of trees. American beech, sweet gum, sugar maple and a variety of oaks dominate the woods. 

This site provides maternal habitat for northern long-eared bats. The preserve is open to the public, but there are no designated trails through this wet forest. 

Expand to see more
Collapse to see less
Frequently Asked Questions
How do we access credits from the Bank?
Contact TNC (email
John Shuey
or
Angela Sturdevant
or call 317-829-3852) to obtain more information about credits, including pricing. If available, it is helpful to provide the Habitat Conservation Plan and/or USFWS permit that states the mitigation obligation for which credits are sought. TNC will develop a plan for credits that works best to satisfy these obligations and that can be provided to USFWS for approval.
Does the Bank assume all long-term mitigation obligations?

Yes, once a USFWS-approved credit purchase from the Bank occurs, the credit purchaser/permittee is no longer responsible for the mitigation obligations to which those credits are tied, as those obligations are transferred to the Bank and TNC. 

Is the credit purchaser responsible for separately funding an endowment or performance bond? 
No. These costs are incorporated into the credit price.

Who provides annual reports to USFWS about mitigation performance?

After the USFWS-approved credit purchase from the Bank, the mitigation obligations tied to those credits are transferred to the Bank and TNC, including long-term monitoring and reporting obligations.

IMPORTANT NOTE
The Nature Conservancy has the discretion not to sell credits from the Bat Conservation Bank of Indiana for impacts to our conservation priorities. We provide this information to give members of the regulated community advance notice that they should contact us early in the regulatory process to ensure that The Nature Conservancy can, in fact, satisfy their mitigation needs.