It started with a small property near Crested Butte. In the 1960s, scientists from the Rocky Mountain Biological Laboratory were exploring a series of linked ponds in glacially created shelves on the side of Galena Mountain. They found unlimited opportunities for aquatic research with the diversity of plants, animals and amphibians living in and around the wetlands. They knew the property needed protection and contacted TNC for help.

The Nature Conservancy purchased that property, Mexican Cut, in 1966, and with this acquisition, TNC formed its Colorado chapter. Now, in our 57th year in Colorado, we're looking back at some of our favorite conservation successes throughout the state. 
We can't save nature without you
Updates from the conservation world & how you can get involved.
Protecting Parks for People
We've helped found several popular parks around the state, making nature accessible and welcoming for people from all backgrounds. In 2004, TNC worked with local residents, the National Park Service and elected officials to develop legislation to designate the Great Sand Dunes National Park and Preserve. Connected with two ranches protected by TNC, it's one of the most biologically significant landscapes in the state, with rare insects found nowhere else in the world and an abundance of habitat for native wildlife.
More Than 55 Years of Conservation in Colorado
1966-1987
1991-1993
1996-1999
2004-2015
2015-2023
TNC also played a key role in establishing Mueller State Park and Dome Rock State Wildlife Area. Recognizing that the property was threatened by development, TNC purchased the 12,000-acre ranch in 1978 and transferred it to the state for public use.
More recently, TNC was integral in creating Colorado's newest state park: Fishers Peak. We purchased the property in 2019 along with our partners the Trust for Public Land, the City of Trinidad, Great Outdoors Colorado and Colorado Parks and Wildlife. Together we are developing a plan to meld outdoor recreation with conservation needs for the park. A small section of the 19,200-acre park began welcoming visitors in October 2020, and more will open over the coming years.
Keeping Rivers Flowing
Our efforts to conserve water for rivers, native species and people goes back to 1983, when TNC helped purchase a water right for Boulder Creek. This transaction was the first time in Colorado that a water right was converted from agricultural use to an instream flow, benefitting the river and surrounding habitat.
Since then, we've expanded our toolbox of ways to meet the water needs of both people and nature. We worked with partners to form the Upper Colorado Endangered Fish Recovery Program, which protects habitat and ensures there is enough water for the four federally listed endangered fish species in the upper basin: humpback chub, bonytail, Colorado pikeminnow and razorback sucker. 
In 2015, the state of Colorado created its first-ever water plan. For more than eight years leading up to this plan, TNC staff provided science, policy and conservation expertise, which directly informed strategy for the final plan.

We also helped launch the Yampa River Fund in 2019. This unique funding source will invest in projects to enhance water security, boost river flows and restore river ecosystems for the Yampa River in northwest Colorado.
On-the-Ground Conservation in Action
Securing protection for important lands has always been central to TNC's work. Over the past 55+ years we have helped protect more than one million acres of land throughout the state, from Carpenter Ranch near Steamboat Springs to JE Canyon in southeast Colorado to Phantom Canyon along the Cache la Poudre River northwest of Fort Collins.
One of our favorite stories happened in 1990. Deer Creek Elementary School in Bailey, Colorado, launched a project for the students to visualize how big the number one million is. Over the course of the year, they collected one million pennies, planning projects and events to reach their goal. They decided to donate the $10,000 of pennies to The Nature Conservancy to help purchase High Creek Fen, a unique marsh that contains more rare plant species than any other wetland known in Colorado.
More recently, in January 2021 we purchased 11,040 acres of Silver Mountain Ranch located west of Walsenburg in southern Colorado. With a wide diversity in habitats and elevations, the ranch is home to a large variety of mammals including elk, mule deer and mountain lion and supports the habitat used by Canada lynx. It's a key link for wildlife to move freely as climate change alters their habitat.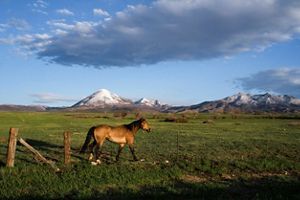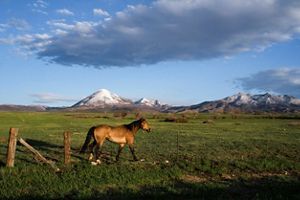 Building on our strong history of collaboration, we're now focused on one of the largest opportunities for grassland conservation in the country. In the new Southern High Plains Initiative, we're working across five western states and 71 million acres to conserve lands and waters to boost climate resilience, preserve biodiversity, and support sustainable communities.
Working with Communities to Live Better with Nature
True to our mission, we've built strong relationships over time with local communities to ensure we are in line with their interests and creating change that will last.
In northwest Colorado, through our work at the Carpenter Ranch and with landowners, local land trusts and many others, we have protected a network of lands that provide habitat for all the iconic Colorado species that live there: elk, bear, greater sage grouse, Columbian sharp-tailed grouse, mule deer, pronghorn and more. Over time, we've had a hand in protecting 30,000 acres, and, counting in this important area, that also provides livelihoods for centuries of ranching families.
In southwest Colorado, our work centers on water and people. With partners, we launched the Dolores River Restoration Partnership in 2009, which removed invasive species such as tamarisk and restored native habitat along 175 miles of the Dolores River. We also worked for nearly a decade on a plan to release a surge of water from the McPhee Reservoir on the Dolores River to mimic spring flows on the river. The plan for the release was born from many years of discussions between TNC and its partners: water managers, government agencies, and conservation and boating organizations. 
Building on the History of Our Success
As we look back on these great successes, we are inspired to look ahead and dream of what we can achieve in the future. We have ambitious goals, driven by the urgency of the need for durable, scalable and transformative climate solutions. Our story is one of continual evolution and growth.
With a legacy of success and a strong foundation of supporters like you, we can continue to shape the future for Colorado and beyond.