John Buehler began fishing for a living when he was about 16 years old. He helped his father, Ken, wrangle the family's seine nets in Lake Erie's Sandusky Bay. Seining is difficult, physical labor, involving small boats and heavy nets, working six days a week during the season, often in rough weather.
But the Buehlers don't shrink from hard work. John and his brother, Dennis, and their father also farm about 900 acres and run an excavation business.
"We always joke that we'll do anything to keep from getting a real job," says Buehler, 57, who lives not far from the family farm in Oak Harbor, Ohio.
A Thriving Past
When Europeans arrived in northern Ohio, shallow Sandusky Bay was a complex of wetlands and streams, providing abundant habitat for fish, shorebirds, reptiles and mammals, its waters and native marsh vegetation providing a nursery for aquatic life. Learn more about the once thriving history of Sandusky Bay below.
Never easy work, fishing has grown harder in recent years, he says. There's the increasing number of recreational boaters, who often miss or ignore the Buehlers' marker buoys and tear up the nets with their outboard propellers. Storms are more frequent and intense, with high winds that make the boats hard to handle and stir up the mud at the bottom of the shallow bay.
And there's the algae. Sandusky Bay is in Lake Erie's western basin, the shallowest part of the shallowest Great Lake, fed by rivers that drain about 1,800 square miles of Midwest farmland, along with Toledo and a dozen smaller cities. Runoff from septic tanks, lawns, golf courses and wastewater treatment plants, combined with excess fertilizer from farm fields to create an overabundance of phosphorus in the lake. The phosphorus feeds seasonal algae production, creating conditions that can lead to toxic algae blooms that often kill fish. In 2014, the water source for nearby Toledo was contaminated, leading the city to shut off the water supply for three days.
TNC is restoring large swaths of Sandusky Bay which is one of the most important bodies of water in northern Ohio with one of the largest ranges of coastal wetlands in the Lake Erie basin.
Climate change is likely to make things worse in the western basin for those who make a living on the water. Storms are likely to intensify, bringing more rain that will increase polluted runoff, and warmer water temperatures will exacerbate the annual algae blooms.
The good news is there is work that can be done at the local level to help address the impacts of climate change. It begins with restoring the natural processes that led to Sandusky Bay's reputation as a highly productive fishery.
The restoration will be expensive. But new federal funds from the Infrastructure Investment and Jobs Act (IIJA), approved by Congress in 2021, are helping to bolster an ongoing restoration initiative led by The Nature Conservancy (TNC) and a variety of other partners.
Called the Sandusky Bay Initiative, it was awarded $5.4 million in IIJA funds in April, 2023. Combined with support from state government, through a program known as H2Ohio, this initiative aims to restore more than 1,000 acres of habitat and associated ecological function to the bay. As part of this effort, TNC has been working to restore wetlands throughout the bay, reducing wave action and restoring natural filters, to help to address harmful algae blooms and other water quality issues.
"The IIJA money came at an opportune time," said Alexis Sakas, natural infrastructure director for TNC's Ohio chapter.
Shoreline and marsh restoration won't keep recreational boaters from slicing through Buehler's seines, but better water quality and fish nursery habitat could make the fishing better. Buehler is hopeful, and he's in it for the long haul. His father, now 80, still works every day with John and his brother. He expects they'll be fishing the bay for many years to come.
"We've been on this water all our lives."
The Complex History of Sandusky Bay
Sandusky Bay was part of the Great Black Swamp—a deeply interconnected network of wetlands, waterways, dense forests and grasslands that stretched to northeast Indiana. When European settlers arrived they began to drain and transform the Great Black Swamp into agricultural land which had lasting consequences for the health of the Bay.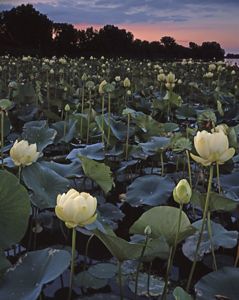 When Europeans arrived in northern Ohio, shallow Sandusky Bay was a complex of wetlands and streams, providing abundant habitat for fish, shorebirds, reptiles and mammals, its waters and native marsh vegetation providing a nursery for aquatic life. European technology helped transform the surrounding land into some of the most productive farmland on the continent by draining the rich organic soils and rerouting rivers to prevent flooding.
The unexpected tradeoff was that these wetlands' natural filtering capacity was also lost. In more recent decades, the shallow, sloping shores of the bay have been lined with metal or stone breakwaters to accommodate development and minimize shoreline movement. This loss of wetlands and hardening of the shoreline causes more turbid water, especially during storms, stirring up mud and exacerbating the algae issues.
Many individuals and organizations are working to restore the natural resilience of Sandusky Bay, including Buehler and many other farmers in the region, who have restored wetlands on their property to treat water before it enters the bay.
Tell Congress to Protect Conservation Funding
Government action on conservation is at an all-time high. We need to keep that going.
Take Action Now