Rising demand for food, energy, minerals, and infrastructure is pushing extractive and commodity-driven development into areas that have historically avoided large-scale conversion.
"The forest is rich with many things supporting life that cannot be quantified . . . That is why we should protect the forest, and we cannot do it alone."
— Siang Geah, Dayak Wehea Community Leader (Indonesia)
This has implications for both Indigenous Peoples and the lands they govern, which harbor a significant proportion of the world's biodiversity and help mitigate climate change. It also underscores the need for greater support of Indigenous stewardship and the adoption of transformative, rights-based approaches to conservation.
According to a new study led by Nature Conservancy scientists, industrial development could threaten over 60% of Indigenous Peoples' lands—22.7 million square kilometers across 64 countries—an area equal to almost seven times the size of India. Some of these countries have socioeconomic and political contexts that could increase conversion risk.
The study by Christina Kennedy and Brandie Fariss et al. in One Earth, provides the first comprehensive, global assessment of conversion risk to Indigenous Peoples' lands and helps to identify where and how Indigenous communities, governments and organizations can work together to benefit both nature and people.
Industrial Development Poses Significant Threats to Indigenous Peoples' Lands
Indigenous Peoples make up about 6.2% of the world's total population, but they formally or customarily govern at least a quarter of global lands. The vast majority of these lands (92%) are in moderate to good ecological condition, found Kennedy and Fariss et al.
Our global insights, straight to your inbox
Get our latest research, perspectives and solutions to today's sustainability challenges.
Sign up
Indigenous Peoples' stewardship—combined with their lifeways, knowledge systems and connection to place—has played an outsized role in protecting places that provide local benefits such as food, medicine and cultural well-being as well as critical global benefits such as biodiversity protection, climate-change mitigation and other ecosystem services.
At the same time, 60% of Indigenous Peoples' lands are moderately to highly threatened by the potential expansion of oil and gas production, renewables, mining, commercial agriculture, and urbanization. Development pressures from different sectors vary by region, as do their potential impacts.
"Development proposals come with tradeoffs that need to be carefully considered in context, in a way that centers the rights, values, needs and perspectives of Indigenous Peoples in decision-making," says co-author Christina Kennedy.
Assessing Risk in Order to Guide Solutions
Indigenous Peoples' ability to protect their land from conversion by industrial development is influenced by factors such as:
The security of rights their land and resources (Rights)
Whether they are meaningfully engaged and represented in decision-making processes (Representation)
Whether they have access to the capital to support conservation and sustainable development (Capital)
The work of Kennedy and Fariss et al. gives us a way to gauge vulnerability to conversion in the form of a novel Rights-Representation-Capital (RRC) Index.
The ability of Indigenous Peoples to govern and steward their lands amid development pressures depends on factors such as whether they have secure rights to their territories and resources (Rights), whether they're adequately represented in decision-making processes (Representation), and whether they have sufficient capital to support conservation and sustainable development (Capital). These factors are reflected in the Rights-Representation-Capital (RRC) Index. Where RRC Index scores are low (in blue), vulnerability to industrial development is high. (Data sources: Kennedy and Fariss et al., Natural Earth)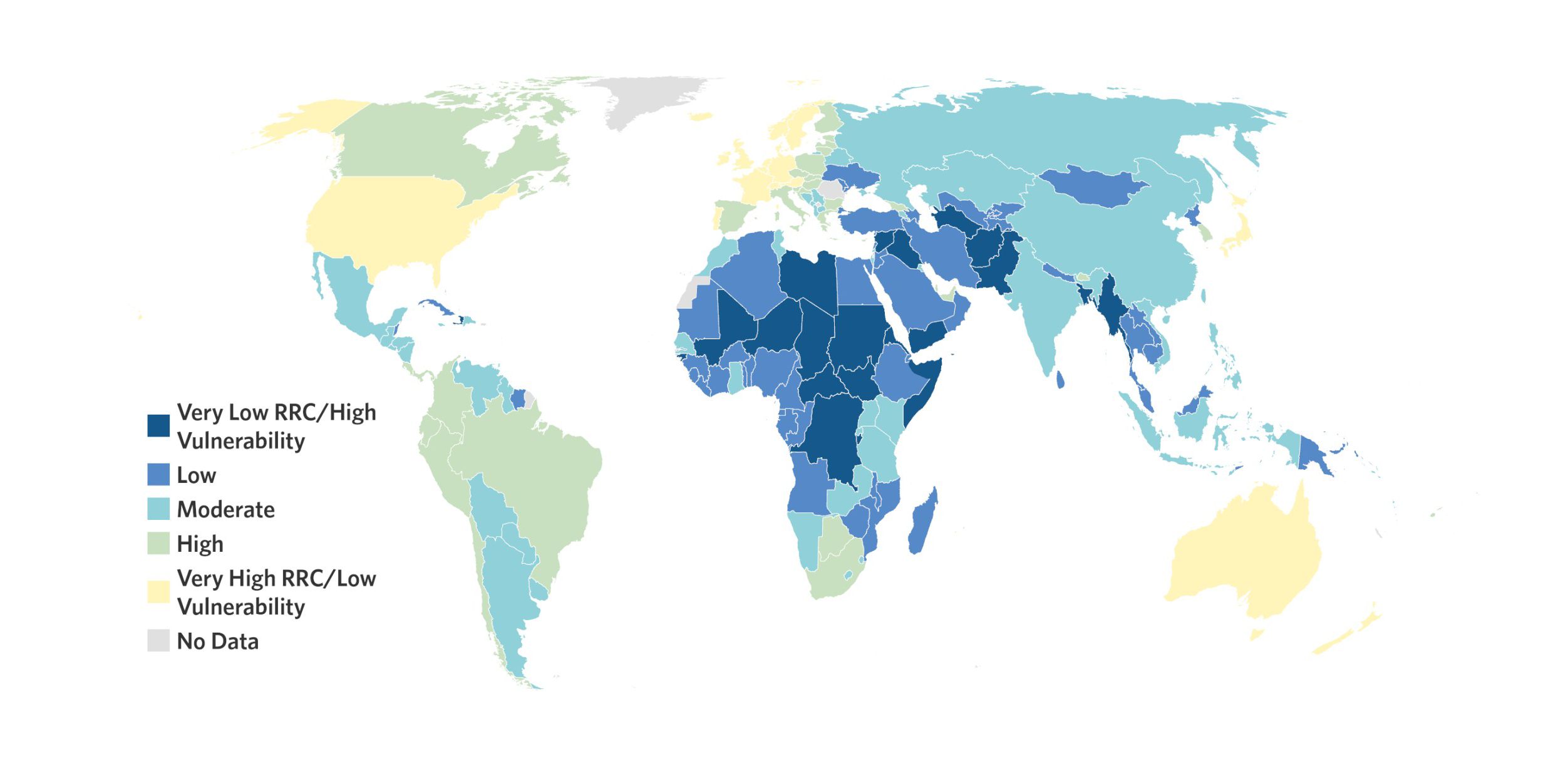 When vulnerability information is intersected with conversion threat, it's possible to identify countries where Indigenous Peoples' lands confront a higher risk of conversion and where Indigenous Peoples are likely to encounter the greatest challenges.
This information can be used by Indigenous communities, conservation and development organizations, governments, companies, funders and multi-lateral organizations to broadly suggest regions that may face the greatest challenges and the strategies that might promote Indigenous stewardship.
For example, where Indigenous Peoples' rights are weak, actions like participatory mapping, formalizing land rights through titling, and supporting community capacity to enforce their rights can help.
Where representation is poor, partners can advocate for the adoption of robust corporate responsibility standards for equity and inclusion, the creation of trade agreements that foreground Indigenous Peoples' rights, and the removal of barriers to participation in decision-making processes at all levels

Where access to capital is limited, technical support and training in participatory land-use planning as well as strengthening lending standards and licensing processes to ensure effective engagement of Indigenous Peoples in free, prior, and informed consent (FPIC) processes can help.

Transformative, Rights-Based Approaches
Indigenous-led conservation will be a critical part of protecting 30% of the world's marine, freshwater and terrestrial ecosystems by 2030, an ambitious goal that nearly 200 countries agreed to last December as part of the Global Biodiversity Framework (GBF). Since 39% of the world's least modified and most ecologically intact lands are governed by Indigenous Peoples, implementation of the GBF will require their continued stewardship and leadership.
"We need to meaningfully engage with Indigenous Peoples when it comes to development and when it comes to conservation," notes co-author Brandie Fariss. In combination with TNC's Voice, Choice, and Action Framework, the global conversion risk assessment by Kennedy and Fariss et al., can provide useful guidance.
"We can do our part by pursuing equitable, rights-based and Indigenous-led approaches that ensure the free, prior and informed consent of Indigenous Peoples and help avoid conversion risk to their lands," continues Fariss.

"This study emphasizes that although Indigenous Peoples and their lands face significant threats from industrial development expansion, there are solutions," note Kennedy and Fariss. "There are opportunities for the philanthropic world, the policy world, the corporate world and the conservation world to advocate for change. Together, we can center Indigenous Peoples rights and leadership in global efforts to address biodiversity loss and climate change."
Supporting Indigenous-Led Stewardship Around the World
Around the world, TNC partners with Indigenous Peoples on strategies—like participatory mapping, spatial planning and securing tenure rights—that support their stewardship visions. Explore these five examples:
Let's Make Breakthroughs Break Through
The climate and biodiversity crises are interconnected and daunting. But by working together, we can overcome the barriers to the solutions our planet needs. Get our monthly newsletter and join a community of changemakers.