Whether you're looking for a breezy lakeshore, a flowering prairie, or a forested hike with a view of the rolling Appalachian foothills, The Nature Conservancy (TNC) in Ohio has you covered for outdoor adventuring. With several preserves throughout the state, you have your choice of diverse habitats to explore and wildlife and plants to spot. 
Getting outside and connecting to nature is one of the best ways to stay healthy, improve mental health and have fun. But, before you pick your next outdoor adventure, there are a few things you should know and do before lacing up your hiking boots or slipping on your life jacket. Here are our Top 10 recommendations to ensure you have an amazing time in nature. 
1. Do your research.
Before hitting the trails or waterways at a preserve you've not visited before, be sure to read up on it—including downloading or printing any trail maps that are available. 
Look at the listed trail lengths and conditions so you can make the best plan for your day. For instance, do the trails go through wetlands or boggy areas? Are the trails well-marked? Hilly? Wheelchair accessible?

In addition to assessing the trails, look at what the preserves themselves offer. Are there restrooms? Are there recommendations on what to look for or when to go?
Each of our TNC preserves in Ohio have their own web pages with trail information, preserve rules and overviews on what to expect. Be sure to check out those pages as part of your prep.
2. Keep your pet(s) safe.
If you're planning to hike with your dog or other pets, check to make sure they're allowed at the preserve. Some of our preserves allow pets, but some do not.
For instance, while Big Darby Headwater Preserve welcomes dogs and other pets, Brown's Lake Bog and Herrick Fen Preserve do not allow pets of any kind.  

Keep your dog or pet leashed throughout your hike. This not only keeps your dog safe, but ensures that wildlife and other hikers are safe and comfortable, too. 
Don't forget the baggies—cleaning up after your pet and taking it to the nearest trash receptacle is required. It keeps the trails clean for others and protects wildlife and their habitats.

Sign Up to Receive Nature News
3. Pack in and pack out.
Many natural areas don't have trash services on site, so plan on keeping anything you bring with you for your entire hike. For instance, if you have a snack while hiking, store the wrappers or containers back in your backpack. If you're hiking with a pet, be sure to carry baggies with waste in them out of the preserve. 
The other side of pack in, pack out is to leave what you find. Whether it's a stone, a plant or something else, all natural items in a habitat have a role to play. Moving or taking something from a preserve can damage the ecosystem or harm wildlife. 

Leaving what you find is also kind to others who are hiking. If you leave what you find, you allow others to have their own wonderful nature discovery, just as you did. 
4. Leave wildlife and plants alone. 
Chances are that you'll spot some wildlife or cool plants while hiking at TNC preserves. If you happen to see a wild animal, give it plenty of space and leave it alone. This is especially true in the spring when many wildlife babies are around.
Wildlife moms, like white-tailed deer or Eastern cottontail rabbits, will leave their young alone for long stretches while they go forage for food. If you see a wildlife baby, assume its mom is nearby and coming back. 
Many of our preserves, like Herrick Fen Nature Preserve or the Cedar Falls Trail at the Edge of Appalachia, have orchids, spring ephemeral wildflowers or carnivorous plants within their boundaries. While we encourage you to take photos and admire any plants you see, please leave them alone where they grow. 

Finally, know which plants to avoid when you're outside! Plants like poison ivy or wild parsnip can hurt you if touched or disturbed. Learning which plants can be harmful and where they grow is important so you can easily avoid them.
Downloading a picture of noxious plants on your phone can serve as a handy reference to make sure you're identifying the correct plants. 
Avoid These Plants
Plants like these below can cause rashes or even life-threatening reactions if disturbed. Learn what they look like and where they grow so you can easily avoid them in your outdoor adventures.
5. Protect Yourself.
It's an unfortunate fact, but anywhere you hike in Ohio, you're likely to run into ticks and biting insects like mosquitos. While spring, summer and fall are the peak seasons for tick and insect activity, some ticks, like blacklegged ticks, are active year-round.
Ticks in Ohio
There are about a dozen species of ticks in Ohio, but the three species below are the ones that you're most likely to encounter and that pose risks for tick-borne diseases.
Here are a few tips to protect yourself from ticks and other insects:
Use insect repellents approved by the US Environmental Protection Agency for use on human skin. Typically, these repellents will last for several hours when applied correctly. 
Stay in the middle of the trail when possible and avoid hiking through wooded and brushy areas with tall grass. 
Wear long sleeves, pants and socks when possible. Tucking your pant legs into your socks and shirt into your pants will help keep ticks outside of your clothing.

Wearing light-colored clothing can make it easier to spot ticks or insects that might have hitched a ride on you. 

Treat your clothing and any gear, such as backpacks or tents, with 0.5 percent permethrin. This repellent can be found for sale online and in many outdoor shops. Permethrin-treated clothing stays protective through several washings but always follow the product's label and recommendations for use.


Check your body, clothes, and any gear for ticks before going inside. To add an extra layer of protection, put your hiking clothes in a dryer for 10 minutes on high immediately after coming inside OR wash them in hot water first, then dry them on high. Bathe or shower as soon as possible after your time outside and check your body thoroughly for ticks. 

If you find a tick on you, remove it as soon as possible. If it's attached, use tweezers to grab the tick close to your skin's surface and then pull straight back, away from your skin, with a steady, even pressure. Once you remove the tick, dispose of it by placing it in alcohol, a sealed bag/container or flushing it down the toilet. Before disposal, safely take a clear picture of the tick for identification if you're concerned about tick-borne diseases. 
Common Teasel
Invasive species, like common teasel, are not inherently malicious. But, when they grow outside of their native habitats, they can cause serious problems for those ecosystems.
©
TNC
When you're outside, it's a good rule to always have sunscreen on during all seasons. Wearing sunscreen is especially important if you hike in open areas like the Salamander Flats in the Kitty Todd Nature Preserve or adventure out on the water in a place like Great Egret Marsh.
Most sunscreen lasts about 90 minutes, so have it handy to reapply regularly. Even on cloudy days, it's possible to get a sunburn, so it's a good idea to make wearing sunscreen a permanent part of your outdoor activities.
7. Dress for the weather and the season.
From kayaking in the summer to hiking in snow-covered forests in the winter, Ohio is well-suited for year-round outdoor adventuring. 
Before you head out, check the local weather report for where you'll be hiking and dress appropriately. Bring spare clothes and shoes to change into in case you get wet or muddy.
Wondering what to wear for your outdoor adventure? We have a few tips: 
Wear good, sturdy shoes that are closed-toe and waterproof/resistant no matter the season or the weather. Good shoes will help you avoid blisters, prevent falls and protect your feet from anything on the trail. Avoid wearing sandals, flip-flops or similar shoes. 
Avoid wearing cotton if you can. Cotton absorbs sweat and holds it close to your body, which can cause chafing. In cooler weather, damp or wet clothes can also cause a sudden drop in your body temperature, which can lead to hypothermia. Opt for clothing that is sweat-wicking to keep your body dry.
In the summer, wear light, loose, and sweat-wicking clothes. Wearing a hat is also a great call to protect your face and neck from the sun. In the height of summer, avoid the dangers of heatstroke by hiking early in the morning or later in the evenings.

In the spring and fall, when the weather is more variable, bring along a poncho or compact rain gear. If the preserve or trail you'll be hiking has a water crossing, make sure the crossing is safe, especially if there has been a lot of rain or snow melt recently. Be prepared to turn around if the water at the crossing is moving too rapidly or is too deep.

In the winter, dress in three layers: a base layer of sweat-wicking materials close to your skin; an insulating mid-layer, such as fleece, to keep your body heat in; and an outer layer that's waterproof/resistant to protect you from snow or rain. Keep your feet warm and dry by wearing wool or synthetic socks and good-fitting, waterproof-resistant hiking boots. Bring an extra pair of socks in case yours get wet. Wear a warm hat and lightweight or midweight gloves to keep your hands warm. As you move through the day, remove or add back layers to stay comfortable and avoid overheating. If you get wet while winter hiking, change into dry clothes as soon as possible.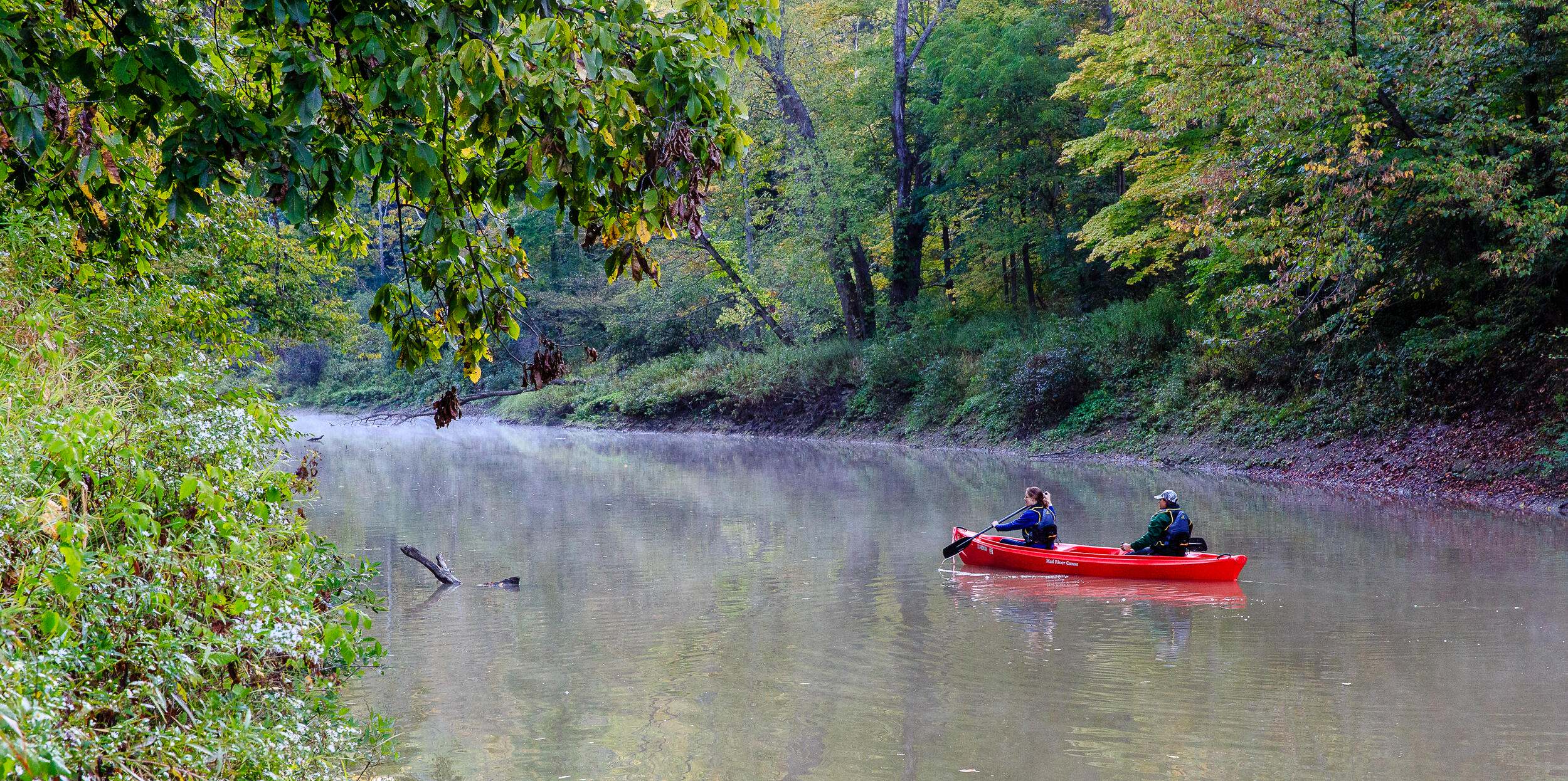 Canoeing on the Grand River
Getting out the water is a fantastic way to enjoy nature in Ohio.
©
Kent Mason
Ohio has a lot of waterways where you can kayak, canoe, boat or paddleboard. If you're on or near the water, wear a life jacket.
Look into the different kinds of lifejackets available for the activity you'll be doing and choose the ones that work best for you. If you're looking for water activities, visit the Grand River Conservation Campus in TNC's Morgan Swamp Preserve to your list, which offers opportunities to fish, kayak, canoe and more.  
9. Bring water. 
Like any other form of exercise, hiking and other outdoor activities can dehydrate you, especially in the hotter months of the year.
Signs of dehydration include feeling thirsty, having a dry mouth and feeling tired. Severe dehydration can give you muscle cramps, headaches, dizziness or nausea. The minute you notice you're feeling thirsty, stop to drink. You're already dehydrated.
To prevent dehydration: 

Drink water before you head outside to make sure you're starting your nature adventure hydrated. This is especially important if you're hiking in the morning, as you'll be dehydrated from sleeping through the night before. 
While you're outside, drink small amounts frequently to make sure you stay hydrated throughout your time outside.
Use a refillable and reusable water bottle to reduce waste. An insulated one will help keep your water cool, too. 
Make sure your water is easy to reach and not buried in your backpack. 
Drink water no matter what the weather is like. If you're hiking in winter, getting dehydrated can make you cold faster. 
After your time outside, drink water as you head home to replenish any water lost from sweating or exertion. 
If you're hiking with your pet, bring a collapsible water dish or a water bottle with a dish attached so they have water to drink while outside, too. 
10. Bring binoculars and/or a camera.
All of our preserves offer gorgeous natural views. Having a camera with you will help you capture memories of Ohio's natural beauty. Binoculars are also a must to have on hand if you want to do some wildlife spotting or birdwatching.