A Naturally Productive North Dakota
The lands and waters of North Dakota provide critical habitat for a wide variety of wildlife. In fact, our wetlands have earned the state a reputation as "the duck factory of North America" for their role in waterfowl production. These wetlands, commonly called prairie potholes, are scattered among the vast grasslands that have long been home to an extraordinary number of plant and animal species. The natural productivity of our lands and waters has also enabled a robust agriculture economy, with farmers and ranchers producing canola, soybeans, honey, beef and much more. 
How Policy Helps Advance Conservation

The Nature Conservancy strives to advance policy solutions in North Dakota that work for people and nature. Just like our conservation efforts on the ground, our policy work is guided by science. 
Science has always helped us plan and implement conservation and also helps us develop recommendations for how to support conservation in the public sector. We work in partnership with businesses and industries, with governments from the local, state and national levels, and with North Dakotans from all walks of life to further important conservation work.
Working across borders, aisles and sectors, The Nature Conservancy's mission is to conserve the lands and waters on which all life depends. With a nonpartisan approach, a commitment to science and ongoing collaboration with local partners, we can achieve a future in which nature and people thrive together. But we won't be able to do it without you! 
Get involved by learning more about our policy solutions, discover how you can use your voice to make a difference and speak up for nature with your lawmakers.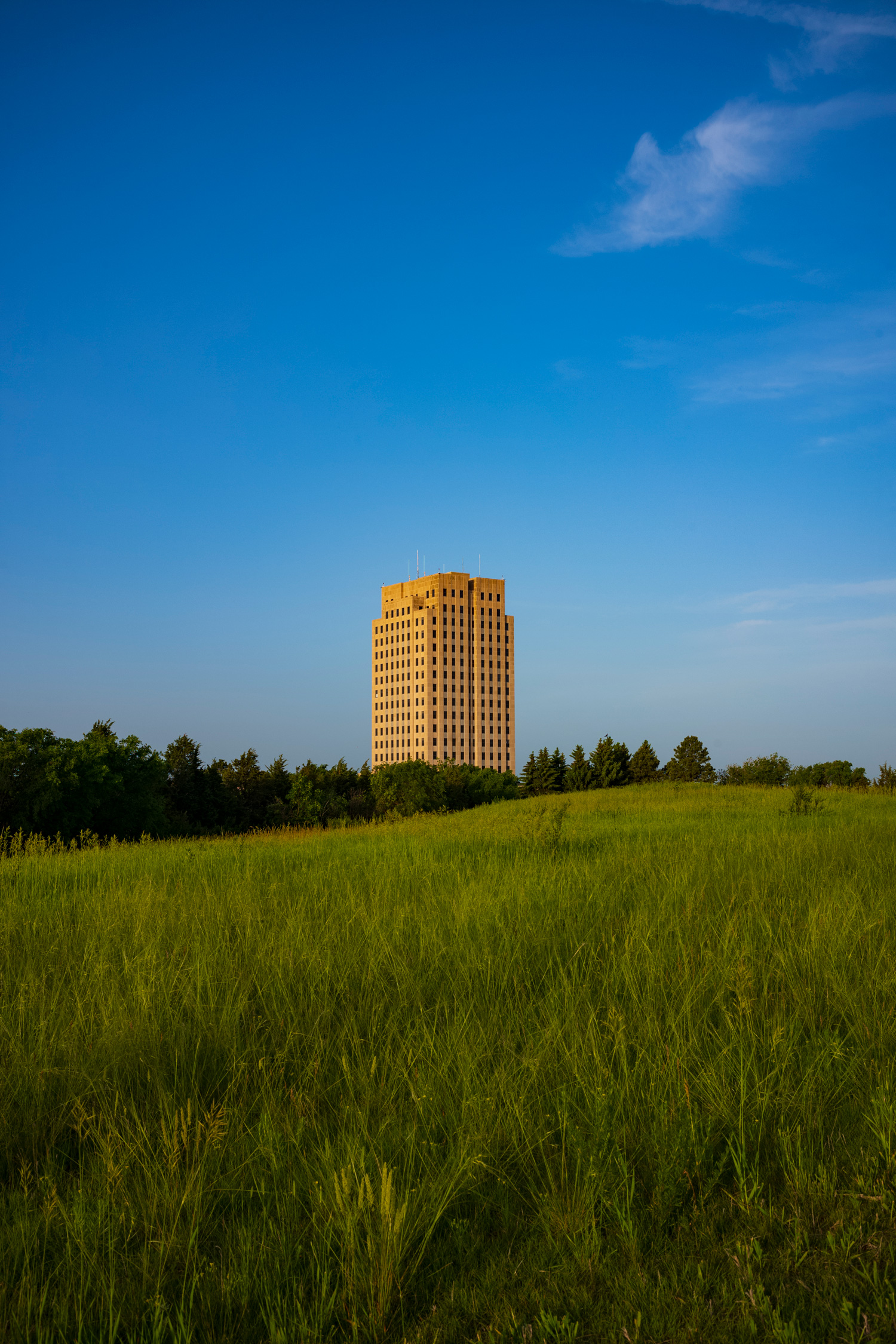 State Capitol
The North Dakota state capitol building rises from the landscape, as seen from across a native prairie.
©
Jonathan William Cohen
May 5, 2023
The North Dakota Legislative Assembly adjourned in the early morning hours of April 30, concluding the 68th session of the state's history. Lawmakers passed a record $19.6 billion budget, including $6.1 billion in general fund spending. Of the more than 580 bills passed by the legislature, several have important implications for conservation.
The Outdoor Heritage Fund received $15 million for the next two years to go toward conservation projects around the state. From improving water quality to expanding wildlife habitat, this funding will deliver benefits for outdoor enthusiasts, rural communities, farmers, ranchers and beyond.
Most of North Dakota's lands are privately owned, which makes it even more important to improve and restore wildlife habitat on private property. Following legislation that passed last month, the Game and Fish Department is now able to enter into habitat development agreements with private landowners without requiring that the private land be open for hunting.
Several bills pertaining to energy siting and development were considered this year, and although many were defeated on the floor, we will continue to engage with efforts to site renewable energy in a way that can provide clean, low-impact power for people and wildlife.
Thank you for following along this legislative session, and be sure to stay engaged with our work in North Dakota.
---
March 21, 2023
With a month to go in the legislative session, a steady flow of bills is being passed out of the House and Senate and sent to the governor for his signature. Some of these include a bill to streamline the distribution of funding for clean drinking water and a bill that increases the amount of money the state can have on hand to fund site reclamation and well plugging related to oil and gas production. All told, more than 130 bills have been signed so far, and many more are soon to follow.
A bill that allows the state Game and Fish Department to enter into agreements with landowners to cost-share habitat development on private lands is set to be heard by the Senate Energy and Natural Resources Committee later this week. On another bill, the House Appropriations Committee voted to not send additional funds to a grazing improvement program but suggested that the agriculture commissioner would be given authority to continue spending the money that remains in the fund from the prior legislative session.
Staff from The Nature Conservancy recently met with state leaders to elevate the importance of the state's grasslands, croplands and wetlands in capturing and storing carbon via biological processes.
---
February 23, 2023

North Dakota's legislative session is moving right along! Last week was the deadline for bills to move out of committee, and the House and Senate both adjourned earlier this week for their "crossover" recess. Crossover refers to a deadline in the legislative calendar where bills that are passed in their house of origin must be sent to the other house for consideration and final passage.
What has been passed so far this session? A bill to compensate private landowners for habitat development projects on private lands passed out of committee last week with a "do pass" recommendation. The House passed a bill to allow for corporations to conduct certain kinds of agricultural activities in the state, creating a carve-out within the state's law that has historically blocked corporate farming. A bill that would have created extensive procedures for permitting wind energy at the county level was converted into a study of the issue and passed by the House.
In the Senate, a bill that appropriates $3 million for cattle grazing infrastructure on national grasslands passed. The money can be granted to cooperative grazing associations for the purposes of water development, fencing, conservation or improving wildlife habitat and overall grasslands health. The bill is narrow in its scope and only affects a limited number of ranchers, but the funding for conservation initiatives could help improve the resilience of grasslands.
---
February 2, 2023

Legislators introduced more than 900 bills during a rapid-fire first month at the Capitol. Both the House and Senate have now passed the deadline to introduce new bills for consideration this session, and bills are being referred to committees for a "do pass" or "do not pass" recommendation from committee members.
The Senate Agriculture and Veterans committee heard a bill to fund grazing lands conservation through a cost-share program with cooperative grazing associations. If passed, it would provide approximately $6 million to support improved fencing, water development and projects to improve wildlife habitat, capture carbon and improve grassland health. The bill originally received a "do not pass" recommendation from the committee but has been rereferred for further consideration.
Legislators are considering a great deal of bills related to energy development and siting of energy projects this session. The Senate also increased the amount of funding available for abandoned oil and gas well plugging and reclamation. We are a little more than a quarter of the way through the session, so stay tuned for more to come!
---
January 19, 2023

The legislative assembly began their 2023 session on January 3, and the first couple of weeks have gotten off to a quick pace. Committees have been holding hearings on many bills, and some bills have already passed through the House or the Senate.
Last week, the Senate passed a bill requiring local governments and other groups to widely engage potential stakeholders before federal designation of a waterbody under the federal Wild and Scenic Rivers Act. They also eliminated the Department of Agriculture's advisory committee on sustainable agriculture, which had not met in more than a decade. Both bills now go to the House for consideration.
Committee hearings continue this week for several bills related to natural resources. Make sure you're signed up to receive updates from The Nature Conservancy and stay informed about what's going on in the legislature!
Will you speak up for nature?
Sign up to receive occasional policy updates and opportunities to speak up in North Dakota
sign up
Our Priorities
Protect Healthy Land & Water

North Dakotans value the great outdoors, and action must be taken to conserve our clean waters and healthy lands.
Advance Biological Carbon Capture

Wetter wet years and drier dry years have been increasingly affecting the state's people and economy. Nature can help us capture more carbon and make our communities more resilient.
Support Regenerative Agriculture

Growing global demand for food will put more pressure on North Dakota's ag producers. Together with farmers and ranchers, we can increase outputs while improving the health of the land.
Protect Healthy Lands & Waters
The Nature Conservancy has helped protect natural areas in North Dakota dating back to 1971. Since then, we've expanded our work to include driving more resources toward the conservation of our state's lands and waters.
Dedicated investment from the state has never been more important. Much of North Dakota's historic grasslands has been converted to other uses, putting the rich biodiversity of the prairie at risk. Healthy, connected ecosystems are vital to sustaining the state's iconic wildlife and the communities that depend on our strong outdoor recreation economy.
More about Land & Water
North Dakota's Outdoor Heritage Fund, established in 2013, funds conservation efforts around the state by providing grants to state agencies, nonprofit organizations and Tribal and local governments. The fund was created to benefit public and private lands by expanding wildlife habitat, improving water quality, building soil health and enhancing outdoor recreation opportunities.

Achieving the clean energy build-out necessary to reach carbon emissions goals will require quadrupling our renewable energy capacity in the United States by 2050. In North Dakota, we have plenty of opportunity to lead on energy development for the future—but how we do it matters. Our Site Renewables Right tool shows where renewable energy can be developed while still conserving important wildlife habitats and natural areas at the same time. 

Biodiversity refers to the vast array of life all around us, from the microscopic to the megafauna. From the food we eat to the air we breathe, our way of life depends on the interplay of millions of organisms in diverse ecosystems. This variety of life, the communities they form and the habitats in which they live comprise the extraordinary biodiversity of our planet. Watch this short video to learn more.
Advance Biological Carbon Capture
The most natural solution to store more carbon is widely available, relatively inexpensive and ready to grow. In the effort to reduce carbon emissions, nature offers a solution through photosynthesis. North Dakota's vast natural and working lands already capture and store an immense amount of carbon in plants and soil. State leaders should support these nature-based strategies, which by themselves can capture up to 31% of the state's annual emissions.
Wetlands, grasslands and farmlands can all be managed to more effectively capture and store carbon, while supporting biodiversity and improving water quality across the state. Additionally, advancing biological carbon capture on working lands will elevate farmers and ranchers as carbon leaders while making their lands more resilient to extreme weather. 

More On Nature-Based Solutions
Weather changes over the next century will likely include overall drier weather with severe drought conditions, and with frequent intense rain and flooding when precipitation does occur. As evidenced in 2021, severe droughts can increase feed costs by up to 50%, causing many ranchers to sell off portions or even the entirety of their herds. Furthermore, increased occurrences of heavy rain or snow events and ensuing flooding could cause widespread damage to infrastructure around the state.


 

Biological carbon capture leverages biological mechanisms that process and store carbon and other greenhouse gases, most notably through photosynthesis. North Dakota's grasslands, forests and farms capture and store carbon as they grow, in a process called biological carbon capture. Read our report to learn about the conservation, restoration and improved management actions that can offset nearly a third of the state's carbon emissions.
Agriculture is a central pillar of North Dakota's economy and one we should protect. Smart land management will ensure future generations will be able to farm and ranch profitably. Regenerative agriculture can build soil health, improve water quality, restore wildlife habitat and even store more carbon. Adopting strategies like reduced tillage, cover cropping and rotational grazing isn't just good for the environment—it also can make farm operations more economically and environmentally viable. 
We're committed to working with leaders in agriculture and government to make sustainable land management more common across North Dakota. Creating policy that incentivizes regenerative agriculture will help farmers and ranchers and keep the state's agriculture economy strong.
About Regenerative Agriculture
The value of North Dakota's agricultural production has exceeded $18 billion in recent years, supporting tens of thousands of jobs on more than 26,000 farms. A strong agriculture industry is key to maintaining the health of the state's economy, and regenerative land management practices can help protect our investments and our way of life.

Healthy soil is not a given. Without proper management, soil can become degraded, leading to unproductive field and diminished profitability. Soil health practices—like planting cover crops, minimizing tillage, rotating crops and improving nutrient management through precision technology—are critical to making crop land more resilient and productive.

North Dakota's grasslands are at risk, but regenerative grazing can help restore them. Managing rangelands through strategies like rotational grazing can mimic historic cycles of disturbance (think bison) while improving water quality, creating habitat for wildlife and storing more carbon in the soil. These practices make a big difference, and local ranchers are already leading the way.
Policy is an essential tool in the effort to conserve the nature we all love in North Dakota. Stay up to date on conservation news in the state and speak up to let your lawmakers know why nature matters to you!
Use Your Outside Voice
Ready to start speaking up? Sign our pledge to speak up with state lawmakers and your community about the issues that matter to you. We need your voice!