Our Charge
In Minnesota, where we've been able to enjoy gifts like abundant freshwater, rich biodiversity and productive working lands, we also have a tremendous responsibility. Minnesotans have a responsibility to respect and care for the nature that sustains us so that it may sustain future generations as well. That's why we're using our outside voices to speak up for nature with the Minnesota State Legislature—and we invite you to join us!
How We Use Policy to Advance Conservation
The Nature Conservancy advances policy solutions that work for people and nature in Minnesota. As with our conservation work, our policy recommendations are directly informed by the best science available. 
Science drives not only how we plan and implement conservation. It informs our policy positions and our recommendations for how to target conservation funding. We work collaboratively with people from all walks of life, with businesses and industries and with governments from the local, state and national levels to advance conservation through policy.
We work across borders, aisles and sectors to conserve the lands and waters on which all life depends. Our nonpartisan approach, commitment to science and collaboration with local partners and colleagues around the state will help us realize our vision of a world where nature and people thrive together. But we can't achieve that future alone, we need your help!

Get to know our policy priorities in Minnesota, learn how you can use your voice to make a difference and start speaking up for nature.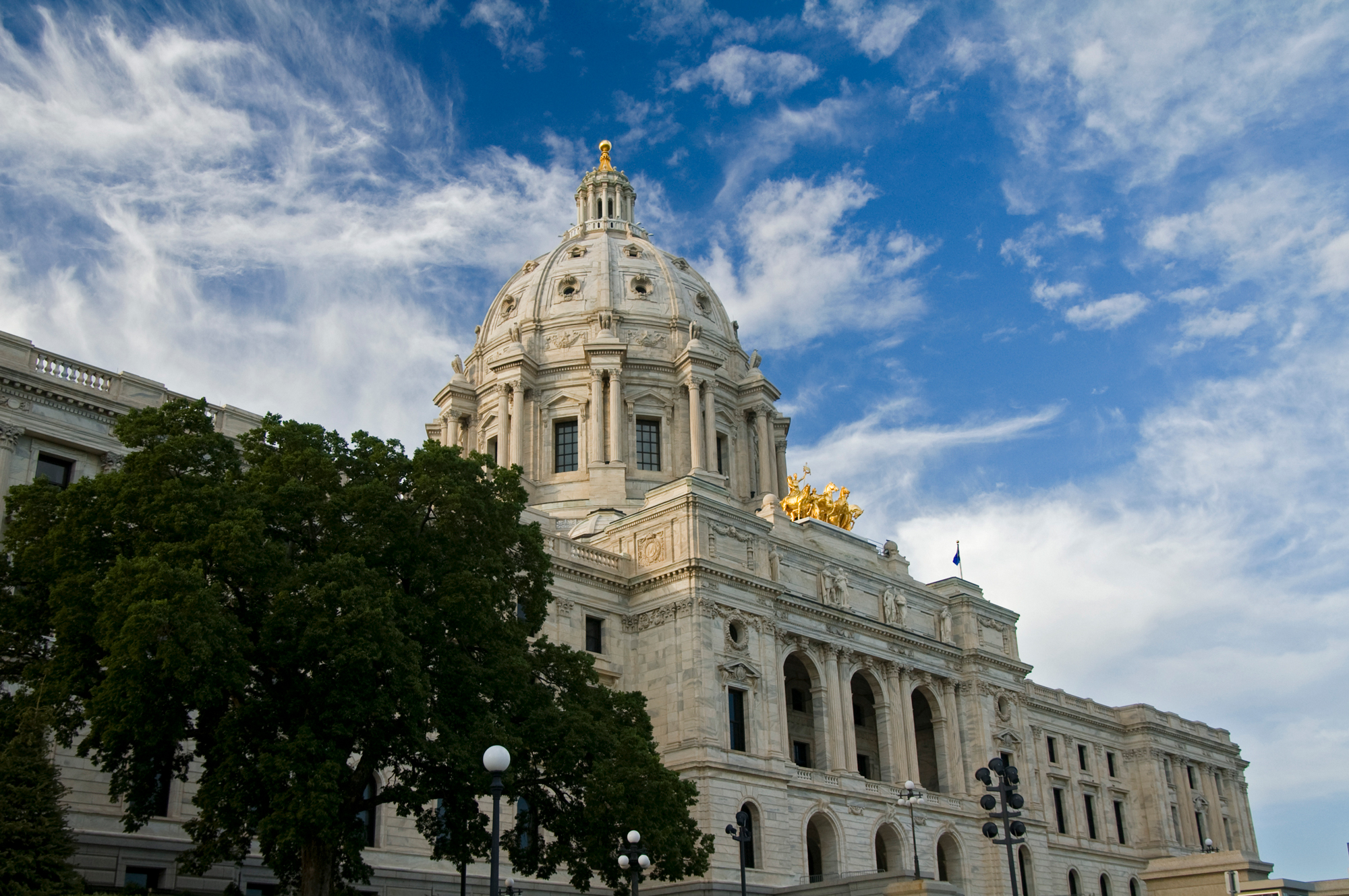 State Capitol
The Minnesota State Capitol building, as seen from the front yard.
©

Joe Ferrer/iStock
May 23, 2023
The Minnesota Legislature adjourned the 2023 session in the late hours of May 22, closing out a consequential legislative session for nature and climate. Lawmakers approved critical funding for conservation and enacted important policy changes that will benefit Minnesota for years to come.
Natural climate solutions—which are conservation, restoration and improved land management strategies that increase carbon storage or avoid greenhouse gas emissions—saw big wins. In the final weeks of session, lawmakers passed more than $217 million for natural climate solutions, which will enable our forests, farms, grasslands, peatlands, floodplains and everywhere in between to mitigate emissions and increase our resiliency to climate change.
Dedicated conservation funding delivered for Minnesotans yet again this year, with $490 million from the Outdoor Heritage Fund and the Clean Water Fund on top of $79 million for projects funded through the Environment and Natural Resources Trust Fund (ENRTF). More good news on the ENRTF: Voters will be able to show their support for dedicated environmental funding at the ballot box in 2024 to extend the ENRTF's constitutional protection through 2050. 
On the final day of the legislative session, lawmakers passed a capital investment bill that included $26 million for reforestation, community tree planting and growing tree seedlings at the state tree nursery. Other important wins from the session included investments in clean drinking water, climate change resilience grants for communities, expansions and improvements to public lands, better stewardship of working lands and so much more.
The legislature is not scheduled to reconvene until February 2024. Make sure you're ready by asking your friends to join you in speaking up for nature! Sign up for action alerts and updates from The Nature Conservancy in Minnesota today.
---
May 12, 2023
Major legislation for nature made big strides at the Minnesota Capitol this week. More than $490 million from the Outdoor Heritage Fund and Clean Water Fund to preserve and restore forests, prairies, lakes, rivers, streams and beyond was passed with bipartisan support in the House and Senate. This funding, which is generated by the Clean Water, Land and Legacy Amendment, goes toward transformative conservation work around the state.
The House passed legislation that will put the renewal of Minnesota's Environment and Natural Resources Trust Fund on the ballot in 2024. Much like the broad support that this fund has received from voters in past elections, the House gave bipartisan backing to the bill. This legislation passed through Senate committees as well this week, and a floor vote is on the way.
In other good news, a bill is on the way to Gov. Tim Walz that allocates funding to a program designed to improve soil health on farms and leverage working lands as a natural climate solution. There is also reason to celebrate clean water progress as lawmakers passed $240 million to inventory, map and replace lead service lines for drinking water by 2033.
We are still waiting for final details of the environment and climate omnibus bill, where legislators have indicated they're ready to invest more than $200 million for natural climate solutions. With just 10 days before the legislature must adjourn, we hope to report good news soon!
---
May 5, 2023
The Minnesota State Legislature is nearing the end of the 2023 legislative session as lawmakers work through omnibus bills in conference committee. Omnibus bills are sweeping bills grouped by topic that each contain parts of the state's biennial budget, and conference committees bring together lawmakers from the House and Senate to reconcile any finance or policy differences between the two versions of each bill.
The environment and climate omnibus bill contains substantial investments in natural climate solutions, including reforestation and tree planting, protection of natural and working lands and grants to help communities adapt to climate change. Tell lawmakers that you support bold action on natural climate solutions!
Hundreds of millions of dollars for clean water, wildlife habitat and land management are under consideration by the conference committee reviewing the omnibus bill that allocates money generated by the Clean Water, Land and Legacy Amendment. Meanwhile, there has been bipartisan support for the agriculture omnibus bill, which contains a program to increase resources available to farmers to improve soil health, making farmlands more resilient and sustainable.
In a major development for conservation, a bill that will give voters a chance to reauthorize the popular Environment and Natural Resources Trust Fund (ENRTF) is progressing through committees and is expected to be on the House and Senate floor soon. The fund has provided more than $900 million for conservation in its 35-year history and would lose its constitutional protection after 2024 if not extended. Voice your support for the ENRTF today!
---
April 5, 2023
Legislative committees unveiled their omnibus budget bills last week, outlining a vision for how the House and Senate will be approaching this year's budget surplus.
These omnibus bills—containing many bills grouped by committee topic—include a number of promising investments in nature, such as tree planting, habitat restoration and preservation, climate change mitigation and water quality improvements.
While the House and Senate versions of each omnibus bill reference many of the same programs, there are significant differences in funding levels and policy implementation. Legislators are heading into the Passover-Easter break, but upon their return will pass their respective versions of bills in the House and Senate. After that, they will likely convene in small groups known as conference committees to work out the differences between the two versions of each omnibus bill.
In other positive news, the bills that allocate funding from the Environment and Natural Resources Trust Fund and the Legacy Funds (including the Outdoor Heritage Fund and the Clean Water Fund) are all progressing forward. Together, these bills represent hundreds of millions of dollars for conservation in Minnesota, and we're working to ensure they're passed successfully.
---
March 31, 2023
Last week, Gov. Tim Walz and majority leadership from the House and Senate agreed to spending targets for the state budget. Spending targets help guide the development of omnibus budget bills, which are large spending bills organized by topic. This announcement came earlier than usual in the legislative session, especially in light of the considerable $17 billion budget surplus that legislators need to allocate.
Tell your legislator that you think the state ought to invest in nature! This is a unique opportunity for Minnesota to invest in natural climate solutions that leverage the power of nature to mitigate climate change and help our communities respond to its effects.
With omnibus bills coming out this week, we should start to see legislators' spending plans take shape. Your voice is essential to make sure nature is not overlooked. Stay tuned!
---
March 21, 2023
It was a big week at the Capitol! Several bills pertaining to conservation and natural climate solutions were introduced and heard by legislative committees last week as lawmakers worked through bills ahead of this Friday's deadline to act on legislation that has cleared at least one committee in the House or Senate.
A Senate committee heard a bill that would put a measure on the 2024 ballot asking voters to protect the Environment and Natural Resources Trust Fund (ENRTF) and extend the dedication of its funding. The new iteration of the ENRTF would add a new, more accessible community grants program while continuing to provide essential funding for nature. We hope to see a similar bill advanced in the House later this week.
Our staff testified in support of a bipartisan bill that would fund water storage and programs to make floodplains and grasslands more resilient. We shared with members of the Senate Capital Investment committee how investing in natural and working lands can improve water quality, reduce runoff and erosion, and protect against damaging rains and flooding.
Finally, the "catch-up" bonding bill that passed the House a couple of weeks ago failed to pass in the Senate last week. This bill would fund capital investment projects the legislature was unable to reach an agreement on in 2022, including investments in natural climate solutions. The bill had broad support in the House, and the Senate has opted to put the bill on hold and revisit it later in the session.
---
March 14, 2023

The Minnesota House of Representatives passed a "catch-up" bonding bill last week with the intention of funding capital investment projects that were missed when the legislature failed to pass a bonding bill in 2022. Among the projects funded in this bipartisan bill: reforestation, tree seedling production, community tree planting, lead service line replacement and more. In other words, good news for healthy trees and clean water at Minnesotans' taps! The bill is now in the Senate, where it will need bipartisan support to pass.
In other water-related news, two bills are advancing in the House to fund a water storage program at the state Board of Water and Soil Resources, which The Nature Conservancy supports. An investment in this water storage program will help reduce runoff and lessen the risk of flooding in part by restoring and enhancing wetlands and floodplains. These nature-based solutions also store carbon and create important habitat.
Last Friday marked the first legislative deadline, at which point all policy bills must have had a hearing and been cleared through at least one committee in the House or Senate. There are two more legislative deadlines coming up this month, which will keep lawmakers moving toward budget-setting conversations.
---
March 8, 2023
Big news for nature! Last week, the Minnesota Senate introduced a bill to ensure the future of the Environment and Natural Resource Trust Fund, or the ENRTF. There is now legislation in both the House and Senate to put the reauthorization of dedicating state lottery funding to the ENRTF on the ballot in 2024 before the constitutional protection of this dedication expires. Tell your legislators that you support the ENRTF!
State budget forecasters announced the latest update to Minnesota's financial outlook last week, projecting a stable budget surplus of $17.5 billion. With a concrete budget forecast in hand, budget negotiations are getting more serious among top legislative leaders. This will shape lawmakers' plans for the next state budget and provide a look at how much the state could spend on a capital investment package.
Committees continued their quick pace of hearing bills before their first deadline at the end of this week, at which point all policy bills must be heard and clear through a committee in their house of origin. Many of these bills are being "laid over," which means they're being saved for consideration at a later point for a larger omnibus bill. Omnibus bills contain many individual bills and are grouped together by committee topic. Expect another full week of committee hearings ahead!
---
March 1, 2023
The snowstorm that hit Minnesota last week shut down activities all around the state, and the legislative session was no exception. Lawmakers canceled legislative activity between Wednesday and Friday, but there was still progress on several notable bills earlier in the week. Last year's bonding bill, which includes important investments in reforestation, community tree planting and tree seed sourcing, was referred to the House and Senate finance committees, bringing it one step closer to a vote on the floor.
The Senate Agriculture committee held a hearing for a bill to provide resources to get more soil health practices on farmlands, an effort TNC has been working in coalition with agricultural organizations to advance. Investing in soil health practices can make farms more productive while providing incredible benefits to water quality and climate mitigation.
When legislators return from their storm-induced break, expect a quick pace to make up for lost time! The first legislative deadline is March 10, which means any bills that haven't been given a first hearing and advanced in either a House or Senate committee by that date may not be considered this session, so legislators will be working longer hours to ensure priority legislation can make the deadline.
---
February 23, 2023
Before the Presidents' Day holiday weekend, the Minnesota Legislature made some important progress on priorities for nature. The House introduced a bill to reauthorize the dedication of revenue generated by the state lottery to the Environment and Natural Resources Trust Fund (ENRTF). In the 35 years since its initial passage, the ENRTF has invested $900 million in Minnesota's great outdoors, including research on Minnesota's wolves, grants to create pollinator-friendly lawns and much, much more. This constitutional dedication of funding for the ENRTF is set to expire after 2024, so passing this bill is a major priority this year. We're expecting the Senate will introduce the reauthorization bill soon.
In other news, House and Senate committees unveiled a bonding bill proposal last week, which is also sometimes called a capital investment bill. This proposed bill is meant to serve as a "catch-up" bill for last year's proposal, which was never passed, and includes investments in public lands, buildings and capital projects. If lawmakers can achieve sufficient bipartisan support for the 60% majority required to pass it, the bill would invest in important needs like reforestation, tree seedling production, community tree planting, habitat enhancement and lead service line replacement. Thanks for reading and staying informed!
---
February 15, 2023
With many efforts competing for attention at the State Capitol, it can be easy for lawmakers to lose sight of the importance of investing in nature. So as leaders from state agencies (like the Department of Natural Resources, Pollution Control Agency and Board of Water and Soil Resources) are making their case for funding nature through their budget requests in front of legislative committees, The Nature Conservancy has been showing up to support investments that would advance natural climate solutions for Minnesota. Conservation activities in our forests and grasslands and soil health practices on farmlands would provide major benefits to nature and our economy while helping us tackle climate change.
A bill to improve soil health on agricultural land was introduced last week, which would grow a pilot program you helped get passed during last year's legislative session. This program helps farmers expand soil health practices in their operations, like no-till and cover cropping.
Some legislators are looking to improve the stability of funding for local conservation by establishing an ongoing source of tax revenue for Soil and Water Conservation Districts (SWCDs). The Senate Taxes Committee heard a bill that would lessen the annual funding uncertainty that SWCDs face and "laid over" the bill for possible inclusion in a larger package of bills called an omnibus bill later in the session.
More details are starting to emerge about what projects legislators prioritize in their capital investment package. We will be advocating for the inclusion of wide-ranging natural climate solutions as the final package is developed, and we hope you'll join us in speaking up. Stay tuned for more!
---
February 7, 2023
The House and Senate have seen long floor sessions going late into the night already this session, including last week's debate over a bill to set a provision in state law for Minnesota to utilize 100% clean energy by 2040. After narrowly passing both chambers, the bill is on its way to the governor's desk.
In a committee hearing this week, Senate members heard a bill that would increase the portion of revenue generated by a "sales tax" on state lottery ticket sales that is dedicated toward environmental projects, including greater funding for public parks around the state. A bill that would provide funding to cities to help them plan for climate change adaptation received support in a House committee as well.
Some of the other bills we watched this week included topics like air quality, local conservation funding through soil and water conservation districts, replacing lead service lines, and dedicated funding for clean water. Agency leaders are also making the rounds to committee hearings to provide details on their budget requests. With the first legislative deadline just about a month away, activity is speeding up!
---
January 31, 2023
Final details of the governor's budget and bonding proposals were released last week, rounding out the Walz administration's recommendations to the legislature. In addition to the investments in our last blog update, the latest proposals include further investments in tree planting, expansion and improvement of public lands, ongoing funding for soil and water conservation districts and a major increase in local climate resilience grants. Tell your legislators you support these investments!
The Nature Conservancy worked with a bipartisan group of legislators to introduce two bills last week: one bill would provide funding for the expansion of public lands through the Department of Natural Resources, and another bill supports reforestation, forest stand improvement and the state tree nursery. 
A bill was heard by the House Environment committee that would restore a dedicated percentage of revenue generated from the state lottery toward environmental programs, reversing a reduction in funding that was caused by past periods of budget deficit. Floor sessions in the House and Senate were quite active last week with the House passing a bill that would require Minnesota to run on carbon-free energy by 2040. 
---
January 23, 2023
This legislative session could be a big one for nature and climate, and last week provided a better sense of how that may materialize. Minnesota Gov. Tim Walz unveiled major climate action proposals in his executive budget last week, including more than $15 million for tree planting, $10 million for grassland and wetland restoration, $44 million for land and water protection easements, more than $30 million for soil health programs, and $65 million for climate resilience grants. For more, check out our statement reacting to the proposal. The governor's full proposal is expected later this week, at which point legislators will begin considering the budget recommendations.
In the House and Senate, legislators have already introduced over 1,000 bills—more at this point in session than any time in the past decade. Last week, a House committee sent a bill to the House floor that would require Minnesota to achieve 100% clean energy by 2040. The House Environment committee heard the 2023 appropriations bill for the Environment and Natural Resources Trust Fund. Finally, a bill on lead service replacement had its first hearing this week, which would make strides to improve drinking water quality for thousands of Minnesotans.
---
January 17, 2023
This week at the Capitol marked the first full week of committee hearings, and legislators have already begun to act on some of their top-priority bills. Committees have been hearing informational presentations, and bills pertaining to nature and climate change are sure to follow soon.
The House Legacy committee met for the first time to hear an overview of the Outdoor Heritage Fund and Lessard-Sams Outdoor Heritage Council recommendations process, which directs funding toward a wide variety of habitat protection and restoration projects.
Capital Investment committees in the House and Senate met this week to hear how state dollars will be needed to leverage federal funding passed through the Infrastructure Investment & Jobs Act and the Inflation Reduction Act. In the Senate Taxes committee, lawmakers revisited a measure in their unpassed 2022 agreement to fund Soil and Water Conservation Districts through designated tax funding.
We have a better sense of the expected pace for legislative activity after certain deadlines were announced. A policy bill must clear one committee in either the House or Senate by March 10 and be acted upon by the corresponding committee in the other body by March 24. Finally, the deadline for a finance committee to act favorably on finance bills is set for April 4.
---
January 6, 2023
The 2023 legislative session is underway! Minnesota lawmakers convened in St. Paul on Tuesday to begin their efforts to set the state budget for the next two years. The state has a $17.6 billion surplus thanks largely to an influx of new federal funding, and there will be plenty of debate over how to spend this historic surplus.
Majority leaders in the legislature released their top priorities this week, which include setting a 100% clean energy goal by 2040. Committees are meeting for the first time and hearings are already taking place for certain bills that are expected to be debated on the House and Senate floors next week.
Legislators on the House Capital Investment committee heard a presentation that explained how the state could afford a $3.5 billion bonding bill this year. A bonding bill did not pass in 2021 and 2022 due to lawmakers' disagreements over spending priorities, but this year's bill can and should include a major investment in natural climate solutions. Get ready to speak up for nature in 2023!
Expand to see more
Collapse to see less
Protect Healthy Lands & Waters

We're facing dual threats from the climate crisis and extreme loss of biodiversity, and we don't stand a chance without clean water and healthy land.
Tackle Climate Change

Climate change isn't a distant threat—it is happening now. The past decade has been hotter than any other time in recorded history.
Advance Soil Health

Food demand is expected to increase by more than 50% in the next 30 years. We can meet the challenge by working with farmers to improve soil health and farm productivity.
Protect Healthy Lands & Waters
The Nature Conservancy is helping to protect dedicated state investments in natural resources and we're working to increase state investments in natural resources through other funding sources.
TNC has long been in the business of protecting important natural areas, and this work has never been more vital. As Minnesota's climate changes, these places will become even more critical as wildlife come to increasingly rely on these natural highways and neighborhoods as they move away from climate threats. These places are also critically important because of the immense amounts of carbon that they can capture and store through natural regeneration.
Nature is our first line of defense against many climate impacts. That's why we are working to create systems that store more carbon through natural processes and improve people's lives in the process. We're working to incentivize public and private landowners to use practices that store more carbon, like planting trees, improving soil health on agricultural lands and protecting and restoring our grasslands, wetlands and peatlands.
We are also encouraging the state to enable greater resiliency through nature-based adaptation. These are practices that will prepare natural landscapes for climate change, as well as buffer communities from the worst floods, droughts and other climate impacts.
More on Climate Change in MN
Farming is a proud Minnesota tradition, and it's important that we protect our farmland and retain our leadership within the industry. When we make investments in our ag economy, it is critical that we maximize benefits to society like protecting our air, water and soil, as well as our communities and the health of the people who live here
We work with state government agencies to develop innovative projects that will improve impaired waters and prevent further degradation, as well as make sure farmers have the resources they need to implement solutions.
Increased soil health improves productivity, water quality, biodiversity, carbon storage and public health outcomes, but many farmers experience financial and technical barriers to implementing these practices. We need lawmakers' help to drive incentives that will improve soil health on agricultural lands and support Minnesota farmers who are doing right by nature.
Dig Into Regenerative Ag
About half of Minnesota's lands are currently in agricultural production, and most of them don't employ practices that regenerate the health of the soil. That means an outsized risk of erosion and runoff to Minnesota's waters, as well as greenhouse gas emissions due to carbon released from our soils. But this also presents an opportunity to leverage agricultural landscapes to work better with nature's systems. Learn more about regenerative agriculture in Minnesota.

Practices that sequester carbon, increase organic matter and ultimately improve the biological, physical and chemical function of the soil are generally referred to as soil health practices. These include cover crops, reduced tillage, diversified crop rotation, improved nutrient management and edge-of-field strategies that help farms more efficiently hold water and carbon dioxide.

Agencies like the Board of Water and Soil Resources, Natural Resources Conservation Service and local soil and water conservation districts (or SWCDs) all support farmers and ranchers who want to make their operations more sustainable. The emergence of carbon markets and other ecosystem service markets can also help farmers by compensating them for their investments in nature. But in order for these strategies to be scalable, we must ensure they receive adequate and stable funding.

Food production has altered our planet more than any other human activity. It accounts for a quarter of greenhouse gas emissions and 70% of all freshwater usage. And it is perhaps the single greatest cause of biodiversity loss. But it also provides livelihoods for more than a third of the world's population. A regenerative food system takes us beyond mere sustainability toward positive growth that benefits our planet and the billions of farmers, fishers, ranchers and others who work to provide our food—without sacrificing the health and dignity of rural people and communities of color. Learn more about regenerative agriculture by watching this video.
Be a Voice for Nature!
Sign up to receive action alerts from TNC in Minnesota so you can stay in the know about issues you care about. We'll send you timely alerts about what's happening at the Capitol and how you can speak up for nature!