Estuaries—the transition zone where fresh water meets salt water—are incredibly valuable to people and nature for their environmental, economic and cultural benefits. These coastal habitats are one of the most imperiled marine habitats on the planet, under increasing stress from climate change, pollution and land use practices.
Shellfish, especially reef-forming species like oysters, play a critical role in the function of estuaries, improving water quality, providing habitat, and in some cases protecting the shoreline. More shellfish in the water means healthier estuaries. In New England, shellfish reefs are largely gone, leading to degraded estuaries.
To address the problems facing these coastal environments, The Nature Conservancy is working on both restoring natural shellfish reefs and directly with shellfish farmers on their practices.
Farming shellfish (or seaweed or finfish) in the water is known as aquaculture. In Massachusetts, the oyster farming industry is an important part of the coastal economy, and if done right, can improve the condition of estuaries.
"We are working on both habitat restoration and sustainable commercial shellfish farming, because we think that both can provide similar and complementary benefits," says Steve Kirk, coastal programs manager for TNC in Massachusetts.
Restoring Oyster Reefs
TNC has been a leader in shellfish restoration efforts in Massachusetts over the years. We have built several oyster reefs in Buzzards Bay, in the towns of Bourne and Fairhaven, as a natural solution for strengthening this critical ecosystem.
As filter feeders, shellfish clean the waters in which they live. They eat by pumping large volumes of water through their body, removing algae and nutrients. Adult oysters can filter up to 50 gallons of water a day—a bit more than a bathtub's worth of water. And just as humans enjoy them as food, they are food for small fish and other species.
The reefs formed by shellfish provide habitat for other species, as well as protection for the coast from erosion and storm surges. Maintaining estuaries is critical as we continue to experience more frequent and severe storms.
A Sustainable Food Source
Food production can be a threat to environments, but TNC is working to improve practices throughout the food sector, from agriculture to seafood farming and harvesting. Around the world, three billion people rely on seafood as a primary protein source. Aquaculture can be an efficient way of growing food compared to terrestrial agriculture, though as a sector, it has had a checkered environmental track record.
Since it is the fastest growing form of food production on the planet, TNC is working in partnership with shellfish farmers to ensure that aquaculture development is done as sustainably as possible to minimize negative impacts and maximize social, economic and environmental benefits. 
Aquaculture is an important local industry in Massachusetts, especially when it comes to sustainably restoring oyster farms and populations. Farmed oysters are the third-highest value seafood product in the state, behind sea scallops and lobsters. Up and down the Bay State's coast, family-run shellfish farms—with roughly 1,200 acres between them—supply sought-after oysters for raw bars, restaurants and kitchens, locally and throughout the country. 
Underwater Cameras
A researcher from Northeastern University sets up a GoPro to monitor oyster trays at Island Creek Oysters' Plymouth oyster farm.
©
James Miller/The Nature Conservancy
Diving Underwater for Aquaculture Research
In Massachusetts, TNC has embarked on a research collaboration with Cotuit Oyster Company, Island Creek Oysters, Northeastern University and the National Oceanic and Atmospheric Administration's (NOAA) Northeast Fisheries Science Center to quantify the environmental benefits oyster farming can provide.
In the summers of 2019 and 2020, underwater cameras were deployed by researchers at oyster farms in Cotuit and Duxbury, to capture underwater video of the farming gear being used. The video is being analyzed by our research team to determine how other marine species, like fish and crustaceans, may be benefiting from the oyster farms. The goal is to gather three years of this data, to provide a year over year comparison for analysis in a peer-reviewed paper.
"Fisheries managers and the regulating community need robust scientific data to inform their decisions about siting new or expanding aquaculture farms," says Kirk. "This research will hopefully provide that data and ensure expansion of aquaculture is done sustainably."
Building on a research program that has been in place in Connecticut since 2017, the collaboration will provide a broad regional picture of potential aquaculture infrastructure benefits.
"We've heard from oyster growers for many years that they see lots of fish swimming in and around their gear," says NOAA Milford Lab researcher Julie Rose. "It's very exciting to have research projects in multiple states collecting scientific data to investigate these reports."
Thus far, preliminary evaluation of the data from the first two summers of sampling in Massachusetts shows underwater animals gathering in and around the farming gear. A good number of juvenile fish across a variety of species have been captured on video at Cotuit Oyster Company's farm, indication of the potential value the gear holds for enhancing the fish population.
More data is needed to determine whether fish are simply attracted to the gear or whether more fish are surviving into adulthood because of it. Findings from the study will be shared with shellfish farmers, natural resource managers and the general public to support sustainable seafood production going forward.
The collaboration also includes a social science research component focused on better understanding what drives coastal communities' perceptions of aquaculture, in particular, the different growing methods. There is a high degree of disparity when it comes to public support for the expansion of aquaculture in Massachusetts and the U.S. more broadly.
This research effort aims to parse out what drives community members' differences of opinion about aquaculture. Surveys have been sent out to coastal residents in the state and across the Northeast. Data will be analyzed and communicated to the aquaculture industry, resource managers and the general population.
Local Collaboration
TNC's commitment goes beyond state lines, supporting restorative oyster aquaculture from the Atlantic to the Pacific coast of the United States, and around the world. In Massachusetts, TNC collaborates with the Massachusetts Aquaculture Association and the Cape Cod Commercial Fishermen's Alliance on the Massachusetts Shellfish Initiative.
The initiative aims to maximize the environmental, economic and social benefits of shellfish resources in the state. TNC was instrumental in the development of this process, which resulted in a holistic statewide strategic plan and recommendations on how the state can balance growing and competing demands for shellfish resources.
Resource management is already difficult, and is only complicated further in the face of climate change and other emerging challenges, not to mention adding a global pandemic to the mix. Working together will only strengthen efforts.
Supporting Oyster Aquaculture and Restoration Through the Pandemic
The oyster industry in Massachusetts has been growing fast, doubling in size every five years. It landed about $30 million worth of oysters in 2019. But in 2020, the COVID-19 pandemic hit the industry hard. Between March and October that year, oyster sales in Massachusetts dropped by 50 percent compared with the same time frame the previous year.
TNC's existing partnerships with oyster farmers uniquely position us to support those impacted by the pandemic. To help address some of the problem, TNC is partnering with the Pew Charitable Trusts and launched an innovative program—Supporting Oyster Aquaculture and Restoration (SOAR)—in late 2020 in coastal states in the eastern U.S. and Washington state.
With our partners, TNC is purchasing surplus oysters from growers who are seeing a greatly reduced demand from restaurants and distributors, and placing them on nearby oyster restoration projects. This way, growers get much-needed economic relief and one of our ocean's most imperiled ecosystems gets a boost.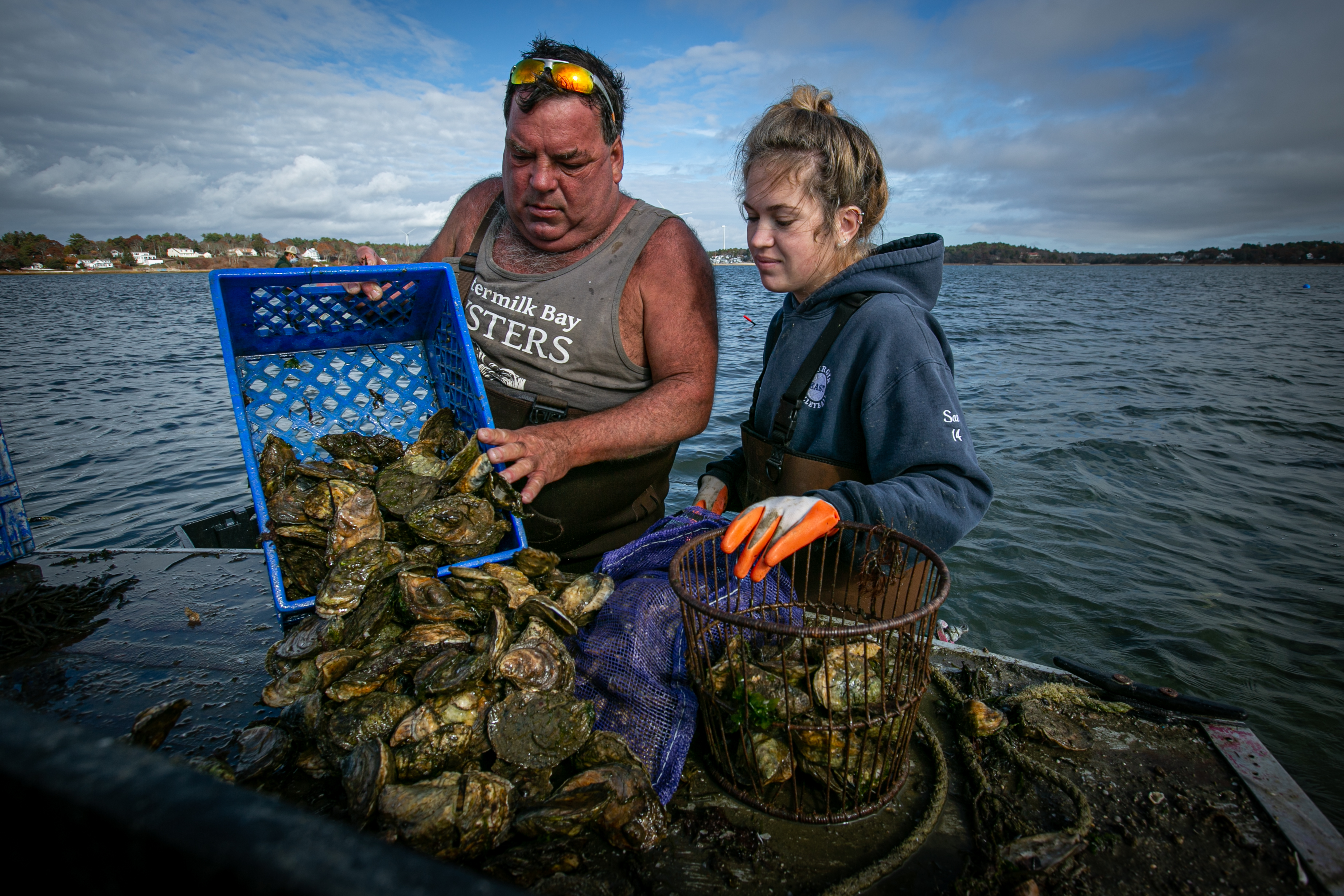 Re-Distribution
Bruce Silverbrand and his daughter Sabrina sort oysters before they are deployed as a part of an oyster reef restoration in Little Buttermilk Bay.
©
Ayla Fox
Support for Massachusetts Oyster Growers
For many oyster growers in Massachusetts, much of their business disappeared overnight in mid-March when restaurants across the United States shut down. It's estimated that more than 10 million oysters in the state weren't sold in 2020 because of the pandemic.
"We're looking at a $50,000 loss this year. We went from selling 5,000 oysters a week to nothing," says Bruce Silverbrand, an oyster farmer and owner of Buttermilk Bay Oysters in Bourne, Massachusetts. That's a big impact for small businesses like his. "We are tied at the hip to the restaurant business. No restaurants, no oysters."
Guy Rossi, manager at Taylor Cultured Seafood in Fairhaven, says that his business will fall short on sales this year by nearly half a million oysters. "In our industry, we have to keep these oysters moving," he says, describing the unique difficulty growers face because of their process. "For us, it really hasn't changed except we don't have any place to sell them. We've had to look outside the box for solutions."
Without buyers, these farmers' oysters sit in their cages and keep growing, taking up valuable space needed for planting new oysters. Additionally, larger oysters are unsellable—restaurants aren't interested in buying oysters larger than about three-and-a-half inches.
That's where the SOAR program comes in—repurposing these larger oysters for reef restoration. By keeping the oysters in the water, they continue filtering water, improving water quality and providing habitat and food for fish and other species.
"We need shellfish farmers' businesses to survive through the pandemic because their farms can improve the conditions of surrounding coastal waters," says Steve Kirk. "We hope this program will be a win-win: benefitting the environment and providing economic relief for farmers."
In Massachusetts, TNC purchased about $80,000 worth of oysters—more than 175,000 oysters—from eight oyster farmers throughout the fall of 2020. There are plans to continue the program into 2021.
Tens of thousands of oysters have now been distributed across two restoration sites in Fairhaven and Bourne. In 2021, TNC will revisit the sites and evaluate whether the reefs are sustaining themselves and how the oysters are impacting the environment.