A Message From The Executive Director
2020 Impact Report: 60th Anniversary Edition
Sixty years ago, a small group of dedicated people came together to take action to protect Florida's natural lands and waters that they loved. This group became the founders of The Nature Conservancy in Florida. On nature's timeline, 60 years might seem like the blink of an eye. But for conservation in Florida, six decades have been momentous. Since 1961, you have helped us protect more than 1.3 million acres of land and 2,885 miles of river, plant dozens of millions of trees, restore tens of thousands of corals to the Great Florida Reef, protect endangered wildlife like the Florida panther and so much more.

Over the years, TNC—and the work of conservation—has evolved to meet Florida's changing needs. Today, we work on tackling conservation across large landscapes and whole ecosystems—conserving wildlife migration routes, addressing climate change and restoring forests, coasts, wetlands and estuaries. We're discovering and using the latest techniques, forming more collaborative partnerships and experimenting with new technologies. Through the "Our Florida, Our World" campaign, we're protecting and restoring Florida's vital waters and conserving resilient lands. Most importantly, we're growing our ranks of passionate supporters, like you, so we are ready to take on Florida's next big conservation challenges. Please enjoy this look back at some of our proudest accomplishments and a look forward of what we hope to accomplish with you in the coming years. Thank you for standing with us as we build a state where nature and people thrive.
Temperince Morgan,

TNC Florida Executive Director

Expand to see more
Collapse to see less
2020 Impact Report: What's Inside
TNC is collaborating with recreational anglers, boat captains, marine community leaders and influencers to help our iconic marine species and support the future of our oceans.
The Pensacola East Bay Oyster Habitat Restoration Project is the largest estuarine habitat restoration project undertaken by TNC in Florida—33 oyster reefs will be placed along approximately 6.5 miles of shoreline.
TNC is tackling climate change by helping to make our shorelines and communities more resilient to sea level rise and increased flooding while simultaneously addressing the root cause of climate change by leveraging nature's ability to absorb CO2 and supporting policies that aim to reduce greenhouse gas emissions.
The Orlando Metro area is faced with the need to balance rapid development with the well being of people and nature. We're helping to ensure that valuable greenspaces and sustainable practices are at the forefront of urban planning.
Florida panthers need to expand their range beyond the Caloosahatchee River. As agile as the panthers are, this is no easy feat. Thanks to donations from people like you, we recently helped secure a path for the panther across the narrowest stretch of the river.
TNC's team of biologists at Blowing Rocks Preserve, partnering with the local community, act as guardians of nature. Twice daily during nesting season, they patrol the beaches and rescue sea turtles who get trapped in the Anastasia Limestone rocks.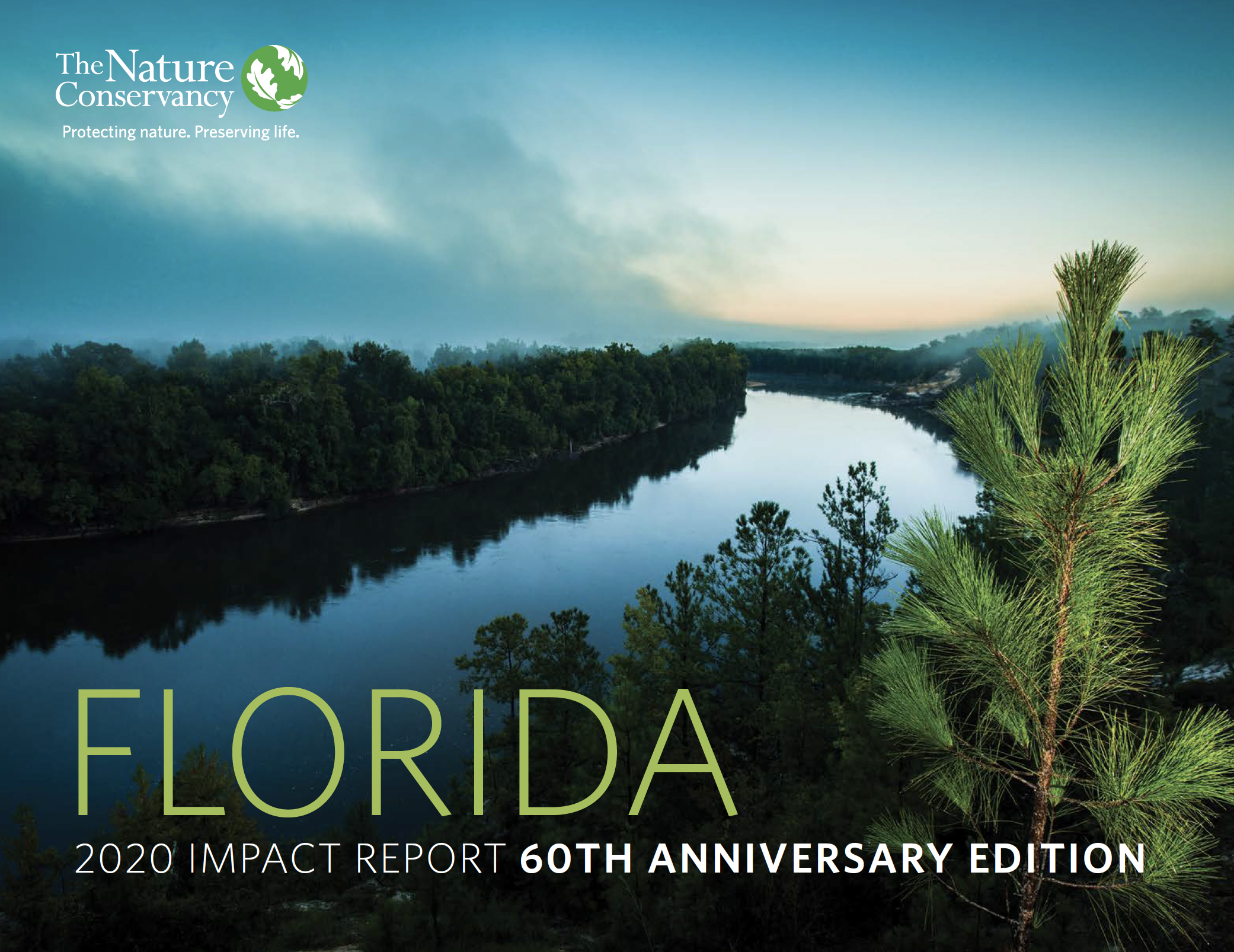 Florida 2020 Impact Report
This report looks back at our proudest accomplishments in honor of our 60th anniversary and what we hope to accomplish with your support.
DOWNLOAD
---
Together We Can Protect Florida's Lands and Waters
Help us usher in a future where people and nature thrive.
Donate Now