California Tackles Plastic Pollution
June 30, 2022 — Today, CA took decisive action to fight plastic pollution, signing into law SB 54—the nation's most comprehensive and ambitious policy to address pollution from single-use plastic packaging and foodware. Read the full statement.
---
The Problem
Our plastic problem is bigger than you think. About 11 million tons of plastic enters the ocean every year, and as the fifth largest economy in the world, California is a big part of the problem. But plastic isn't just in the ocean, it's everywhere. It's in our drinking water, it falls in our rain and studies show that harmful plastic pollution disproportionately affects disadvantaged communities. No matter who you are, or where you live, plastic is in your body.
 
In California, you are eating and breathing plastic every day.
Who's Behind This?
Big plastic is big oil. Most plastic is made from fossil fuel, and the pace of plastic production is skyrocketing. 
Solutions That Fall Short
The plastic industry wants to make the problem our responsibility as Californians, and so far, they've done a pretty good job. They've made it our job to clean up our beaches and recycle, all while they ramp up plastic production every year. California can't keep pace with plastic's exponential growth and our environment and communities are paying the price.
 
Solutions That Make a Difference
We can't solve this problem by cleaning up the plastic industry's mess for them, we have to work together to clean up the plastic industry.
Recycling isn't enough
California can't recycle most of the plastic that goes in your bin. Our state's facilities can't keep pace with plastic's exponential growth, and they can't handle many types of plastics produced today. 
The Nature Conservancy in California is fighting plastic with a big picture approach:
In the policy arena, we are working with the latest science to advance high-impact policies that will cut the production of single-use plastic flooding our state. Recently passed legislation, Senate Bill 54 (SB 54), sets the tone for the kind of ambitious and comprehensive policy that is needed to turn off the tap.
In the private sector, we're generating foundational research and partnering with global clothing brands to keep plastic microfibers from leaching into the environment when clothes are produced and washed.
Don't let the plastic industry dictate what goes into your environment or your body.
Plastic Pollution by the Numbers
50%

of plastic produced today is "single use"

11

Million tons of plastic enters the ocean every year

4.85

Million lbs of plastic microfibers contaminate CA every year

850

Million tons of greenhouse gases emitted yearly
TNC's Work: Fighting Plastic Big and Small
 
Tackling Single-Use Plastics
Monitor the flow of plastic trash: We're figuring out how to track and measure plastic litter in California's communities and finding out how it enters our waterways.
Advance high-impact policy: We're working with a diverse coalition of partners to push measures that limit the amount of single-use plastic that California produces and uses. With an economy of our size, changes we make here affect the whole globe.
Fighting Plastic Microfibers
Work with global apparel brands: We're working with a coalition of some of the biggest apparel brands in the world to reduce microfiber leakage into the environment during the clothing manufacturing process.
Scale microfiber capture: We conducted a study to evaluate the amount of microfibers entering California's lands and waters from our washing machines and determine the best solutions to address the problem. *Hint hint* filters coming soon to a washing machine near you!
Looking for a deeper dive into the health effects of microplastics? Read this article from Nat Geo!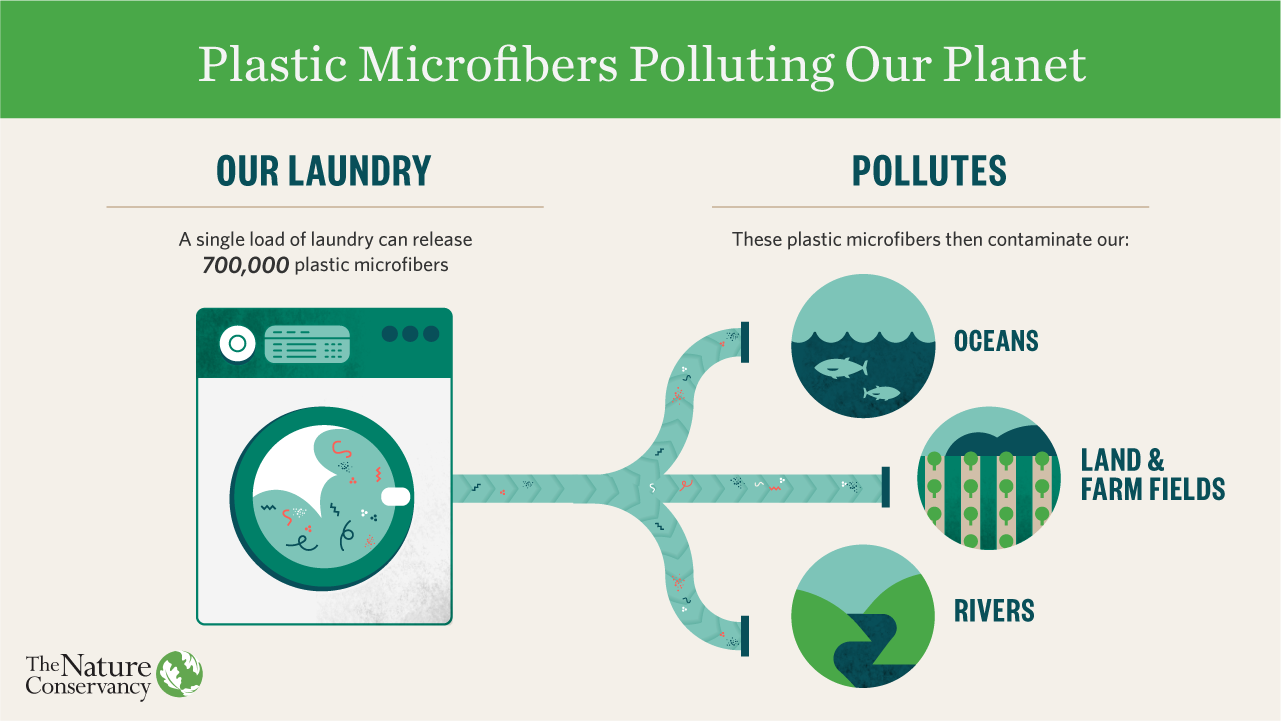 ---
It's Now or Forever
While SB 54 marks a significant milestone to tackle plastic pollution in California, the work doesn't stop here.  TNC in California is planning to leverage the momentum of this victory to further transform California into a global leader on effective and impactful plastic waste reduction, from single-use packaging to agriculture-derived plastics and the small synthetic fibers shed from your clothing. 
It is up to us to continue to ensure that future generations do not inherit an ocean choked with plastic.  
Make a Difference in California
Together, we can achieve transformative change on a scale that's attainable—for California, and for the world.