August 18, 2022
All Aboard for Community Conservation
Southeast of San Jose lies the Diablo Mountain Range, home to mountain lion, bobcat, badger and tule elk. The Range is renowned for its biodiverse chaparral communities that provide refuge for plants and animals against high-intensity fires, making it one of the last remaining places resilient to the effects of climate change within the Bay Area. Alongside local partners, TNC protected the Diablo Range using strategic conservation tools like land acquisitions, watershed and rangeland management and most recently, advance mitigation, working with infrastructure agencies to reduce impacts before projects are implemented. 
Pacheco Pass, which bisects the Diablo Range, is a migratory route for both wildlife and people between the Central Valley and the Bay Area. But US Route 152 acts as a barrier to local wildlife, fragmenting habitat and putting native species at risk. More than 10 years ago, the California High-Speed Rail Authority selected Pacheco Pass to connect the Bay Area and the Central Valley, so TNC and our partners made sure we could influence the planning to protect this critical habitat. 
Now, After seven years of community engagement, including the creation of the Pajaro Compass, the High-Speed Rail Authority has committed to building a wildlife crossing over Route 152, providing safe passage for at-risk species.
This is an extraordinary milestone, but the train has not yet left the station. Alongside our partners at the Peninsula Open Space Trust, Santa Clara Valley Open Space Authority and the Santa Clara Valley Habitat Agency, we will continue to fight for climate resilience in the region, because all the species of the Bay Area (including us!) rely on the Diablo Range.  
Expand to see more
Collapse to see less
By Michelle Passero, Director, California Climate Change Program | November 24, 2021
COP 26: Keeps Climate Hope Alive
The U.N. COP 26 climate negotiations have just concluded in Glasgow, and many are trying to make sense of all the climate pledges and their implications. In the meantime, a few themes from the negotiations are emerging, keeping the hope of avoiding a global climate catastrophe alive and providing opportunities for nature-based solutions and subnational action.
Theme 1: Keeping global temperatures below a 1.5°C increase is still within reach
Country climate commitments, even with the additional net-zero emissions pledges made in Glasgow, are insufficient for keeping temperatures below a 1.5°C increase by the end of the century. However, it's estimated that the combined country pledges put the world on a trajectory of a 1.8°C increase, keeping the more ambitious goal within reach if countries and other key actors continue to accelerate climate action.  
Theme 2: Accelerated climate actions from subnational governments, corporations and local communities are critical
The estimated emissions gap between country greenhouse gas reduction commitments and the 1.5°C threshold underscore the critical need for climate action beyond the commitments of national governments. Enhanced actions by states, provinces, counties and cities, corporations, and local communities are critical for meeting this target and making up for uncertainties in reaching the goal. California, Hawaii, New York, Salesforce and Apple are among the states and corporations with carbon neutrality commitments.
Theme 3: Explicit acknowledgment of the importance of phasing out reliance on fossil fuel
The Glasgow Climate Pact represents the first time the phasing down of fossil fuel (e.g., coal, oil and natural gas) was explicitly mentioned in a U.N. climate agreement. While language regarding the phase-out of fossil fuels was ultimately weakened after initial draft versions of the Pact, the agreement still states that countries should move toward clean power, which includes the phasing down of "unabated coal power and inefficient fossil fuel subsidies."
NATURE-BASED CLIMATE SOLUTIONS Mirror Lake in Yosemite Valley in California. © Patrick Smith
Theme 4: Nature has a seat at the climate table
For the first time, a day was dedicated at the Conference to the importance of conserving and restoring nature to achieve the interdependent goals of climate change mitigation, adaptation and biodiversity protection. During the Conference, more than 100 countries committed to ending and reversing deforestation by 2030. While a similar pledge was made in 2014 with little impact, this pledge holds more promise, as it is supported with public and private financial commitments of more than $19.2 billion. Finally, the Glasgow Climate Pact language makes it clear that the protection and restoration of nature and biodiversity are necessary to meet global climate goals. 
So, what do these themes mean for California?
As the world's fifth largest economy, California climate leadership remains critical for providing a roadmap for keeping global temperatures below a 1.5°C increase. Over the past decade, our state has established and met increasingly ambitious climate goals for 2020 and 2030 while also growing our economy. These commitments culminate in an executive order, for California to reach carbon neutrality (or net zero emissions) by 2045.
California has also been one of the first jurisdictions to integrate nature-based climate solutions into its climate policies, initially through its cap-and-trade program and inclusion of forest offsets. However, our state's approach is evolving into a much more comprehensive set of actions. Conservation and restoration are now central to meeting California's long-term goals of climate mitigation, adaptation and biodiversity protection.
The challenge for California is to continue building on its climate leadership so our state can continue to serve as the model and climate catalyst the world needs. The Nature Conservancy works every day to provide the science and support needed to ensure California meets this challenge.  
Expand to see more
Collapse to see less
Frog Lake
A spectacular wild landscape nestled in a glaciated bowl below the Sierra Crest.
©

Robb Hirsch
Acquiring Frog Lake and Carpenter Ridge - July 2, 2020
Giving Bears, Deer, Mountain Lions Room to Roam
When the railroad first came through the Sierra Nevada in the 1800s, the government divided the forest into a checkerboard of square-mile parcels. Many of these were given to the Union Pacific Railroad Company in exchange for laying track, and ultimately sold off one by one. This long game of checkers split up habitat for generations of wildlife, and TNC and our partners have worked for decades to reconnect the land.

In June of 2020, we had a major win in a series of linked land acquisitions. Through the Northern Sierra Partnership, TNC assisted a local land trust in acquiring the 680-acre Frog Lake property, a spectacular wild landscape nestled in a glaciated bowl below the Sierra Crest. Earlier this spring we helped the partners acquire 2,240 acres of forested lands known as Carpenter Ridge and Red Mountain, a steep ridgeline that insulates the fens and meadows of the protected Carpenter Valley.
CARPENTER RIDGE A steep ridgeline that insulates the fens and meadows of the protected Carpenter Valley. © Robb Hirsch
Together, these connected lands provide habitat for imperiled species like the willow flycatcher and the gray wolf, which recently ventured back into California for the first time in a century. The area is home to other wide-ranging mammals like black bears, mountain lions, and mule deer. By protecting the slopes that surround Carpenter Valley, we're not only conserving essential habitat, we're securing the health of a watershed that hundreds of thousands of people rely on.
These acquisitions are a major milestone in reconnecting wildlife habitat in the Northern Sierra. The deal also opens once-private property for public recreation, so that people and nature can enjoy this pristine landscape for generations to come. Read about this historic acquisition in The Mercury News.
Expand to see more
Collapse to see less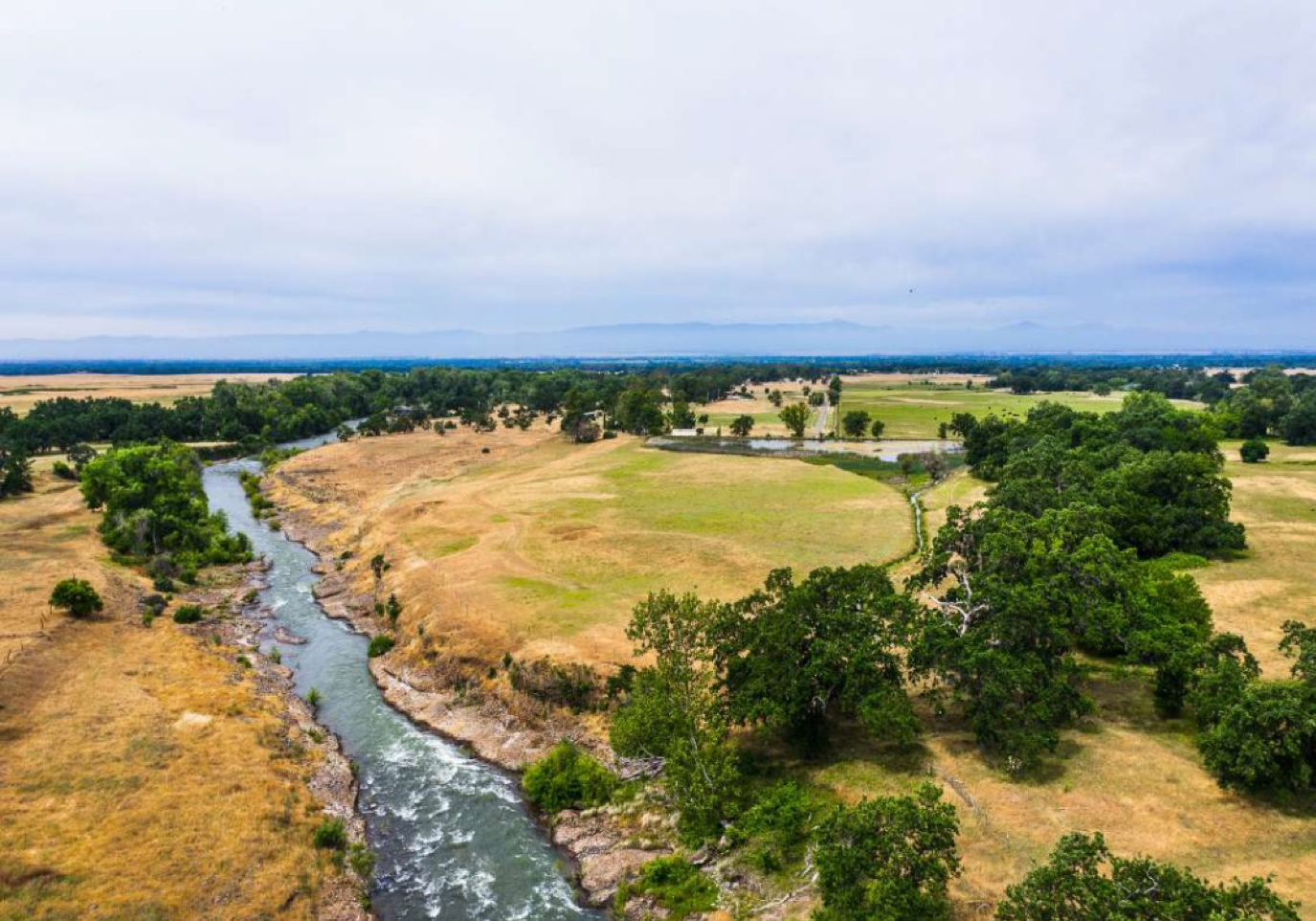 Nobmann Ranch
In March 2020, TNC acquired the 462-acre Nobmann Ranch in the Lassen Foothills.
©

Cheryl Bretton
March 26, 2020
Protecting Land and Water in the Lassen Foothills
In March 2020, TNC acquired the 462-acre Nobmann Ranch in the Lassen Foothills. This beautiful property abuts our Dye Creek Preserve, connecting habitat for the state's largest migratory deer herd and protecting Mill Creek, a haven for at-risk species like Chinook salmon and steelhead. Mill Creek has the highest elevation Chinook spawning grounds in North America. Salmon travel more than 300 miles from the ocean to reach their destination near Lassen National Park. Thanks to this acquisition, TNC has become one of the largest holders of water rights in the Mill Creek system. The property comes with an impressive water right of three cubic feet-per-second, the equivalent of three basketballs worth of water going by every second, 24 hours a day.
Mill Creek is fed by the cold, volcanic springs of the Cascade mountain Range, which makes it highly resistant to drought, unlike other rivers that rely on rain and snowmelt. We plan to bolster the health of the Mill Creek system and keep the stream flowing for salmon year-round by using our portfolio of water rights to deliver the water nature needs. With this work we are creating a model that can be replicated across the state to help California's freshwater species thrive.
Now, the Nobmann property will be managed in conjunction with our Dye Creek Preserve. TNC holds more than 100,000 acres of conservation easements in the region, and this unique property adds a critical piece to the puzzle.
Expand to see more
Collapse to see less
Central Valley
As part of the multi-benefit recharge project in CA's central valley, carefully flooding fields can provide migratory birds food and habitat while helping recharge groundwater
©

John Brennan
March 21, 2022
Nerds to the Rescue in the Fight Against Drought
In California, water is life but groundwater is life support. Science shows that we've been in a state of drought for over 20 years. When conditions dry up farmers, communities, and especially wild plants and animals increasingly turn to groundwater. 
California's aquifers are filled with ancient water that sustains our state during drought. But, unlike surface water, when we use up our groundwater reserves, they're gone. 

This year, TNC's California Water Team made a big difference for California's groundwater using some pretty nerdy tactics. 
After recent droughts, groundwater pumping regions were required to submit plans to the state for protecting their aquifers. But not every plan passed muster. Some allowed wells to go dry and left no water for nature, while others entirely overlooked climate change, one of the biggest threats to groundwater and water security. 
Together with our partners we clipped on our pocket protectors and systematically reviewed 94 plans (over 90,000 pages!). We gave our recommendations to the state, and guess what? They listened! Because of our review, The Department of Water Resources sent over half the plans back to the drawing board because they failed to protect water for nature and drinking water for people.
You don't have to be collaring mountain lions to be a voice for nature, sometimes a pair of reading glasses is all it takes.
Expand to see more
Collapse to see less
2022
Remembering Larry Serpa: The Work of a Lifetime
This year, TNC lost a conservation legend. Larry Serpa spent 45 years at TNC as an aquatic ecologist, managing natural areas, surveying properties for rare species and leading exemplary and often surprising trips into the field. His fascination for the hard-to-find and overlooked was well known and infectious among his colleagues. Larry's true passion was freshwater ecosystems, and the insects that support aquatic food chains. He wanted to know "who lives where" and how the populations of these insects differed across habitat types and geography.
Beginning in graduate school, Larry visited streams across California from nearly sea level to elevations over 10,000 feet, collecting specimens, identifying and cataloging his finds. Over time, he built what became the largest individual collection of aquatic insects from our state, numbering over 190,000 specimens. Larry kept his data meticulously, documenting times, locations, and ultimately identifying over 1,500 individual species, including some that were previously thought to be extinct.
Thanks to his wife Lynn Lozier, Larry's collection has been donated to the California Academy of Sciences. The Academy reports that it is one of the largest collections they've ever received, and its addition makes their institution "easily the biggest and best resource for western aquatic collections." Now, with these data, scientists will be able to track how species have moved and California ecosystems have shifted—critical insights that can help our state adapt to climate change. In spring of 2021, Larry lost a battle with cancer, but he spent his life doing what he loved—walking in the water—uncovering the mysteries of California's streams.
Expand to see more
Collapse to see less
Conservation in a Hard Hat: Protecting Salmon on the North Coast—January 25, 2019

You might think habitat restoration is a delicate business, but sometimes it involves heavy machinery. Our salmon project on the Ten Mile River employed a full construction crew to bring the river back to its historical meander. TNC's Dave Wright is leading the restoration, partnering with local ranchers and a local construction company to get the job done. Watch Dave's time-lapse video to get a front-row seat.
The shape and flow of a river has a big impact on salmon health; young salmon need protected pools and bends to rest and feed while they grow. Over the last century, logging and ranching have reshaped our rivers, and salmon have suffered. Coho salmon have dwindled to about 1% of their historical population. Ten Mile River in Mendocino County is one of California's last coastal watersheds that can still sustain this fragile species. It's critical that we step in now to bolster what little habitat remains.
With support from the S. L. Gimbel Foundation and the California Department of Fish and Wildlife, we are giving young salmon a head start in life. We've built pools, recreated woody debris, and planted willows to keep the water shaded and cool.
With such a diverse group of local partners involved, this project is redefining how restoration is implemented across our rivers and streams.
"There's plenty of room for everyone to make a big difference" | June 28, 2022
Q&A with Director of Ocean Science Mary Gleason
Mary Gleason has spent decades using science to protect ocean habitats in California and around the world. After an impactful 20-year career with TNC, Gleason has retired as Director of Science for TNC's California Oceans team. Gleason spoke about the moments in her career that changed her perspective and what keeps her optimistic about the future.  
TNC: As you look back on your career in science, what projects and experiences have stayed with you?
MARY GLEASON: For me, the most exciting projects have been ones where I can see science having an impact. Some projects help us discover something new, while others change people's perceptions or raise their awareness leading to positive changes in the world. 
Our recent study with UC Santa Barbara looked at the amount of microfibers that are released when we wash our synthetic clothes here in California. The results shocked us. We found that, despite good wastewater treatment systems, microfibers are being released by the quadrillions, and that number got a lot of attention, which is now catalyzing action. 

On the water, my work with fishing communities around the world really inspired me. They bring their local knowledge and years of experience to the work. Off the West coast, our team worked with groundfish fishermen to formally close areas of seafloor to trawling to help protect habitat and rebuild fisheries. I've been here long enough to see those fisheries recover. It's amazing when the work comes full circle, from science to impact.

TNC: What moments changed your perspective over the course of your career?

MARY GLEASON: The susceptibility of our oceans to climate change constantly requires me to adjust my perspective on ocean health. Coral bleaching has long been one of the early signs of climate impacts. When I was researching corals in French Polynesia for my dissertation in the early '90s, the area experienced its first serious bleaching event. Most of my study animals died, and it was hard to watch. It was my first experience with mass mortality in the ocean, and that was the moment I decided to work in conservation rather than academic research. 

Since then, coral bleaching has become really prevalent, and we know now it is directly related to climate change. The conservation challenges are getting bigger and bigger as climate change exacerbates everything. The science is very clear, and hopefully the global community's embrace of the science will allow us to do a lot more on a policy level and a structural level to make the big changes we need to reduce greenhouse gas emissions.

TNC: What are some changes you've seen in the field over the course of your career?

MARY GLEASON: I am excited that we are starting to see more diverse representation in marine science. When I started in my career, I was often the only woman in the lab, on the research vessel, at the field station, etc. While that has changed, there is a lot more we need to do to build opportunities for scientists from under-represented communities to enter the conservation field and to feel supported once they're here. Science needs that, and the world needs that, and organizations like TNC need to step up and do more. I love the Black in Marine Science program led by Dr. Tiara Moore; they are doing awesome work to celebrate and promote black marine scientists, provide opportunities and inspire the next generation of ocean stewards.

TNC: Describe a time when you felt you really made a difference. What made you the proudest?
MARY GLEASON: TNC loaned me to a public-private partnership for six years. My job was to help the State of California design and implement a network of 124 protected marine areas under California's Marine Life Protection Act. I've never worked harder in my life, but it was so rewarding. I brought planning and science expertise to help representatives from local communities, fishermen, NGOs, scientists and public officials. Our group worked together to build what is now the largest network of protected marine areas in the world.
Now, when my daughter and I are out walking along the California coast and we see signs marking marine reserves and conservation areas offshore, she points them out because she knows I helped make that happen. She's proud of me. 
TNC: How did you first enter the field of marine science?
MARY GLEASON: I grew up on the east coast of Florida. My dad loved to snorkel and sail, and my mom was a devoted fisherwoman, so I spent a lot of time on the water and knew from an early age that I wanted to be a marine biologist. My mother was a scientist, and my dad worked for the space program. I grew up in a household with a lot of travel and adventure. I learned to dive relatively young, and once I started diving, I was hooked. 
I got my undergraduate degree in marine science and worked as a research assistant for many years doing marine ecological research. I was fortunate to be one of UC Berkeley's first graduate students to do a project at the University's then-new research facility in French Polynesia. After I finished my PhD, I worked in California, Indonesia and the Philippines with communities and governments on coastal management projects. I joined TNC's California chapter right when they were setting up their marine program. And 20 years later, it's amazing how many different marine conservation efforts the Oceans Program is working on and how much impact we are having. 
TNC: What is your advice to new scientists? Is there anything you wish you'd known?
MARY GLEASON: Find your passion and follow it. This will lead you to other people who care about similar things. For people interested in marine science, there is so much we still don't know about the ocean. So many questions are unanswered, and there are so many big ocean challenges to solve. There's plenty of room for everyone to make a big difference.
TNC: What developments are you most excited to see in the marine sciences in the coming years? 
MARY GLEASON: There are so many ways that technology can help us understand and address problems—everything from using satellite data to map kelp or track whales to collecting eDNA to understand where species are. It's a brave new world of research opportunity, and we are going to need technology to help us recover and get back into better balance with nature. But, at the same time, we also need to empower and recognize communities that are stewarding their ocean resources well. Unfortunately, we've undervalued local and traditional knowledge, when, in fact, local stewardship can make all the difference, especially when it's combined with adequate support, partnership and new technology. It's an all-hands-on-deck moment for the ocean, and we need everyone to be working together on solutions.

TNC: What keeps you optimistic about the future?
MARY GLEASON: The next generation of scientists and community members who are willing to change and be more revolutionary and radical in their thinking. They give me a lot of hope. I grew up in the '70s, very much a part of the environmental movement, and science and public pressure did make a difference. Now, with climate change, we need to do the same times a thousand to implement the systemic changes we need. And we don't have time to lose. The younger generations are rightfully angry and worried about the world we are leaving them. I hope we can all kick butt together to make the changes we need.
We need to protect our marine ecosystems and help recover ocean areas that are being degraded. Healthy oceans will be more resilient to climate change, and the ocean is a huge part of the solution set for both addressing climate change and meeting human needs. 
TNC: As you look back on your career, what are you most grateful for?
MARY GLEASON: I feel so fortunate that my childhood dream of being a marine biologist came true and that I had the opportunity to have an almost 20-year career at TNC doing the work I love with an incredible team of inspiring conservation professionals. Waking up every day to help protect nature and advance effective conservation has been challenging but never boring. And as someone on the cusp of retirement, it definitely feels bittersweet to leave. I know I'm not done with conservation work, and I'm excited to see the new forms it will take in my life.
Expand to see more
Collapse to see less
October 21, 2020
Our Kind of Party: A Science Convening for Saving Whales
Earlier this month, TNC and the Ocean Protection Council hosted the West Coast's largest science convening to prevent whale entanglement. Each year, whales are accidentally caught in marine debris and the gear that fishermen set out in the ocean. This can result in serious injury or even death. 
The science convening was designed to combat the issue on all sides, featuring panel discussions between state and federal fishery managers and fishermen and presentations from more than 20 researchers from around the U.S. Presentations highlighted opportunities for greater collaboration, as well as new tools and research to reduce the risk of entanglement in West Coast fisheries. And thanks to its virtual format, the convening safely hosted more than 200 attendees. 
The timing of the event was critical. Washington, Oregon and California are all developing entanglement risk management plans that will set the course for improving whale conservation and uphold the fisheries that serve as economic pillars in the three states. Now, informed by findings from the workshop, the Ocean Protection Council is developing a competitive call for more than $2 million in public funding to advance research and tools to reduce entanglement risk across the West Coast.
Expand to see more
Collapse to see less
Conservation Area Closures
150,000 square miles of protected critical seafloor habitat off the west coast.
©

TNC
June 4, 2020
Protecting Essential Ocean Habitat
Six years of collaborative efforts led by TNC's California Ocean Program resulted in the protection of 150,000 square miles of critical seafloor habitat off the west coast. That's nearly the size of the state of California! New regulations protect this habitat which is home to deep-sea coral and sponge formations. Fish populations have recovered to the extent that historically important fishing grounds have been able to reopen.
Protecting ocean habitat isn't just a goal of environmental organizations; fishing communities also depend on a healthy ocean. But these two groups often find themselves at odds. In 2012, TNC and a coalition of organizations and fishing leaders came together to change that.  
We brought together an extraordinary collaborative with the help of the Natural Resources Defense Council, the Environmental Defense Fund, and fishing industry professionals of all kinds. The collaborative held over 30 port meetings up and down the West Coast to negotiate a new proposal to the federal government that would enhance habitat protections while saving fishermen's livelihoods. 
By cross referencing fishermen's knowledge of the seafloor with new scientific data, we were better able to identify high-value fishing areas and sensitive habitat for protection. The result was a massive win for the ocean and a more sustainable future for West Coast fishing communities.
Expand to see more
Collapse to see less
By the Numbers: Upgrading Essential Fish Habitat
17,000

New square miles of seafloor fish habitat protected

123,000

New square miles of deep-water habitat protected

3,000

Square miles of sustainable fishing grounds reopened

275,000

Square miles of CA ocean habitat protected since 2006
Notes from the Field
Welcome to Notes from the Field, a video newsletter straight from our TNC scientists that dives into our conservation projects in the field.
Make a Difference in California
Together, we can achieve transformative change on a scale that's attainable—for California and for the world.