The Midwest is known for its bountiful and diverse agricultural production. Its fertile lands and waters provide ideal conditions for corn, soybeans and wheat crops, as well as 15% of the country's dairy products. Between the production of crops and livestock, the region produces $14.5 billion in annual agricultural sales.
Between the production of crops and livestock, the Great Lakes region produces $14.5 billion in annual agricultural sales.
But the use of these lands and waters has come at a cost. In many places, there have been a decrease in water quality, loss of essential fish and wildlife habitat and an increase of toxic algae blooms. As demand for agricultural products continues to grow, so will the pressures facing the Midwest.
Soil Health
TNC supports the implementation of regenerative farming practices that improve soil health and provide a fertile ecosystem for food production that is crucial for clean water and carbon sequestration. TNC estimates that improving soil on at least half of U.S. croplands could deliver up to $7.4 billion in water and climate benefits annually. Farmers stand to gain $37 million for each 1% of cropland transformed—that's $1.2 billion annually across the U.S. corn belt.
TNC is working with partners to elevate the role of soil health in row crop systems to improve the long-term viability of U.S. farming and create a model for farming systems around the world.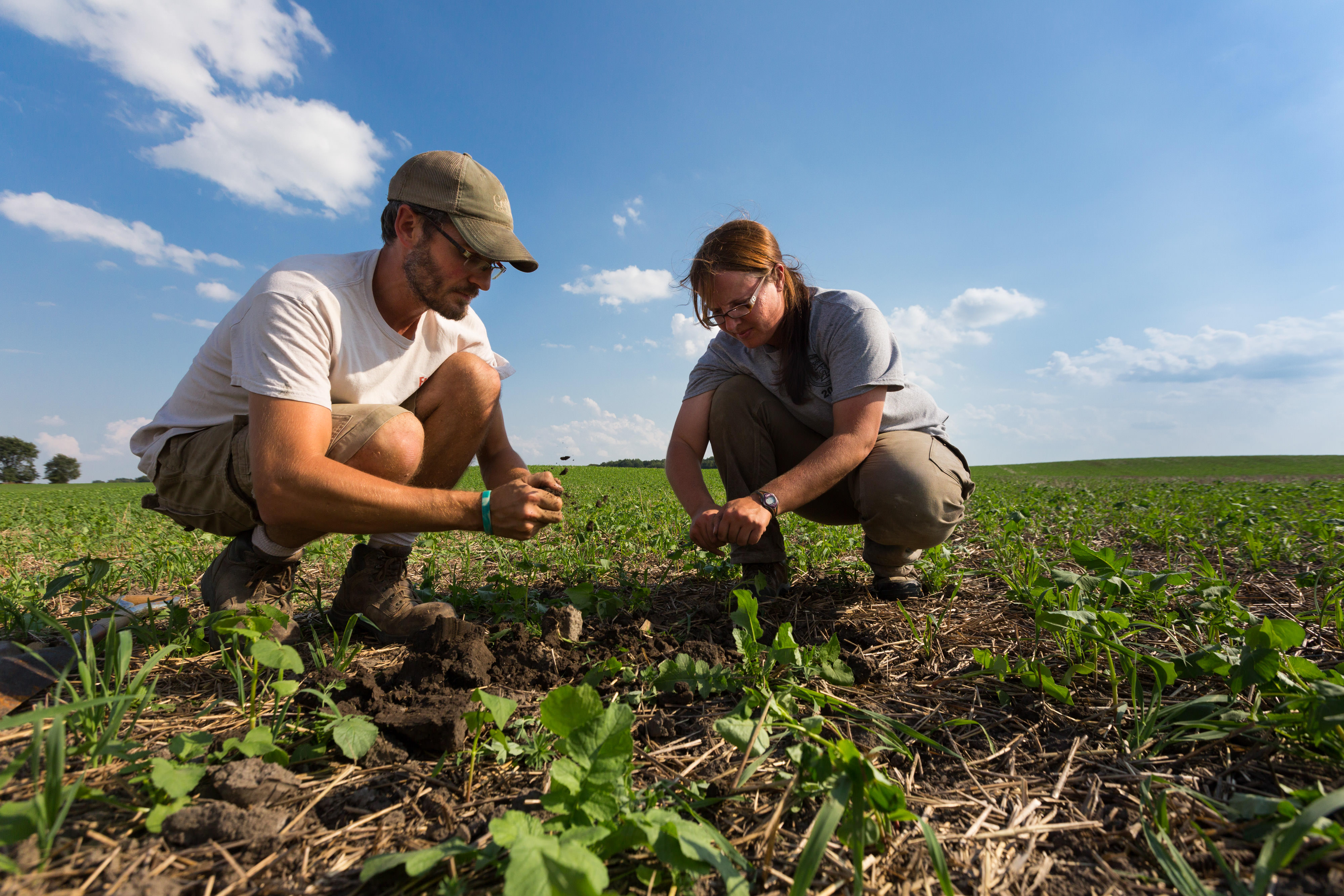 HEALTHY SOILS
Sarah Delbecq, a sixth-generation farmer in Indiana, and her husband, Benoit, are among a growing movement of farmers who are exploring conservation practices on their land.
©
Nestlé Purina PetCare Company
Sarah Delbecq and her husband, Benoit, farm about 2,400 acres at Brechbill Farms, growing corn, soybeans and some winter wheat. Protecting the environment is important to them, but so is making a living. They are full-time farmers, and this is not a hobby. "We want to leave the land in better shape than how we found it," she adds. "But we also need to let the farm continue to function as a profitable, working farm. Our biggest challenge is to be a farm that remains in existence."
Sarah learned about caring for the land and protecting soil health from her father, Phil Brechbill. He began a system of no-till planting across the farm in the late 1980s. No-till is planting without plowing and turning over the soil. "I think my dad quickly recognized it's a system you have to fully buy into," she says. "You don't no-till one year and then not no-till and then come back to it. He was able to commit to it, and we've been able to carry that on."
In-Field Practices
Cover Crops
Between the harvesting of last season's crop and the planting of the next, it has been common for farm fields to be left barren or covered with the remnants of last year's crop. When barren fields are left exposed to the elements during the winter months, and with the melt of snow in the spring, loose soil and nutrients can be carried away to run off into streams, rivers and lakes.
Farmers are increasingly realizing the benefits of cover crops, typically barley, oats, rye or alfalfa, which in addition to improving the health of the farmer's soil also help keep soil in the field and out of our freshwater resources. Typically planted in the late summer and fall, they cover fields and stabilize soil with their roots during the winter months—but that's not all. They also replenish important nutrients, and they can help control pests and weeds.
Cover crops are enriching Mike Werling's soil with organic matter and allowing his crops' roots to penetrate the soil more deeply. That's enabled him to reduce his fertilizer use.
"The deeper I can get my roots in, the more I am farming," he says. "The deeper I can get that carbon to go, the more my soils mineralize the nutrients, the more they give me that I don't have to put the nutrients onto it."
Since shifting to 100% no-till in 1989, Todd Hesterman's family has seen big pay-offs, including increased soil organic matter, improved soil structure and cost savings both on fertilizer inputs and labor. "It's made us a little bit more efficient, more lean and more weatherproofed to the farm economy than most."
Cutting out all of the costs associated with tillage (tractor, labor, fuel) reduces their overhead and leaves them with more wiggle room to weather ups and downs in the farm economy.
Both strip till and no-till are forms of tillage that minimally disturb the soil. Essentially, this means farmers allow the previous crop's residue, which is organic matter like corn stalks and leaves, to stay on the surface of the field, rather than plowing it underneath before the next crop's seeds are sown. When this organic matter from the previous year is left on the field, it provides a wide range of benefits: It stores carbon, improves soil quality, slows run off, provides habitat for wildlife and reduces erosion.
Strip till and no-till farming practices can be combined with other methods such as buffer strips, giving farmers a variety of ways to protect the lands and waters of the Midwest.
Edge of Field Practices
In addition to practices that happen on the farm field itself, TNC also recommends the use of edge of field practices, like constructed wetlands, saturated buffers and prairie strips, which can be paired with soil health and nutrient management practices to support farm productivity and maximize benefits for water, climate and wildlife. Recognizing the substantial benefits from a whole-farm approach to achieving a regenerative agriculture system, TNC worked with partners to create an Edge of Field Roadmap—a blueprint for collaborative action among conservation, policy, agriculture and business interests to implement edge of field practices on a larger scale and at a faster rate.
To protect water quality, reduce climate impacts and improve farmer profitability, TNC has developed a strategy to help transition conventional farming to provide food more sustainably.
Buffer Strips
It's a tiny green border around a soybean field, or perhaps it's a band of perennial plants lining a drainage ditch. To the naked eye, buffer strips may not look like much. But they provide valuable benefits to people, plants and wildlife.
Buffer strips are exactly what their name implies: strips of land that form a buffer between farm fields and creeks, rivers and streams. The deep roots of the vegetation that grows in a buffer strip slow water and absorb sediment and excess nutrients from fertilizers. These plants grow year-round and are strategically placed to stop run-off from farm fields before it enters waterways.
But that's not the only benefit buffer strips provide. They also create habitat for fish and wildlife, help stabilize stream banks and improve air quality.
Two-Stage Ditches
Water, when confined to a channel such as a stream or ditch, has the potential to cause great destruction. With too much water moving through an undersized area of land, there is nowhere for it to go but to rush out its barriers.
Bank erosion, scouring and flooding are good indicators that there is a problem with how water is drained from the soil. Researchers have been working on a type of in-stream restoration called the two-stage ditch that may help relieve these problems.
Researchers have developed a drainage design by observing the natural processes of stable streams and rivers that could relieve the erosion, scouring and flooding that conventional ditches may cause. This design, known as the two-stage ditch, is a drainage channel that will benefit both agriculture and the environment.
The benefits of a two-stage ditch over the typical agricultural ditch include both improved drainage function and improved ecological function. The two-stage design improves ditch stability by reducing water flow and the need for maintenance, saving both labor and money.
It also has the potential to create and maintain better habitat conditions in Midwest states and the waters into which our drains flow, such as the Mississippi River and the Gulf of Mexico.
Farmer Advisors and Service Providers
Nutrient Stewardship
TNC is working with farmers, retailers, agribusinesses and others to curtail nutrient runoff from farms through the use of cover crops, reduced tillage, crop rotation and nutrient management that optimizes fertilizer efficiency.
Nutrients—primarily phosphorus and nitrogen—enter waterways from a variety of sources, contaminating drinking water supplies, impairing habitat and imposing tremendous water treatment costs on communities.
Agriculture is a significant contributor to nutrient runoff, as evidenced yearly by the Gulf of Mexico dead zone, a massive area of oxygen-depleted water caused in large part by runoff from the Mississippi River Basin.
For example, 4R Nutrient Stewardship represents an innovative approach to fertilizer best management practices (BMPs). The 4Rs imply there are four aspects to every fertilizer application, and it provides a framework to assess whether a given crop has access to the necessary nutrients. Asking "Was the crop given the right source at the right rate, at the right time and in the right place?" helps identify opportunities to improve fertilizer efficiency and prevent nutrient movement from each field.
Corporate Sustainability
Large food and beverage companies recognize their social responsibilities, and most have set goals within their supply chain around greenhouse gas reduction, water quantity and water quality—typically in that order of priority, based on The Nature Conservancy's experience.
To achieve these goals, there is an expanding interest among companies to document and define sustainability in commodity crops like corn, soybeans, wheat, cotton and rice.
Companies have an opportunity to influence the practices that farmers use to grow crops, although it can be challenging, since most commodities end up as animal feed or are typically obtained from multiple sources, which makes identifying and tracking the product difficult.
Using the soil health principle described above, TNC has provided a consistent framework for companies to track and document conservation practices from the source using a mass balance approach, providing insight on where and how to make improvements to achieve long-term sustainability goals.
Public Policy and Programs
Public policy and programs play an instrumental role in supporting the broader adoption of regenerative row crop systems. From providing critical funding for practice adoption and land-use protection, influencing markets, and supporting research and extension to ultimately defining who is accountable for how lands and waters are managed, public policy annually influences millions of acres for improved freshwater, soil health and climate outcomes.
As a non-partisan, science-based organization, The Nature Conservancy works with a broad range of partners to find and advance policy solutions, as well as deliver programs, at the federal, state and local levels.
At the federal level, TNC helps create and support influential coalitions to secure impactful programs and funding levels in the U.S. Farm Bill. TNC further works with agencies in the implementation of these programs, working with farmers and other supply chain partners to leverage and target resources and support farmers in the adoption of new practices. TNC also initiates vital science to evaluate whether practices and programs are having their desired conservation effect, and at meaningful scales, to ensure effective policy.
Innovation
To make significant progress, we need to challenge the status quo by identifying solutions that will circumvent or disrupt roadblocks to large-scale change.
With a goal to drive adoption of regenerative practices on at least 50% of U.S. row croplands by 2030, The Nature Conservancy recognized in 2019 that there is tremendous opportunity to expedite change and drive progress through innovation. We asked ourselves: How could we support critical innovations that deliver transformative change toward a regenerative agriculture system?
One answer was to explore the disruptive nature of the start-up entrepreneurial community and identify and invest in solutions that will scale the adoption of critical soil health and regenerative practices. As investor interest coalesces around the potential of emerging agricultural technology (agri-tech) to create a sustainable global food system, TNC decided to take a seat at the investment table. In 2020, we began investing in a series of emerging agri-tech solutions that have the potential to accelerate adoption of conservation practices for the benefit of farm enterprises, soil health, freshwater systems, climate and biodiversity.
Our goal is to encourage cross-sector commitment to innovations that advance regenerative agriculture systems by:
Signaling to other investors where—based on science and on-the-ground lessons learned—innovation is needed to drive change.
Conveying a sense of urgency to industry incumbents that change is necessary; the status quo will not lead to transformative change.
Supporting entrepreneurs and their teams that are developing critical solutions that could catalyze large-scale change.
Our venture investments are non-concessionary. TNC invests via the iSelect Fund. We identify companies developing innovative solutions that will scale one or a multitude of the practices we know build soil health. We believe that TNC's investments in these innovations will send a critical signal to other investors around the opportunity to invest for returns and impact. Through these investments, we believe we can get closer to our goal of advancing a broad transition to regenerative agriculture.
Farmers Leading Change
TNC aims to leverage insights from emerging social science to help a diversity of influential farmers championing regenerative agriculture amplify their success stories and elevate a culture of conservation among farmers.
TNC recognizes that often, farmers themselves are the best, most trusted messengers to speak with other farmers about conservation. Therefore, in many areas, TNC engages with farmers who are already conservation experts and helps them develop local networks to work with farmers in their community to learn about conservation together.
These peer-to-peer networks, advocates and/or farmer-led watershed groups in states such as Michigan and Wisconsin are effective means to encourage and support conservation action among local farmers as they determine how and what they want to learn.
Finally, TNC recognizes that our conservation actions are only meaningful and lasting if they are inclusive, accessible and equitable for the entire farming community. For each of our strategies listed above we are embarking on a new approach to thinking about conservation that centers on integrating equity into each of our strategies.
Our goals and our strategies should be inclusive of all types of crops, farmers and farms and strive to bring benefits and resources to all communities.
We Can't Save Nature Without You
Sign up to receive regular updates from The Nature Conservancy.