The Appalachians were born from a violent upheaval of rock spanning roughly 2,000 miles from present-day Alabama to Canada. For more than 400 million years, natural forces have sculpted this ancient chain.
Today at least 22 million people call the region home, and millions more rely on its natural abundance for their health, recreation and livelihoods.
In July 2021, a first round of grants were awarded through the Cumberland Forest Community Fund, a local grant program aimed at supporting nature-based economic and community development in Southwest Virginia, Tennessee and Kentucky. A second round of applications was launched in February 2023, with project awards announced in July.
Friends of Southwest Virginia, Appalachian Voices, The Town of Cleveland, Clinch River Valley Initiative, The Town of Wise, The Town of Lebanon, The Town of Pennington Gap, Breaks Interstate Park, SWVA Sportsmen and The Town of St. Paul will receive a total of $140,000 from the 2023 CFCF award for projects ranging from an outdoor education area to a solar array installation to a trail network expansion for rock climbing access.
These projects demonstrate the Fund's triple bottom line of desired outcomes: enhancing local economic development, building community capacity and improving environmental quality within the program area.
Supporting Local Ventures
Successful grant awardees are implementing exciting projects that support local jobs, outdoor recreation and nature-based economic development and green infrastrucure investment, and improve land, water and air quality within the program area.
The Cumberland Forest Limited Partnership provides funding for the grants. The Nature Conservancy is pleased to be partnering with UVA Wise for the management of its projects in Virginia and with the Clinch-Powell Resource Conservation and Development Council for the management of its projects in Tennessee.
Virginia
Projects selected in Virginia span seven counties—Wise, Russell, Tazewell, Dickenson, Buchanan, Lee, Scott—and City of Norton. Projects were selected through a competitive process that solicited proposals from businesses, non-profits and communities.
Appalachian Voices secured $15,000 for the solar workgroup. The Solar Workgroup of Southwest Virginia is working to build a locally rooted solar industry in service to the regional and collaborative efforts around economic diversification. The group came together in 2016 with a shared goal of promoting solar energy as a way to build on our region's strong history as an energy producer. Their Solar Finance Fund is a regional resource to catalyze commercial and institutional-scale solar projects in coal-impacted counties in Central Appalachia. The allocated funds will support solar deployment and rooftop installation for one high-impact community anchor institution in the region.
Friends of Southwest Virginia secured $19,000 for the Tyler Flanary Pump Track. The Tyler Flanary pump track and skate park will provide an opportunity to connect enthusiasts to the world-class mountain biking resources of the region, as well as produce events in the town of Big Stone Gap. A pump track includes a circuit of rollers, banked turns and features designed for mountain bikes that will cater to locals and visitors. The track will provide an opportunity for mountain bikers of all ages to develop skills, get outside and create community. The pump track will be open daylight to dark and will feature competitions, public events and fun for a wide range of skill levels.
The Town of Cleveland secured $5,000 for the Riverbend Campground's Nurturing Nature Project. Through local partnerships, The Nurturing Nature: A Beautification Project seeks to promote sustainable development and conservation of the environment. The Riverbend Campground tree-planting initiative aims to enhance the aesthetic appeal of the campground and public park access. The project will consist of planting a variety of native trees and shrubs to create a colorful and vibrant landscape that will provide ample shade and economic benefit to the community and will enhance community engagement and participation.
Breaks Interstate Park secured $30,000 for their climbing expansion project. Since 2015, the Breaks Interstate Park has developed more than 300 high-quality climbing routes for rock climbers of different skill levels. The Breaks Interstate Park was an award recipient of the first round of the Cumberland Forest Community Fund, and additional funding will support the improvement of existing trails and construct new trails to foster additional climbing access. Through their partnership with the Central Appalachian Climber's Coalition, new routes will be established to provide a greater selection for rock climbing in the park. In addition to the climbing expansion, the Breaks Interstate Park will create a Climbing Master Plan, which will guide future development of the park's rock-climbing resources.
Clinch River Valley Initiative (CRVI) secured $11,500 for marketing initiatives. CRVI's marketing initiative will support the promotion of outdoor recreation assets along the Clinch River and help expand community capacity building around tourism. Engaging citizens as good stewards of their lands and waters will enhance community pride while at the same time help to conserve our natural resources. CRVI's efforts continue to strengthen regional collaboration and communication within the Clinch River Valley while also promoting the assets and outdoor recreational opportunities to individuals outside of the region.
The Town of St. Paul secured $2,500 for Wetlands Estonoa bridge and walking trail. The Wetlands Estonoa Learning Center consists of indoor and outdoor learning venues and a half-mile walking loop trail around the certified wetlands. The Center facilitates a zero-cost environmental educational program for students of all ages to engage in experiential learning. The Cumberland Forest Community Fund supported the first phase of the span bridge that overlooks the wetlands and connects the half-mile trail. The allocated funds will allow the project to complete the construction and provide greater access to the wetlands.
The Town of Wise secured $15,000 for the Bear Creek Reservoir. The Bear Creek Reservoir, located in the Town of Wise, is a popular public area for outdoor recreation. The Reservoir includes picnic shelters, a boat launch and walking and biking trails for the community to enjoy. The Town of Wise is currently working to expand the trails at Bear Creek and continue promoting an active lifestyle through outdoor recreation opportunities. The Cumberland Forest Community Fund will support the repairs and updates to the existing restroom facilities.
The Town of Lebanon secured $15,000 for the Lebanon Park's playground restoration. The Town of Lebanon received funding to upgrade the surface of one of the frequently visited playgrounds located within the town. This project will significantly contribute to the town's efforts to provide more attractions and public gathering spaces to the community as well as visitors. Providing upgrades to the local parks will provide more outdoor recreation opportunities and further expand the economic impact of the town's recent Downtown Revitalization project.
The Town of Pennington Gap secured $12,000 for the outdoor classroom expansion. The outdoor classroom in Pennington Gap is located on the Pennington Gap Greenway along the Powell River near Pennington Middle School and is an excellent resource for outdoor education. The outdoor classroom currently consists of a concrete tiered seating area with a flat concrete space for teaching and was constructed with funds from the first round of the Cumberland Forest Community Fund and the Town of Pennington Gap. With the additional funding, the classroom will be expanded to include educational signage, accessibility adjustments, native plants and pollinator gardens, educational stations for weather and wildlife, and compost bins.
SWVA Sportsmen secured $15,000 for the wildlife habitat protection project. SWVA Sportsmen is working to create additional wildlife viewing opportunities in Southwest Virginia to increase tourism and attract visitors to the area. Over the past several years, this project has created its own industry in the region, and the number of wildlife tours is steadily increasing. SWVA Sportsmen received funding from the first round of the Cumberland Forest Community Fund, and additional funding will allow them to expand their habitat restoration efforts and provide additional wildlife food plots for elk in Buchanan County.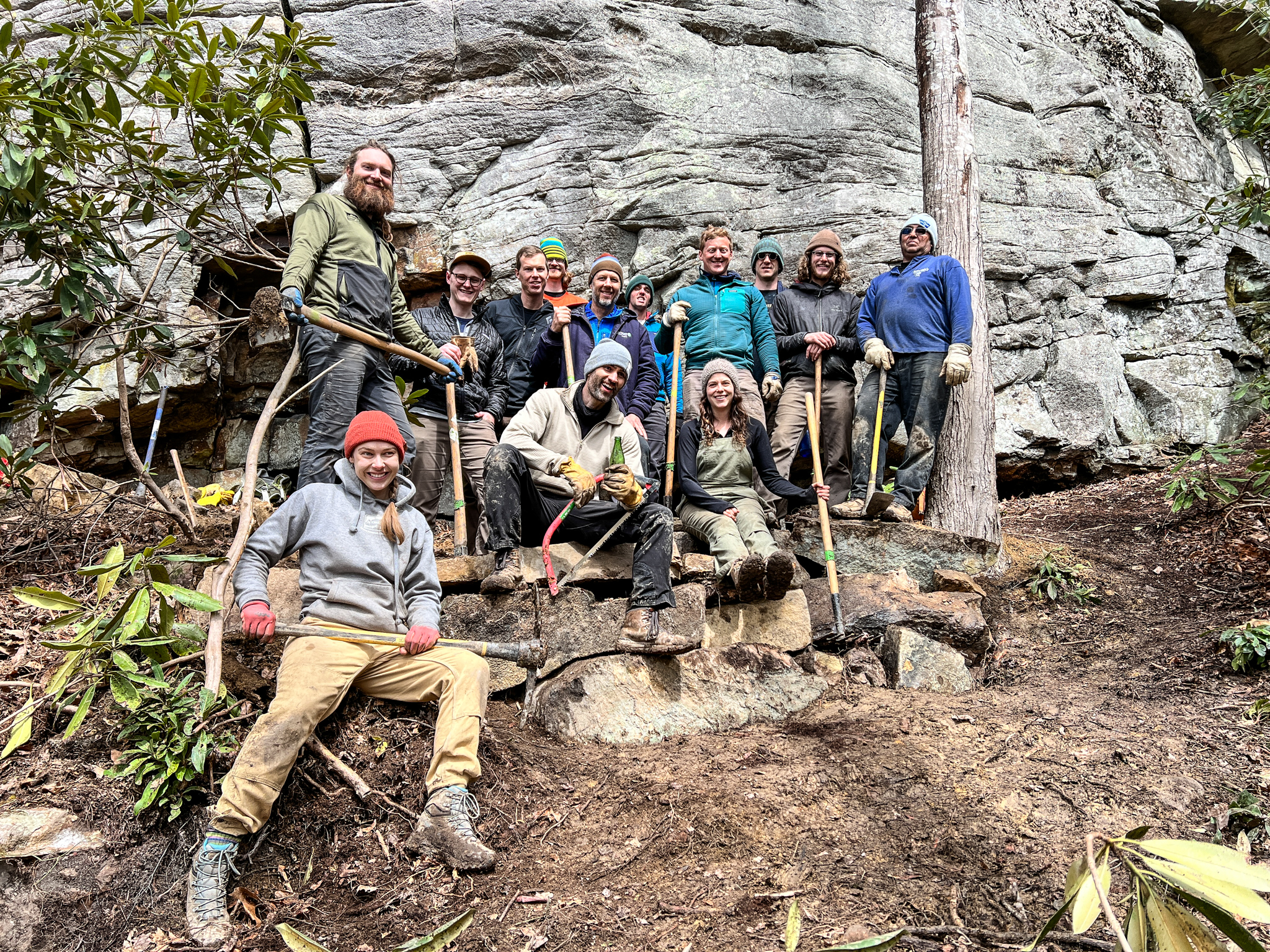 Community Connections
The Cumberland Forest Community Fund supports projects that continue to develop and conserve the economic, cultural and environmental landscape of Southwest Virginia.
©
TNC
In 2022, the first round of grants from the Cumberland Forest Community Fund provided funding for 10 nature-based community projects in Southwest Virginia.
Appalshop secured $9,850 for their Pound River Access project to establish parking areas, improve pedestiran access and create wayfinding signage and an informational kiosk to help educate users about the ecological and historical value of the river.
The Breaks Interstate Park secured $15,000 for their Climbing Development project in response to overwhelming demand expressed during the public comment section of their site master plan. 
The Central Appalachia Climbers Coalition secured $6,850 for their Ben's Branch Access project to install a new parking area, build and improve the access trail and install a new trailhead kiosk for Ben's Branch, the new climbing area owned by the Town of Appalachia. 
The Friends of SWVA secured a capacity building grant in the amount of $11,700 for their Clinch River Valley Initiative (CRVI). 
OH Rentals LLC secured $5,600 for their OH Stay and Ride project to provide lodging, bike and kayak rentals, repair services and shuttles so that visitors can spend time enjoying the over 100 miles of mountain trails in Wise County. 
The SWVA Sportsmen secured a grant for $13,000 for their Wildlife Habitat project to expand wildlife viewing opportunities in Buchanan County, increasing tourism and attracting visitors to the region. 
The Town of Appalachia secured $10,000 for their Washington Rock Recreation Area project aimed at developing an outdoor recreation, tourism and community-use facility.
The Town of Haysi secured $13,500 for their Haysi Riverfront Trail project to construct a boardwalk and trail for pedestrian and electric bike traffic overlooking the Russell Fork River. 
The Town of St. Paul secured $4,500 for their Wetlands Estonoa project for the creation of a new span bridge overlooking the wetlands.
The Virginia Cooperative Extension of Lee County secured $10,000 for their Outdoor Classroom for Pennington Gap Greenway project to establish an outdoor classroom, hands-on education station and signage for educating both K–12 students and the general public.
Expand to see more
Collapse to see less
Tennessee
Projects selected in Tennessee span five counties—Claiborne, Campbell, Union, Hancock and Grainger. The partners selected projects through a competitive process that solicited proposals from businesses, non-profits and communities. 
Riverside Rentals secured $7,500 for a beautification project that will plant native vegetation to protect against erosion and make improvements that include improved river access and the creation of a walking trail.
Big Ridge State Park secured $19,049 for a permanent, centralized outdoor water station that is accessible and weatherproof for use by hikers and others visiting the park.
The Wellbeing Foundation secured $10,000 for a pollinator project that involves planting a large field to attract and encourage pollinators, and purchasing equipment to maintain pollinator habitats, both new and already planted, for years to come.
Servolution Health Services secured $14,513 for a People Achieving Total Health (PATH) program that will include a multipurpose outdoor space to be used for physical wellness, community events, as an outdoor classroom and as a meeting space for 4H clubs and others.
Campbell County Chamber of Commerce secured $25,000 to rebuild the popular Hatfield Knob elk viewing tower with steel and ADA compliant access.
Kentucky
The Mountain Association secured $77,990 for a rooftop solar installation on the Community Center in Middlesboro, KY, located in the heart of the Cumberland Forest Project's Ataya property. TNC's Kentucky chapter has partnered with Mountain Association to evaluate and prioritize community solar installation projects that will deliver long-term cost savings for local governments and community non-profits while also reducing carbon emissions and providing an outreach opportunity within Kentucky about the benefits and feasibility of clean energy. The Mountain Association serves Eastern Kentucky by investing in the people and places to advance the transition to a new economy that is more diverse, sustainable, equitable and resilient. 
About the Cumberland Forest Limited Partnership
The Cumberland Forest Limited Partnership, managed by The Nature Conservancy, owns more than 250,000 acres in the coalfields of Virginia, Kentucky, and Tennessee. Cumberland Forest utilizes an impact investment approach to manage these lands for sustainable forestry, climate resiliency, renewable energy, recreational uses and economic opportunities for people and communities.