From the Director
Yet another year has passed and I'm happy to share that thanks to your generosity and love of nature, we have made significant advances in conservation. We are excited to share some of these successes with you throughout this impact report about restoration.

Restoration is a hefty word and one that encompasses a lot of what we do at our preserves. It's also one that always makes me think of the quote by Nelson Henderson: "The true meaning of life is to plant trees under whose shade you do not expect to sit." This sentiment will always remind me that despite my wishes otherwise in conservation, we are in it for the long haul. We will not be successful overnight or even over the course of a year. Conservation success is about building on one positive step at a time, working in tandem with the natural world.
Henderson's quote is appropriate for this annual report where one of the conservation success stories we share is focused on the expansive restoration project along several tributaries of the Blue River at the Oka' Yanahli Preserve. So much was accomplished across this restoration site, including the work of a mighty group of volunteers and staff who planted thousands of trees. Even so, we know that with each step forward, the reality is that we still have so much more to do at this preserve and others across the state. Onward and upward!
Our Work In Oklahoma
107,425

Total acres that we have protected across our great state.

10,032

Acres of conservation easements in Oklahoma that we monitor each year.

530

Miles of Oklahoma's freshwater resources that we prioritize for monitoring and protection.

8

Ecoregions in Oklahoma where we work to protect our state's native plant and wildlife diversity.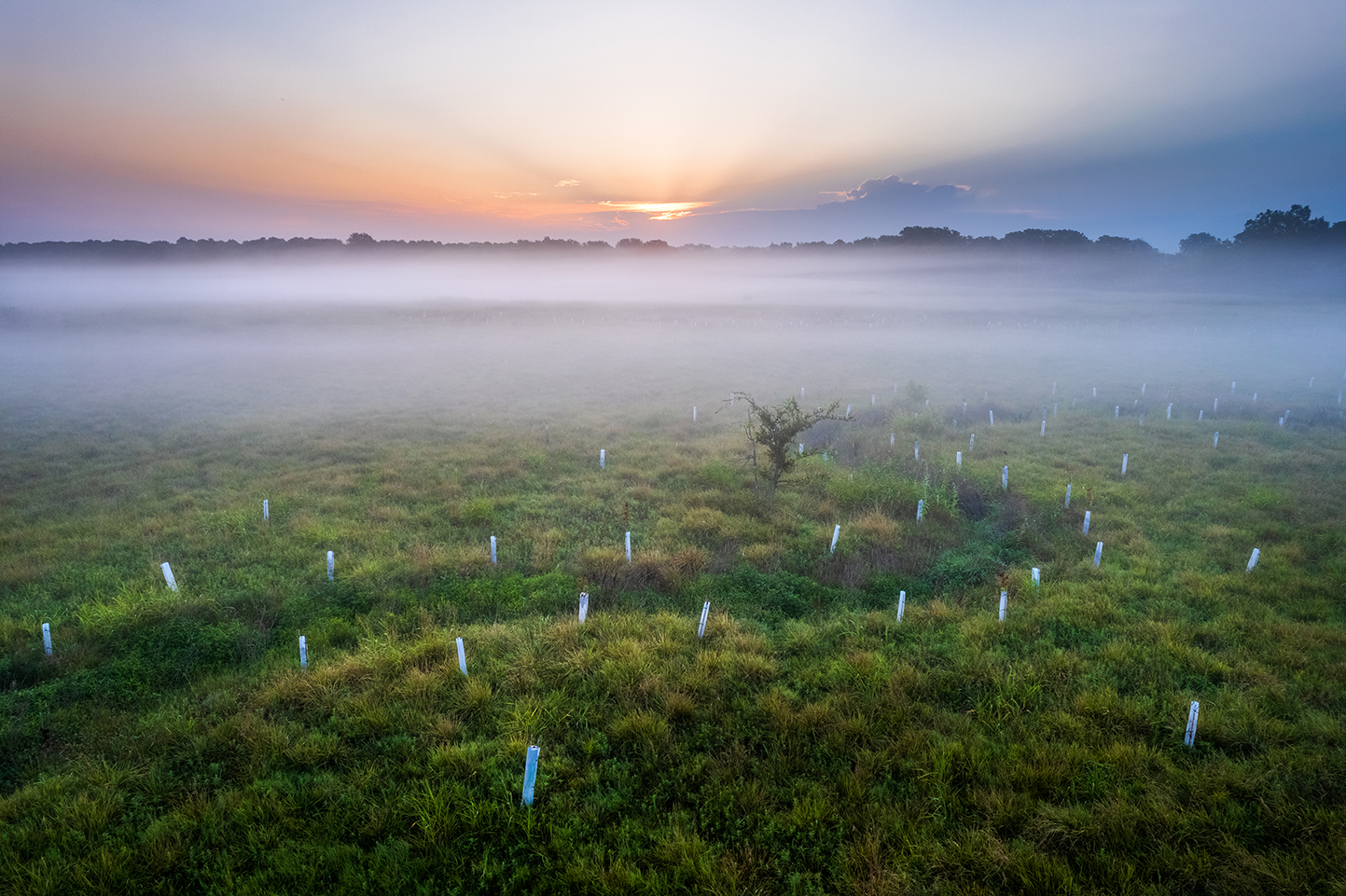 Restoration
Over 4,000 trees were planted along this stream to reduce harmful impacts to the Blue River.
©

Going West Productions
Conserving the Blue River Through Collaborative Conservation
At first glance, it appears thousands of great white egrets or maybe flocks of snow geese have dropped into the tall green meadows along the Blue River, but in the greenhouse-like humidity of a south-central Oklahoma summer, that's not likely.
Instead, the view through binoculars shows unnatural white structures, standing erect, concentrated most heavily near the river with ranks that snake up to hillside stands of timber. Like sentinels in sinuous formation trailing through the tall grass, 4,001 white perforated tubes guard the river's future, rooted inside.
The Blue River, one of only two in Oklahoma unimpeded by dams, is the water source for more than 150,000 people and contributes $928 million to $1.7 billion in ecosystem benefits each year.
Read more about this first-of-its-kind project at the Oka' Yanahli Preserve.
Expand to see more
Collapse to see less
Leveraging Lands For Science
Vascular Plants Surveyed in Southeastern Oklahoma

The Oklahoma Biological Survey conducted a vascular plant survey at the Oka' Yanahli and Hottonia Bottoms Preserves. Oka' Yanahli has 645 taxa in 109 families protecting rare vegetation types: seaside alder, false indigo and seep muhly-prairie tea. Discover the Oka' Yanahli Preserve
Bat Research at Four Canyon Preserve

Researchers from the Sam Noble Oklahoma Museum of Natural History conducted surveys at Four Canyon Preserve which show 11 different species—the most bat diversity among Oklahoma preserves—and more than 400 calls of the tri-colored bat. Discover the Four Canyon Preserve
OSU Researches Ringed Salamanders in the Ozarks

In temperatures ranging from 100 degrees F during the blazing hot days of summer and 10 degrees F in the winter, researchers gathered data on the full range of the ringed salamander breeding season finding salamanders in each pond surveyed. Discover the J.T. Nickel Family Nature & Wildlife Preserve
Working Together
Each controlled burn requires precise coordination, where an agile fire team can operate in tandem to conduct the burn safely and effectively.
©

Chris Hise/TNC
Respecting Fire: Where Conservation Science & Indigenous Wisdom Meet
As the sun rises over the thick Ozark forest early one spring morning, Jeremy Tubbs is eager to get to work. After designing the burn plan and waiting for the weather to cooperate, today is the day he can safely use his drip torch to implement one of the greatest conservation tools we have for restoration and resiliency: a controlled burn.
The Cheyenne and Arapaho Tribes, Chickasaw Nation and Bureau of Indian Affairs partnered with The Nature Conservancy in Oklahoma to conduct controlled burns at the J.T. Nickel Family Nature & Wildlife and Pontotoc Ridge Preserves. With collaborative partnerships, land managers across the state are meeting conservation goals to ensure a healthy, resilient land for generations to come.
Expand to see more
Collapse to see less
Natural Climate Solutions
Clearing Invasive Species in the Cross Timbers

Many of Oklahoma's prairies and forests are out of balance. Across the cross timbers and the Pontotoc Ridge Preserve, infrequent fire has created conditions that create a severe lack in species diversity which puts the entire ecoregion at risk. Discover the Pontotoc Ridge Preserve
Bison at Tallgrass Prairie Preserve Help Battle Climate Change

Acting as a carbon storage container, grasslands are a vital component in the fight against climate change. Tallgrass ecosystems can capture up to 1.7 metric tons of carbon per acre each year and bison play an critical role in conserving grasslands. Discover the Joseph H. Williams Tallgrass Prairie Preserve
Talking With Oklahomans About Climate Change

TNC supported collaborative climate change legislation and presented research findings to state and national leaders establishing the organization as a leading voice with our Congressional delegation advocating for solutions that work for Oklahoma. Read More About the Public Lands Resolution
Honoring Our Conservation Champions
In 2021, TNC staff organized our first-ever Conservation Champions program to recognize the various ways individuals and entities have gone above and beyond to help us reach our goals. Staff submitted thoughtful submissions to the program committee made up of State Director Mike Fuhr, Board Chairman Brian Bourgeois, Great Plains Division Director Rebecca Smith, and one TNC local staff member from each department. With several stellar nominations, the following individuals were selected as our 2021 Conservation Champions!
Gary & Debbie Houlette
From stewardship tasks like invasive species removal, mowing and native seed collection, to outreach events for pollinator education and advocacy, we appreciate Gary and Debbie Houlette's voluntary contributions to our mission. They are trusted and dependable members of our conservation team and unconditionally give of themselves and their personal resources to further our goals and mission to benefit Oklahoma's land and waters. 
Senator Brenda Stanley & Representative John Talley
Because of their leadership, the 2021 Public Lands Resolution was a success! Thank you to Senator Brenda Stanley and Representative John Talley for their help to communicate the importance of our state's public lands and sharing their personal connections with these places. Their efforts generated much-needed support for our public wild places and built a foundation for future collaborative conservation policy in Oklahoma. 
During the past year these conservation champions and more than 300 other volunteers have donated 1,060 hours, the equivalent dollar value of $27,500, to our conservation work in Oklahoma. It is because of these individuals and entities that we are able to achieve our mission to conserve the lands and waters on which all life depends.
Download