Find the best tree species for you!
Trees often stay with us physically and emotionally throughout our lives. In our youth, we look up at towering trees that cool temperatures in the summer and beautifully blossom in the spring. As we age, those same trees may mesmerize us with a kaleidoscope of color in the fall or the gentle frosted snow on branches that melts our hearts in the winter.
Throughout the decades, one's love of trees grows with gratefulness while their roots take hold and trunks climb toward the sky. These beautiful giants clean and filter our air and water. They conserve energy by regulating temperatures and provide a safe home for wildlife. They help us unwind and beautify our neighborhoods. They are also one of the best tools to combat climate change, so they're known as a nature-based solution: nature helping nature.
Right Tree, Right Place
Thinking about planting a tree? Find out some of the key things to keep in mind.
Download the PDF
To address warmer and drier temperatures, The Nature Conservancy in New Mexico recently led a collaborative research effort—along with the State Forestry Department, Tree New Mexico and many researchers—to develop the first-ever climate-ready trees list in Albuquerque. It's a guide to help nurseries stock and for people to buy native trees that survive, even thrive in our warming future.
Due to the overwhelming positive response from the Albuquerque list, the same group developed new climate-ready tree lists for 50 cities across the state—from Farmington to Las Cruces and Santa Fe to Alamogordo. These trees can handle the heat and use less water.
New Mexico Hardiness Zones

The tree lists are categorized into USDA Hardiness Zones, which are designed to help growers identify the best conditions to plant. The tree collaborative first identified the best native trees for New Mexico, then applied the Hardiness Zones and used future climate forecasting to determine which ones are most ready for our warmer, drier weather.
Of the four Hardiness Zones—7B, 8A, 8B, and 9B—9B was identified as containing the largest number of climate-ready tree species in New Mexico. And while these trees are best for planting in Zone 9B areas throughout the state, we've identified key cities where they work the best.
Climate-Ready Trees in Zone 9B
Click into the tree images to learn more about their growth details. And keep checking back for updates as more trees are added to the list!
Get Nature News
Our best stories and conservation updates delivered monthly.
How to Plant a Tree
You can help make your neighborhood greener by planting your own tree! But knowing which tree to buy is only half the battle. It's also important to put trees in the right place so there is enough above- and below-ground space so the tree can reach its full potential.
Watch the video below for a step-by-step guide on how to plant a tree.
Join Albuquerque to Increase Tree Canopies

Depending on where you live, research shows trees can lower temperatures from 5 to 13 degrees. Albuquerque's campaign, Let's Plant ABQ, commits to planting 100,000 trees by 2030—to cool and improve the city by increasing the urban tree canopy while also replacing old and dying trees.
Many cities across the state face similar threats. With the new climate-ready trees lists, municipalities, developers, schools, Homeowner Associations, apartment owners and more can join the effort to mitigate climate change. These trees will act as nature's air conditioner for warm neighborhoods, cooling the air and improving the quality of life for people across the state.
Download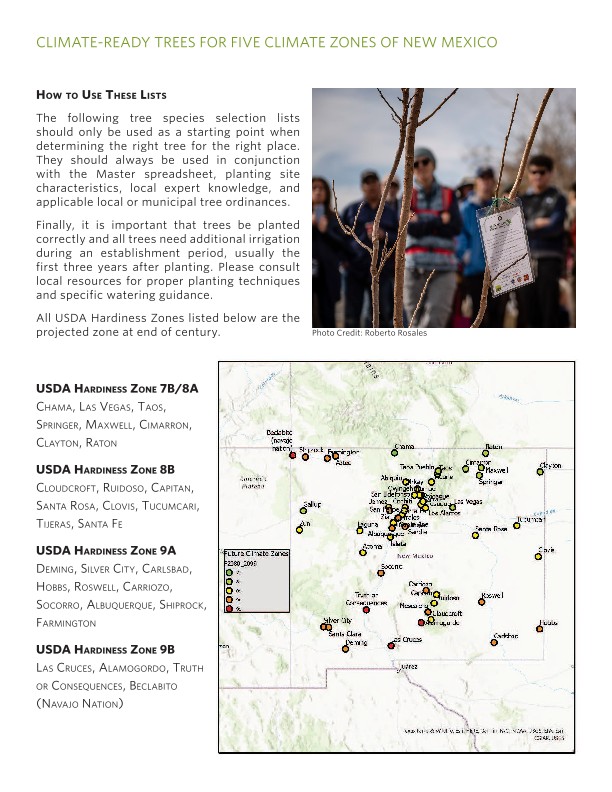 Partnership
Meet the team that's identifying climate-ready trees!