Key Takeaways
The effects of the pesticide DDT decimated osprey populations. In New Jersey, the osprey was officially listed as endangered in 1974.
DDT was banned and New Jersey conservation groups joined forces to erect nesting platforms in marshy habitats with clean water and healthy fish.
For over 20 years TNC has been stewarding osprey habitat and maintaining nesting platforms, helping the species rebound.
Nature's Great Comeback Story
One of the first signs of spring in New Jersey is the return of osprey in late March. Osprey pairs nest and raise their young along our coast from early spring to late summer before migrating back to South America.
Osprey, also known as fish hawks, were once abundant along the New Jersey coast, their six-foot wingspans easy to spot as they soared in the skies and dove to pluck fish from the water. But even with sharp talons and a reversible toe, osprey could not keep a foothold in the region when DDT pesticide came into use for insect control. A diet of DDT-laced fish stunted osprey reproduction, causing their eggshells to become thinner and decimating their numbers.
By 1974, with fewer than 50 nests in the state, osprey landed firmly on the New Jersey endangered species list.
The use of DDT was banned, and osprey populations slowly started increasing. Conservation groups erected platforms to encourage nesting in marshy habitats where development replaced tree lines, and the osprey caught on—by the mid-1980s there were more than 200 healthy pairs nesting here.
There are now more than 800 platforms around the state, and it's estimated that 75% of nesting osprey are using these man-made structures in New Jersey.
Thanks to efforts by The Nature Conservancy and other conservation groups, the osprey population in New Jersey is going strong. The fierce-gazed raptors are happily proliferating, with the New Jersey Division of Fish and Wildlife and the Conserve Wildlife Foundation of New Jersey estimating 733 nesting pairs in the state in 2022. That's 45 new nests compared to 2021! A total of 720 young were produced from the 555 known-outcome nests throughout the state. A total of 206 pairs failed to produce young. The statewide average productivity rate was 1.30 young/active (known-outcome) nest, which is the lowest recorded since 2003 (0.86). Weather had an adverse impact on the outcome of a great quantity nests in the coastal region. Despite this grim news, nest productivity was well above the level needed to sustain the population. 
While the Atlantic coast, particularly the wetlands and waterways around Barnegat Bay and Great Egg Harbor, accounted for most of the nests, ground surveys determined that the most productive nests were those along the Delaware Bay.
Stewarding Osprey Habitat
Every year before nesting season, TNC repairs or replaces nearly 30 osprey platforms in southern New Jersey. These platforms provide nesting habitat for ospreys, making their availability and upkeep vital to osprey conservation.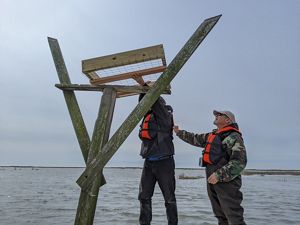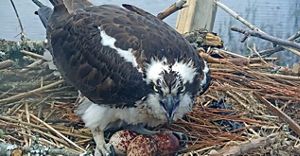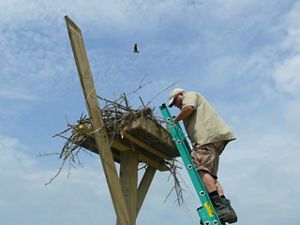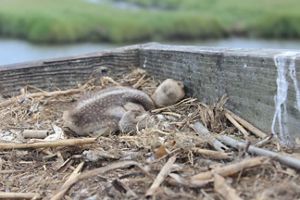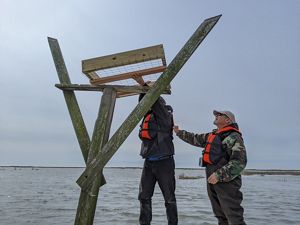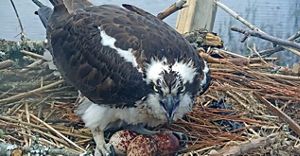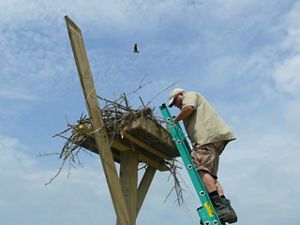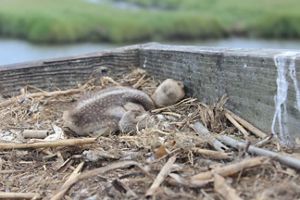 Healthy Lands, Healthy Osprey
Today, we know we must conserve and restore land at an unprecedented scale—for the benefit of people, wildlife and our climate. Ospreys remain a priority for TNC in New Jersey. For two decades we've been stewarding osprey habitat and maintaining and monitoring osprey nesting platforms in Cape May and Cumberland counties as part of PSEG's Estuary Enhancement Program. Since 1994, that initiative has restored, enhanced and/or preserved more than 20,000 acres of salt marsh and adjacent lands to vital, healthy habitat for fish and wildlife.
TNC in New Jersey manages more than 5,000 acres under the PSEG program, including nesting sites in Dennis Township and Commercial Township and within watersheds of the Maurice River, Cohansey River and Alloway Creek. TNC also protects critical osprey habitat at the Maurice River Bluffs. We have installed osprey platforms at three of our flagship preserves: South Cape May Meadows, Garrett Family Preserve at Cape Island Creek and Maurice River Bluffs. We share osprey data from these locations with the New Jersey Division of Fish and Wildlife Endangered and Nongame Species Program to be added into the overall count for the state.
Cape May Live Osprey Cam
Osprey nest and raise young along our coast from early spring to late summer before migrating to South America. During nesting season, the platform at our South Cape May Meadows Preserve is live-streamed and allows viewers to follow the osprey along with their nesting journey. Adults, which mate for life, make the roundtrip journey and return to the same nest every year; juveniles will spend two years in South America before coming back to our shores. In 2017, birds banded in New Jersey, Maryland and Virginia were spotted in Aruba, Antilles and Venezuela. An exciting occasion during the 2021 banding season was 31 ospreys who were banded as nestlings were re-sighted during nest surveys. One notable band recovery was a 20-year-old male osprey found dead in Hammonton, who is the oldest living osprey ever recorded in the history of the project. 
Outcomes
During March, nesting ospreys return to the platform at our South Cape May Meadows Preserve. We live-stream the nesting process and keep records of the nest's productivity.
TNC Osprey Camera Kit
The South Cape May Meadows Osprey Kit is a fun and interactive way to engage remotely with wildlife and ecosystems. The kit includes activities that are both educational and entertaining. Engage your kids with nature by taking an osprey themed quiz, jotting down nest observations, or learning more about ospreys in New Jersey through the resources we've provided.
Videos and Additional Resources

Freshen up on your osprey knowledge by reviewing these resources.
Activities