Key Takeaways
Bobcats are endangered in New Jersey and what they need most right now is room to roam.
The Nature Conservancy is protecting critical habitat for these native wild felines by connecting preserved land between two great mountain ranges: the Appalachians and the Highlands.
TNC and our partners have protected nearly 1500 acres in this critical corridor since 2014.
New Jersey's Last Wild Feline
After bobcats nearly went extinct locally in the 1970s, conservationists reintroduced 24 cats from Maine into New Jersey's northern forests to restore nature's balance. The descendants of those bobcats have mixed with populations in neighboring regions to establish a tenuous foothold here.
They remain on New Jersey's endangered species list.
Habitat loss and forest fragmentation continue to challenge their small population, disconnecting them from their historic range and pushing them more frequently into busy roadways. Shy, elusive bobcats are a last vestige of true wildness in our state. The Nature Conservancy is working hard to give them a chance to survive – but we need your help.
How We're Helping

We are working to protect critical habitat for these beautiful felines in northwestern New Jersey. The protected greenway will be a place where bobcats can roam, raise kittens and flourish.

With support of wildlife lovers like you, we have made great progress in establishing "Bobcat Alley," a 400,000 acre corridor spanning New Jersey's two great mountain ranges: the Appalachians and the Highlands. We have already protected nearly 1500 acres in this region, but have thousands more acres to go to make a real difference for our iconic bobcats and for bears, foxes and other animals who need room to roam.
The Appalachians: Nature's Superhighway
In response to the effects of climate change, wildlife migration patterns are shifting farther north and to higher elevations; therefore, protecting the Appalachian region, a vast, nearly unbroken chain of forested mountains, valleys, wetlands and rivers stretching from Alabama to the Canadian Maritimes, is a top priority for the entire Nature Conservancy. Bobcat Alley is a small but mighty component of this landscape.
Studying Critter Crossings
While protecting habitat for endangered bobcats is a priority, we are also studying how connectivity improvements like culverts and overpasses can help decrease bobcat mortality.
TNC has teamed up with the New Jersey Endangered and Non-Game Species Program to launch Connecting Habitat Across New Jersey (CHANJ), a project to improve conditions for animals as they move around their home ranges and navigate around the dense and dangerous road network in our state.

We are assessing animal movement patterns across Bobcat Alley, focusing on areas where a high number are not making it through alive. Road kill surveys and camera trap data help inform the research, allowing us to prioritize where future connectivity improvements like culverts and overpasses may help decrease wildlife mortality. We are also collecting DNA to study how the density and volume of our highways affects the gene pools of New Jersey bobcats and other native mammals.
Critter Crossings
New Jersey Bobcats
Shy, elusive bobcats are a last vestige of true wildness in our state. The Nature Conservancy is working hard to give them a chance to survive.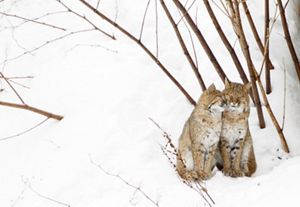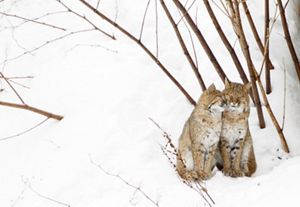 What You Can Do
Visit Bobcat Alley. The habitat corridor is anchored by two TNC preserves, Johnsonburg Swamp to the east and Blair Creek to the west. Both offer beautiful scenery, fresh air and varied hike opportunities, while also giving you an up-close look at quintessential New Jersey bobcat landscapes.
Come to a TNC Event. Put your paws up for bobcats at one of our themed events, like the Bobcat Derby equestrian competition in Gladstone in August, or the Bobcats + Bourbon reception in Bernardsville in January. Join our email list or follow us on Facebook to stay up to date on all TNC events!
Spread the Word. Bobcats are one of the last vestiges of true wildness in our highly developed state. Help us raise their profile with New Jersey residents by sharing our bobcat content on social media and talking with friends and family about the interesting story these charismatic cats have here.
Donate to TNC. Your generosity has already helped us succeed this far. With land at a premium in our densely populated state, bobcats need as many engaged advocates as they can get to make sure they have a place to live here.