In the fall of 2019, my husband and I, along with fellow Missouri Trustees and our State Director, Adam McLane, took a trip to Tanzania to learn more about TNC's Africa Program. It was a trip we will never forget. We will be forever grateful to the TNC staff who led our trip to the villages that welcomed us and let us learn from them.
We arrived in Arusha, Tanzania and were accompanied by Lucy Magembe, the Country Director for Tanzania and were warmly welcomed to the local TNC office. We had a wonderful opportunity to meet so many of the knowledgeable staff members, including Chira Schouten, Lukindo Hiza and Alphonce Mallya, and learn about some of the conservation programs within Tanzania, including the Northern Tanzania Rangelands Initiative and Tuungane.
Tracking Migration—Community Wildlife Management Areas
During a presentation at the office, we learned that the Northern Tanzania Rangelands Initiative focuses on the protection of ecosystems in critical habitat areas within wildlife migration corridors, for the mutual benefit of the local communities as well as wildlife. While a significant percentage of land in Tanzania is comprised of national parks and protected areas, the surrounding and adjacent areas are home to expanding local indigenous populations and communities. 
Results from wildlife tracking studies (performed via collaring) conducted in the 1960s vs those in the 2000s showed a reduction in migration movement due to an increasing human population growth rate and pastoral usage of the land. The results of these studies have helped identify the most important areas, referred to as community Wildlife Management Areas (WMAs), as priority locations for conservation.
The Northern Tanzania Rangelands Initiative is working with local communities to secure rights to communal land usage through planning and governance and to build local capacity. Animal migration tracking is one of the metrics being used along with satellite mapping and wildlife surveys in order to inform the work being done.
Information is shared with the local communities as discussions are held on potential next steps. One mechanism being used to put an economic value to nature-based solutions is with the use of carbon credit offsets to provide revenue for conservation. This strategy has also transferred to the Tuungane Project to support the village scout work in the Greater Mahale Ecosystem.
Northern Serengeti Safari
While we were on safari in the northern part of the Serengeti, the wildebeest migration southwards had been ongoing; each day we still watched isolated wildebeest herds and each night we could hear their eerie bellowing (reminiscent of bison!) through our tents. 
We witnessed so much wildlife diversity and abundance over the course of just 3 days; from lizards and dung beetles to herds of majestic elephants with their young; antelopes and zebras grazing; families of warthogs; hippos and crocs in and along the Mara River; giraffes eating the treetops; hyenas cooling off in the water pools; cape buffalo standing as statuary silhouetted against the sky; lions resting, stalking Topis, or the cubs playing; storks and secretary birds walking the plains; buzzards in the acacias; oh, and the mating ostriches; colorful and abundant wildflowers; and so much more.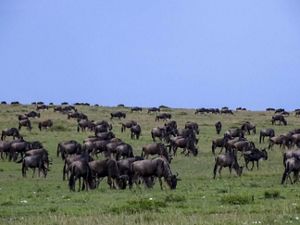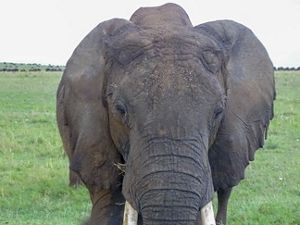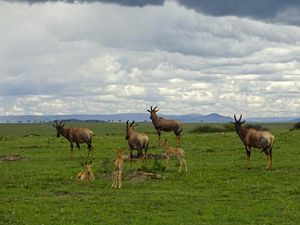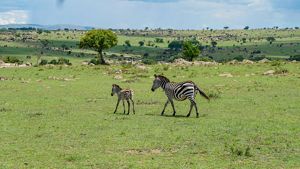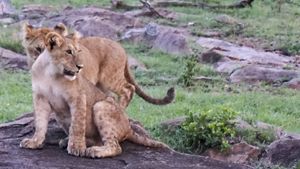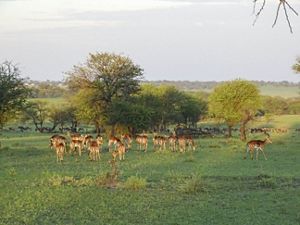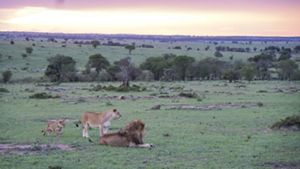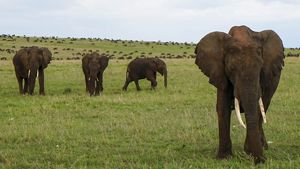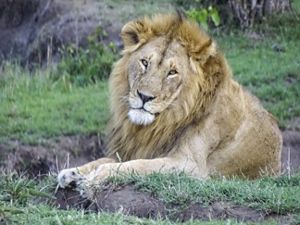 The Tuungane Project
Tuungane means "let's unite" in Kiswahili and is the collaboration between TNC and Pathfinder International, a global reproductive health organization. The Tuungane Project is focused on improving both family health and ecosystem health in one integrated effort. It is located in Western Tanzania on the shores of Lake Tanganyika in the Greater Mahale Ecosystem (GME). 
One of TNC's partners from Pathfinder International is located within the Arusha office. We had an opportunity to speak with her on the topic of one of Tanzania's challenges. Tanzania has one of the highest birth rates in the world. Along with Pathfinder International and other partners, TNC is working to integrate population, health and environment to address interconnected challenges for people and nature.
Visiting the Greater Mahale Ecosystem (GME)
We headed out to visit the GME, which is located in a very remote area, lying between mountains and the world's second deepest freshwater lake, Lake Tanganyika. This lake holds 17% of the world's freshwater while the US Great Lakes collectively hold 20%. 
Lake Tanganyika is home to over 250 endemic fish species (meaning not found elsewhere in the world), and some of the most crystal-clear freshwater you will ever see.
Our flight from Arusha to Lake Tanganyika took 4 hrs., but by road, it would take 2-3 days on very challenging road conditions (so we are told)! Upon arrival, we were greeted by a talented youth group performing a song and dance!
Community Health and Education

This area is home to a rapidly growing human population, now more than 165,000 people living in villages along the lake's coastline. They experience extreme poverty, with fishing and farming being the main sources of sustenance and income. Many have limited access to education, contraception and basic sanitation. 
The average household is 7 people. Birthrates of 7.1 children per woman are some of the highest in the world, threatening the health of both mother and children. Most young girls leave school at the time of puberty; teen pregnancy is common.
As part of Tuungane, local village leaders are demonstrating to other villagers on home practices including the use of more energy-efficient cooking units (burning less wood), improved sanitation methods, and even how planting fruit trees in their home area (which they refer to as a compound) can provide not only food but also much needed shade during the heat of the day.  
We had an amazing opportunity to visit one of these model households, to meet with the family and see first-hand how conservation and health practices are being intertwined.
We visited the local clinic, the Buhingu health center, with the Community Health Worker Josephine. Community health workers are volunteers working as para medicals mostly on maternal and reproductive health issues. Through the program, over 120 community volunteer health workers have been trained. 
Here at the clinic, we met with first-time parents, mostly young mothers below 22 years old, and many below 18. They come to the clinic to learn about reproductive and maternal health as well as to develop entrepreneurship skills.
One young mother shared her story of when she became pregnant, her parents became shamed and she was not allowed to live at home. Another young woman shared how this group of young mothers is interested in developing a soap-making business; they have collectively saved $20 for their business. And another young mother asked how in the U.S. we manage similar challenges and what advice would we have for them. The hope in these young parents' eyes was so heartfelt.
Implementing Sustainable Fishing Practices
It's nearly impossible for most of us to imagine the challenges associated with living in such a remote area along with a rapidly growing human population. As a consequence of these challenges, destructive practices have developed which include illegal fishing and deforestation, threatening the health of the forest, the wildlife, the lake and the people. 
One particular example of these destructive practices and community-based solutions to address them relates to sardine fishing. Mosquito netting (much finer mesh than fishnet) is provided by the government to pregnant women as a malarial prevention. Rather than using the mosquito netting for its intended purpose, it had been used for sardine fishing. Being of a fine mesh, this was causing depletion of fish stocks due to the bycatch.
Sustainable fishing practices have been developed, along with education and training to the local communities. Community-based fisheries management groups referred to as Beach Management Units (BMUs) are now serving as local regulatory bodies to ensure sustainable practices are used and enforce fishing policies. 
On our return boat trip back to Greystoke where we were staying, we could see how areas of the lake were cordoned off with orange marker buoys, demarcating the fish breeding areas that were off-limits to fishing. We were told that when fishermen are caught fishing illegally, the penalties are steep and include seizure of all their equipment and boat.   
Sustainable Farming
We also visited a demonstration plot of Conservation Smart Agriculture which is being used as a demonstration and training area for local farmers and extension officers, providing techniques to improve crop yields while also reducing sedimentation to the lake. 
Some of the practices that are being tested here include crop inter-planting, trialing of different varieties, the use of drip irrigation with a solar-powered water cistern, trenching and planting on slopes. 
These young farmers were very enthusiastic about the results of their work demonstrating higher crop yields thereby improving food security, as well as their future opportunities.
Mahale Chimp Trek
On our last morning at Mahale, we journeyed out for a chimp trek—Mahale is just south of Gombe National Park where Jane Goodall did her chimpanzee research beginning in the 1960s. Roughly 93 percent of Tanzania's 2,800 endangered chimpanzees live in the GME. The forest is under threat from forest fires along with clearing for farmland and fuel use, which also contributes to increased sedimentation to the lake with ripple effects to lake and fish health. 
Through Tuungane, trained forest scouts are monitoring the forest protected areas as well as working with communities to establish their forest reserves and implement conservation smart agriculture in this region to protect this critical habitat for chimps and other species found here.  
Years of research on these chimp colonies have resulted in one of these GME colonies becoming semi-habituated to humans. What this means is that small groups can trek into the forest to observe the chimps without them becoming fearful or aggressive to humans. 
We had this opportunity and were fortunate enough to spend some precious time watching a small group in the forest – eating, grooming, playing and resting. How special of an experience this was to witness a species so close to us in the wild.    

These experiences from the trip to Tanzania with TNC truly reinforce the importance of uniting people and nature, in addition to including ways to create healthier families, to make conservation a win-win for both nature and people.
We're working with partners and communities in Tanzania to protect important natural resources for a resilient future.
Our work in Tanzania is as diverse as its residents and wildlife. On the shores of Lake Tanganyika, the Tuungane Project is creating healthier families, fisheries and forests. In northern Tanzania, we're leading a coalition of 10 partners in the Northern Tanzania Rangelands Initiative to conserve wildlife corridors, secure communal land rights and benefits for indigenous communities, and more.