Reconnecting the Missouri River Floodplain
The construction of a levee setback will reduce flooding impacts on the community and restore a more natural floodplain.
Flooding has always been a part of Ryan Ottmann's life. "I've lived on the Missouri River my entire life. I still live in the house where I was born," he says.
Some of his earliest memories are riding in the back of a pickup truck with his dad checking for holes in the levee. "High water events were family events—whole community events, actually."
The first significant flood of Ryan's life was in 1993. "The flood of '93 was bad, and the flood of 2011 was a little worse," he said.  "But the flood of 2019 was exponentially worse than all the other floods combined. I live right on the bluff, and it was water from bluff to bluff for 200 days—and damage beyond belief."

That's when he realized that they had to do something different for the community now, and for the future. 
2019 Flood Impacts to Atchison County:
56,000 acres underwater
14 commercial businesses underwater
166 homes flooded
278 citizens forced to evacuate
1,295 agricultural buildings flooded
$25 million (est.) in lost ag revenue
121 miles of road destroyed
I-29 closed for approx. 187 miles between St. Joseph, Mo & Omaha, Ne.
US Hwy 136 bridge closed for 216 days
Major disruption of BNSF railroad
Devastating Impacts on the Community and the Agriculture Industry
The extreme flooding that the northwestern side of the state experienced in the spring of 2019 was devastating to the local communities, businesses and the agriculture industry. 
The Missouri River breached over 100 levees, inundating 1.2 million acres, damaging infrastructure including farms, railroads, Interstate highways and closing approximately 470 roads. Missouri River levee L-536, in Atchison and Holt Counties, was breached in 7 locations alone—and suffered significant damages.
At the time of the flood, the current levee, which was originally constructed in the 1950s, and could be at risk for future breaches if reconstructed in the same alignment. 
The Atchison County Levee District in consultation with the impacted landowners, determined that a levee setback—moving the levee inland to allow more room for floodwater—combined with a modern design, was in the best interest of their community now and for future generations.
Finding a Longterm Solution to Lessen Flood Impacts
As president of the Atchison County Levee District (ACLD) in Missouri, Ryan and his board are responsible for one of the largest levee districts in the country, maintaining 54 miles of levee along the Missouri River.
The group now had to develop a workable plan to minimize flood damage and address environmental concerns.
After discussions with the U.S. Army Corps of Engineers (USACE), it was determined that a levee setback—moving the levee to allow the river more room—was possible. The setback was the best long-term solution, but it wasn't the easiest option.
"We were going to these landowners, many of whom are farming land that's been in their families for hundreds of years, and telling them we are thinking about a setback, and that their ground would now be outside of the levee," he said. "It's not an easy ask."
Bringing the Partners to the Table
The young ACLD board recruited help from a host of partners—including The Nature Conservancy—and support from previous generations within its community to partner with the landowners and get the project done.
Barbara Charry, floodplains and nature-based solutions strategy manager for The Nature Conservancy in Missouri was brought into the conversation. 
"One of the things that TNC can do as a nonprofit is to convene people and so that's what we did," says Barbara. "We brought together our partners from across the state with the levee district and the USACE to set up a partner meeting in St. Joseph, Missouri in August of 2019."
The groups identified a lot of barriers and problems and yet there was a lot of excitement and interest in making something happen. "All partners played a critical role in a variety of ways to figure out a problem, find a funding source, find a technical solution, find a political solution and move things forward," she says.
Demonstrating the Benefits for Landowners Up and Down the River
"Max Peeler is a crucial part of this levee system, and he has been for years," says Ryan. "He has lived and breathed the Missouri River and levee system all his life. He's a very valuable source of information for us and he's also a landowner and a farmer in the section where we needed a setback."
Max agreed with the plan but said it's always hard to give up land. "You hate to give up land, but when we started looking at the wetlands it seemed like the right thing to do," says Max. Soon after, all the other landowners were on board, as well.
Ecological Benefits of a Levee Setback
Floodplain habitat for fish and wildlife
Spawning and nursery areas for many fish species during high water
Fish and aquatic life in the floodplain during highwater are food for birds and mammals
Increased groundwater recharge
Floodplains improve water quality by retaining nutrients deposited during floods waters
The setback benefits the local community, those downstream and the whole ecosystem that surrounds it. "It's about preserving nature and coexisting with it. We both benefit when it's done correctly," says Ryan.
"We want this to be a pilot project, to show other communities that it's possible, and set a precedent so it will be easier in the future," he says.
"This is an incredible demonstration project that other landowners and levee districts up and down the Missouri River can look to as one of the tools in the toolbox to help with the catastrophic flooding that we're all facing right now on the Missouri River," says Barbara. 
This project is teaching the complexity of this type of system and the pathway forward. "Our intention is to take the information here and work with all of our partners to improve those programs so that it becomes easier for other levee districts to make this choice in the future," she says.
Looking Toward the Future
New levee construction began in August 2020 and is expected to be completed by January. "We couldn't have done it without the help from our community, our partners and from TNC," Ryan says.
For Barbara, the project brings a lot of optimism about the future. "There are so many people out there working away in different agencies, and landowners who are willing to take a chance and do something different," she says. "It gives me a lot of hope for the future."
Ryan agrees and for him, this is more than just a levee project. "We just had twins, a boy and a girl, and we named our son River James. So yeah, this river means everything to me," he says.
Inspiring Change
"Don't think you can't do it." That's Ryan's advice for other levee districts and landowners who are in a similar situation with repetitive flooding. "There are funding mechanisms to get this done. They're not easy but we also hope to help that become easier," he says.
The group of partners continues to collaborate on this project with a goal to lessen the challenges that can make a project like this seem impossible.
The factsheet below includes some of the technical aspects of the project along with contacts and representatives from partners who can provide additional information for interested levee districts, landowners and communities.
Any communities or organizations that are interested in learning more about this project are encouraged to review the factsheet and contact one of the partners for more information.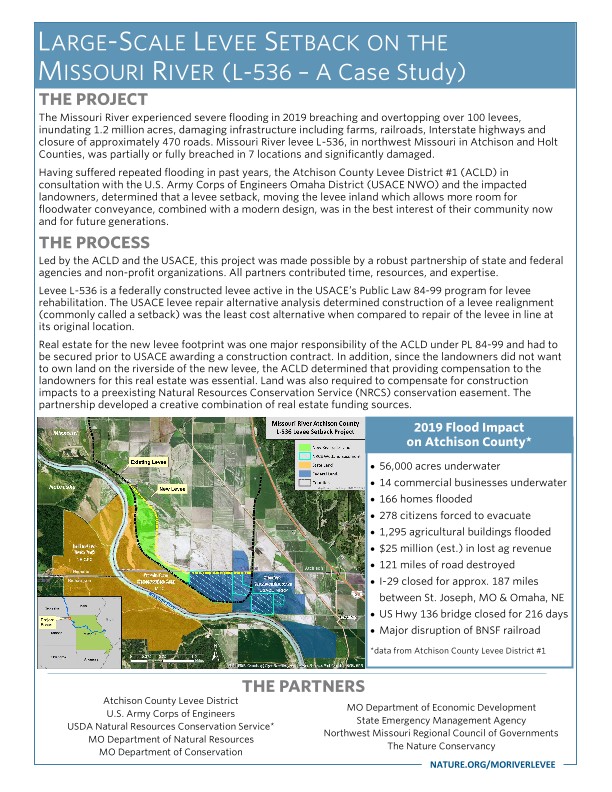 L-536: Project Factsheet
Learn more about the levee setback project including technical details and environmental benefits.
DOWNLOAD
---
Make a Difference in Missouri
Since 1956, we have worked to conserve the lands and waters that make Missouri unique and beautiful. Your support has helped us protect over 150,000 acres and we've still got a lot of work to do. Your donation will make a difference. We can't save nature without you.