Julia Vineyard kneels in the mud and reaches a gloved hand between the shrubbery, rooting around a bit until she triumphantly holds up a bog turtle about the size of her palm. A few seconds later, she pulls a second turtle out of the same clump of grass, holding both up in the sunlight. They have the unmistakable orange patches on their heads and necks.
"There's a second one! Maybe they were going to mate," she says, her excitement contagious.
She'd been tracking one of them—the female, who has a small thumbnail-sized tracker and antenna on her shell—through the wetland complex, using a radio telemetry system. It's one part of the research for her master's thesis on bog turtle populations and habitat use and management in Western Massachusetts. She's in the second year of her program at the University of Massachusetts Amherst.
"It's a privilege to get to work with such a rare and endangered species," says Vineyard. "These wetlands are also amazing places—the varied topography and diverse vegetation support not just the turtles, but more than 50 rare and threatened species."
Back in the wetland, a few feet away, Angela Sirois-Pitel is holding up another turtle found in the mud. The Nature Conservancy's stewardship manager in Western Massachusetts, she has been tracking bog turtles and managing their habitat for nearly 20 years, both for TNC and as part of her own master's research from 2008 to 2009. The last known populations in the state are on land owned and managed by TNC.
Vineyard and Sirois-Pitel are just two of the many scientists who have made this work possible since bog turtles were first documented in the area in the early 1980s. 
Surveying Bog Turtle Populations
They—as well as other contractors, researchers and volunteers—will spend multiple days a week from roughly April through October squelching through the mud and ducking through small trees and shrubbery, carefully exploring the rare calcareous wetland complexes that the turtles call home. Tree leaves rustle, reeds creak, birds call out, and their radio beeps, alerting them to the presence of a turtle with a radio transmitter.
The last few summers have included these "intensive" bog turtle surveys at two sites, which involve using radio telemetry to track roughly 20 turtles, as well as visual surveys and passive trapping to find additional turtles. They are measured, weighed and observed for overall appearance and health.
Bog Turtles at a Glance
They are North America's smallest turtle.
There are estimated to be only 80-90 bog turtles left in Massachusetts.
This is a sizable chunk of the remaining turtles in their northern range in the U.S.
They are at risk from: poaching, habitat degradation, development and climate change.
The goal is to better understand population demographics and health, how the turtles use the habitat, and how their behavior and movement are impacted by TNC's efforts to improve the habitat. Julia's study is the third, following in the well-trodden footsteps of Sirois-Pitel, as well as Dr. Alison Whitlock, who completed the first Ph.D. research project on bog turtles in their northern range. Getting a snapshot of detailed turtle population data roughly every 10 years, through intensive studies like these, is key because population changes happen quite slowly given that bog turtles can take 10 years to reach sexual maturity.

Thanks to the many studies over the years that provide a unique and critical mass of knowledge, TNC and partners have been stewarding the turtles and the two wetland sites they inhabit in Western Massachusetts. Observations so far indicate that the populations may be stabilizing.
From Management to Masters: Angela Sirois-Pitel
Angela Sirois-Pitel began working for TNC in 2005 as an intern, following a stint tracking wood turtles in New Hampshire. She has always been interested in wildlife and having a career that included interaction with animals.

"When you're studying big animals in the wild, you track them using their footprints and scat," she says. "But with smaller species like bog turtles, you can actually find and interact with the animal. To be able to watch and observe them in such an intimate and close-up way is special because you don't get to do that with a lot of wildlife."
As an intern, she helped manage invasive species on TNC land in Western Massachusetts and track bog turtles. It transitioned into a full-time role. In those early days, she spent a majority of her time thinking about how to manage bog turtle habitat. "I thought to myself, shouldn't we check back in and see how the turtles are doing?"
As fate would have it, in 2008 Sirois-Pitel received a grant from MassWildlife's Natural Heritage and Endangered Species Program to study the turtles as part of a master's program at the State University of New York's College of Environmental Science and Forestry. She continued to work part time at TNC.
Her research provided a new snapshot of how the turtle population was faring, a decade after Whitlock's initial research. The site where TNC had done the most habitat management showed a stable population, but the second site, which faced habitat management challenges from beaver dam flooding and invasive species, saw a decline in adult population size.
After earning her master's degree, Sirois-Pitel came back to TNC full time and grew into the lead bog turtle researcher. 
The Next Generation: Julia Vineyard
Another decade has passed since Sirois-Pitel's study, and luckily, there's another person to pick up the torch. Julia Vineyard began her master's program at the University of Massachusetts Amherst in early 2021, though she was no stranger to bog turtles.
She got her start working with the turtles in fall 2018, when she joined TNC in Massachusetts as an AmeriCorps member for a year to track turtles and help analyze the data. And just like it did for Sirois-Pitel, this work translated into a graduate degree. Vineyard was offered a position as a masters student thanks to a federal grant for a seven state collaboration in New England to study bog turtles. In addition to gaining insight into current population demographics and comparing trends now to past studies, as well as looking at turtles' use of the habitat, she is also aiming to create an approach to find new turtle populations or habitat.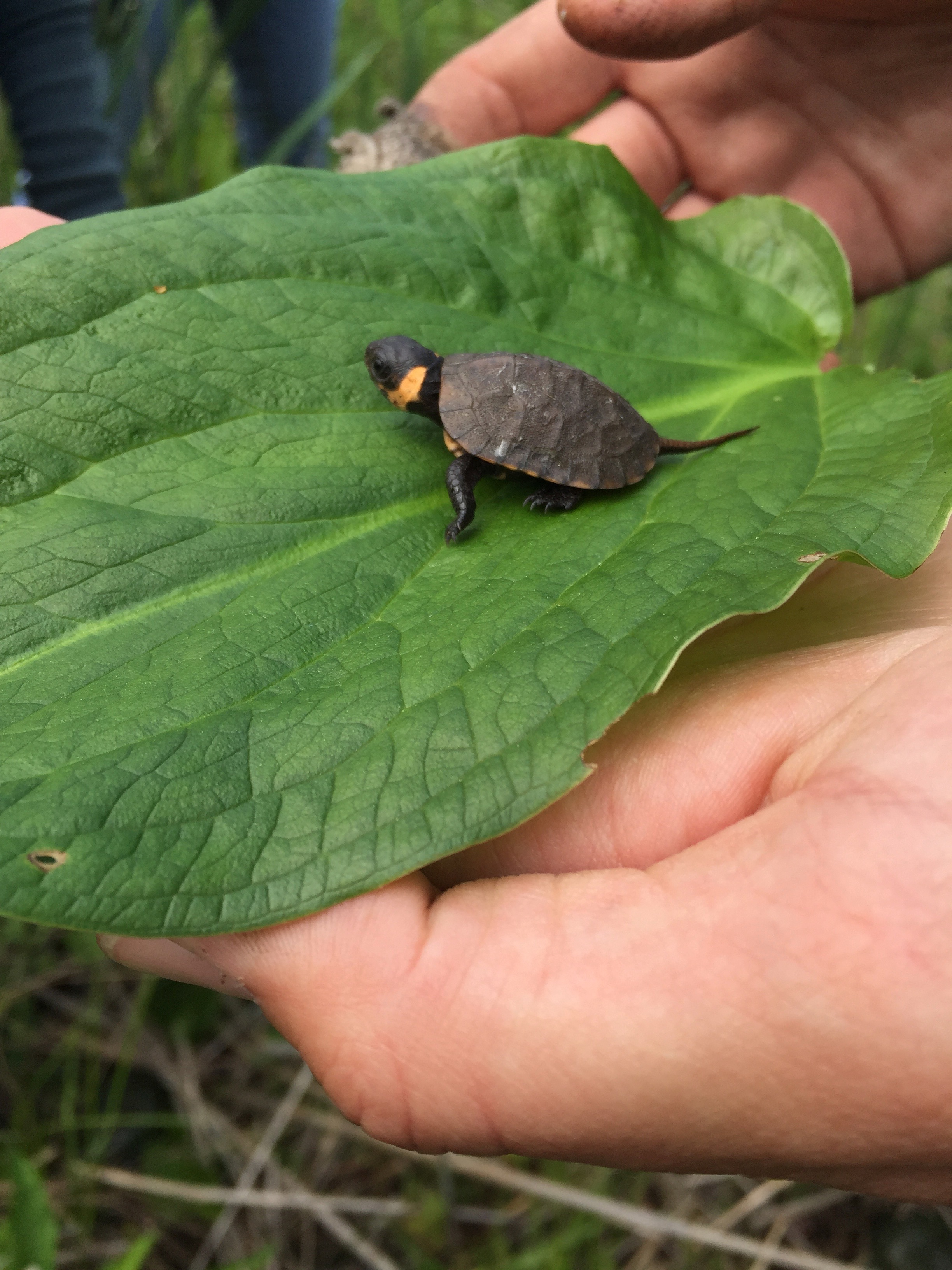 Population Growth
TNC and partners' observations indicate that the population is reproducing, evidenced by this juvenile bog turtle found during the 2019 summer field season.
©
Loren Dowd/The Nature Conservancy
From the Field
Turtle Tracking Observations
Over the course of summer 2021, 85 individual turtles were spotted through a combination of tracking those with transmitters and searching for others in the underbrush of the wetland. Thirty-nine were located at site one and 46 were located at site two.
The oldest turtle spotted was a female that has been tracked since 1985. Another male turtle that is at least 45 years old was also spotted. In addition to these long-timers, another 14 of the turtles found were new this year—there were seven new adults and seven new juveniles. These observations indicate that older turtles are sticking around, the population is reproducing, and young turtles are growing into adults, all signs the population may be stabilizing.
Vineyard and Sirois-Pitel are also seeing expansion at the sites for the first time since we've been tracking them—turtles are moving outward and establishing themselves in new areas of the wetlands. This suggests that we might be moving toward our goal of creating a meta-population, where there are pockets of core habitat that support small populations of turtles, close enough to one another that the animals can move back and forth between them with relative ease.
Expand to see more
Collapse to see less
Restoring the Wetland Habitat
Protecting bog turtles is key to sustaining the many other species found in these wetland ecosystems, including many that are quite rare. These rare species are predominantly threatened by invasive plants, invasive pests and pathogens, natural woody vegetation filling the area and flooding from beaver activity. And as the climate changes, the habitat can become less suitable for rare species. The more we can do to manage, improve and connect the areas we protect, the better off these species will be.
"Our stewardship team in Massachusetts actively considers how we can best manage for resilience in a way that allows the land to be flexible with changes, so that one catastrophic event doesn't wipe out everything," says Sirois-Pitel. "Improving the quality of habitat ensures that there are multiple spots for animals to move to, should that flexibility be needed."
The many years of intense studies are critical to habitat management, because knowing where the turtles are can both guide our actions, as well as show us whether turtles are responding to the action.
"Tracking the turtles guides our restoration efforts by showing us what kinds of habitat they prefer for nesting, basking, foraging and overwintering," says Sirois-Pitel.
"We're looking to see whether our efforts to open up the canopy through thinning and invasive species removal are affecting turtle movement and behavior positively, and allowing them to spread out," says Vineyard.
Supporting Rare Species to Bolster Biodiversity
Biodiversity—the variety of life, the communities they form and the habitats in which they live—underpins every aspect of life on our planet, but we are facing a biodiversity crisis. On our current trajectory, we stand to lose even more species around the globe than we already have. Many species, like the bog turtle, are living in the background, and our lifestyle has encroached upon their ability to survive. In places where they're still hanging on, it's worth the investment to understand them and provide the best environment for them to live.

Explore Our Resilience Data
Learn about the data that supports our ability to help species thrive with climate change.
Learn More
TNC is using our science to lead us in the right direction as we protect unique habitats like these calcareous wetlands. These habitats connect to larger landscapes, and at this system level, we can build a resilient and connected network where species can thrive.
"Animals like bog turtles have a tenacity to hang on and find a place to survive," says Sirois-Pitel. "If we can do something to make space for these species to exist, we should. It is important now more than ever for people to understand the impact of their footprint and help us protect the depth of nature."