The Nature Conservancy (TNC) has been acquiring and protecting more than 31,000 acres of land across Delaware since 1990 and leading large-scale conservation efforts that protect the lands and waters critical to the health and well-being of both people and nature.
When TNC acquires a parcel of land, we commit both legally and ethically to steward that land in perpetuity. Whether we're planting trees to restore forests, conducting controlled burns to ensure vibrant grasslands or working with volunteers to remove invasive species, we consider the impacts our choices will have on wildlife, local communities and the people who visit our preserves.
Our stewardship actions not only enhance the visitor experience but ensure our preserves stay resilient in the face of a changing climate.
Our Stewardship & Management Goals
We're working with business, government, nonprofit and community partners to ensure a healthy future for Delaware's lands.
Our Work 
To achieve our stewardship and management goals, we focus on three critical pillars: Protection, Restoration and Collaboration.
Protection 
We are prioritizing landscapes strategically and investing in lands/opportunities that provide the maximum contribution to our mission.
Land Protection in Delaware
By the Numbers
31,341

Total Acres Protected

6

Nature Preserves

9

Conservation Easements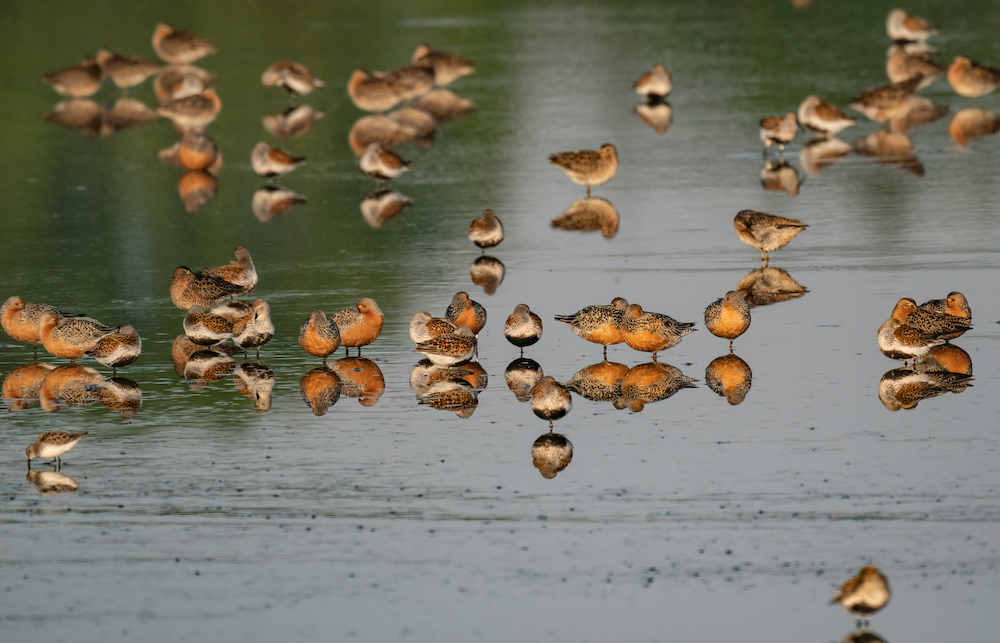 Red Knots
Delaware's coastal habitats support globally important biodiversity including the Federally Threatened Red Knot.
©
Deb Felmey
The coastline of Delaware supports more than 50,000 acres of highly resilient coastal wetlands that support an enormous array of biodiversity. These wetlands have been identified as having the physical characteristics that increase their likely resilience to sea level rise.
Delaware's coastal beach and dune habitats support globally important biodiversity including the largest concentration of spawning horseshoe crabs in the world whose eggs support the 9,000-mile migration journey of the Federally Threatened Red Knot. Coastal saltmarshes provided critical habitat for commercially important species in Delaware such as blue crab and striped bass.
Places We Protect Near the Delaware Bayshore
Explore some of our preserves in this priority landscape
Restoration
Utilizing the expertise and relationships our land stewards possess to restore and increase biodiversity at our priority landscapes.
Restoration efforts are ongoing at our preserves across Delaware. Over the past few years, TNC in Delaware has led several restoration projects to improve the lands and waters of our great state. From reforestation to prescribed fires, this work is helping educate and inspire our partners, supporters, visitors and local communities.
We have been working diligently across our preserves in Delaware to restore and reforest lands with native trees creating protection, food and habitat for Delaware's native wildlife.
Our efforts have involved planting 7,150 native trees and shrubs at our Middleford North Preserve to restore 22 acres of former agricultural lands, planting more than 159,000 hardwood tree seedlings at our Milford Neck Preserve as an effort to create healthy and resilient coastal forests, as well as planting 11,700 native shrubs and trees at our McCabe Preserve to restore 39 acres of former farmland back to native forest.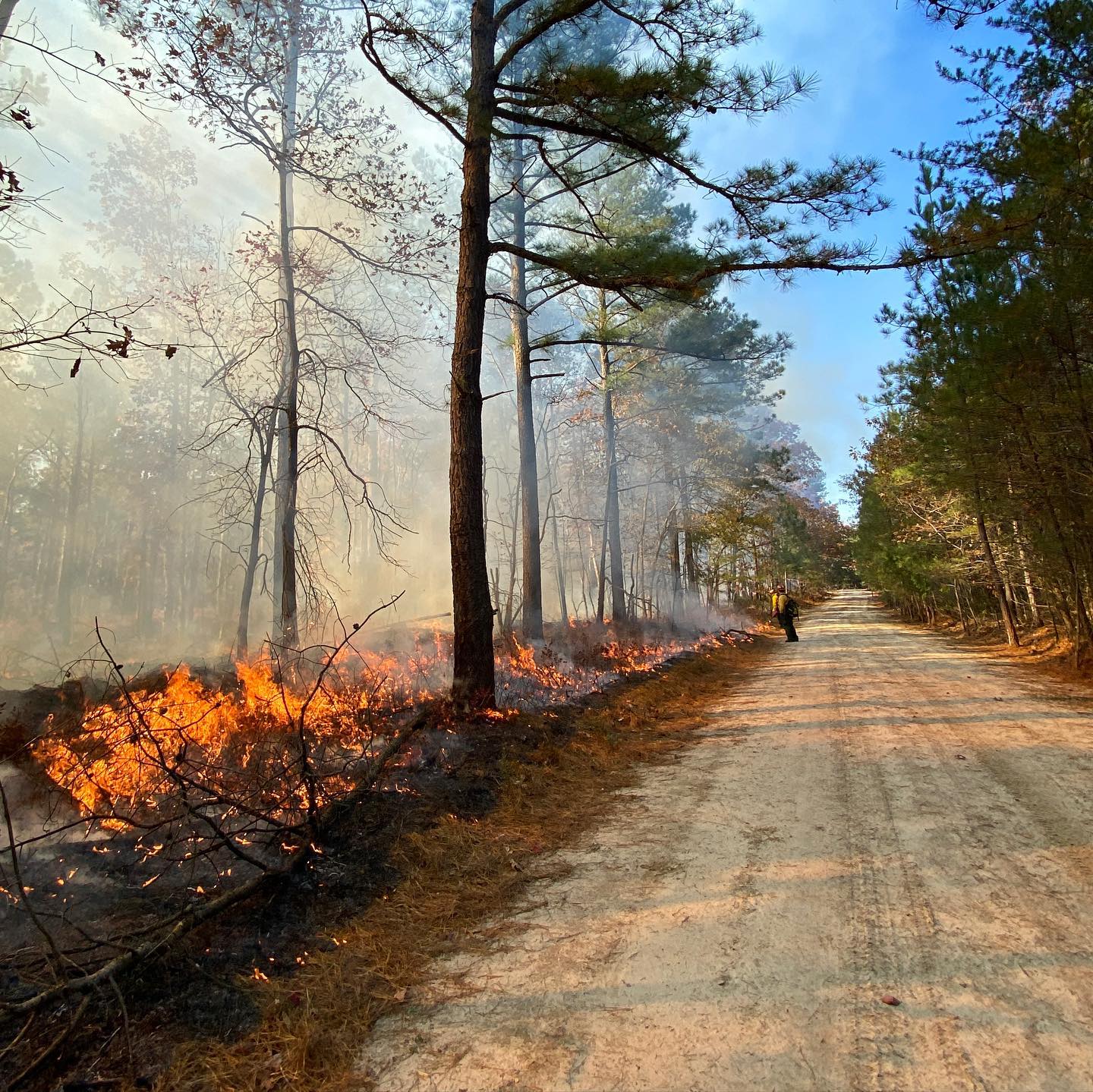 Burning at Ponders Tract
An active burn being carried out by staff at Ponders Tract in Pemberton Forest.
©
Jenny Case/TNC
Prescribed fires are a proven way to restore our forests. By managing the natural process of fire on the landscape instead of preventing it, we can improve habitats for native plants and animals and reduce the risk of out-of-control wildfires.
During prescribed fires on our Delaware preserves, the low-intensity flames can knock back fire-sensitive species such as red maple and sweetgum and reduce the number of pine saplings growing in the understory, allowing more sunlight to reach the forest floor.
The increased sunlight paired with the burning of the underbrush also helps set the stage for the return of native grasses, forbs and wildflowers—many of which haven't been seen in abundance in the years prior to prescribed fires.
Using fire in the right places and at the right times can not only mitigate dry conditions and enhance healthy forests that attract diverse wildlife but also support local livelihoods and help reduce threats to public safety.
Preserve Monitoring
Land Stewards use their field tablet to walk the trails of a preserve and report their findings.
©
Emily Tramontano/TNC
As an accredited land trust, we perform annual monitoring at our preserves. Monitoring allows us to track and identify the wildlife on our lands while simultaneously allowing us to look for threats to the resilience or conservation integrity of the land after a restoration project is complete. 
Learn More
Restoration Projects
Dive deeper and learn more about ongoing and recently completed restoration projects across our preserves in Delaware.
Collaboration
Working with state and federal agencies, local land trusts and partners to drive conservation actions well beyond the borders of our lands.
Our conservation impact is magnified when we work together. TNC works with state and federal agencies, local land trusts and others working in conservation in Pennsylvania to enhance our shared capacity for tangible, lasting results. 
Atlantic White Cedar
Delaware's largest Atlantic White Cedar has been discovered at The Nature Conservancy's Pemberton Forest Preserve.
©
The Nature Conservancy
Delaware Land Protection Coalition
TNC staff are founding members of the Delaware Land Protection Coalition (DLPC). Formed in 2022, the DLPC is a group of conservation-focused organizations from across the state committed to increasing open space in the First State, focusing on natural lands, including cultural, historical and recreational resources, protected through acquisition or conservation easement.
The Coalition seeks to expand land conservation by identifying new sources of funding for land conservation, increasing our partnership with the State, working collaboratively to develop a statewide vision for conservation, and continuing the work of each of our respective organizations. 
Think Global, Act Local
Get global conservation news & the latest on local opportunities & projects.