Here from Medium?
We're supporting policy makers in creating a low-carbon future that benefits everyone.
U.S. Climate Action
When it comes to the impact and potential of land management on global warming, everything really is bigger in Texas. Unless you're talking about agricultural lands—then everything is bigger in Iowa. Or if you're talking about the impact of urban trees, that's biggest in Florida—though it's also pretty big in Texas.
Across the United States, in fact, land management can have a really big effect on the climate. A new study examines the country's potential to implement natural solutions—such as growing taller trees, improving soil health, protecting grasslands and restoring coastal wetlands—to increase carbon storage and reduce greenhouse gas pollution.  Essentially, turbo-charging nature to address global warming, while also providing natural benefits for people, water and wildlife.
"Natural climate solutions for the United States," a new study authored by The Nature Conservancy (TNC) and 21 institutional partners and published in the journal Science Advances, investigates the potential of 21 different natural functions, from restoring forests and grasslands to a range of agricultural practices.
This study also considers how carbon payments at various price levels could incentivize action where low-cost opportunities exist. It is the first comprehensive assessment of land-based climate solutions in the U.S., following on an earlier TNC-led study showing that, worldwide, natural solutions could mitigate more than a third of the emissions needed to hit global targets by 2030.
The U.S. study shows that if all 21 pathways were implemented to their full potential, they could prevent or sequester more than one-fifth of annual U.S. greenhouse gas pollution—the equivalent of removing the emissions from all U.S. cars and trucks from the road. Or, to frame it another away, the equivalent of the entire annual emissions from Brazil.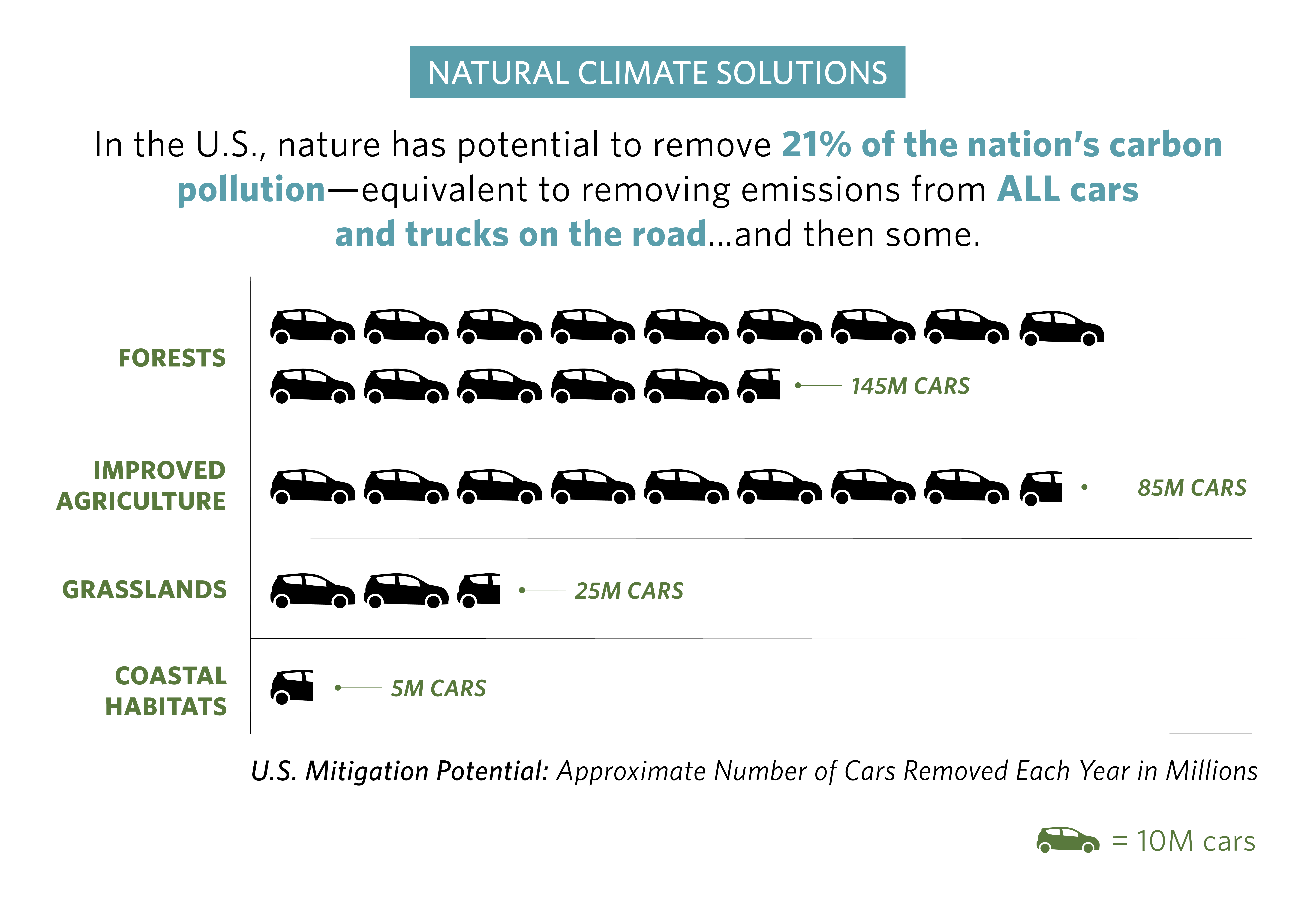 Indeed, these findings are significant for the entire world. While the U.S.'s future in the Paris Climate Agreement may be in question, its contribution to global emissions is not. The world can't keep temperatures within safe boundaries if large industrialized nations like the U.S. don't take steps to reduce pollution.
Of course the sheer size and diversity of the U.S. land mass also ensures the country has significant potential for land-based solutions. Globally, natural solutions can get us a third of the way to the Paris Agreement targets by 2030, with a tenth of that potential coming from the U.S. And the variety pathways available ensures that almost any state can contribute on some level.
Forest-based pathways offer the most potential overall—especially reforestation in Eastern seaboard and Appalachian states. But agricultural practices also show promise—Iowa might rank 26th in land area among states, but its strength on agricultural pathways gives it the second greatest potential overall. Fire management and tidal wetland restoration can also make an impact; even densely populated areas can contribute through urban reforestation.
Comparing Pathways
The US Carbon Mapper tool demonstrates the contributions that the country and each of the lower 48 states can make toward mitigating climate change through 11 natural climate solution pathways.*  In the national view, the tool ranks states based on their mitigation potential; adjust the carbon price for each pathway to see how it affects state rankings and overall potential across the country. Select the state view to see how the different pathways perform in individual states.

*The scientific analysis underlying the mitigation data presented in the study considered 21 pathways—due to data limitations, only 11 climate mitigation pathways are available to view at the state level, though many of these pathways still show significant potential across the country.  The 11 spatially explicit pathways presented in the Carbon Mapper are significant in terms of their climate mitigation potential, representing 60% of the Unites States' natural solutions potential.
Note: best viewed on desktop.
Perhaps most important, though, is that many of these natural solutions can implemented today, and at a relatively low cost compared with other strategies to address global warming. And as carbon markets continue to grow, payments for carbon offsets could offer income for land owners who adopt climate-friendly management strategies.
In Louisiana's Tensas River Basin, for example, landowners are already receiving carbon credit payments for reforesting their lands. This new study overlays carbon payments to landowners at the $10, $50, and $100 per ton levels to estimate what levels of implementation could be achieved through incentive income.

Natural Climate Solutions in Action
Even without carbon payments, though, the natural benefits generated by these pathways offer powerful incentives. Strategies like improved fire management offer an obvious good for people, of course, but other pathways also generate significant benefits for communities and wildlife. Agricultural pathways such as nutrient management and using more cover crops, for example, reduce runoff into rivers, ensuring cleaner drinking water downstream and reducing the size of hypoxic "dead zones" such as the one in the Gulf of Mexico. Reforestation also improves water filtration and creates more habitat for wildlife.
"One of America's greatest assets is its land," says Joe Fargione, the lead author of the paper and TNC's lead scientist for North America. "We demonstrated we could reduce carbon pollution and filter water, enhance fish and wildlife habitat, and have better soil health to grow our food—all at the same time. "

Natural pathways are just one piece of puzzle, of course—we'll also have to accelerate the transition to clean energy and rapidly cut fossil fuel pollution, in the U.S. around the world. But the U.S. and global studies demonstrate that nature can and must serve as a bridge now to a clean energy future. The bottom line is that we cannot afford to ignore natural solutions for global warming that are available to us now, right beneath our feet.
Our Goals for 2030
Our planet faces the interconnected crises of rapid climate change and biodiversity loss.
the time for action is now
Global Insights
Check out our latest thinking and real-world solutions to some of the most complex challenges facing people and the planet today.