As the golden hour fades to dusk in the Tehachapi Mountains, Evan King, a wildlife biologist from the California Department of Fish and Wildlife, crouches behind a lichen-speckled boulder, eyes locked on a doe tottering around some blue oak trees. Within minutes, the deer is down on a dewy patch of grass, the result of a carefully placed tranquilizer dart.
The countdown begins.
King and colleague Abby Gwinn have roughly an hour before they must inject a reversal drug to rouse Bambi from her slumber. And they have a long list ahead of them. Administer oxygen. Register vital signs and body measurements. Extract DNA. Load her up on vitamin E and selenium for recovery and to address nutrient deficiencies. Affix a pair of ear tags for identification. And most importantly, attach a radio collar that will ping every few hours with location data.
Their work complete, mule deer #8372 bounds away, now one of dozens of deer that biologists will track across California's Tehachapi and Southern Sierra Nevada region. The information gathered will help the state estimate population numbers, track home range and movement patterns, and log birth and mortality rates—all crucial drivers for managing deer and species such as mountain lions who prey on them.
Tagging wildlife is old hat for King and Gwinn, but this particular excursion is somewhat of a new experience. The Tehachapis, located at the southernmost end of the Sierra Nevada, are covered with a patchwork of generations-old cattle ranches, many of which have been out of researchers' grasp. This area has been a massive scientific question mark of sorts. Now, biologists have a unique opportunity to fill in the blanks. "Being able to access and do work on this preserve is just phenomenal," says King. "It really allows us to know information about deer that we've never been able to access before."
King is referring to The Nature Conservancy's new Frank and Joan Randall Preserve, named late last year after the philanthropists whose $50 million gift turbocharged a roughly 20-year effort by TNC to permanently protect this region—and crucial wildlife corridor—from the reaches of rapidly encroaching development. The preserve currently includes more than 77,000 acres located in the heart of the Tehachapis and at the intersection of four iconic California landscapes.
"It's an amazing place to look at, but you don't really know how amazing it is until you get into the details and the science of why protecting this is so important," says Cara Lacey, the Conservancy's director of wildlife corridors and crossings in California. But it's going to take serious work for this former ranchland to realize its full potential as a conservation corridor—and the missing link between some of California's most essential wildlife habitats.
A hundred miles north of Los Angeles, four ecozones—the mountainous Sierra Nevada, the grassy Central Valley, the arid Mojave Desert and the chaparral-clad South Coast—converge near the Tehachapi Mountains to form a biodiversity Shangri-La. Here lies the special sauce of Randall Preserve.
Formed millions of years ago by the collision of two tectonic plates, the landscape undulates in a sea of soft accordion folds where cactus-studded lowlands transition upward to seasonally snowcapped peaks. The upper swath of this large elevation gradient allows animals to adapt to a changing climate. At the same time, the Tehachapis serve as a southern entry point to the Sierra Nevada, which scientists see as a protective corridor for species' movement. The topography gives a leg up to drought-sensitive flora such as blue oaks, whose acorns are ferried north to wetter, cooler altitudes.
In these upper reaches, including the 6,920-foot-tall Bear Mountain, bobcats, black bear and mountain lions prowl forests thick with white fir and Jeffrey pine. Down low, kit foxes and coyote dart through grasslands and chaparral, ground squirrels dig burrows that also serve as subterranean thoroughfares for snakes and lizards, mule deer nibble on abundant greenery in shady oak woodlands, and migratory birds, including lark sparrows and olive-sided flycatchers, drink at creeks and springs. High above, golden eagles, red-tailed hawks and endangered California condors glide on thermals, scanning the brimming food court below.
The Tehachapis' location links a suite of mountain ranges, creating a wildlife superhighway that stretches from Mexico to Canada. It's an express lane for migratory animals as well as vital ground for roaming species such as mountain lions. But in Southern California, where urban sprawl has fragmented their habitat, lions are starting to inbreed.
"The Tehachapi mountains are critical," says Justin Dellinger, a wildlife biologist for the California Department of Fish and Wildlife who researches large carnivores. "Everything for mountain lions in this state still points back to the Sierras. You've got to have connectivity there."
That crucial linkage—for big cats and countless other species—is located at an ever-narrowing conservation pinch point, as ranchers face increased pressure to sell their land to developers. Randall Preserve is a big step toward permanently protecting this vital wildlife corridor.
There is, however, one quite literal roadblock: four-lane State Route 58, which slices through the mountains, connecting the Mojave Desert with the agricultural hub of Bakersfield on the west side of the Tehachapis.
"It's definitely the biggest single barrier to wildlife movement through the landscape," says TNC Project Manager Zachary Principe. Once, he hired a biologist to spend 18 months surveying mortalities along a stretch of the highway; the tally of deaths included badgers, bobcats, coyote, deer and a mountain lion. And to make matters worse, an imposing concrete divider thwarts wildlife from traversing the highway.
But there is hope. As part of Randall Preserve, the Conservancy acquired two parcels that abut the highway, securing eight miles of frontage to the north of the road and another five to the south. Now, the state is using cameras to study movement patterns near the highway, which will help inform the future development of wildlife overpasses and underpasses that will allow animals to safely cross the highway. It's an exciting prospect—and a far cry from the deadly real-world game of Frogger being played now.
Collaborating with state agencies and researchers to study wildlife and create crucial highway crossings will be essential to realizing the full conservation potential of Randall Preserve, but those partners aren't the only entities tied to its long-term success. Beginning in 2008, TNC used a series of property acquisitions and conservation easements—11 total as of this writing—to stitch together the 77,000 acres that would eventually make up the preserve. These purchases required building trust and relationships with the people who've been stewarding this land for decades: cattle ranchers.
Cattle from the remaining ranches will be allowed to graze on much of the preserve. The primary focus will shift toward sustainability and creating a healthier landscape. Conservation and cattle might seem an unlikely pairing, but the relationship is surprisingly symbiotic. "Ranchers are our eyes and ears on the ground," says Principe. "They help prevent incompatible uses such as off-roading and poaching. They help maintain the ranches, including the roads, fences and waters."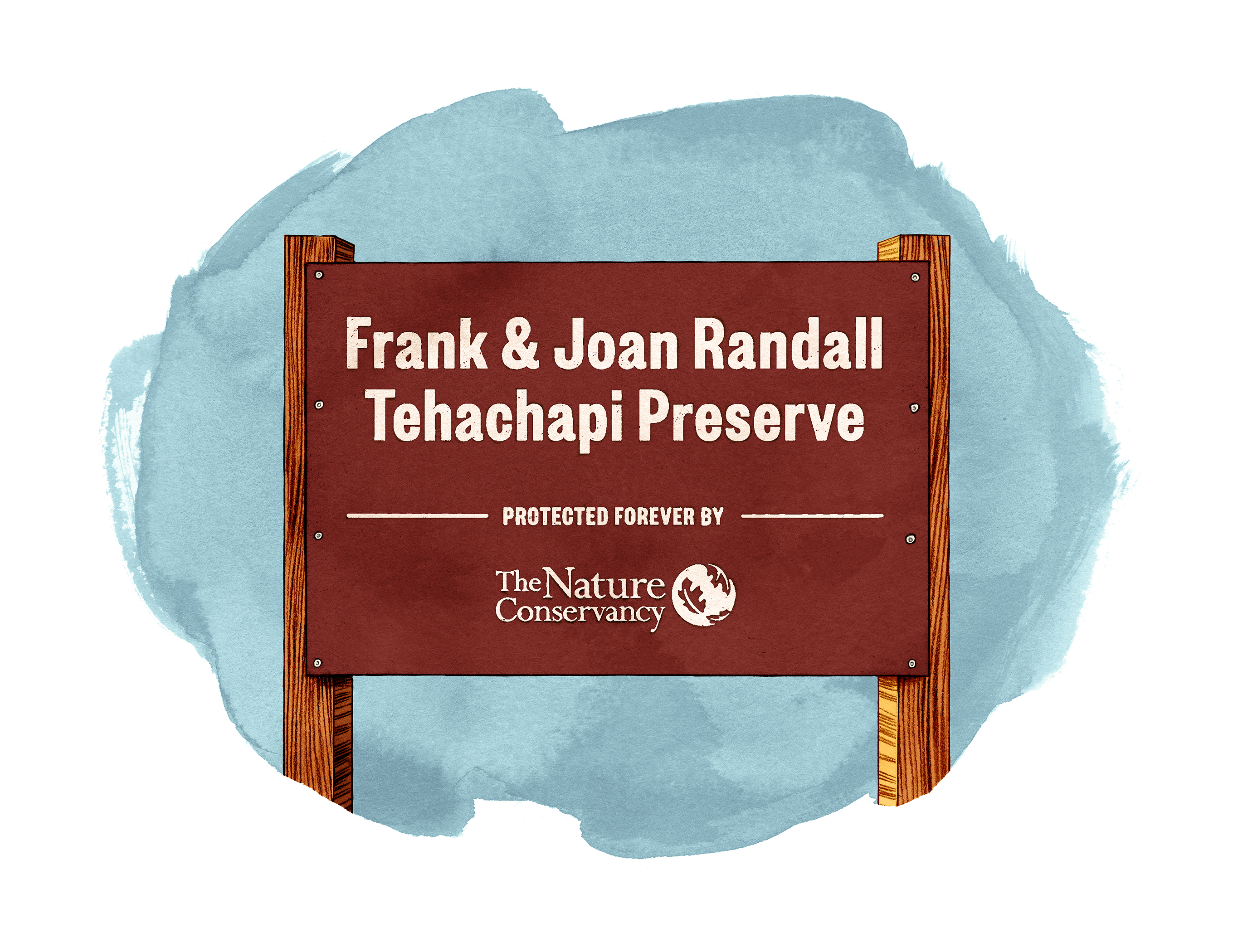 New Preserve
A $50 million gift from Frank and Joan Randall made it possible to protect a crucial wildlife corridor in the Tehachapis.
©
Michael Hoeweler
Almost 20 Years in the Making
In 2019, the decades-long push to protect a crucial wildlife corridor through Southern California's Tehachapi Mountains reached a tipping point. The Nature Conservancy had diligently secured a patchwork of 33,000 acres. The eventual goal was to connect protected lands to the south with the Sierra Nevada to the north, creating a conservation corridor that runs through the state. The effort was getting close and key properties were hitting the market, so TNC needed to act swiftly before the land could be sold to developers.
Enter outdoor enthusiasts, conservation-minded philanthropists, and longtime TNC donors Frank and Joan Randall. After learning about the need for landscape protection in the Tehachapis from Mike Sweeney, TNC's executive director for California, the Randalls visited the area in summer 2019. That day, while lunching under an oak tree, they committed to supporting the effort.
The Randalls' $50 million gift more than doubled the existing acreage and seeded an endowment for long-term land stewardship. It also helped persuade the California Wildlife Conservation Board to fund the purchase of Bear Mountain. "We use the word 'transformational' a lot," says TNC Associate Director of Philanthropy Laura Benedict. "But there are rarely moments where it is as apt as this gift." The Frank and Joan Randall Preserve was announced at the end of 2021.
As for the Randalls, whose generosity also funded a future public park at Banning Ranch near their home in Newport Beach, they're just pleased to protect habitat connectivity for wildlife.
"You don't see a lot of large donors giving to the effort to save open space," says Frank Randall. "I hope when people see what we've done, they will feel the same way about donating to that effort."
Expand to see more
Collapse to see less
Jessica Cardon is one such ally, running one of the preserve's several cattle operations. Her roots in this area go back several generations to her great-grandfather Boyd Williams, who was born at Tollhouse Ranch, which TNC purchased in 2012. About five years later, Cardon began running cattle on her second cousin's ranch; she'll soon expand to Loop Ranch, allowing her to more than triple her existing herd. All three properties are now part of Randall Preserve.
The Conservancy will help the ranchers develop practices that avoid overgrazing while also improving the landscape. To Principe, cattle are great tools for managing grasslands. All day, they munch on invasive species—cheatgrass, slender wild oat, red brome—that would outcompete native plants for access to water, sunlight and soil nutrients. Grazing also helps maintain proper levels of thatch—dried plants that accumulate on the ground—reducing potential wildfire fuel and creating space where wildflowers can germinate. In some areas, cattle might be encouraged to nibble down to the dirt to support species like burrowing owls, kangaroo rats and raptors that benefit from grassless patches.
Cardon believes that ranchers make for excellent conservationists. "We all have the same end goal, really," she says. "Just having very happy, happy land."
A few days before King and Gwinn tag their doe, Principe and Tehachapi Preserve Associate Rachel Mason travel up a dirt road on Loop Ranch toward a decommissioned fire lookout tower. The blustery perch unveils a large sweep of the preserve and its surrounding landscape: Bear Mountain to the west, the Piute and Scodie Mountains to the northeast, and the famed Tehachapi Loop—a spiral railroad track that earned California Historical Landmark status in 1953—far below. Mason, who came to the preserve from Minnesota, is caught in a moment of wonder. "It's just unreasonably vast," she says.
While they plan to add an ecologist, Mason is currently a one-woman show with a long punch list: manage relationships, hire contractors, establish security, shuffle paperwork, plan wildlife restoration projects and assess infrastructure.
She'll team with ranchers like Cardon to develop new cattle watering areas that will divert the large animals away from the creek beds; the edges of the creeks will be repopulated with species like willows and cottonwoods. Reviewing historical data helps her learn what varieties of flora and fauna used to exist here. Mason will also experiment with methods that help species in decline bounce back faster—by scattering seeds farther than they would otherwise disperse. "There's so many different things that I get to work on. I don't have to be in the office all the time. I don't have to be outside all the time," she says with a wide grin. "It's just so fun."
Mason isn't rolling completely solo, of course—she's also recruiting the public to dive in, nurturing an important human connection to the land. Volunteers have already planted acorns and propagated species such as the endangered Bakersfield cactus, and partners at the nearby Tejon Ranch Conservancy will lead guided tours in the future.
The driving force remains the wildlife. To truly safeguard the connectivity this landscape offers, TNC hopes to protect inholdings within the existing boundaries while simultaneously extending the boundaries to include an even wider range of habitat that will permanently support the plants and animals.
"It's jaw-dropping to get up on one of these ridges and then just think about the number of trees that are here, and the number of birds, and the number of salamanders that are hidden all across the landscape," says Mason. "It's like when you go to the ocean—you're just like, 'It stretches out forever.'"