Biodiversity is all around you, from the towering sugar maples that provide us with the sap to make syrup to microscopic insects that trail along the maples' trunks to a host of other organisms interacting in nature—including you! Vermont, with its extensive forests, complex landscapes and legacy of land stewardship, is buzzing with biodiversity everywhere. We are lucky to call the Green Mountain State our home and be present in the works of an abundantly natural place. Unfortunately, nature and wildlife are declining around the world at an unprecedented rate. The good news? We know how to take action. In Vermont, we are prioritizing biodiversity by taking action on the issue. We are preserving, restoring nature and working with diverse partners to change the narrative and elevate the importance of safeguarding biodiversity in Vermont.
Why Biodiversity Matters
Underpinned by biodiversity, healthy ecosystems provide clean water and clean air, protect against natural disasters, furnish lifesaving medications and ensure long-term food security. In fact, protecting nature and wildlife reduces our risk of new diseases and mitigates the risk of another pandemic like COVID-19. Biodiversity is not only important to our everyday lives, it is also often the solution to many of our socio-ecological problems. Protecting biodiversity is simply a win for all. 

Protection
Nature is in peril. Science has an answer. For more than a decade, a team of scientists at The Nature Conservancy has worked to identify which land areas in the United States are most resilient to climate change—and can support the most diverse range of plants and animals into the future. These are the pieces of land we are focused on conserving because they hold the promise of a safe harbor for nature.
These resilient strongholds, many of which are in New England, have varied elevations, soils and temperatures that create diverse "micro-climates" that support a broad array of species, even as the Earth's overall climate changes. Saving nature from the effects of climate change might seem impossible. But by focusing on conserving naturally resilient lands, we can keep our planet habitable for a vast array of species, including our own.
The Resilient and Connected Network
A team of TNC scientists under Dr. Mark Anderson's leadership worked on determining the most important places where we should conserve with biodiversity and climate change in mind. They came up with a resilient and connected network that outlines the value and urgency in protecting these areas. Vermont, strategically located between the Adirondacks and the White Mountains of New Hampshire, is a key area to conserve within this network. Working to protect biodiversity in Vermont gives plant and animal species the best chance to move away from growing climate threats and find new places to call home. Places like Helen W. Buckner Memorial Natural Area provide a place for nature to thrive in the face of climate change.
The Network is a starting point for conversations with local communities, Indigenous tribes, land trusts, agencies, corporations and funders on how to coordinate conservation efforts to increase our collective impact and sustain nature. This network was identified and mapped over a 10-year period by Nature Conservancy scientists using public data available at the state and national scale and an inclusive process that involved 289 scientists from agencies, academia and NGOs across the US.
Habitats We're Protecting in VT
Natural areas like our Helen W. Buckner Preserve show our commitment to protecting land and ensuring that every species has a home. Buckner is the largest and most ecologically diverse natural area we manage. This place is home to 65 rare or uncommon plant and animal species and 20 distinct natural communities.
Find a Natural Area Near You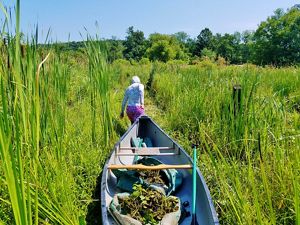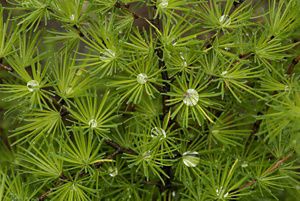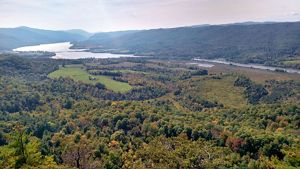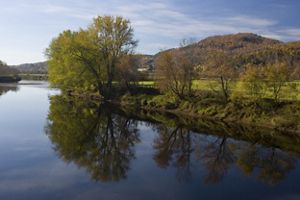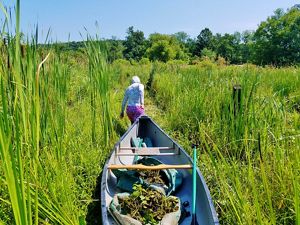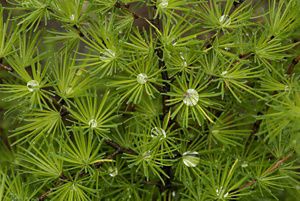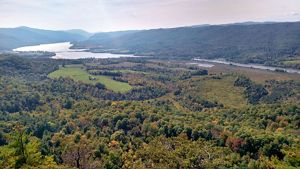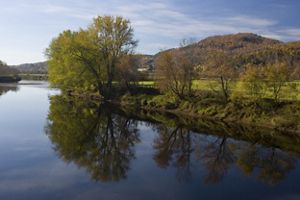 Restoration
Humans have long altered local native ecosystems and populations of plants and animals. In some cases, entire ecosystems have been completely destroyed through the introduction of invasive species, polluted water, degraded soil quality, overpopulation and development and climate change, among other factors. Ecological restoration focuses on repairing damages to natural areas and preventing further losses to ecosystems.
Managing Climate Resilience on TNC-managed land is an effort by TNC lead scientists who are thinking about the best ways to manage our land with climate change in mind. This is a resource to incorporate existing management and conservation strategies into land management approaches. This guidance promotes shared principles for adapting land management in an uncertain future. 
As land managers, we play an important role in confronting the direct impacts of a rapidly changing global climate on our local landscapes. The lands stewarded are, and will continue to be, influenced by changes in climate that will compound existing stresses and introduce new challenges. We are faced with considerable uncertainty about the direction and magnitude of future impacts and must adjust our management approach to accommodate this new reality. 
Bringing Back a Species: Elm Trees
Sometimes acting on biodiversity loss means focusing on a specific species. This is why we are working so hard to bring back a species. American elms today are diminished from their former glory as the biggest, oldest trees along our rivers and gracing our Elm Streets—more than 30,000 American streets bear the name "Elm."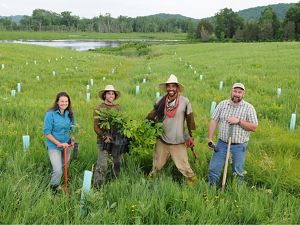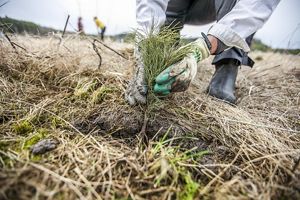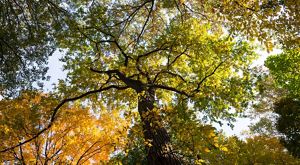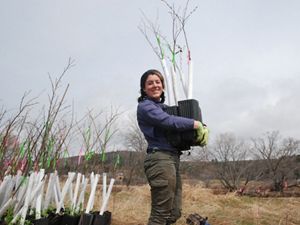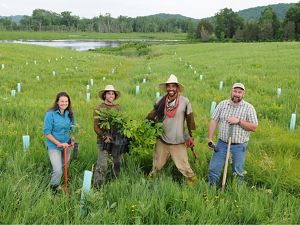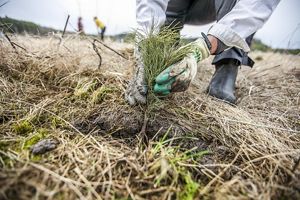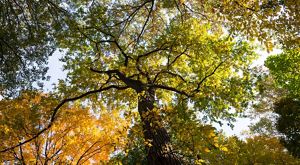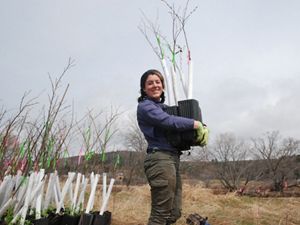 Unfortunately, the disastrous Dutch elm disease felled an estimated 77 million American elms in the 1970s. To restore American elms to their former importance on our floodplains, we are working with the US Forest Service to develop a genetically diverse population of elms that are Dutch elm disease-tolerant.
The restoration of elms is critical in protecting our forests and wetland complexes. These mighty forest giants bring with them an abundance of biodiversity, improving habitat quality for eagles, ospreys, barred owls, a host of breeding songbirds and mammals such as roosting bats and flying squirrels. They increase forest carbon production and provide natural cooling in forests. Both the bark and the leaves of an elm tree can be used medicinally to treat illnesses, and the durable quality of its bark is perfect for woodworking and building houses. Elms also play a featured role in improving water quality and climate resiliency in flood-prone areas. 
Restoring Our Floodplains
The cost benefits of conserving and restoring our floodplains, wetlands and other natural communities are clear. It is only by working with nature that we can create durable solutions to some of our intractable environmental challenges, which is why we are working across the state to support functioning floodplains as an important solution to Vermont's freshwater issues. Restoring our floodplains is also a win for biodiversity in VT. 
Healthy wetlands soak up and store water during heavy rains and snow melts. They intercept many pollutants and prevent them from entering lakes, streams and rivers because they act as buffers between land and water bodies. By slowing down the flow of water, wetlands allow sediments to settle out and help break down toxic substances through biological processes. Wetland plants also absorb excess nutrients including phosphorus, which is commonly found in stormwater, industrial and domestic sewage, agricultural lands, and food waste. Too much phosphorus in our waters may lead to harmful effects to the environment such as the survival of detrimental aquatic organisms or toxic algae blooms.
Collaboration
It takes all hands on deck to achieve successful conservation. We could not accomplish any of this work without the support of our members, donors and partners.
Biodiversity Protection and Community Resilience Act
 In 2023 we worked with partners to pass "30 X 30" legislation, a bill to help us co-create a thriving Vermont for both nature and people. The Vermont Housing and Conservation Board will convene a process to build a roadmap to conserve 30% of lands and waters to be protected by 2030. The Nature Conservancy will be part of the planning committee. 
Silvio O. Conte Wildlife Refuge
We have helped expand the Silvio O. Conte National Fish and Wildlife Refuge by adding our Glebe Mountain property in Windham and Londonderry to the national refuge, which adds a total of 3,500 acres to the property. Glebe Mountain now joins the ranks of other iconic places we have helped to protect, such as Camel's Hump, Green River Reservoir and Jamaica State Park. This conservation success story could have not been possible without the leadership of former Senator Patrick Leahy, who helped secure needed funding for the Conte Refuge to take ownership of the property. Learn more about this effort.
Connection
We are always striving to make sure people and communities have access to nature for their health and to build connections to the natural world so that we can all become better stewards of it.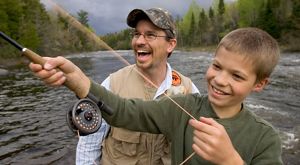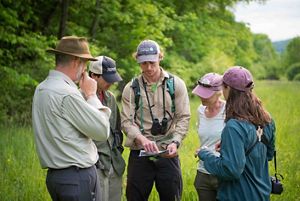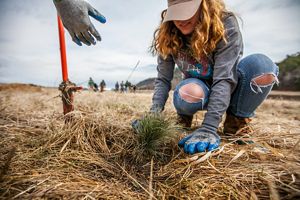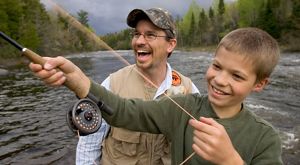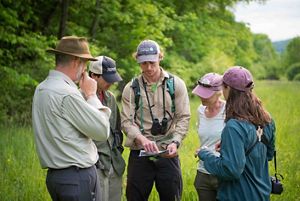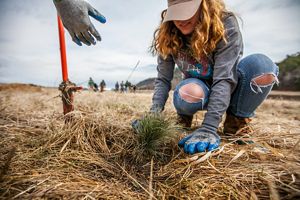 We own and manage 58 natural areas. Eleven of these natural areas have been identified as "flagship natural areas," which have a greater investment in access and parking areas making it more accessible to the general public. Two of these natural areas, Eshqua Bog Natural Area and Raven Ridge Natural Area, have universally accessible boardwalks in place. We believe that enduring conservation success depends on the active involvement of people and partners whose lives and livelihoods are linked to the natural systems we seek to conserve.
Head to our events page to find an event near you, volunteer with us or contact us to find different ways to connect with us in nature.
Looking for More Ways to Get Involved?
Sign up to receive monthly conservation news and updates from Vermont.