Every year, TNC supporters (like you!) play a crucial role in furthering our mission to conserve the lands and waters on which all life depends. Thanks to you, 2019 was another great year for land and water conservation in our region! With your help, we're continuing to advance our most important conservation priorities in North Dakota, South Dakota and Minnesota.
From working to save the Dakota skipper to planting trees in a Minneapolis neighborhood to protecting habitat for brook trout, your support is making a big difference! Thank you for every acre you've helped us protect, every animal you've provided habitat for and every tree that you helped us plant.
Please take a moment to celebrate the lands, waters, plants and wildlife that you helped The Nature Conservancy protect!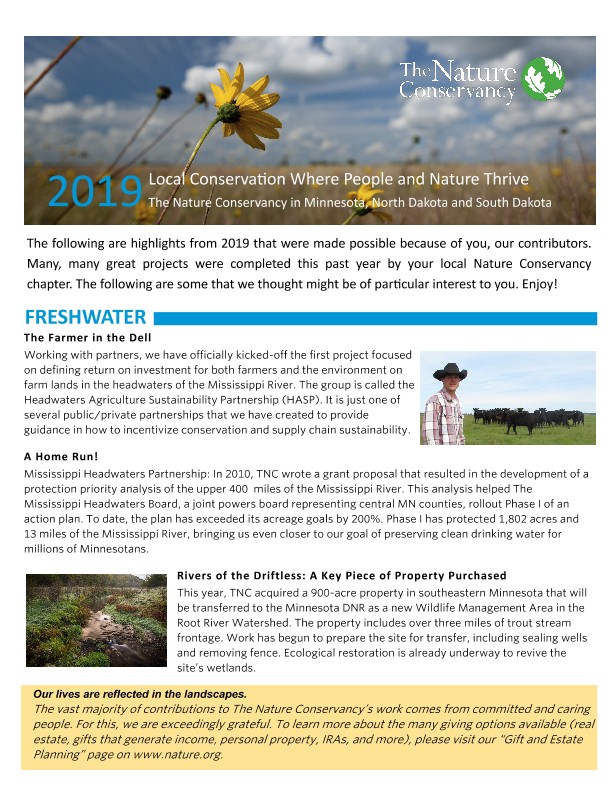 2019 Stewardship Report
Because of supporters like you, we are making big wins happen for nature every day. See all of them in our 2019 Stewardship Report.
DOWNLOAD
---
We introduced Our Mississippi Our Future, an issue campaign to protect and restore the headwaters area of the Mississippi River for wildlife, recreation, clean drinking water and future generations.
More than half a million trees were planted in Minnesota's Northwoods, including along trout streams, helping us to create a diverse and climate-resilient forest. Learn more.
We protected nearly 900 acres in southeastern Minnesota, including blufftop prairie and habitat for brook trout, timber rattlesnakes and red-headed woodpeckers.
Saving Our National Mammal
To protect the Wind Cave bison herd in South Dakota, The Nature Conservancy moved additional bison from the national park to TNC preserves in Kansas, Illinois, Iowa and Missouri. Wind Cave bison have unique genes not found in other herds. Learn more.
We worked with the U.S. Fish and Wildlife Service to expand the Northern Tallgrass Prairie National Wildlife Refuge and protected habitat for the endangered Topeka shiner.
Protecting Prairie Potholes
We helped the U.S. Fish and Wildlife Service protect grasslands and wetlands in the Prairie Pothole region in North Dakota.
And we worked with South Dakota landowners to protect privately-owned grasslands.
Researchers documented reproduction of the Dakota skipper at our Hole-in-the-Mountain Prairie Preserve for the first time in decades. The Minnesota Zoo completed its efforts to reintroduce the butterfly to the preserve this past summer.
We worked with volunteers to plant 14 different species of trees around Camden Central Pond in Minneapolis. In the face of climate change, selecting a highly diverse mix of trees is recommended to help ensure more trees will survive warmer weather, pests and disease.
Helping People and Elk Thrive Together
We helped protect one of Minnesota's elk herds in collaboration with the state by establishing a food plot to keep elk from encroaching on lands in agricultural production. Watch the video.
And finally, we went public with The Nature Conservancy's Our Water campaign. We're seeking major gifts from individuals, companies and foundations who want to preserve Lake Superior, protect and restore the Mississippi, reduce the impact of agriculture on water quality and conserve prairie streams.
Thanks for helping us make a splash this year! We couldn't do this good work without you.