We are so excited that you're here to get your award-winning monarch or bison license plate! Your vehicle has never looked better. 

We can't thank you enough for supporting conservation, wildlife, and a heathly environment for future generations of Oklahomans.
4 Easy Steps To Your New License Plate
Step 1:
Think of a clever, custom wording that suits your conservation style that will look awesome on your specialty plate.
Step 2: 
Download, complete, mail in or drop off your order form to the OK Tax Commission or a tag agency near you. 
Step 3: 
Allow 8 to 12 weeks for production and delivery. You will recieve your plate in the mail from the OK Tax Commission.
Step 4:
Celebrate your new, colorful plate (with a selfie!) that supports the conservation and wildlife you love because $20.00 of the initial registration fee ($40.00) and then the annual renewal fee  ($36.55) comes back to The Nature Conservancy to make our mission successful.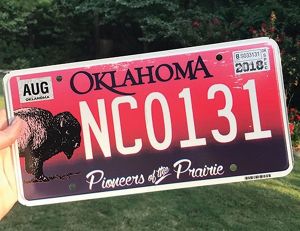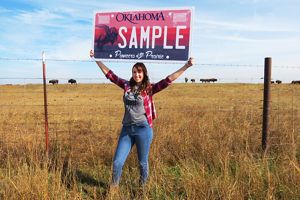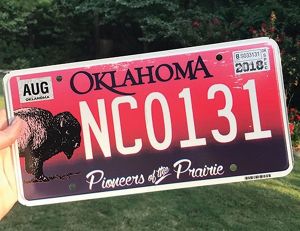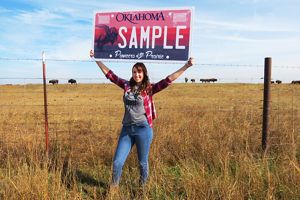 Why Bison? Why Monarchs?
Bison play a crucial role in maintaining grasslands. The Nature Conservancy manages 13 herds throughout North America including a herd of 2,500 at the Joseph H. Williams Tallgrass Prairie Preserve near Pawhuska. Great herds of bison once roamed the prairies of our nation, including Oklahoma. And this time of celebrating bison as our newly-designated national mammal is a great opportunity to generate awareness about the important role bison play in maintaining Oklahoma's native prairies.
In the last decade, due to habitat loss and other factors, monarch butterfly populations have plummeted at an alarming rate. The Nature Conservancy works to save the monarchs by conserving critical pollinator habitat throughout Oklahoma and teaming up with a broad range of groups including farmers, ranchers, tribes, residents, government agencies, businesses, gardeners, artists and municipalities. Additionally, The Nature Conservancy is a founding member of the Oklahoma Monarch and Pollinator Collaborative, a statewide group of 40+ organizations and citizens working together to ensure thriving monarch migrations for generations to come.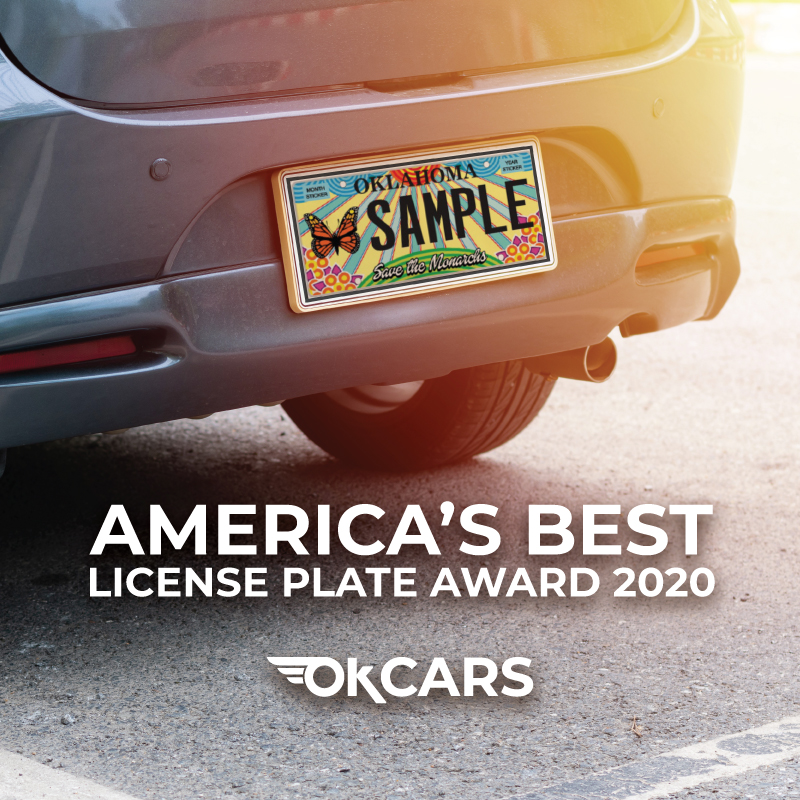 Monarch License Plate Award
The monarch-themed license plate won the Automobile License Plate Collectors Association's (ALPCA) America's Best License Plate Award 2020.
©
Courtesy of OK Tax Commission
Monarch License Plate Wins National Award
The monarch-themed license plate won the Automobile License Plate Collectors Association's (ALPCA) America's Best License Plate Award 2020! 
"This is an incredible honor for The Nature Conservancy's Monarch butterfly license plate to be nationally recognized by the ALPCA," said Mike Fuhr, State Director for The Nature Conservancy of Oklahoma. "Monarch butterflies represent endurance, change, hope, life, and Oklahoma's breathtaking prairies. Many thanks to the ALPCA members for voting for our plate!"
This is the 50th year of the award and the fourth time Oklahoma has been recognized and received an award.
Frequently Asked Questions
The bison and monarch license plates can be ordered at tag agencies statewide or by downloading the OK Tax Commission form—see download links above. Please allow up to 8 weeks for production. You will receive your plate in the mail from the OK Tax Commission. 

Just like all license plates, you have to renew them annually. The initial fee for the bison and monarch license plates is $40 and the annual renewal fee is $36.55. A portion of this fee ($20) benefits The Nature Conservancy's conservation efforts in Oklahoma.

Yes, you will still need to have and annually pay for the state-issued license plate with the scissortail bird in addition to your specialty-themed plate.

Yes! Each time you renew, you help support the conservation of Oklahoma's majestic prairies, scenic rivers and native wildlife.

The bison plate is associated with the Oklahoma Conservation Commission and the monarch plate is directed to the Nature Conservatory. We know and we assure you, when selecting either of these plates, a portion of the funds will be supporting TNC in Oklahoma.

You may be able to deduct the cost of a specialty plate from your personal income taxes. Consult with your tax adviser or review the IRS regulations that apply to your finances to determine whether or not a deduction is allowed.

Revenue from the bison license plate benefits a variety of The Nature Conservancy's conservation projects  while revenue from the monarch license plate benefits our efforts to raise awareness about the monarch butterfly and increase pollinator habitat throughout the state.

Hats off to the talented Chris Miller at Cubic Creative (bison) and Rick Sinnett of Mustang (monarch) for creating these winning designs. Cubic Creative, Staplegun, The Lowe Group, Clover Partners, and Bold Multimedia donated their time and energy to produce the original designs in the contest.