Ohio was once 95% forested. Yet as Europeans moved westward into Ohio, they felled trees to create agricultural fields and to feed the iron furnaces in southern and northeastern Ohio. In less than a century, the percentage of forested lands in Ohio dropped to about 10%. With the birth of the state's forest system in 1916 and a growing recognition of the many benefits healthy forests provide, Ohio's forests are slowly recovering from the imbalance first created by their sustained clearing more than a century ago.

To ensure future generations of Ohioans will enjoy healthy forests, The Nature Conservancy is enrolling landowners into its Working Woodlands Program. This model of conservation works to protect large tracts of unbroken forest and support forestland owners while helping unlock the full potential of trees.

Working Woodlands 101
The Nature Conservancy's Working Woodlands program accelerates large-scale forest protection by assisting private landowners in preserving their working forestlands with long-term conservation easements. The benefits for the landowner? Healthier, well-managed forests that can support sustainable timber production and provide landowners with a new, continuous income stream by selling carbon credits generated by the forest.
The principle behind Working Woodlands is simple. A private landowner enters into an agreement with TNC that commits to the long-term conservation of their forestland. In return, TNC provides technical assistance aimed at achieving the landowner's stewardship goals while improving the conservation value of their land. This includes:
A customized, 10-year forest management plan, including an inventory of the property's habitats, wildlife, and current and potential carbon storage capacity;

Third party certification ensuring that the forest is sustainably-managed.

Access to global carbon markets that could provide an additional source of income for landowners who manage and improve their forests for increased carbon capture.



Why does Ohio need a Working Woodlands Program?
Roughly 85% of Ohio's forested land is owned and managed by private owners. To safeguard the future health of Ohio's forests, The Nature Conservancy launched The Working Woodlands program. Working Woodlands aims to partner with these landowners in Ohio and throughout the United States to ensure that our nation's forests remain ecologically healthy and productive for future generations.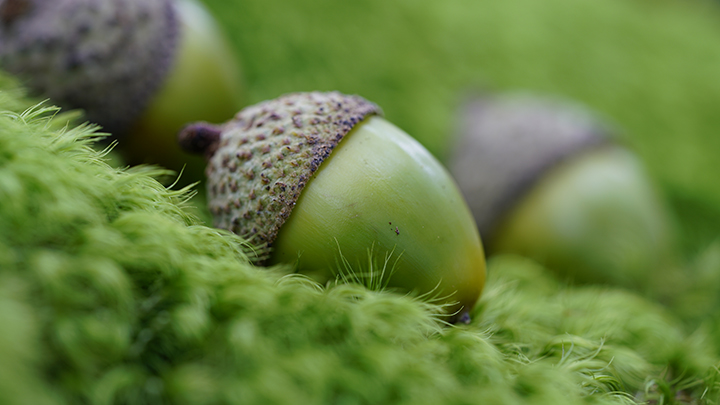 A Changing Forest
Scientists from the US Forest Service predict a changing climate could mean a shift to more oak-dominated forests and less diversity of tree species.
©

TJ Vissing
Climate change is not a distant threat. It is happening now. And the science is clear: it has never been more critical for us to protect and restore forests and wetlands and improve the management of agricultural lands. Research indicates that these natural climate solutions can provide more than one-third of the greenhouse gas emissions reductions needed to limit global warming to 2˚C worldwide above pre-industrial levels—a target set by the Paris climate agreement.
Expand to see more
Collapse to see less
Healthy and resilient forests support a greater diversity of native trees and maximize carbon storage, contributing outsized impact to the climate challenge. Around the country, states like Ohio are losing forests to fragmentation, pests, unsustainable harvesting, and a changing climate. These forests provide essential benefits to all of us, including:

filtering air
purifying water
supporting wildlife
storing carbon
boosting local economies
How to participate in Ohio's Working Woodlands Program
Landowners who own a minimum of 2,000 forested acres may be eligible to enroll their property into Working Woodlands. A qualifying landowner must sign their forested acres into conservation easements and long-term management agreements to prevent conversion into non-forest uses and unsustainable management practices. We will expand eligibility for landowners with less forest acreage in the near future.
Interested landowners should contact our sustainable forestry director, Tom Rooney at tom.rooney@tnc.org with the following information:
Name/Email/Telephone Number
Total Acres/Total Wooded Acres
Property Address
County
Tax Map ID#
Please Note: All information submitted will be kept strictly confidential.
After the certification process facilitated by The Nature Conservancy, these properties then become part of a network of voluntary carbon offset projects that collectively impact reducing greenhouse gas emissions.