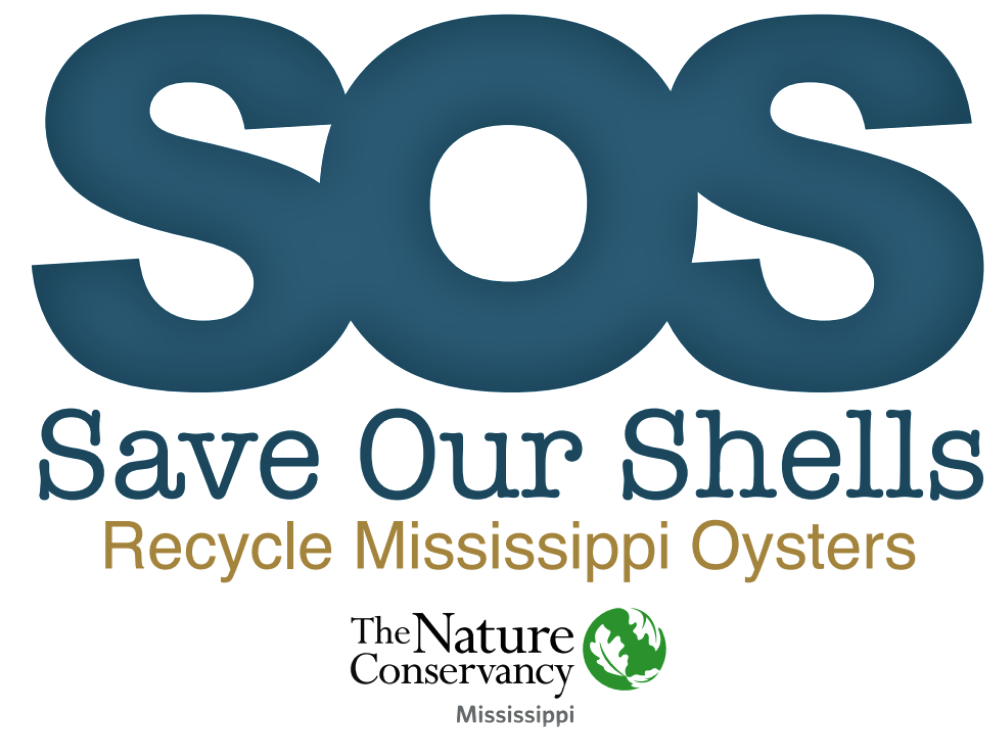 Beginning in 2023, The Nature Conservancy is launching a pilot oyster shell recycling program in Mississippi. Save Our Shells, or SOS, highlights the impact that collecting oyster shells from local restaurants can have on restoring oyster reef habitat and a once thriving industry along the Gulf Coast. Save Our Shells is paid for by an award from the Mississippi Department of Environmental Quality in partnership with the Gulf Coast Ecosystem Restoration (RESTORE) Council.
Invite Your Favorite Restaurant to Join SOS!
Email saveourshells@tnc.org to benefit Mississippi's coastline and oyster industry.
Connect with us
Why have oysters disappeared in the Gulf?
Fishermen once harvested hundreds of thousands of oysters in waters surrounding Biloxi, Mississippi, once known as the "seafood capital of the world." That was before Hurricane Katrina and before the BP oil spill. The Mississippi oyster industry no longer exists as a result of devastation caused by these events.

Once a foundation of the Gulf of Mexico ecosystem, oyster reefs extended for miles across the Gulf's bays and estuaries. In addition to filtering water, oyster reefs provided habitat for fish, crabs and shrimp, and served as natural breakwaters to reduce coastal erosion and buffer the coastline. They also provided a seemingly inexhaustible supply of oysters for the table.
Today, across much of the Gulf, wild oysters are in steep decline. It is a catastrophic loss that affects local economies and the long-term health and productivity of the Gulf waters. 
Did You Know?
One adult oyster can filter up to 50 gallons of water each day. Multiplied by an entire reef of thousands, the impact on coastal water quality is substantial. Despite their benefits, oyster reefs are the most threatened marine habitat on Earth.
How to Recycle Oyster Shells
The SOS pilot oyster recycling program—a partnership between The Nature Conservancy and the Mississippi's Department of Environmental Quality—is funded by the RESTORE Council, a federal body created to award billions of dollars for restoration projects in five Gulf Coast states affected by the BP oil spill. The initial goal of SOS was to determine whether the state of Mississippi could support supplying, collecting, storing and deploying a long-term oyster shell recycling program. Now the partners are working with local restaurants to establish a pipeline of oyster shells to help restore the Gulf Coast's once abundant reefs.
Once collected from participating restaurants, oyster shells are delivered to the Mississippi Department of Marine Resources to be processed, cured and integrated into restoration projects as a natural material known as "cultch." The cultch attracts and supports oyster larvae that grow and produce new oysters. 
Restoring Oyster Reefs Across the U.S. 
Oyster restoration has long been a priority for TNC. In fact, Mississippi's SOS oyster shell recycling program joins other efforts that are underway in at least 14 other states, including all of the other Gulf states. Working with partners, TNC aims to turn the tide of overharvest, pollution, disease and catastrophic events that have decimated oyster populations over the last hundred years. Dramatic changes in the public policy arena, coupled with emerging scientific understanding and the creation of large-scale oyster sanctuaries, are providing a clear path forward to restore this keystone species. 
Save Our Shells
Invite your favorite restaurant to join SOS to benefit Mississippi's coastline and oyster industry. Email saveourshells@tnc.org to participate!
Stay in the Loop
Sign up for news updates from Mississippi!