The Nature Conservancy (TNC) in Chile and local marine conservation NGO Fundación Oceanósfera, launched an illustrated, bilingual guide (Spanish-English) to the flora and fauna of the Valdivian Coastal Reserve. The guide describes 100 species of marine and terrestrial plants and animals—including algae, fish, birds and marine mammals—found in the temperate coastal rainforest environment of this protected area, located in southernmost Chile and overlooking the Pacific Ocean.
The guide will serve as a useful resource for the environmental education activities carried out by TNC with communities around the Reserve, and explains key concepts such as conservation objects, threatened and endemic species and the exploitation status of marine species such as fish, shellfish and crustaceans. It also provides general recommendations for visitors to the Reserve, such as when to notify authorities or the Reserve administration in the case of special or emergency situations.
The guide was put together by several conservation practitioners from TNC, including three park rangers from the Reserve itself—Marcelo Antillanca, Patricia Barría and Danilo González—and marine biologist and president of Oceanósfera, Carolina Zagal.
Discover the Valdivian Coastal Reserve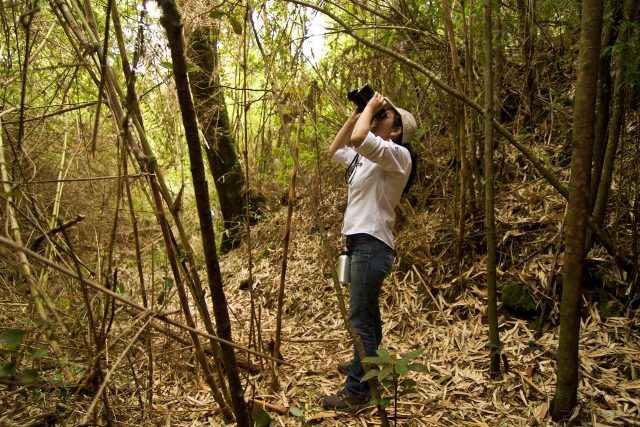 Liliana Pezoa at Los Colmillos hiking trail
Liliana Pezoa, Reserve manager, explains that the Valdivian Coastal Reserve "is dominated by forest ecosystems, mainly evergreen and, to a lesser extent, by larch forests. To date, we know that the Reserve area holds more than 340 species of plants, 96 species of birds, 31 mammals, 13 amphibians and 5 reptiles, many of them endemic, some classified as vulnerable or endangered. Identifying them and understanding their interactions, is key for making the decisions that lead to their conservation."
Danilo González, coordinator of the Reserve park rangers, adds that "until now, we did not have such a handbook, which combines local knowledge with scientific information, to the territories we protect. Today, we are achieving something we have wanted for a long time, a guide that will help put more people on the environmental education path we have carved out based on the idea that knowledge is conservation."
According to Carolina Zagal, founder and president of Fundación Oceanósfera, "collaboration is essential for solving environmental and educational challenges in a timely manner. The problems that threaten living beings today are so great that we cannot face them in isolation. This new guide is undoubtedly a valuable contribution towards protecting the environment because it is the result of an enhanced dialogue between diverse professionals, and the wisdom and experiences of local communities."
Natalio Godoy, marine scientist for TNC Chile, highlights that "the alliance between TNC and Oceanósfera has allowed us to generate important support material to underpin our environmental education plan and reach more people. Our mission is the conservation of marine biodiversity and this material is essential for achieving this goal. We want society and local communities to be informed and be able to support our work aimed at conserving nature so that future generations can enjoy it in a sustainable way."
Download the guide
Flora and Fauna of the Valdivian Coastal Reserve

The "Flora and Fauna of the Valdivian Coastal Reserve" guide will help visitors to the protected area learn about and identify plants and wildlife in this global biodiversity hotspot. Download the guide
Other guides by TNC Chile and Oceanósfera
Sharks, rays and chimaeras of southern Chile

The completest guide about this species and their curious facts. Download the guide
101 threatened and protected marine animals of southern Chile

The first guide about threatened species of Chile. Download the guide
Marine mammals of Southern Chile

Promote the conservation of this species. Download the guide