Chennai, the largest city in India's southern state of Tamil Nadu, is currently home to 474 wetland complexes that serve as the lifeline for its people, nature and wildlife. Sadly, over the last few decades the majority of these wetlands have been degraded due to human encroachment, untreated sewage inlets, garbage dumping and the city's rapid economic growth. While the city's urban development improves the living standards for many, rampant urbanisation is negatively affecting its wetlands, lakes and rivers, and depleting its limited water sources.
The troubled waters of Lake Sembakkam
Lake Sembakkam is among the 54 lakes that ultimately drain into the Pallikaranai Marshland, one of the most critical and fragile marshlands of Tamil Nadu. The Pallikaranai Marshland is among the last remaining natural wetlands of the city that contain several rare and threatened species and acts as a breeding ground for thousands of migratory birds such as the Wood Sandpiper, Comb Duck, Northern Shoveller, pintail dusks, cormorants, spoonbills, Spot-billed Pelicans, etc.
Polluted Lake Sembakkam, Chennai
Once spanning over 8,000 hectares, only 10 percent of the original wetland remains and is now protected from development. This freshwater marsh, until recently, worked as an effective natural system for groundwater recharge and as a flood reservoir during heavy rains. Lake Sembakkam, surrounded on all sides by residential developments, has degraded over time due to excessive silt accumulation, untreated sewage disposal, solid waste dumping and increased encroachment.
Putting things right
In 2018, we set out to restore Lake Sembakkam with the aim of achieving multiple benefits for the local communities living around its shores, its biodiversity and the environment as a whole. Restoration efforts also contribute towards improving the health of its surrounding interconnected lakes and in turn, the Pallikaranai Marshland. 
Setting benchmark to secure early wins
Ensuring Chennai's future economic development does not further degrade its freshwater resources, The Nature Conservancy and our partners (Care Earth Trust and the Indian Institute of Technology, Madras) are working in Chennai to demonstrate science-based lake restoration efforts through our on-ground pilot project for Lake Sembakkam.
The project involves close assessment of the environment, biodiversity, and the communities living near the lake. Our work is ensuring broader integration and the application of freshwater conservation and restoration activities into country and state policies.
The project is addressing degradation causes such as excessive silt accumulation, infestation of invasive alien species of weeds, and pollution from wastewater and solid waste disposal.
Project Goals
Restoring 100-acre urban wetland in Chennai
Improving the water storage capacity by nearly 40 percent 
Improving flood mitigation benefits
Improving water quality to meet wildlife and fisheries propagation standards prescribed by the Central Pollution Control Board, India. 
Establishing a nature-based wastewater treatment system at a large scale - seven million litres per day
Creating an eco-friendly landscape and a biodiversity habitat at the lake
We are undertaking a scientific study of the catchment area around the lake that forms the watershed of Lake Sembakkam. This will enable us to identify interventions to improve the hydrology and natural habitats of the entire watershed, while addressing the environmental challenges faced by the lake.
The view and birds at Lake Sembakkam
Additionally, our initial restoration activities have measurably increased the water storage capacity of the lake by over 1,00,000m3 through silt removal and have offered flood mitigation benefits through construction of embankments and flood regulator gates.
Notably, the projects three-pronged approach which involves science, community and government are crucial to have sustainable restoration outcomes. 
Communities as custodians of Lake Sembakkam
The local communities living around and nearby Lake Sembakkam are its real custodians. They are playing an important role to nurse the lake back to health. The community members are equally essential to ensure the maintenance and upkeep of the lake once it is revived to good health. Without their support, restoration efforts will not have a lasting impact. To ensure sustainability, local communities have been engaged in the project right from the start.
They are involved in:
clean-up drives to remove solid waste.
conducting surveys to document the biodiversity around the lake.
assessing the water quality of the lake.
plantation drives to improve the natural habitat around the lake.
Such community involvement and activities have developed a sense of responsibility and ownership towards the lake among the community members. 
Local community cleaning Lake Sembakkam
Continued support and future opportunities for lake restoration
Our on-ground experience coupled with key stakeholder engagement and knowledge sharing will aid the development of a best practice guidelines on wetland restoration. These guidelines will inform wetland restoration efforts and build the much-needed momentum to mainstream wetland restoration efforts among various stakeholders not only just across Chennai but also India. 
Our project will serve as a foundation for providing a tried and tested science-based wetland restoration plan that we aim to integrate into the efforts of the Chennai Government to improve the health of wetlands across Chennai.
We are excited to partner with International Business Machines (IBM) to device Internet of Things (IoT) based monitoring for Lake Sembakkam. This technology will help regularly monitor and measure the water quality and water level of the lake in real time. Simply put, we will utilize a cloud-based platform and install sensors in the lake to track its health, giving us actionable insights for our future work. 
Download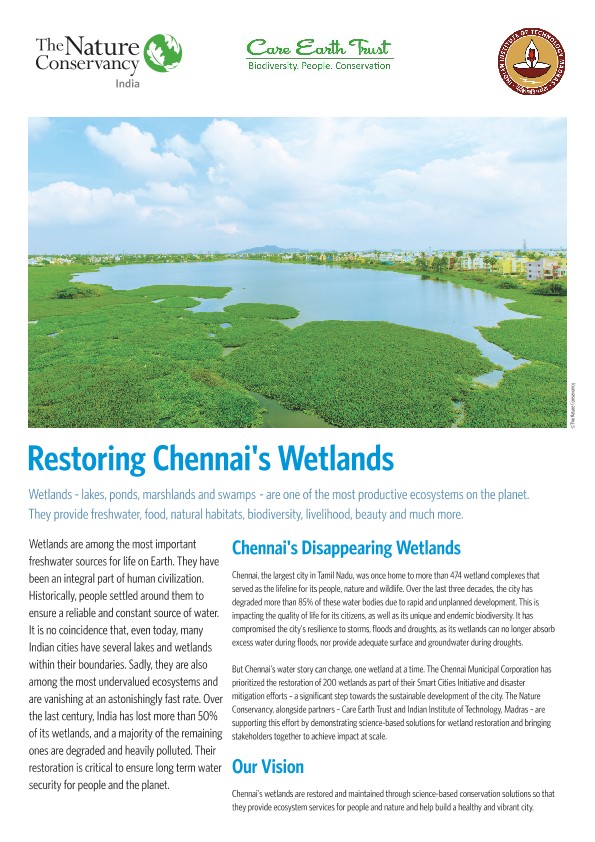 Contribute to the Chennai Challenge
To help us meet the needs of this ambitious initiative and in support of the Conservancy's contribution towards Chennai's long-term planning and action toward water security and climate change, a generous supporter has created the Chennai Challenge, a challenge grant of US $200,000 to help us raise additional support for our work in Chennai.  We need to raise US $600,000 to unlock the full potential of this wonderful gift. TNC is proud to recognize a new donor, the Guru Krupa Foundation, which has supported our work in Lake Sembakkam, and Grundfos, a corporate supporter of our work in Chennai. To contribute to the Chennai Challenge, please contact our Partnerships Manager Aditi Khurana and/or Director of Development Anita Schwartz.
Our donor(s):