The Nature Conservancy's work in China reflects what we do best: using science, community engagement and policy to save nature. Now in its third decade, TNC in China is taking bold steps to achieve conservation a tremendous scale—for China and for the world.
In 1998, the Yunnan Provincial Government invited The Nature Conservancy (TNC) to help protect their spectacular biological and cultural diversity. Today, 25 years later, TNC China's headquarters is in Beijing, with project offices in Kunming, Chengdu, Hohhot, Zhengzhou, Shanghai, Shenzhen and Hangzhou and projects spread across Yunnan, Sichuan, Inner Mongolia, Zhejiang, Henan, Shanghai, Shenzhen and Beijing supported by over 60 staff.
To address the most catastrophic impacts of global climate change and biodiversity loss, we need an unprecedented level of collaboration and cooperation. We continue to leverage our science, expertise and collaborative partnerships to achieve conservation goals throughout China. Working with a range of stakeholders such as government ministries, academic institutions, corporations and organizations, we have tested national parks in Yunnan, restored degraded landscapes in Inner Mongolia, established the first nature trust reserve in Sichuan, demonstrated water funds in Zhejiang, established habitat gardens in Shanghai and supported green development along the Yangtze River. Read more about our work below.
Our Priorities
In China, our conservation priorities are focused on:
25 Years in China: Major Milestones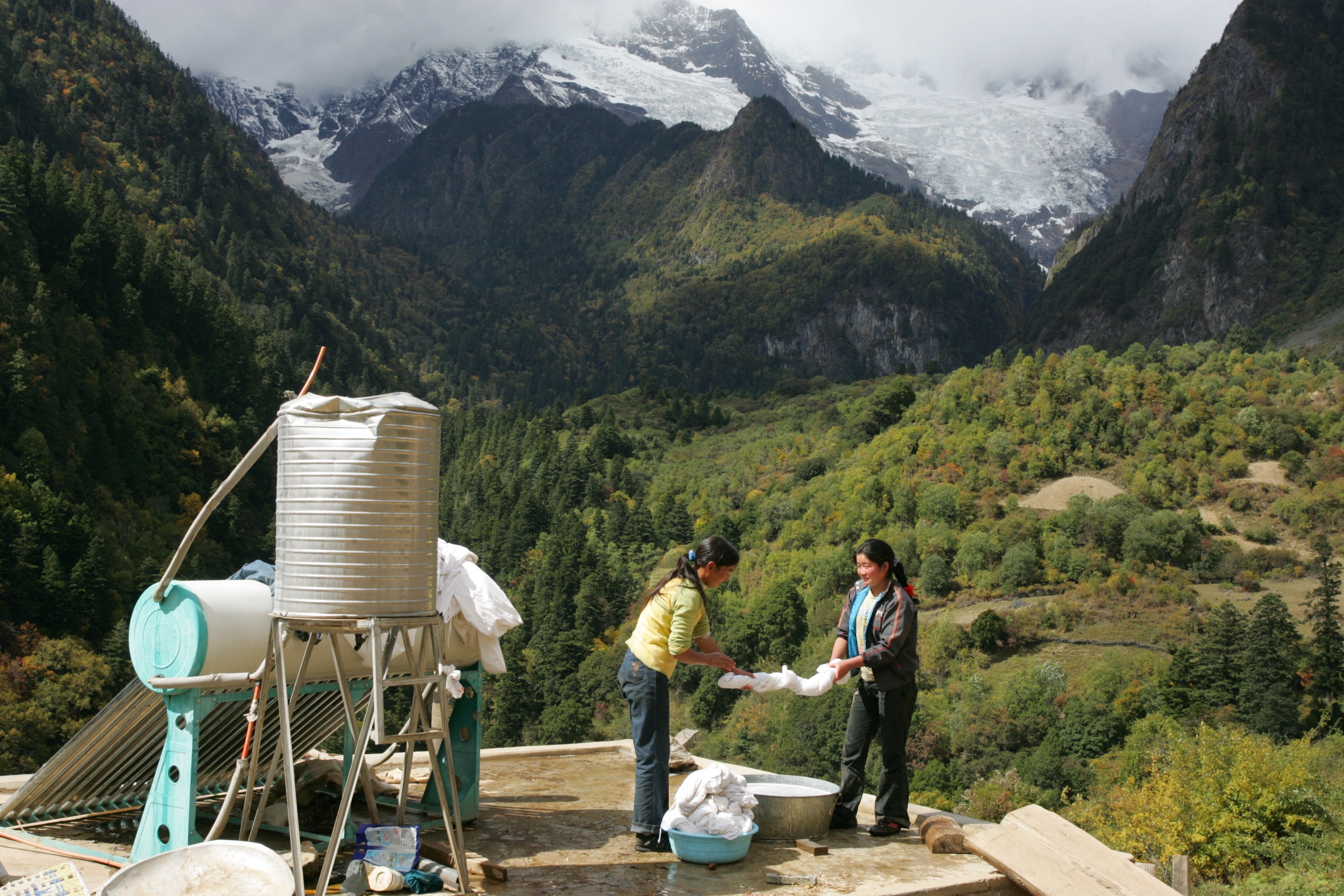 From logging to solar heating
The alternative energy project promoted by TNC in the Meili Snow Mountain National Park in Yunnan helped residents change their energy usage from logging to solar heating.
©
The Nature Conservancy
Invitation into China
1998
In 1998 at the invitation of the Chinese government, TNC's first conservation project started in northwest Yunnan where we assisted in the compilation of the Northwest Yunnan Conservation and Development Action Plan and formulated and implemented conservation strategies tailored to local conditions.
TNC worked with local governments to explore the national park model and put it into practice at Pudacuo in Shangri-La, Meili Snow Mountain and Laojun Mountain in Yunnan Province. Pudacuo is known as China's First National Park and its experiences and lessons learned are invaluable assets for other parks throughout China.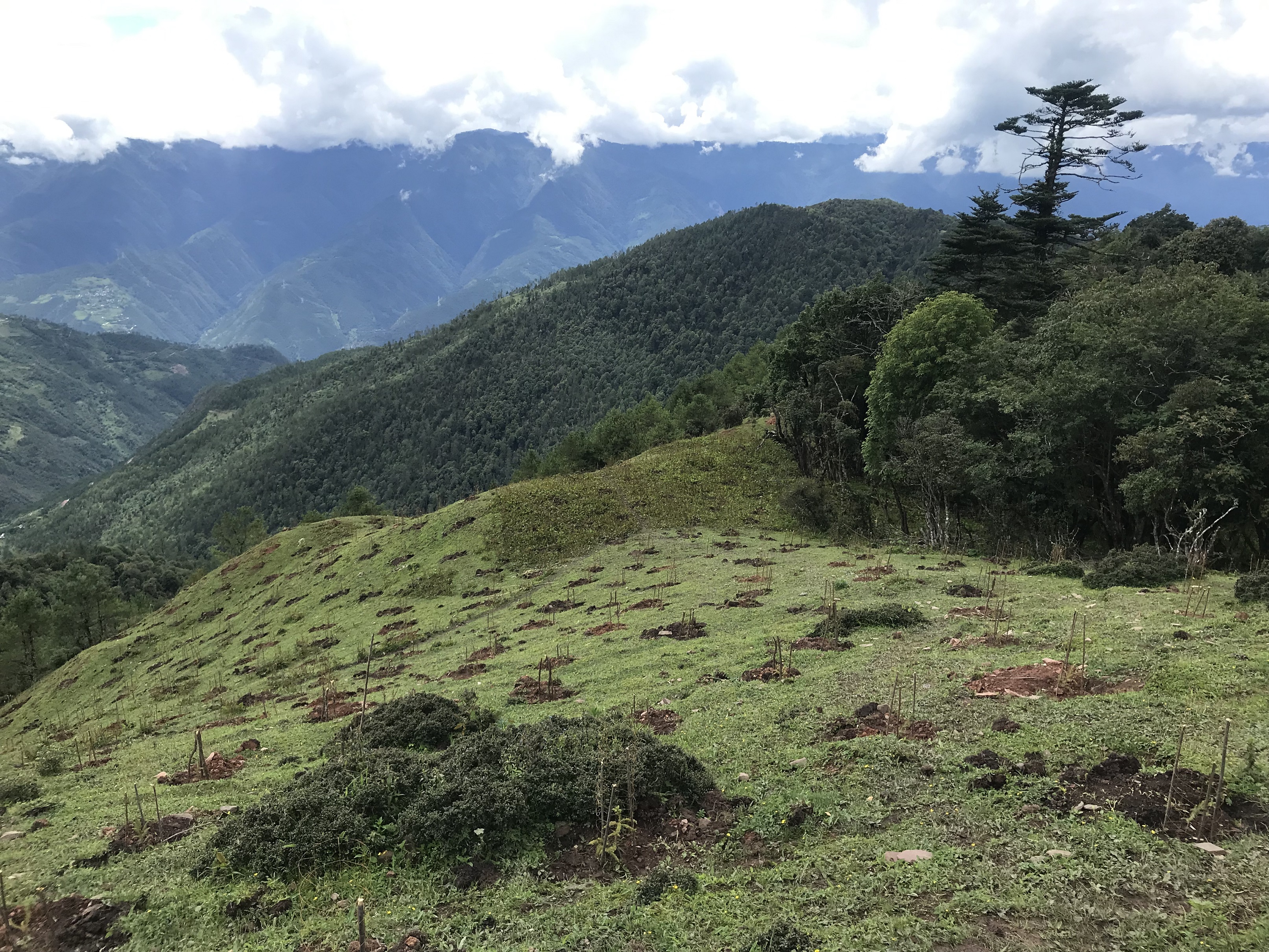 Baby Trees
Forestation project the Yunlong Tianchi National Nature Reserve in Yunnan Province
©
Zhao Ming Shi
First Forest Carbon Project
2005
TNC implemented its first multi-benefit forest carbon project in China, which was awarded as the world's first CCB (Climate, Community and Biodiversity) Gold certification. Subsequently, TNC continued to implement several CCB Gold-certified forest carbon projects in Sichuan, Yunnan and Inner Mongolia. Over 200,000 mu (approximately 13,200 hectares) of lands have been restored with more than 20 million trees, with an expected carbon sequestration of 3.2 million tons.
Three Gorges Dam
TNC worked with Chinese partners to invest in watershed conservation and engaged the hydropower industry to better plan, design and operate dams.
©
Kevin Arnold
Three Gorges Dam Collaboration
2006
TNC collaborated with the Three Gorges Corporation to study ways of optimizing and changing traditional dam operation modes to enhance river biodiversity. As a result of this work, in 2011, demonstration projects were launched to release ecological flow from the Three Gorges Dam, aimed at restoring fish stocks in the Yangtze River. Then, in 2012, under the China-US Green Partnership framework, China signed a "Letter of Intent for Green Partnership on the Yangtze River and Mississippi River" with the Yangtze River Fishery Resources Management Commission of China.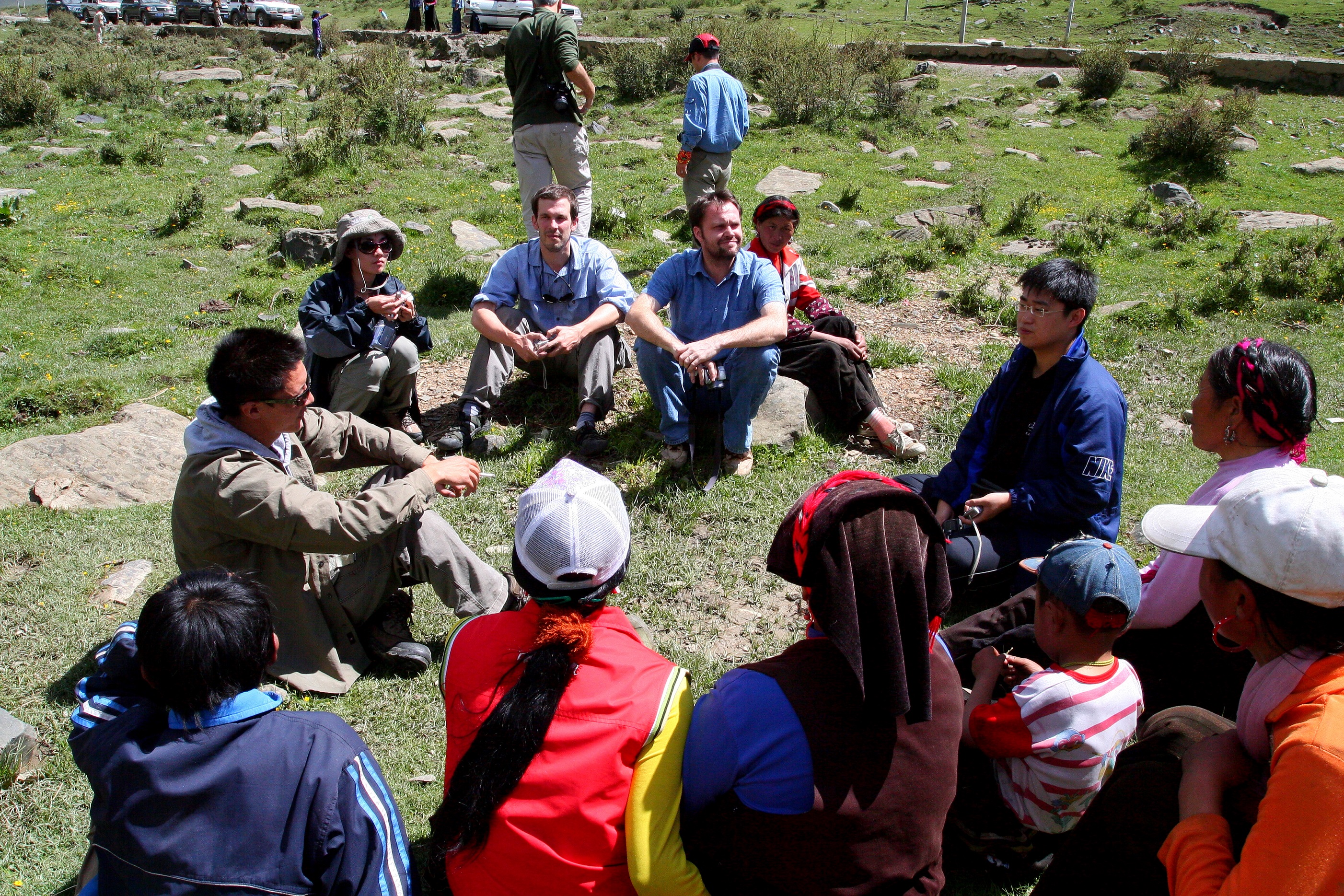 Team meeting
TNC's China Blueprint project team meets with local community members.
©
The Nature Conservancy
China Biodiversity Conservation Vision Project
2007
TNC began the "China Biodiversity Conservation Vision Project" which brought together experts to apply the Ecological Area Assessment (ERA) method. The project aimed to identify 32 priority areas for land biodiversity conservation in China. The results of this project provided key technical support for the development of the China Biodiversity Conservation Strategy and Action Plan (2011-2030).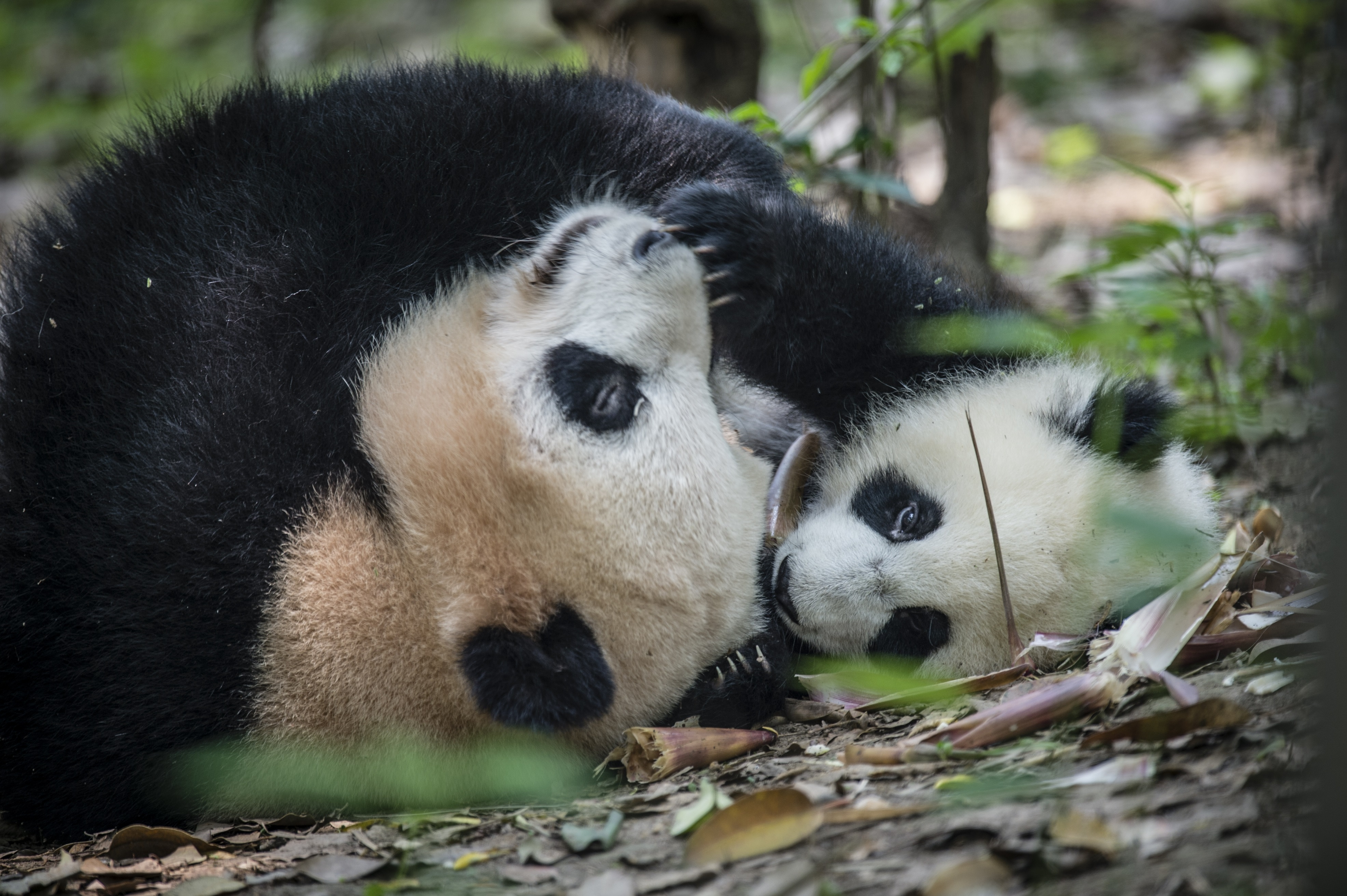 Panda hugs
Giant panda mother and cub at the Chengdu Panda Base in the suburbs of Chengdu in Sichuan Province, China.
©
Nick Hall
The Beginning of Laohegou Land Trust Reserve
2011
TNC and partners collaborated and established the first nature trust reserve in key giant panda habitat in Laohegou, Pingwu County, Mianyang City, Sichuan Province. The Laohegou Nature Conservation Center was established in 2013 and began operating independently in 2016. This model has been recognized by the government and has been promoted in other areas through the "Union of Social Public Welfare Protected Areas" initiated and established by TNC.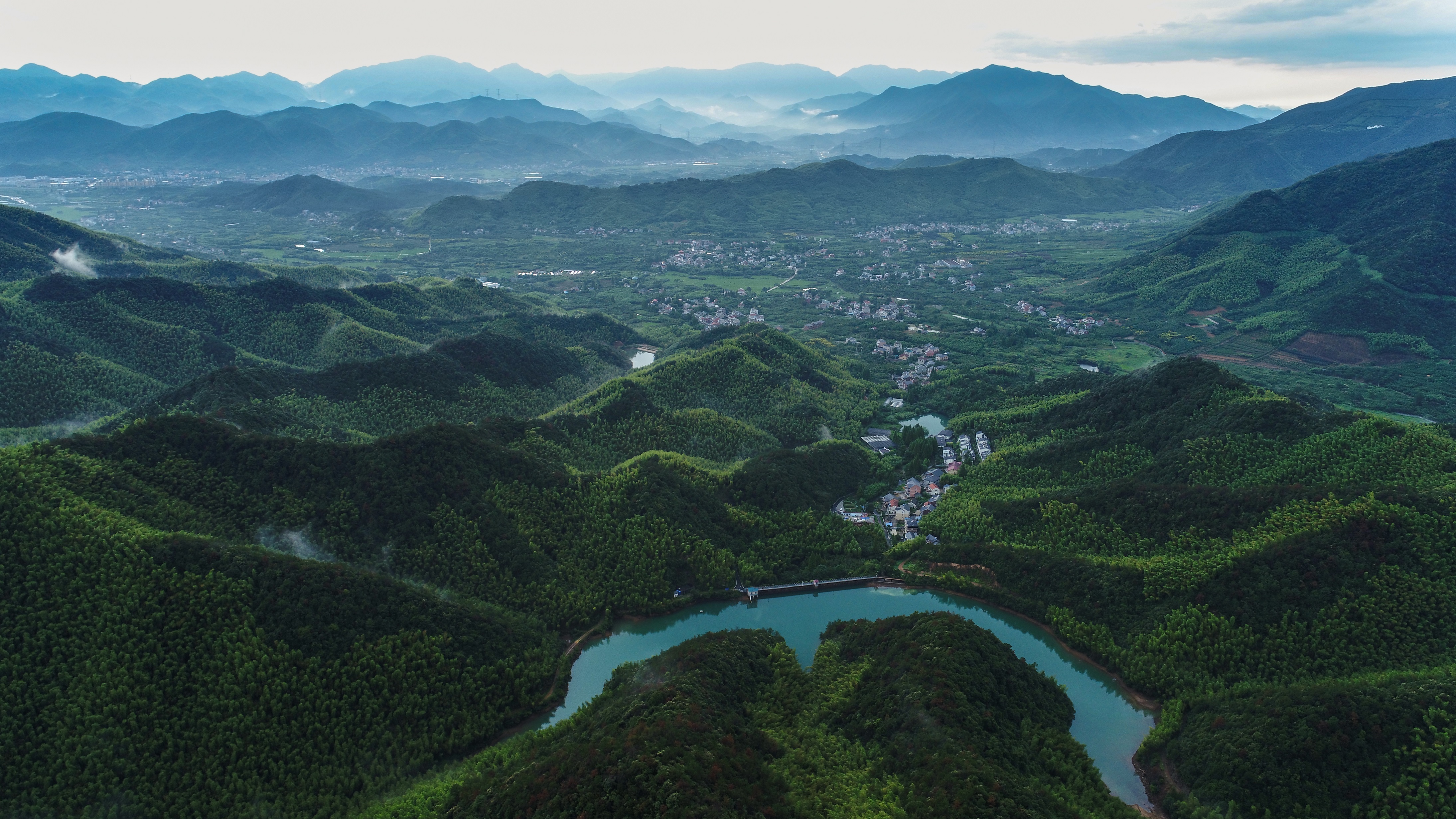 China's first water fund
Aerial view of Longwu Reservoir where TNC supported the establishment of the Longwu Water Fund.
©
Pan Jie
Longwu Water Fund & China Urban Water Blueprint Report
2015
In 2015, the Longwu Water Fund—the first of its kind in China—was established to reduce nonpoint source pollution in Longwu Reservoir located in Yuhang District, Hangzhou City, Zhejiang Province. The following year, TNC released the "China Urban Water Blueprint" report, which offered science-based recommendations such as reforestation, improved agricultural practices and water funds as effective methods to protect water sources used by the country's 30 largest and fastest growing cities. In 2018, TNC collaborated with the World Bank to apply the water fund model to Qiandao Lake, the largest urban water source supporting drinking water for around 10 million people in Zhejiang Province.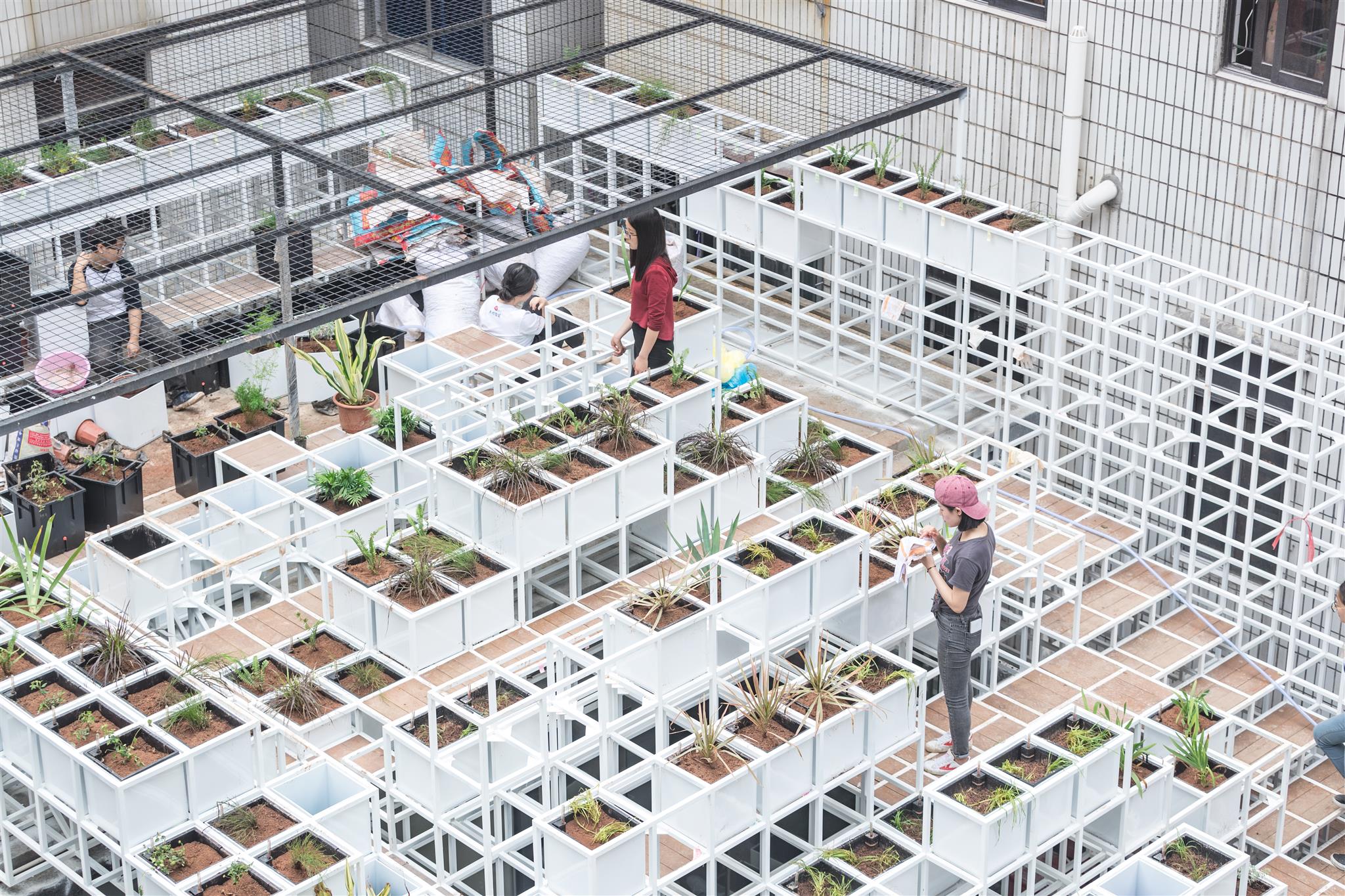 Sponge City
In 2017, TNC collaborated with partners and launched the "Gangxia 1980 Sponge City Green Roof Demonstration Project".
©
Xu Yang
Launch of China Oceans Project & China Urban Project
2016
TNC in China launched its Ocean Project and identified habitat conservation, restoration and sustainable fisheries along the country's coastal zones as major areas to conduct conservation work. In the same year, TNC's Urban Project was launched and a cooperation agreement was signed with the Shenzhen Sponge City Office to provide innovative policy suggestions and demonstrations for Shenzhen to build a world-class sponge city.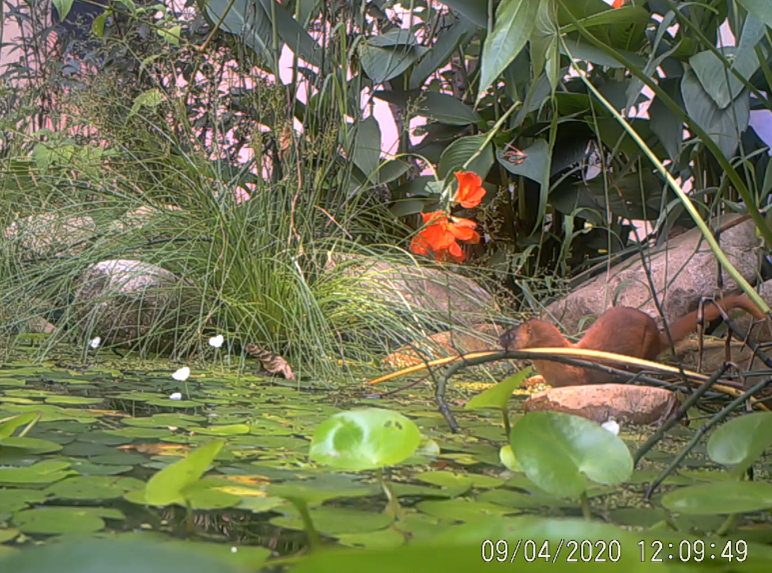 Say weasel!
An infrared camera captured a yellow weasel drinking water from a pond in the Shanghai Hongxu Habitat Garden.
©
The Nature Conservancy
Creating space for nature: Shanghai's Habitat Gardens
2017
In close partnership with communities, in 2017 TNC launched the Shanghai Habitat Garden project in Changning District to improve biodiversity and climate resilience in the city. Filled with native plants, these pockets of greenery offer a safe and green haven for wildlife and people. In November 2019, the first community habitat garden was built in the Hongxu community. Once a storage site, the garden now features vegetable gardens, native plants and ponds, with volunteers maintaining the habitat garden. So far, eight gardens have been completed, with many more under construction. The city has a goal to create 30 more habitat gardens by 2025.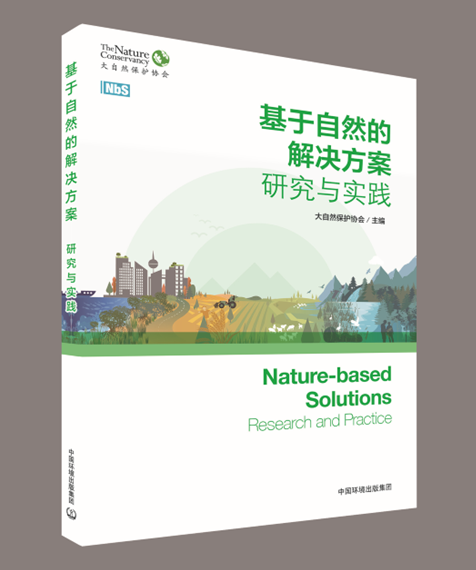 China's first NBS publication
In 2021, TNC released "Nature-based Solutions: Research and Practice", the first of its kind publication in China based on 70 years of research and practical experience.
©
The Nature Conservancy
First Nature-based solutions publication in China
2021
TNC released a new book, Nature-based Solutions: Research and Practice, in Beijing on March 28, 2021.
The publication highlights how nature is key to global climate recovery and how Nature-based Solutions (NbS) are essential to ensuring that we achieve our ultimate objective of global decarbonization while simultaneously boosting job opportunities and safeguarding communities around the world.
As the first Chinese-language publication on NbS, the book was compiled based on TNC's 70 years of scientific achievements and conservation experience.
TNC has been involved in large-scale biodiversity conservation and restoration work in northwest Yunnan Province for over 20 years. Some of the work includes protecting and studying the Yunnan golden snub-nosed monkey population, patrolling against illegal poaching, restoring degraded habitats and supporting alternative livelihoods in communities. In 2019, TNC and 13 other organizations including Yunnan Forestry and Grassland Bureau, Yunnan Green Environment Development Foundation (YGF), Yunnan Baima Snow Mountain Reserve, established a Yunnan golden snub-nosed monkey protection network. Today, the number of network members has increased to 30 members.

In 2017, with the support and guidance of the Sichuan Provincial Forestry and Grassland Bureau (Sichuan Provincial Administration Bureau of Giant Panda National Park), TNC initiated the Giant Panda Small Population Protection project in Chengdu to protect the giant panda population and its habitat. These actions include exploring new conservation models that involve social participation, protecting and restoring small panda population habitats, developing eco-friendly community livelihoods, organizing training sessions for ecological forest rangers, launching a small panda population conservation network with partners and exploring other innovative solutions of co-construction, co-management and win-win situations for protecting the small panda population.

TNC began working in Inner Mongolia in 2010 with the launch of the Inner Mongolia Ecological Restoration and Protection project. The project is focused on systematic solutions for the protection and restoration of key ecosystems in Inner Mongolia's arid and semi-arid regions to address the threat of climate change and human-induced land degradation. The project summed up a set of science-based best practices for the management of forest land, crop land and grassland, and collaborated with partners to promote them. These best practices have been implemented in the Helinger Ecological Restoration and Sustainable Development project, Bahrainzuo Banner Climate Smart Agriculture project and Xilin Gol League Smart Grassland Management project.

Since 2015, TNC has been working in Zhejiang Province to reduce non-point source pollution using ecological methods to ensure drinking water safety and enhance ecosystem service functions of small-scaled water source areas through the water trust/fund model. Working with local partners, the World Bank and relevant management departments at the provincial, municipal and county levels, the project has been able to build and implement an innovative market-oriented, diversified, and sustainable ecological protection compensation mechanism. This is achieved through exploring the innovative application of nature-based solutions (NbS) in water source protection and achieving the long-term goal of improving water quality in water sources, creating a win-win scenario for ecological protection and the green economy.

In 2018, TNC, in cooperation with the Henan Provincial Forestry Bureau and Xichuan County Government, launched ecological protection and restoration work in the Henan Danjiang Wetland National Nature Reserve and surrounding areas. The goal is to ensure the health and the ecosystem services of the water source of the South-to-North Water Diversion Project.

In Shanghai, TNC launched its Habitat Garden project in 2017 in close partnership with the community to create green refuges for wildlife and people across the Changning District. These gardens create spaces of greenery that offer multiple benefits for the city's residents, such as capturing excess stormwater, regulating extreme temperatures and reducing air pollution. The project has utilized ecological innovation technology to enhance urban biodiversity and help Shanghai achieve the goal of becoming a more resilient and sustainable ecological city.

TNC is collaborating with Shenzhen to help transform the city into an innovative, cost-effective "sponge city". By applying nature-based solutions (NbS), TNC focuses on building resilient communities and protecting and restoring resilient coastal zones to address the challenges of adapting to climate change and help Shenzhen become a safer, healthier, more prosperous, more habitable, and more ecological demonstration city in the Greater Bay Area.

Working with governments, businesses and communities, TNC is exploring a comprehensive innovative conservation model such as improving forest quality in the Miyun Reservoir basin, strengthening the biodiversity protection system, enhancing the carbon sink and water conservation capacity of the ecosystem, and promoting the value realization mechanism of ecological products. Our aim is to create a demonstration of harmonious coexistence between man and nature in the urban setting.
About the China Global Conservation Fund
A Global Initiative
TNC's China Board of Trustees was established in 2009 by a group of entrepreneurs who were enthusiastic about nature. After an inspiring trip to TNC's Kenya program in 2011, the China Board initiated a fund called the China Global Conservation Fund (CGCF) to focus on addressing global environmental challenges beyond China.
Download