Loading...
Virtually explore the wonders of Emiquon.
Jump to:
Overview

© Byron Jorjorian
Learn about Emiquon and how to navigate the virtual preserve tour.
History
© Dickson Mounds Museum
Emiquon's abundant water, plants and wildlife were a natural attraction for Native American and European settlers.
10,000 B.C.
Emiquon's Flag Lake is a remnant of an inactive river that scoured the floodplain to bedrock and removed much of the thick deposition left by the Kankakee Torrent. This remnant channel probably existed as a braided stream gradually filling in over the next few millennia.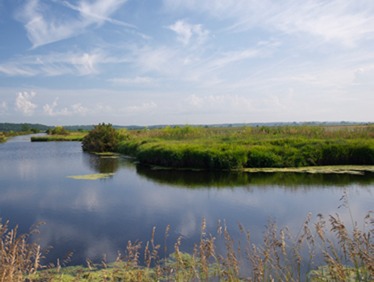 © Byron Jorjorian
6,000 to 4,000 B.C.
Stone tools and pottery indicate the earliest people arrived to Emiquon 12,000 years ago. Ranging from small campsites to large villages, evidence of former inhabitants can be found along the shores of Thompson and Flag lakes and the surrounding uplands.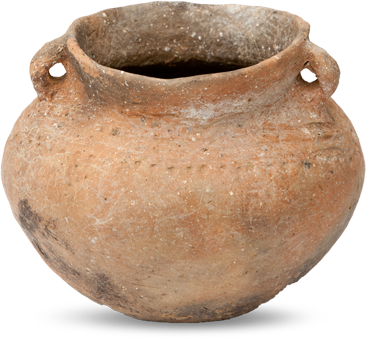 © Todd Winters
1600s
In 1673, the first Europeans Marquette and Jolliet visit Emiquon. In 1687, Henri Joutel provides first description of Emiquon and notes the difficulty in determining the route of the Illinois River through the area.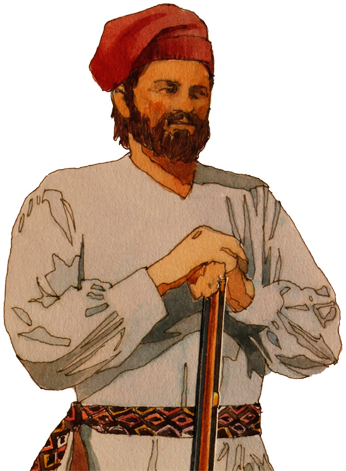 © Dickson Mounds Museum
1700s
In 1773, Patrick Kennedy visits area while searching for copper and describes natural environment in some detail.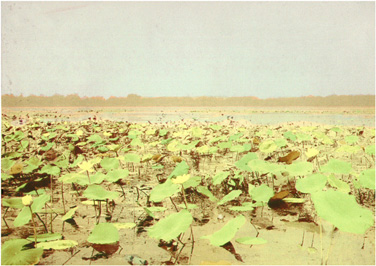 Courtesy George and Virginia Karl Collection, Havana Public Library
1800s
In 1849, first known log cabin is built at Emiquon along with first recorded birth—John Eveland. The 1870s brought the Jonathan Harn dairy operation and a railroad—which operated until 1934. Illinois Natural History Survey performed first scientific analyses of Emiquon in 1894.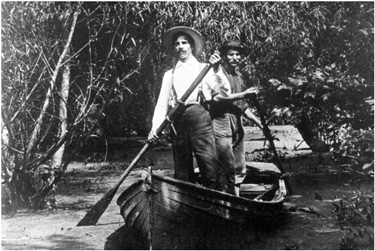 © Illinois Natural History Survey
1900 to 1940
In 1900, Chicago Sanitary and Ship Canal diverts water down Illinois River. In 1922 came first Illinois River levee is built, isolating Emiquon from the river. Thompson Lake was drained in 1924, killing 1.8 million pounds of fish. One year later, first rice crop was harvested.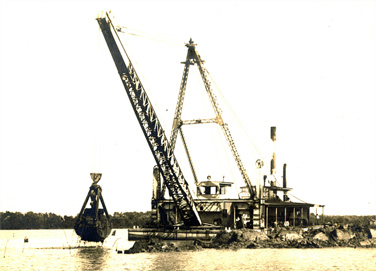 Mason County Democrat
1940 to 1970
In 1943, record floodwaters overtop Illinois River levee. Archeological investigations begin with Dickson Mounds Museum in 1963. Also during this time, two cattle feedlots were constructed and used until late 1970s.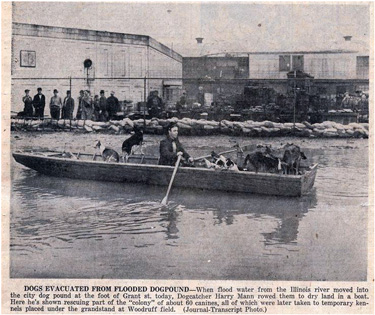 Peoria Journal Star
1970 to 1990
The 1970s brought construction of gas lines through Emiquon and collapse of West South Globe levee, damaging archeological sites. The 1980s brought deforestation of Wilder Tract and Oxbow Unit for farming, construction of 3,500-acre irrigation system and start of archeological survey on Illinois River banks.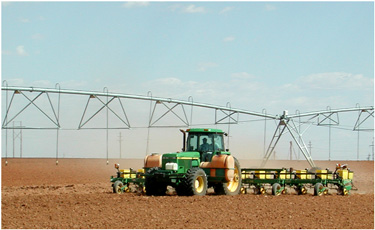 © agrilifetoday/Flickr
1990 to 2010
In 1993, U.S. Fish and Wildlife Service continued purchasing land for development of Emiquon National Wildlife Refuge. The Nature Conservancy makes first land purchase in 1996, after Illinois River reaches its third highest level in 1995, requiring sandbagging on south levee of Thompson Drainage District.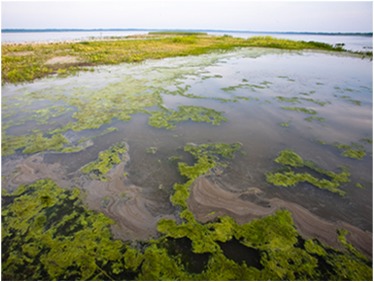 © Cristina Rutter
Emiquon Today
From 2000 through 2009, the Conservancy and U.S. Fish and Wildlife Service continued purchasing land to develop the 14,000-acre Emiquon complex. Restoration efforts began in 2007; archeological field school opened in 2008, along with Emiquon Field Station. Today, visitors enjoy Emiquon through spotting scopes, interpretive signage, boat launches, boardwalks and trails.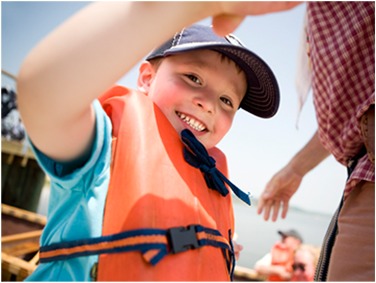 © Cristina Rutter
Emiquon's floodplains, upland forests and tallgrass prairies have attracted people to this area for more than 12,000 years.
From ancient native tribes to contemporary farmers, the area's abundance of food, water and shelter for wildlife made this land a natural place for settlers.
Archaeologists consider Emiquon one of the richest places for discovered Native American sites in the country. It is a place of mystery and legend with strong connections to the past.
Learn more about the human history surrounding Emiquon in the video to the right.
Birdwatching

© Cristina Rutter
Birds flock to Emiquon by the hundreds of thousands during spring and fall migration.
Migratory birds make arduous journeys, traveling anywhere from 3,000 to 15,000 miles during their migratory flights each spring and fall.
Wetlands such as Emiquon are critical to migratory birds' survival as they rely on these natural habitats for refuge, food and rest during their journeys.
Since The Nature Conservancy began restoration at Emiquon, thousands of migratory birds have flocked to the area—birds such as American coots, trumpeter swans, American white pelicans and Forster's terns.
See some of these birds during their migration through Emiquon in the adjacent video.
Explore the Birds of Emiquon
Click the camera icon on each bird to see an enlarged image. Click the headphones icon to hear each bird's call; click again to stop the sound.
Water Management

© The Nature Conservancy
A new water control structure will help Emiquon fully function as a floodplain wetland.
Restoring Emiquon to a functional floodplain wetland is one of The Nature Conservancy's restoration goals for the site.
A functional floodplain wetland has many benefits for both people and nature, including:
acting as a natural filter that cleans water;
recharging aquifers, the underground water sources for drinking and agricultural production;
providing some of the most biologically rich habitats on Earth, which also provides homes for wildlife;
providing outdoor recreational opportunities such as paddling and fishing.
In an effort to make Emiquon a fully-functioning floodplain, The Nature Conservancy is working to build a new water control structure that will create a managed connection between Emiquon and the Illinois River.
Fishing & Paddling

© Cristina Rutter
Emiquon has become a regional hotspot for fishing and paddling.
In restoring the wetland habitats at Emiquon, The Nature Conservancy has expanded fishing and paddling opportunities for the public.
With support from Jonathan and Nancy Hamill and the Hamill Family Foundation, the Conservancy has constructed visitor use amenities that allow the public to further explore Emiquon. These amenities include boardwalks, canoe and boat launches, hiking trails, observation decks and pavilions featuring interpretive signage for teachers, students, land managers and the public.
See what it's like to canoe Emiquon and learn more about the fishing opportunities in the adjacent video.
Explore the Fish of Emiquon
Click on the icons to get a close-up look at the fish found at Emiquon.