For some college students in Virginia, their classroom experiences may include getting hip deep in muddy muck, analyzing coyote scat or navigating drones over forest plots. It's all part of our collaboration with colleges and universities across the commonwealth, providing living laboratories for the next generation of conservationists.
Using the tabs below, explore these partnerships, learn more about our Short Term Experience Program, meet our Summer 2023 intern cohort and discover how students are helping The Nature Conservancy (TNC) expand our outreach to underserved communities and enrich our understanding of the places we protect.
Virginia's Short Term Experience Program (STEP) is a paid, 10-week summer internship program providing opportunities across the commonwealth for students to gain experience in conservation, inclusive storytelling, project management and more. All interns will have access to professional development trainings, TNC webinars and field trips to gain hands on experience on our landscapes. If needed, assistance with housing can be provided.
For more information about the program, contact Taylor Fanelli, Short Term Experience Manager, at taylor.fanelli@tnc.org or 804-728-0285.
Visit TNC's careers website. Internships open for applicants in early February.
Enter the job ID for the role you're interested in.
Submit your resume and cover letter by the deadline.
Stay tuned for next steps—interviews typically begin in late March. The STEP term will run from late May through early August. 

Past STEP intern projects that have contributed to TNC's mission include:

Land Monitoring and Stewardship (Lexington, VA): Assist with breeding bird surveys, vegetation monitoring, data management, trail, sign and general preserve stewardship on our 18,000 acre Warm Springs Mountain Reserve.
Brownsville History Research (Nassawadox, VA): Help uncover and share a more inclusive history of life on Virginia's Eastern Shore. Research the history of African Americans of Brownsville Preserve while developing visual representations and family narratives for future use.
Coastal Conservation Technician (Nassawadox, VA): Assist with marine habitat restoration efforts and stewardship of beach nesting birds on Virginia's Eastern Shore.
GIS Technician (Charlottesville, VA): Provide technical support and assistance with maintaining and populating data, produce maps and more to support projects ranging from land protection to conservation planning.
Lands and Lives Project (Charlottesville, VA): Research experiences of Indigenous people, African Americans and other underrepresented communities on lands where TNC works.
Natural Climate Solutions Project Assistant (Charlottesville / Richmond, VA): Conduct research, assist with partner meetings and provide general project support to Virginia's Senior Conservation Scientist as we develop a strategy for Natural Climate Solutions.
Spanish Language Outreach (Nassawadox, VA): Assist TNC with making our programs and lands on the Eastern Shore more welcoming and accessible to local Spanish speaking communities by translating materials and planning public outreach events.
Preserve Stewardship (Charlottesville, VA): Assist with prescribed burning, trail management and general vehicle and tool maintenance at TNC preserves around the state.

The Nature Conservancy is always looking for dedicated volunteers to help manage our preserves, take photos and videos for social media, assist with clean up days and more! Visit our volunteer page or email vavolunteers@tnc.org for more information.
---
 

Meet the 2023 STEP Intern Cohort
Eli Beech-Brown, Duluth, MN
GIS Technician—Charlottesville
Eli is a junior at the University of Richmond studying geography and environmental science with a minor in data science. Outside of class, he enjoys playing ultimate frisbee, exploring Richmond by bike and spending time outside with his friends—a few favorite activities are hiking, rock climbing and swimming.  
Grace Dho, Richmond, VA
Land Monitoring & Stewardship—Allegheny Highlands Program
Grace is a 2023 graduate of the College of William & Mary with a double major in biology and integrative conservation. Grace is excited to be a part of this year's STEP cohort and is looking forward to gaining new field experiences. When she's not working, Grace enjoys playing ultimate frisbee and exploring Virginia's natural wonders. 
Alicia Godwin, Onancock, VA
Brownsville History—Volgenau Virginia Coast Reserve
Alicia is a junior at Longwood University studying criminal justice and anthropology and minoring in biology. A die-hard Philadelphia Eagles fan, she enjoys meeting new people, learning about different cultures and languages and is constantly looking for new adventures. Alicia is looking forward to gaining a deeper understanding of the environment and is excited to use her skills to help advance TNC's mission.
Xinyue Li, Jiangsu, China
Natural Climate Solutions, Arlington
Xinyue attends the University of Chicago studying energy and environmental policy. She is looking forward to learning about the local climate experience and community engagement in Virginia. Xinyue is a bunny person, who'd love to show everyone her holland lop named ChowChow.
Hayley Marshall, Eastville, VA
Coastal Conservation Technician, Volgenau Virginia Coast Reserve
Hayley is a 2023 graduate of the University of Virginia with a double major in environmental sciences and global studies with a minor in French. After spending the last year abroad in Morocco and Europe, she is excited to return home and explore her passion for coastal conservation and restoration. She hopes to use this experience to learn more about the Eastern Shore's ecosystems and gain skills to apply to a future career helping coastal communities adapt to climate change and build positive relationships with nature. Hayley can't wait for the sunny days ahead in VVCR's seagrass meadows and oyster reefs!
Anna McCarter, Onancock, VA
Spanish Language Outreach, Volgenau Virginia Coast Reserve
Anna is going into her third year at the University of Virginia, where she is majoring in media studies and Spanish. She is planning to spend the upcoming semester in Spain. Anna looks forward to spending the summer with TNC and finding new ways to connect with the Latina/o community. Don't be surprised if you see a lot of her puppy, Olive. Anna is quite an animal person!
Susan McHarris, Portland, OR
Lands and Lives Project, Charlottesville
Susan is a philosophy and environmental studies student at Swarthmore College. As someone interested in not only humans' impact on our environment, but our environment's impact on us, she is excited to spend the summer promoting conservation and environmental justice through storytelling. At home in Portland Susan has three cats whom she loves and misses dearly!
Will Storey, Mechanicsville, VA
Preserve Stewardship, Charlottesville
Will is a junior majoring in environmental science at Virginia Tech. He grew up volunteering in many church outreach programs and working on local farms. He is excited about the opportunity to work with so many talented and experienced professionals in the conservation field and looks forward to gaining skills, experiences and relationships that will last a lifetime. When not studying or playing with his dog, Winston, you can probably find Will hiking, working on his car or restoring axes for his axe collection.
Accepting a Queer Nature
How queer ecology can make us better conservationists
By Susan McHarris, Virginia Lands and Lives Intern | July 27, 2023
×
One of the first things you learn when studying conservation ecology is that biodiversity and stability go hand in hand. Whether at the species or ecosystem level, having greater genetic diversity allows organisms to better weather disturbances. And as it turns out, the same can be said for humans. Fostering collaboration and interdependence despite differences serves to make us stronger. 
To this end, it's important that we continue to listen to and highlight queer perspectives.
Although Pride Month is behind us, there seems no better time than the present to remember that Pride started as a riot. In 1970, the first Pride march was organized to force the general public to see LGBTQ+ communities and contend with their struggle for human rights. For those outside the community, the increasing visibility of LGBTQ+ people meant one thing: The nuclear family composed of heterosexual, cisgender people, might not be the only way, or the only desirable way, to live.
At its core, this is what queerness has always been about: an expansion of what we consider "normal." The term queer—initially used to describe something "odd" or "strange"—has been used as a pejorative for, and more recently reclaimed as an identity by, LGBTQ+ people. Recently, the term has also been increasingly popular within academic spaces, where it signifies a rejection of dominant paradigms. "To queer" in this sense is to insist upon alternatives to traditional ideas of gender and sexuality.
For many in environmental spaces, this use of queer inspires a reimagining of our relationship to the natural world and urges us to take a critical lens to both what we know, and how we know, what we know.
---
If you live in the Western world, your knowledge about the natural world probably comes from popular science. And while the scientific method (when done correctly) does produce replicable claims about the world, it can only be as objective as its practitioners. Not surprisingly, Western science tends to fall into the same pitfalls as the larger culture that informs it. Cultural norms, such as patriarchy and heteronormativity, impact what gets researched, what conclusions are drawn from data and, ultimately, how we view the natural world.
This is where the discipline of queer ecology steps in. Initially coined by environmental humanities scholar Catriona Sandilands, the term has been embraced by those interested in understanding how our cultural norms around gender and sexuality have impacted how we view the natural world.
We know that our society likes to see things in terms of binaries: culture vs. nature, man vs. woman, good vs. evil. And in a way, these binaries are the natural consequence of our pattern-seeking brains; they allow us to easily categorize and interpret the world around us. However, our preference toward simple categories can also cause us to turn away from things that are not easily categorizable.
Our urge to understand nature through binaries has left various ideas and beings either understudied or misunderstood, which can have lasting impacts on our ecological practices. For example, biologist Dr. Patricia Kaishian describes how fungi, beings that exist beyond the categories of plant or animal, have been largely left out of conservation efforts due to their lack of conformity to quantifiable boxes.
When ideas fail to conform to our norms, we tend to throw them out entirely. Controlled burns, a forestry method used for thousands of years by Indigenous people in the Americas, were erased by the settler narrative that North America was a pristine natural wilderness. Fire suppression policies, enacted due to the belief that fire was unequivocally bad for ecosystems, had the additional effect of excluding Indigenous groups from the land stewardship essential to their cultures.
Queer ecology wants to remind us that our understandings of the natural world will never be separated from our understanding of ourselves. This goes both ways: If we want to live in a society accepting of queer people, we should accept that nature is fundamentally queer, too.
When we begin to understand that queerness is integral to nature, we accept the variance of identities within our own society and selves. For many Indigenous and non-Western societies, gender variance has long been accepted and celebrated, but the U.S continues to remain a hostile environment for gender-non-conforming folks.
Opponents to LGBTQ+ issues frequently state that being queer "isn't natural." Yet homosexuality evidently is natural; over 1,500 animal species have been observed performing same-sex sexual behavior. While scientists are unsure of how homosexuality evolved in animals, there are many theories about its advantages for survival, especially for social species.
While gender identity is a uniquely human phenomenon, various animal species exhibit forms of non-binary sex. For example, many species of fish are sequential hermaphrodites, meaning they begin as one sex but switch to the other later in life. Intersex conditions—in which an individual possesses both male and female traits—appear across the phylum Animalia. And in plants, this number explodes. Although we tend to attribute femininity to flowers, about 90% of flowering plants produce bisexual flowers, with both male and female reproductive organs.
×
The reality is that neither humans nor nature fit neatly into binary categories. Realizing this, we see that the strength of modern science can also be its weakness. While reducing information into standardizable bits of data is important to digest big ideas, if that is the only way we understand the world we risk erasing what can't be standardized. This is exactly what a queer ecological lens can help shield us against.
As those interested in nature and its protection, we should take issues of homophobia and transphobia seriously, not just because they impact our queer friends and family members (although that should be reason enough), but also because these biases impact our relationship with the natural, more-than-human world.
And there is no better time than the present to be open to ideas that may seem counterintuitive or that resist the norm. With environmental crisis looming on the horizon, it is evident that many of our traditional ways of interacting with the natural world are unsustainable. Effective solutions may come from unexpected places, including our blind spots.
---
Susan McHarris is the summer 2023 communications intern for TNC's Virginia Lands and Lives Project, exploring stories of under-represented communities through the lenses of conservation and environmental justice. From Portland, Oregon, Susan is a philosophy and environmental studies student at Swarthmore College.
Lands and Lives
During the summer of 2022, three interns joined TNC to help expand our outreach, working on projects focused on more inclusive storytelling and interpretation of the lands we protect. 
Basia Scott, from Greer, South Carolina, is studying anthropology at Wake Forest University. She was the summer 2022 communications intern for TNC's Virginia Lands and Lives Project, researching historic and contemporary Indigenous communities in places where we work and exploring African Americans' traditional connections to nature. Her capstone project, From the Sky to the Rivers, is a personal reflection on the complex connection between African Americans and the landscape.
Claudia Moncada, from Johnson City, Tennessee, has a Bachelor's degree in Marine Science from the University of South Carolina and is currently pursuing a Master of Arts in Marine Science from the Virginia Institute of Marine Science (VIMS). She worked with the Volgenau Virginia Coast Reserve (VVCR) Program as the Spanish Language Conservation Outreach Intern during summer 2022 and developed Spanish language translations for Brownsville Preserve visitor materials and audio tour.
Vanessa J. Moses is an Eastern Shore native who grew up in Accomack County and graduated from Nandua High School in 2015. She continued her studies at the University of Virginia, graduating in 2019 with a double major in Environmental Thought & Practice and African American Studies. She was the VVCR Program's Brownsville History Intern researching the lives of enslaved and freed African Americans at Brownsville. She reflects on the enslaved individuals who built what is now Brownsville Preserve and the connections she found across time in her own family's history in her personal essay, Recovering the Past: A History that Mirrors My Own.
---
In the interview below, Basia, Claudia and Vanessa share their experiences and what nature and conservation means to them.
How did you first find out about the internship? How familiar were you with TNC—if at all—and what was your perception of the organization or conservation work in general?
BASIA: I found out about the internship on LinkedIn. I was not at all familiar with TNC and had very baseline perceptions of conservation. I understood the need for it, but not necessarily how I fit into the mission.
CLAUDIA: I hadn't heard much about TNC at the time, but VVCR Program Director Jill Bieri is a VIMS alumna. I was encouraged to reach out to her about any potential summer opportunities in the area. I had heard that there was a large Spanish-speaking population on the Eastern Shore of Virginia and was interested in possibly working with them. Jill connected me with the Outreach and Education team, Margaret Van Clief and Jenny Miller, and we worked together to come up with projects I could complete during an internship. I've been interested in conservation work for most of my life, so TNC seemed like a great fit for me to grow professionally.
VANESSA: I found out about the internship from a local ad in the Eastern Shore Post. My mom took a picture of the ad and sent me the photo while I was living in Baltimore. I became familiar with The Nature Conservancy because I'd had two former teachers who worked for TNC. My high school biology teacher, Gerard Hennessy, was a former director of the Virginia Coast Reserve (1974 - 1984). My college water sustainability professor, Brian Richter, worked to conserve the Colorado river pike in his former role as Director of TNC's Freshwater Program.
Why you were interested in this internship?
CLAUDIA: Science communication, and specifically bilingual science communication, is very important to me. I was interested in an internship with TNC because it's an international nonprofit that does some really important work, and VVCR does a lot of work with the community—like coastal resilience planning and habitat restoration—that I find really awesome. Once we settled on working with the Spanish-speaking folks on the Shore, I was very excited to be able to lay the groundwork for something TNC and VVCR haven't really done before. 
VANESSA: This opportunity through TNC was unique and long overdue. As an organization that buys land to conserve species and prevent further degradation, it was an impactful step for TNC to focus on the first stewards of the land, the enslaved people who changed and worked the landscape of Brownsville. This historical research included both of my passions, environmental stewardship and diversifying the conservation world. In addition, I thought it would be an opportunity to understand and contextualize my own family history, as I have ancestors that have been on the Shore since the early 1800s.
BASIA: I absolutely love history and telling stories, specifically those of the underrepresented. So having a chance to focus on lands and lives, exploring stories and conditions through the lens of place was incredibly interesting to me. Additionally, as an anthropology major, this type of internship seemed like a practical application of my area of study.
Talk about your role with TNC and the projects you've been working on.
VANESSA: My role was to uncover the overlooked history of enslaved and freed African American individuals who were members of the Brownsville and Nassawadox communities. Some may view Brownsville as just a historic site, but it was more than just a home. It was a plantation owned by the Upshur family, and, as such, it has a complicated and difficult history of enslavement and inequity built into its foundation. While TNC has some established connections to the former owners of Brownsville, it is my responsibility to fill in the gaps of knowledge about the first stewards of this land: the enslaved laborers and their descendants.
By transcribing the white Upshur family property tax and estate documents, housed in William & Mary's state archive, I have created a family tree of approximately 80 enslaved people living at Brownsville between 1782 and 1855. Additionally, I used census records, online genealogy programs (like Ancestry.com and Family Search), Northampton courthouse proceedings, birth and mortality schedules, Free Black records and Civil War registrations to illuminate details about these individuals' lives.
BASIA: I had two major projects over the course of the summer. One was more of an internal resource, a spreadsheet that documented the historical Indigenous presence in the places that TNC protects within Virginia. It also provided contemporary groups to consult in collaborative conservation and interpretation efforts.
Alongside this spreadsheet, I created a companion document that gives guidance on the purpose of the document, offers tips for producing land acknowledgments, and explores the importance of being mindful of what type of language is used when speaking of/about Indigenous groups. This project serves not only as a visual representation of Indigenous displacement within Virginia, but also as a starting point for land acknowledgments, conversations and more inclusive conservation.
Additionally, I am also working on a final project, an article that explores the complex relationship that the African American community has to nature—and misunderstandings of that relationship. Often, it seems that people both outside and inside the community feel that nature (and therefore conservation) is not for Black Americans, but through the examination of our past, we can find quite quickly that nature has been an underlying part of oppression and freedom, serving as a canvas for our story.
CLAUDIA: The main deliverables I produced for VVCR during my internship were a translated recording of the William B. Cummings Birding and Wildlife Trail audio guide, transcriptions for the audio guide in both English and Spanish, an updated translation of the printed Spanish trail guide and translated text for the island use guidelines.
The big community engagement event I planned was for Latino Conservation Week, a nationwide event from the Hispanic Access Foundation that aims to get more Latino and Spanish-speaking people out in nature. We held a picnic lunch and bilingual wagon rides on July 23 at Brownsville Preserve and just encouraged people to come out to the trail with their families and enjoy nature. Translated materials pertaining to the trail were ready for the beginning of the week as well, and self-guided tours were encouraged all week long.
In addition to the logistical event planning, I also wrote up advertising materials to be printed in the Shore Daily News and the Eastern Shore Post newspapers and websites, as well as two scripts for radio advertisements that would be played on Radio Amigo, a national Mexican radio station that plays in the area and has local show hosts. Beyond this main project, I also assisted with some high school field trips and classroom visits, as well as helped run the nature camp for 9-12 year old kids in August.
What were the top highlights and challenges of your intern experience? Any surprises?
BASIA: My highlight was getting to visit the Eastern Shore of Virginia. I had never been there before, but I got an amazing opportunity to meet other interns, get closer with my team and learn more about the historical contexts of the Brownsville Preserve.
Another highlight and challenge wrapped up into one was my Indigenous Lands Project, which took a lot of cross referencing, research and time to compile, but was also incredibly satisfying to complete because this type of work can benefit TNC and the Indigenous communities in the area.
CLAUDIA: The main challenge this summer was figuring out how best to reach the Spanish-speaking community in the area and ensure that they knew Brownsville was accessible to them. With this being the first real attempt to engage with this community, we had no idea what to expect in terms of attendance for our event or when might be the best days and times to put on engagement events like this one. We learned a lot through this first event, and I really hope that more events like this one continue to happen at VVCR and other TNC offices.
A pleasant surprise was how much it really means sometimes when you speak to someone in the language they are comfortable with—one student from our high school field trips out to the Barrier Islands recognized me out on the street after I had done some interpretation for her in Spanish when it became obvious that she preferred the language over English. Moments like that really highlight the importance of work like this!
VANESSA: Being able to join my coworkers as they conducted work in the field was the highlight of my summer internship. I've finally stepped foot on a barrier island—something few Eastern Shore locals have experienced. I swam in eelgrass beds and collected water samples to study with students.
Something that surprised me while conducting this historical research was little documentation of Freed Black people being married at young ages. Often, I've heard that "people got married earlier" or "people died younger" in the past. To date, I have not encountered people who married before age 18. It is important to note that in the 18th and 19th centuries, individuals were not considered to be an adult (i.e., could not accept inheritances) until age 21, and sometimes later for women. Additionally, accurate dates of birth and the subjectiveness of Census and marriage officials could play a role.
What's next for you? And how do you hope your internship will help with or affect your plans or goals?
CLAUDIA: I'm returning to VIMS to finish up my last year of the MA program. I'll graduate in spring 2023 and hope to either return to TNC or find similar work with another nonprofit. This internship has solidified to me that this is a career path I'd like to pursue, and I am certain the connections I have made here will be helpful to me in the future, regardless of which path I choose.
After concluding my internship with TNC, I plan to pursue a career in environmental education. A job as an interpreter with the National Park Service seems like a good fit for someone who loves talking and giving tours (I was an orientation leader and Rotunda ambassador while at UVA). However, I have gotten a taste of the sweet nonprofit life, so I would be happy to stay with TNC or a similar organization if the opportunity arises.
VANESSA: Mostly, I want to hold a position that can inspire people who look like me and have an interest in environmental stewardship. It's tough being a Black woman interested in conservation, a predominantly White field. I think this internship has shown me that there are people-focused careers in conservation, and it has strengthened my resolve to diversify this field.
BASIA: I am going back to Wake Forest for my junior year of college, and I definitely have a new lease on where my degree can take me in the future because of this internship. I really enjoyed my time with TNC because of the welcoming environment and also because of their dedication to bridging the gaps made by historic inequality. As I look forward, I hope that this experience will allow me to find new avenues of storytelling for underrepresented communities and their senses of place, whether that be in the nonprofit world, academic settings or any other field.
What insights or suggestions do you have for TNC in terms of continuing your work? Where could or should it go from here?
VANESSA: In continuing this historical research work, TNC should allow this project to be community and descendant led. I have completed some of the first steps needed to incorporate local Black stories into the history of Brownsville: mapping family trees, documenting occupations, sorting through Civil War records, etc. Moving forward, the African American descendants of Brownsville should be deciding what the next steps of this project should be, whether creating a memorial to enslaved laborers or recording oral histories to recognize important contributions of the African American community here on the Shore.
BASIA: When it comes down to it, continuing to invite diverse perspectives and ideas into the inner workings of the organization is incredibly important to continue this work. Having more interns, established positions, and resources for historical research and diverse storytelling is my biggest suggestion.
Making these discussions and types of content commonplace will expand TNC's ability to reach new audiences/stakeholders and maintain healthy relationships with them. Additionally, producing more content geared towards communities of color and fostering more genuine collaboration with these groups are also important, because when people can see themselves in a story or organization, they might be able to more easily understand and support TNC's mission.
Overall, continuing in the current direction and making positions like this one accessible are key to expanding the reach of TNC and bringing about inclusive (and effective) conservation efforts.
CLAUDIA: I think that TNC should take stock of the different communities around them and place emphasis on hiring people who can help them reach those broader audiences—whether that be creating a specific position for bilingual communication or hiring out translation services from other professionals. There are so many people out there who would greatly benefit from both learning about the work TNC is doing and also simply being outdoors and enjoying nature, and a huge portion of them are being missed due to things like language barriers. Since TNC is a global organization, I think it's a natural next step to consider communicating its work beyond the people they have historically been reaching.
What do words like nature or conservation mean to you? Have your ideas changed in any way over the course of your internship?
BASIA: Nature is such a vast word, but the essence of the word means Earth to me. It means dirt, grass, trees, animals and water. It is an overarching concept that defines the place we live, even if we have over time separated our actual dwelling places from it with walls and roofs.
Conservation seems more loaded, as conservation efforts have seen many different phases. But to me it means caring about the world, and the beings in it, enough to protect them. Before this internship, I would have had a harder time describing what conservation meant to me, because I did not have a lot of experience with it. However, after seeing conservation at work on Virginia's Eastern Shore, it is clear to me that conservation is about everyone and everything, including the community, the animals and the plants.
CLAUDIA: I think, if anything, my time with TNC this summer has taught me that nature and conservation can be as big or as little of a part of your life as you'd like to make them. There are people whose entire lives revolve around the terms, like our birding team or the migrant farmers that work the fields in the area, and there are people on the Shore who have lived here their entire lives and had no idea they could come walk Brownsville Preserve or even that TNC is doing work here. In making the effort to meet community members where they are, I think more people will be able to decide for themselves what they would like nature and conservation to mean, and that's a choice that everyone deserves to be able to make.
VANESSA: Nature has always been reminiscent of home to me, being a Shore native. To me, nature means sea breezes, shade under walnut trees, marsh mud, tall grasses speckled with bright chicory flowers along the back roads, greenhead bites and cookouts. Through this internship, conservation has come to mean a preservation of stories yet to be told. It means preserving the real story, and accepting the brutalities and misfortunes of that reality. I have always felt that people and nature are intertwined, and this project seeks to further examine and illuminate that fact.
---
College and University Partners
Explore the page below to take a closer look at specific projects and partnerships and get more details about our work and collaborations. Expand the list of partners, which includes some of the schools we have worked with, both in the commonwealth and beyond.
---
Red-cockaded woodpecker
Newly banded red-cockaded woodpecker chicks at Virginia's Piney Grove Preserve.
©
Robert B. Clontz / TNC
College of William & Mary
Center for Conservation Biology
At Piney Grove Preserve, TNC is working to restore the longleaf pine of Virginia's founding forest and the northernmost population of the endangered red-cockaded woodpecker, Virginia's rarest bird. The Center for Conservation Biology (CCB) has been a key partner in this effort for more than two decades.
Biologists from CCB monitor breeding activity and complete two population censuses each spring and fall to document productivity and allow for banding of all red-cockaded woodpecker (RCW) individuals within Piney Grove. Starting from just two breeding pairs, CCB has documented modern-day highs at Piney Grove for the numbers of breeding pairs and fledglings. 
CCB also monitors RCW populations that have moved into the neighboring Big Woods Wildlife Management Area as well as a population in the Great Dismal Swamp National Wildlife Refuge established from birds reintroduced into the refuge in 2015.
On the Eastern Shore, the Volgenau Virginia Coast Reserve also has a long history of collaboration with CCB, partnering to implement ongoing monitoring and management programs, including a 5 year coastal plain survey for all colonial waterbirds, Whimbrel Watch, historic aerial shorebird surveys, and peregrine towers as well as identifying and prioritizing pressing conservation, management and research requirements related to our work with whimbrel, oystercatchers and red knots.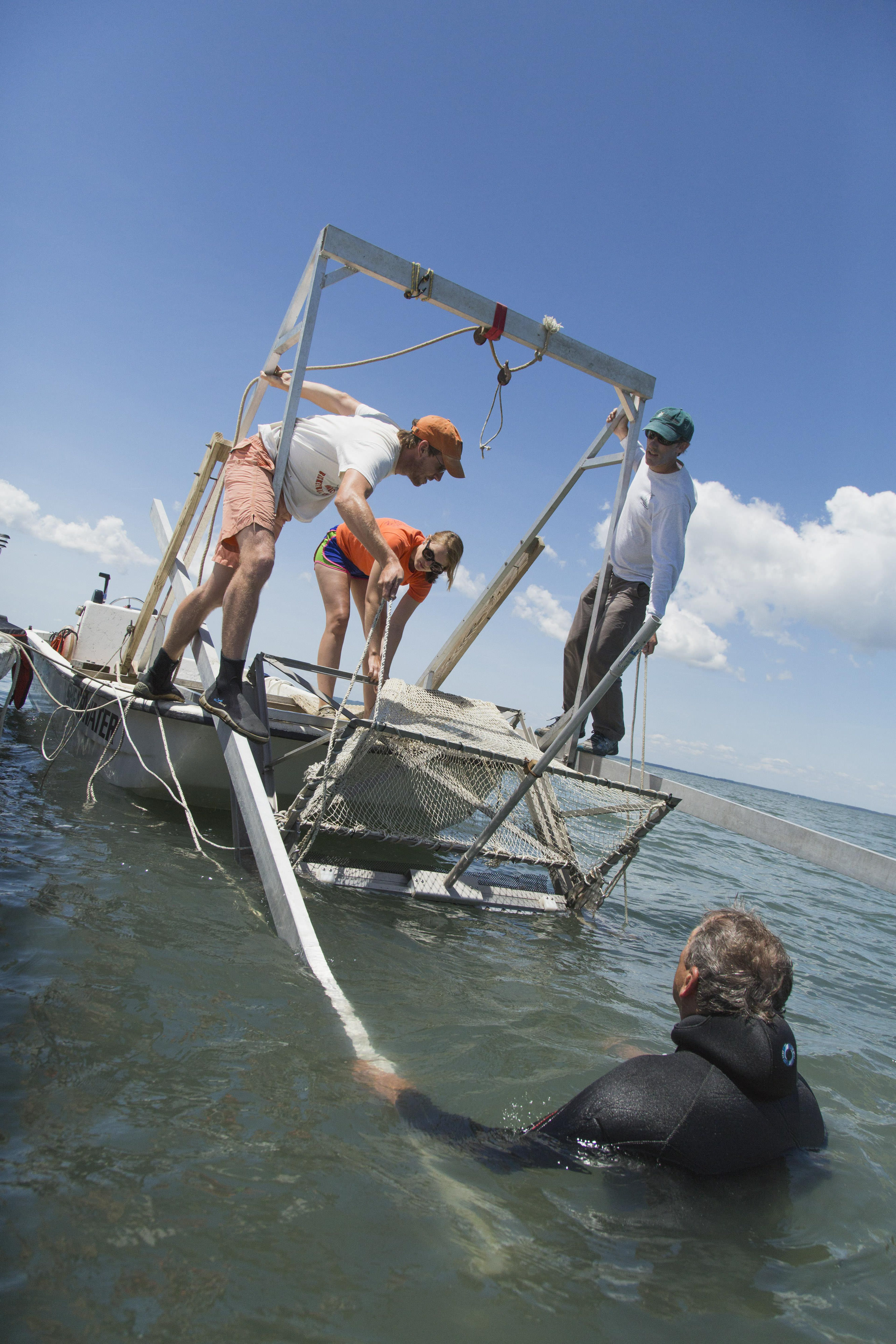 Working with Partners
Staff and volunteers from VIMS collect eelgrass trimmings with a boat-mounted mower. The process is similar to mowing a lawn; the eelgrass will soon grow back.
©
Peter Frank Edwards
College of William & Mary
Virginia Institute of Marine Science
TNC and Virginia Institute of Marine Science (VIMS) are both partners in the Seaside Heritage Program which began funding for the large-scale, successful eelgrass and oyster restoration efforts that continue today.
Our most notable partnership with VIMS centers on eelgrass, the largest seagrass restoration project in the world. The Volgenau Virginia Coast Reserve (VVCR) and VIMS collaborate together on annual seed collection, curing and storing of seeds in VVCR's facility in Oyster and seed planting and monitoring.
Scallop restoration and reintroduction represents another significant area of effort. We work closely with VIMS' Eastern Shore Laboratory (ESL) on techniques for growing scallops at VVCR's facility in Oyster along with field monitoring studies to track scallop survival.
VVCR's Parramore Island, one of 14 undeveloped barrier and marsh islands, is regularly used by ESL staff and VIMS faculty for educational trips.
TNC has also worked with VIMS on a Chesapeake Bay aquaculture project aimed at quantifying the ecological benefits of oyster aquaculture to the bay. VIMS provided the scientific expertise to measure the water quality impacts and benefits to help answer the question, can oyster aquaculture make the bay cleaner, faster?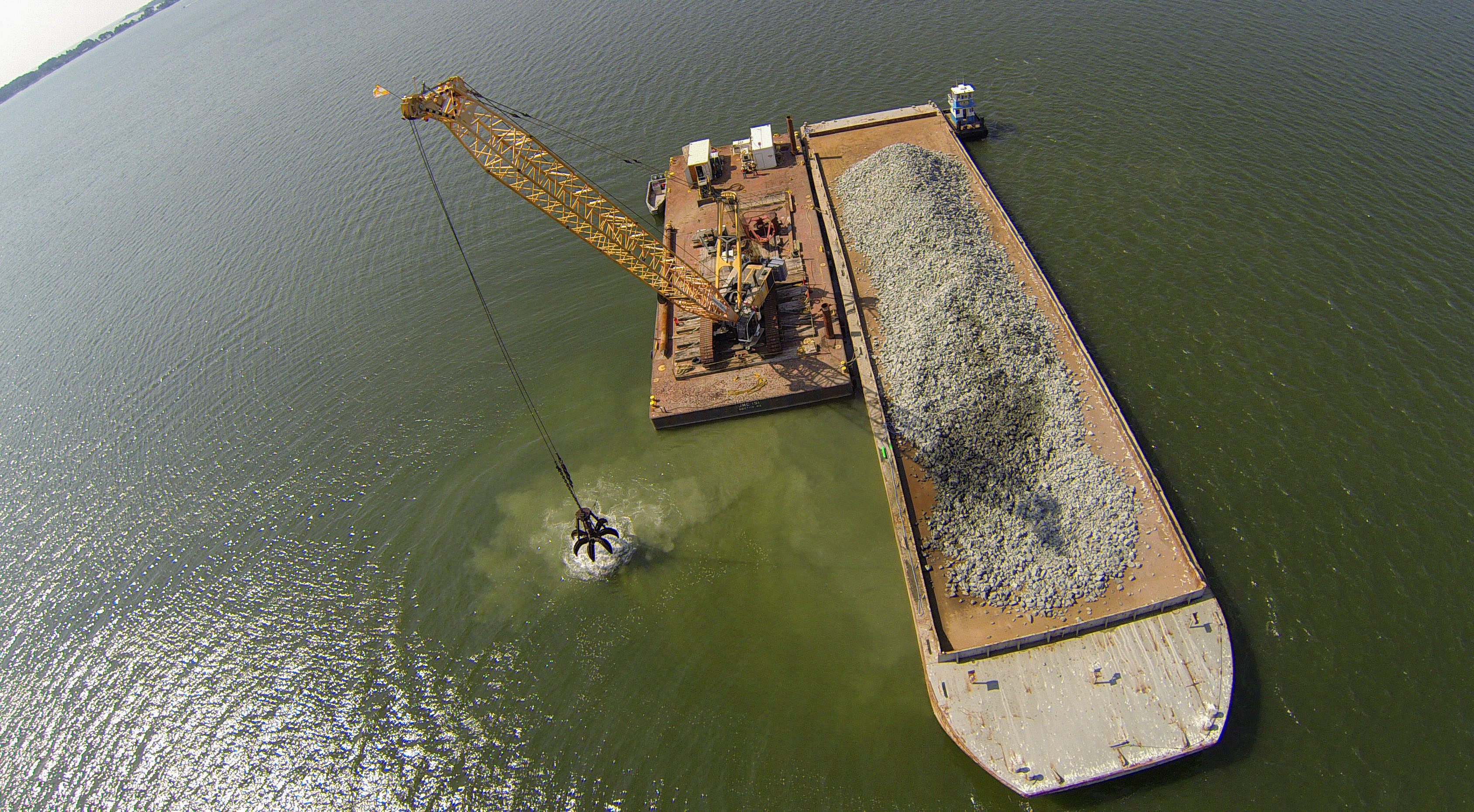 Building a Reef
Granite rock is methodically placed in Virginia's Piankatank River to form the newest, 25-acre oyster reef in the Chesapeake Bay watershed.
©
Patrick Bloodgood/U.S. Army photo
Virginia Commonwealth University
From Mountains to Coast
VCU's field research station, Rice Rivers Center in Charles City County, is the site of a TNC held easement and a Virginia Aquatic Resources Trust Fund (VARTF) wetland and stream mitigation project.
This longstanding partnership with VCU provides great educational and research opportunities, including a NOAA funded project administered by VCU's Center for Environmental Studies to assess fish production around newly restored oyster reefs in the Piankatank River. Nikki Rovner, TNC Virginia's associate state director, has also taught a graduate level natural resources legislation class in the Center for Environmental Studies. 
Our Allegheny Highlands program has also collaborated with VCU to conduct research in western Virginia, including avian studies to track the migration of golden-winged warblers and cerulean warblers as well as developing proposals for land management studies for the benefit of golden-winged warblers and other wildlife.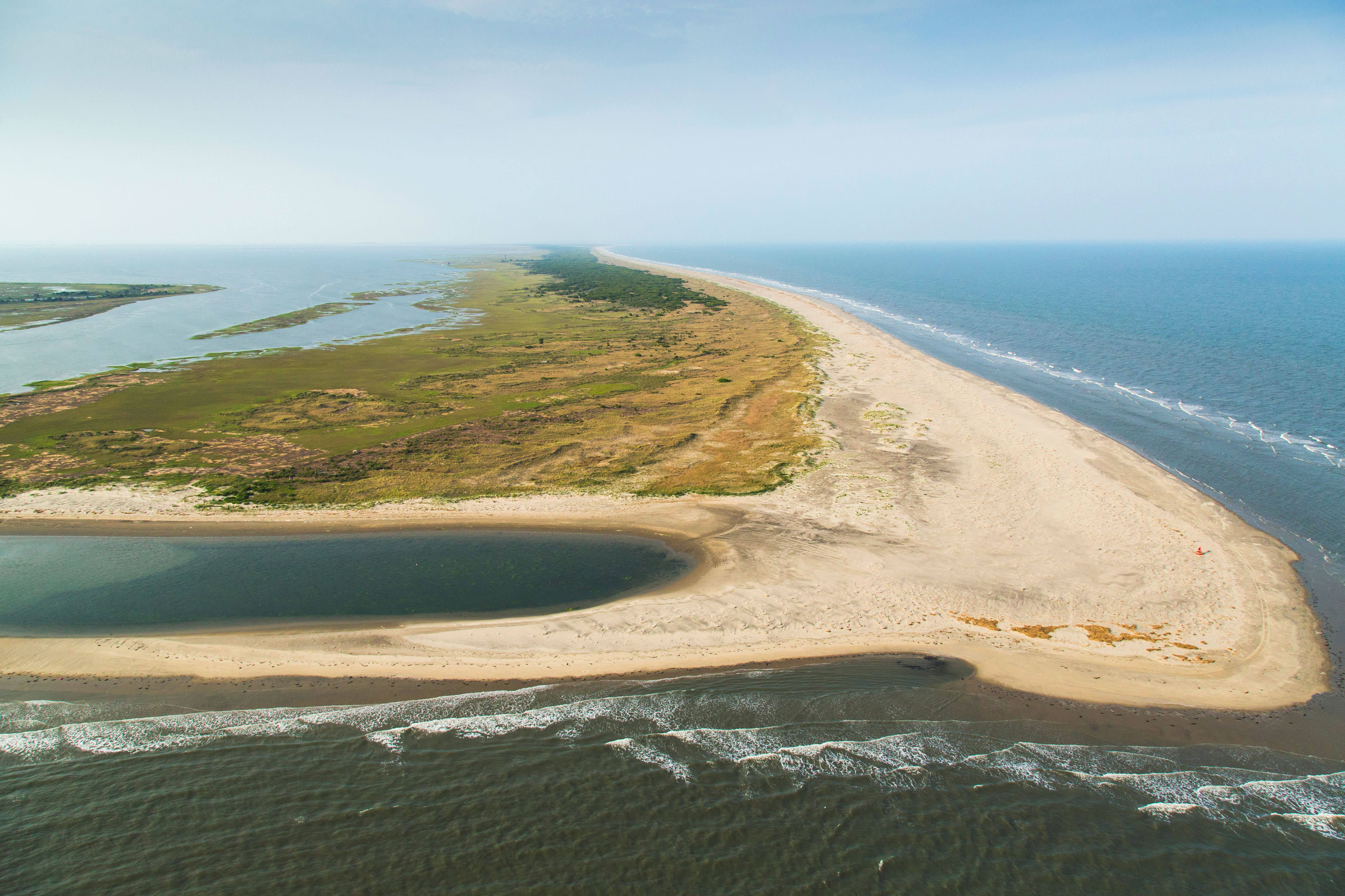 Hog Island
Aerial view of Hog Island, Virginia, one of fourteen barrier and marsh islands protected by the Virginia Coast Reserve.
©
Peter Frank Edwards
University of Virginia
Long Term Ecological Research Program
The largest and longest-lived ecological network in the United States, Long Term Ecological Research (LTER) brings together a multi-disciplinary group of scientists to study, document and analyze environmental change at sites across the country. The LTER program at the Virginia Coast Reserve began in 1987 and is administered through the Department of Environmental Sciences at the University of Virginia.
LTER provides long-term data demonstrating changes to a myriad of natural systems located within VCR—salt marsh, seagrass, upland forests and barrier islands—that may be affected by climate change disturbances and how that may affect both human and natural communities on the Eastern Shore.  Our partnership includes:
Determination of research priorities within the Virginia Coast Reserve, with input from scientists and graduate students from all LTER institutions (including Virginia Commonwealth University, Old Dominion University, Virginia Institute for Marine Science and the University of North Carolina) 
Data dissemination (i.e. using LTER models and data for creation of portions of the Virginia Eastern Shore Coastal Resilience Tool)
Oyster restoration and wave attenuation studies
Recruitment of volunteers for field studies and restoration
Issuing and managing research permits for all aspects of LTER work that occur on TNC properties, including Brownsville Preserve and the barrier islands
Co-lead professional development courses for teachers and educators
Working collaboratively to manage the cross-island trail, dock and other infrastructure on Hog Island
In Charlottesville, UVA professors have used the Virginia Aquatic Resources Trust Fund's (VATRF) Meadow Creek project as a study site for their courses. Meadow Creek is one of the largest urban stream restoration projects completed in Virginia to date. UVA graduate students have conducted research at the site and VARTF has partnered with a UVA professor on a grant from the Landscape Architecture Foundation to study the economic and social benefits of the restoration.
The Virginia chapter has relationships with Virginia Tech across many of our landscape and conservation programs.
TNC's Allegheny Highlands program works closely with faculty and students from Virginia Tech to facilitate research and provide access to the chapter's 10,000 acre Warm Springs Mountain Preserve.
Recent and ongoing research has included studies to determine the distribution and habitat use of eastern spotted skunks in western Virginia; a comprehensive bat research and monitoring program on Warm Springs Mountain Preserve and the adjacent George Washington National Forest (funded by the national Joint Fire Science Program); estimating population abundance and determining habitat use and movement patterns of coyotes (Canis latrans) in the Warm Springs Mountain Preserve and surrounding National Forest, state, and private lands in Bath County; and studying the predation and scavenging behavior of bobcats, bears, and coyotes on white-tailed deer and the implications of that behavior on white-tailed deer populations. 
In southwest Virginia, our Clinch Valley program works to protect habitats in the Clinch River that support some of the world's most diverse assemblages of freshwater mussels. TNC recently embarked on a significant ramp-up of mussel-augmentation capacity in partnership with Virginia Tech and the Virginia Department of Game and Inland Fisheries (VDGIF).
Thanks to an approximately $200,000 grant from the National Fish and Wildlife Foundation (NFWF) and matching resources from the partners, TNC will collaborate with the Virginia Tech Freshwater Mollusk Conservation Center and VDGIF's Aquatic Wildlife Conservation Center to produce 100,000 juvenile mussels—an approximately six-fold increase—for release into the Russell County, Virginia, reach of the Clinch River.
The grant will also support a cutting-edge new juvenile mussel transformation technique that, instead of requiring live fish hosts, uses in-vitro media. If successful, this innovation may enable far greater mussel production than previously possible. This three-year project commenced April 1, 2020.
On the Eastern Shore, the Volgenau Virginia Coast Reserve (VVCR) program has worked with Virginia Tech's Shorebird Program since 2006 to further our understanding of red knot ecology on the Virginia barrier islands. 
Work led by Dr. Jim Fraser and Dr. Sarah Karpanty has shed considerable light on the importance of coastal habitats at VVCR for the rufa subspecies of red knot. We continue to support their annual efforts to sample the islands for red knot prey availability. 
VVCR has also collaborated with Dr. Karpanty on several projects through her role with UVA's LTER program including investigating mammalian predator population dynamics and implications for island, and the use of drones for predator and shorebird management.
The Virginia Aquatic Resources Trust Fund (VARTF) is providing multiple years of hydrology data from several of VARTF's coastal plain and piedmont wetland sites. The data will contribute to a project led by Dr. Lee Daniels, Dept. of Soil Environmental Science, to create an advanced database and modelling software to identify target hydroperiods, or the period of time during which a wetland is covered by water.
Virginia's Director of Land Management and Fire Program Manager, Sam Lindblom, has served as a project mentor for Dr. Sarah Karpanty's senior capstone class in Virginia's Tech's Department of Fish and Wildlife Conservation.
2019's group studied smooth coneflower at TNC's Den Creek and Walnut Hill Preserves in Montgomery County, reviewing the existing management plans for the two sites and conducting field work to measure canopy cover at both sites.
2020's group developed a feral hog survey methodology for volunteers to use on TNC's Virginia preserves. We don't (yet) have hogs, but they are known to be on nearby properties in Montgomery County. Being able to detect them early will increase our chance of success with control efforts.
Blackburn College (Illinois)
Christopher Newport University
College of William & Mary
Colorado State University (Colorado)
Cornell University (New York)
Dickinson College (Pennsylvania)
Lincoln Memorial University (Tennessee)
Old Dominion University
Piedmont Virginia Community College
Randolph Macon College
Rochester Institute of Technology (New York)
University of Richmond
University of Mary Washington
University of Vermont (Vermont)
University of Virginia
University of Wisconsin-Madison (Wisconsin)
Virginia Commonwealth University
Virginia Tech
We personalize nature.org for you
This website uses cookies to enhance your experience and analyze performance and traffic on our website.
To manage or opt-out of receiving cookies, please visit our
Privacy Notice
.